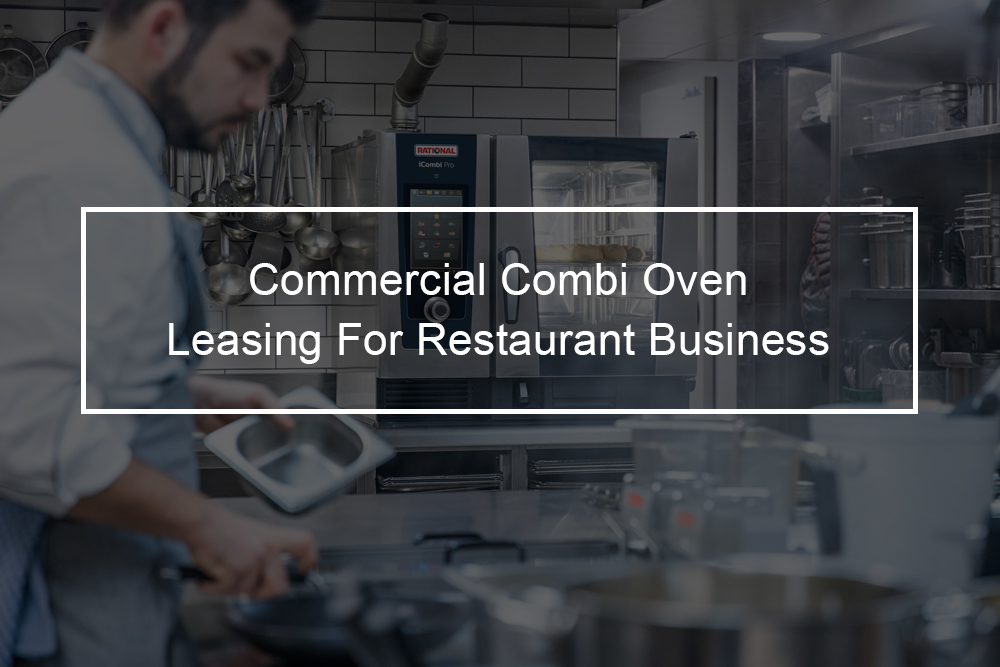 When you are ready to upgrade your oven to a Rational ICP-XS-E commercial combi oven or any other oven, you need access to commercial equipment financing options that will help you get what you need quickly and without hassle. With commercial combi oven financing options from Top Financial Resources, you can ensure your restaurant has the tools it requires to grow and thrive. This is regardless of the size of the restaurant.
If you run a restaurant business, you know how costly all that kitchen equipment you need to run your business can be. Equipment is incredibly costly, mainly when you are talking about oversized or intricate appliances. Not only is the equipment costly, but newer, more innovative models are always being released, which indicates what might be popular today might be obsolete in the future. Considering the high cost of machinery and the fact that it needs to be replaced from time to time, it might be more sensible to lease it instead of purchasing it outright. Let us take a deeper look into Rational ICP-XS-E leasing and how it might help to relieve some pressure on your business' bottom line.
---
Rational ICP-XS-E Commercial Combi Oven Overview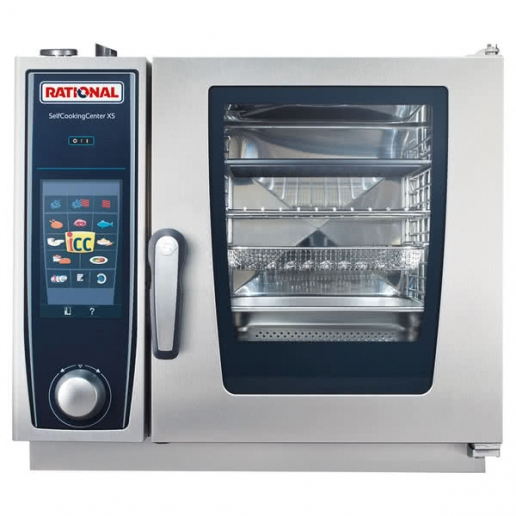 ICP-XS-E is an iCombi Pro® XS Combi Oven from Rational. This electric unit features (three) 12" x 14" steam pan or (four) 13 x 18" sheet pan or (three) 2/ 3 pan capacity, intelligent cooking system with (four assistants: iCookingSuite, iDensityControl, iProductionManager and iCareSystem. It also comes with (six) operating modes, (five) cooking methods, (three) manual operating modes, quick clean, eco mode, care control, and modes 85° to 572°F temperature range. Rational ICP-XS-E is Wi-Fi enabled and also features a 6-point core temperature probe, retractable hand shower, a bucket of active green cleaner, and a bucket of care tabs.
Rational ICP-XS-E Commercial Combi Oven Description
 Cooking cabinet time and humidity displayed digitally; displays target and actual values.

Cool-down function to rapidly cool down the cooking cabinet; extra fast cooling using an internal water nozzle.

Core temperature probe with six measuring points and automatic error correction in the event of incorrect positioning.

Delta-T cooking for extremely gentle preparation with minimal cooking losses.

The digital temperature display can be set to °C or °F, displays target and actual values.

High-performance steam generator for optimal steaming performance even at low temperatures below 212°F.

Integrated, maintenance-free grease separation system without an extra grease filter.

Optional positioning tool for soft or very small cooking products (accessory).

Power-steam function: increased steaming power available 

Precise burst-steam injection; water quantities can be set to four different levels within a temperature range of 85°F to 500°F for convection or steam convection combination modes.

Time can be set to display in 12- or 24-hour format.
---
What is commercial combi oven leasing?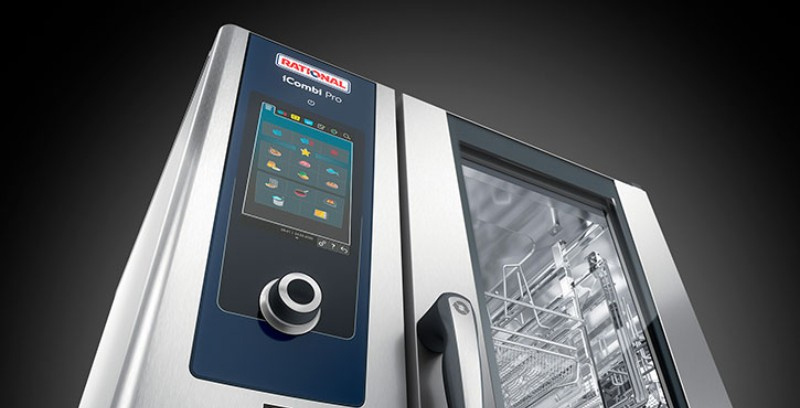 Instead of buying costly combi ovens and paying in full, commercial combi oven leasing offers restaurants a way to get their hands on the current hand models without using up their working capital all at once. It is a powerful financial tool that can help restaurants successfully operate and expand their operations. Instead of buying the Rational ICP-XS-E, the combi oven is leased from a leasing company at a specific monthly rate for a particular number of months, similar to how a car lease can work.
Why choose commercial combi oven leasing?
There are plenty of benefits that come with leasing your combi oven instead of purchasing:
It may be eligible for tax credits

No large down payment is needed

Offers a broader range of machinery options for restaurants

It makes it possible for restaurants to afford equipment that would otherwise be too costly to purchase

No need to get stuck with outdated equipment

No need to constantly purchase new commercial combi oven every so often to keep up with innovations (especially if you are a startup)

No need to pay the equipment in full upfront

You might return the combi oven at the end of the lease term or buy it for a price considering the appreciation and the amount you have already paid.

Might include service agreements or add-on
Buying vs. Rational ICP-XS-E commercial combi oven
Before you decide if you should buy Rational ICP-XS-E outright or lease it, there are some considerations that you should make first:
The amount that will be financed

Purchase price

The interest rate for lease option

Maintenance costs

How quickly the oven will become obsolete

How much the equipment will be used

The period you want to use the equipment

Monthly lease fees

Your monthly budget

Tax rates Annual depreciation
Types of restaurant equipment leases
If you have decided that leasing Rational ICP-XS-E is the way to go, consider exactly which kind of lease to opt for. 
Operating lease
An operating lease allows you to utilize the Rational ICP-XS-E for a certain amount of time without owning it. The lease duration is generally not as long as the economic life of the equipment, and once the lease expires, the leasing company can recoup any additional costs by selling the machinery. Machinery that is leased with an operating lease is regarded as a rental expense, which can be beneficial since it will not be listed as an asset or liability and can still be eligible for tax incentives. Annual rates for operating leases are usually 5-percent or lower, and the typical contract is anywhere from 12 to 36 months long.
Capital lease
Also known as a finance lease, a capital lease still involves the leasing company owning the combi oven, but the lease is considered an asset. Thus, it can increase your restaurant's holdings and liabilities. This can be useful for larger restaurants since they can claim interest expenses and depreciation tax credits. Restaurants can also purchase the equipment at the end of the lease if they choose to do so. With that said, the rates for a capital lease are usually higher than those with an operating lease, generally between six and nine, and agreements tend to range from 24 to 72 months.
What are your responsibilities with a commercial combi oven lease?
If you take out a commercial combi oven lease instead of purchasing the Rational ICP-XS-E, you will have some obligations that you will have to adhere to. Apart from making your monthly payments on time, responsibilities include:
Covering extraneous costs: You might be accountable for covering the cost of certain types of repairs and maintenance, certificate expenses, legal fees, and fines.
Paying insurance: You will need to cover the cost of insurance for the equipment, with policies ranging in costs from $200 to $2,200 per year.
Paying contract fees: Make sure you read the fine print on your lease contract, as there would be extra fees included that you will be accountable for, including late payment fees, documentation fees, and others.
Returning the commercial combi oven when the lease is over: After your lease is over, you will need to return the machinery. This indicates that if the equipment is important to your business's success, you will need to figure out a plan to replace it.
How the commercial combi oven lease application process works?
To lease your Rational ICP-XS-E equipment, there are specific steps you need to take:
Fill out a commercial equipment lease application.

Give us 48 hours to process the application and notify you of the result.

Ensure you are prepared to submit financial information.

Review the lease structure after you have been approved, including details such as the fixed rate and monthly payment amount.

You are almost done: Sign the documents and resubmit them to the leasing agent together with your first payment. 

You will then be notified that the equipment lease has taken effect.

Funds will be released within 24-48 hours to you or the equipment vendor.
Where can you get a commercial combi oven lease?
You can get commercial oven leasing from a restaurant equipment financing company such as Top Financial Resources. We provide commercial equipment financing and leasing solutions with good or bad credit. We are able to finance up to $ 500,000 for qualified business owners in less than a week and as little as $250 000 in two to three days. We have helped many business owners acquire new and old equipment.
Top Financial Resources is an independent equipment financing and leasing company located in the US that specialized in providing the most flexible, affordable, and reliable commercial equipment financing and leasing solutions. We understand that every business owner has a different story, so we do not have a cookie-cutter approach; instead, we will tailor a suitable program for your restaurant needs.
Most restaurants will need to buy used or new equipment at some point, and unlike most lenders out there, we are able to work with each type of equipment purchase. Commercial combi oven financing with bad credit can be dangerous if you are not careful. It is vital to know that you are working with a direct lender like Top Financial Resources who will work with you despite times of economic uncertainty.
Commercial combi ovens eligible for leasing
Are you looking to take out a commercial combi oven lease? It is good to know that Top Financial Resources is able to approve any combi oven lease, including:
Rational ICP XS E 208/240V 3 PH QS Combi Oven

Rational ICP XS E 208/240V 1 PH Combi Oven

Rational ICP XS E 208/240V 3 PH Combi Oven 
If your restaurant needs Rational ICP-XS-E, but your capital is not sizable enough to cover those huge costs, a commercial combi oven lease might prove to be useful. Call us at 1-(800)-260-5126 to lease the equipment you need.