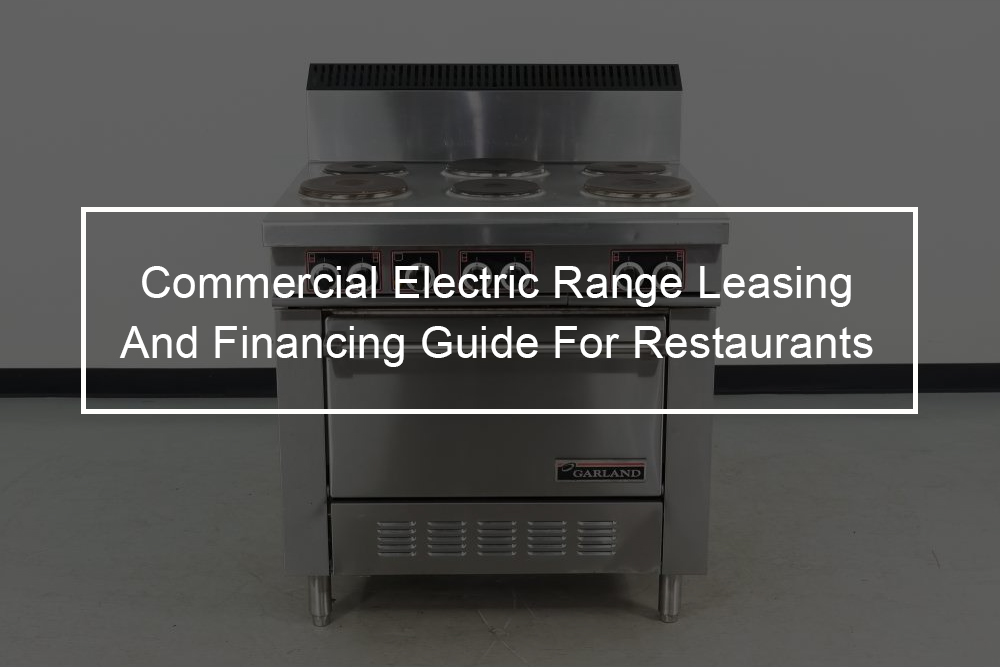 Obtaining the Garland 36ER32 commercial electric range is simple and fast through Top Financial Resources. Repayments are manageable and can be tax-deductible. If you are starting out a new restaurant or expanding to multiple locations, financing the equipment you need is a smart choice that allows you to retain your working capital to use towards other business aspects.
In most cases, we don't require any personal security, and our finance application procedure is simple and fast, starting with an online application. After we have sourced the commercial electric range you need and obtain a quote or an invoice from the supplier to be submitted to us, you can choose the financing solution that best suits you. We offer rental, financing, leasing, and business loan options, with terms that range from one to five years.
After your application is submitted, in most cases, we will have you approved within twenty-four hours. We will email you our simple, easy to understand the agreement.  We will make payment to the supplier, and the Garland 36ER32 will be delivered straight to you.
---
Garland 36ER32 Electric Range Overview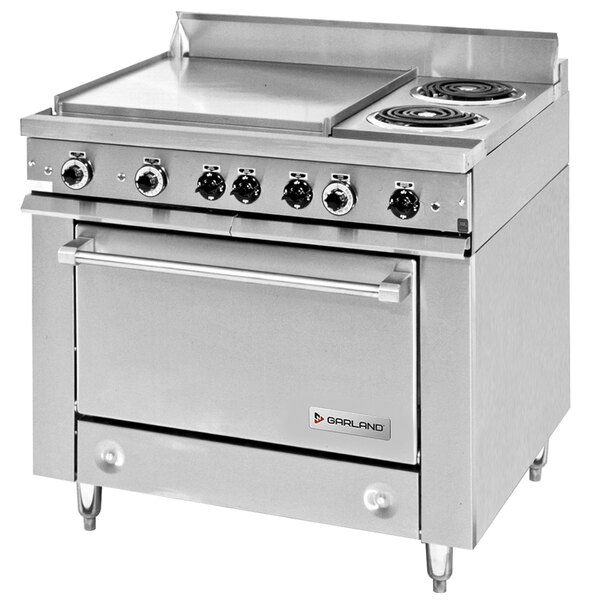 The Garland 36ER32 is a 36E Series Duty Range from Garland. This electric unit features (two) all-purpose sections, three-position rack glides, thermostatic controls, standard oven, one rack, 3″ high vent riser, 6″ legs, stainless steel front, sides, and front rail. Garland 36ER32 is cCSAus, NSF certified.
Standard features of the Garland 36ER32 electric range
3″ high stainless steel vent raiser 

36″ all-purpose worktop area controlled by three thermostats, 290°/650°F 

6″ adjustable chrome-plated legs (NSF) 

Chrome plated, four-position removable rack guides with oven rack 

Electro‑mechanical heavy‑duty oven thermostat 

Heat resistant that is cool to touch the oven door handle 

One Year limited parts and labor (the USA and Canada) 

Stainless steel front and sides 

Stainless steel front rail 
Optional features of the Garland 36ER32 electric range
6″ adjustable stainless steel legs 

Extra oven rack 

High voltage 460V 

Marine equipment – storm rails for pots, oven door latch, handrails, drip tray stop, and deck fasteners

Set of (four) Polyurethane(nonmarking)swivel casters with front brakes. 

Stainless steel main back (R and S models) 
---
What is commercial electric range financing?
When a financing institution or a bank extends capital to a business to obtain a commercial electric range, it is known as commercial electric range financing. Equipment financing companies offer loans for equipment purchase, restaurant equipment leasing options, SBA loans, and other government loans and sale-leaseback under which the existing equipment is utilized as collateral for raising funds for additional purchases.
Equipment loans for small businesses are accessible for fixed-term and monthly payments. Commercial electric range leasing is another option for small businesses that want the equipment for a limited period. Top Financial Resources will lease out the commercial electric range to you, and at the end of the lease duration, you can either buy the Garland 36ER32 for the current market value or leave it with us.
Restaurants and companies often need a commercial electric range to meet their growing demands or expand production capacities to fulfill client demands. Commercial electric range financing for small businesses in the United States is available through banks, private financiers, and financial institutions. Whereas most banks have similar interest rates, years to repay the amount, refinancing schemes and private financial institutions have different terms and rates.
How does restaurant equipment financing work?
Restaurant equipment financing refers to a loan used to buy any piece of equipment for commercial use, such as Garland 36ER32. Equipment loans provide for monthly or periodic payments that incorporate interest and principal over a fixed term as in term loans. Financial institutions and banks require the security of some kind like collateral for disbursing restaurant equipment loans.
After the loan is paid completely, you own the appliance free of any lien and may receive a 'NOC' from the financing company. A restaurant equipment loan structure might also impose a lien upon additional business assets or require a personal guarantee. Failure to pay your loan might result in the repossession of your company assets or your personal assets as long as you have provided them as collateral or a personal guarantee. You should always consult with a financial adviser to understand the risks and terms involved in restaurant equipment loans financing and business financing.
Where to get a commercial electric range loan for small businesses at best interest rates?
There are many well-known restaurant equipment financing institutions on the market, apart from banks. There are also online lenders that offer equipment loans to small restaurants as well as large corporations. It is worth noting that conventional banks have strict lending requirements compared to private financers.
Commercial electric range financing from Top Financial Resources is simple, easy, and quick for restaurants in the United States. Whether you are looking to purchase an appliance for your restaurant or want to procure extra inventory to fulfill the growing customer demands, we can help you get restaurant equipment loans at the best interest rates. Our financing and leasing solutions cater to the unique requirements of small businesses and will make sure that you get a hassle-free experience from initiation of your loan or lease application to funding.
---
Finance solutions available at Top Financial Resources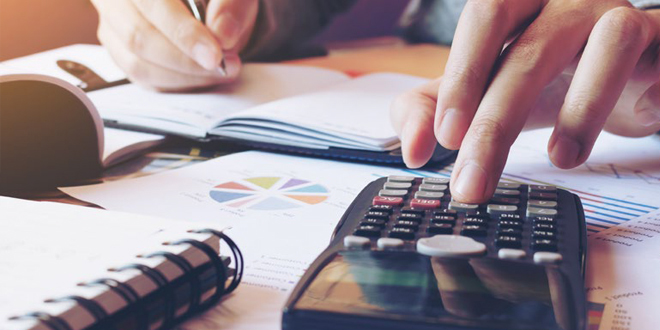 We offer three finance solutions- leasing, rental, and business loans. Typically loan terms range from three to five years, with the solution offering the benefit of owning the commercial electric range from the start. There is also the rental program with terms from twelve to twenty-four months minimum. This is a flexible option, enabling you to change the qualifications without being locked into a long term agreement. There is also an option to return the appliance.
The leasing solution provides terms ranging from three to five years, and the benefit of knowing the commercial electric range is yours at the end of the agreement. The term is typically according to the life of the appliance, which mainly depends on the kind of equipment being purchased. You can work with your restaurant equipment finance company to find a term that works for you. For any Garland 36ER32 financing, SBA loans, term loans, line of credit or business lending, or small business loan, call 1-(800)-260-5126 or fill out the application form on our website.
What other Garland 36E Series Heavy Duty Range can I finance?
Whether you are just beginning a business or having an existing restaurant that needs an upgrade, we have a variety of restaurant loans and merchant cash advances tailored to meet your cash flow needs and business model.
Top Financial Resources equipment financing gives you the freedom and means you can finance both new and used commercial electric range. Apart from Garland 36ER32, other commercial electric ranges you can finance in the 36E Series include:
Garland 36ER35 36E Series Heavy Duty Range

Garland 36ES16 36E Series Heavy Duty Range

Garland 36ES33 36E Series Heavy Duty Range

Garland 36ES33 36E Series Heavy Duty Range

Garland 36ES32-3 36E Series Heavy Duty Range

Garland 36ES35 36E Series Heavy Duty Range

Garland 36ES36 36E Series Heavy Duty Range

Garland 36ES38 36E Series Heavy Duty Range

Garland 36ES39 36E Series Heavy Duty Range

Garland 36ES32 36E Series Heavy Duty Range

Garland 36ER33 36E Series Heavy Duty Range

Garland 36ER32-3 36E Series Heavy Duty Range
Note that this list is not exhaustive. You might have plans to grow your restaurant, but not having access to the capital you need to start can put you on the back foot. Getting an equipment loan from a bank can take months in approval, and three out of five loan applicants get denied by the bank. You do not need to lose hope as we offer the most sought after restaurant equipment finance and equipment leasing solutions specially designed to keep in mind the restaurant industry's specific capital requirements.
We can support you in turning your restaurant into a great business. Maybe you were looking to buy a new or used Garland 36ER32; our commercial electric range loans or lease can prove to be a great fit for your business as you can obtain new equipment or renovate your existing restaurant without worrying about the shortage of funds.
Commercial electric range financing: Is it better to lease or buy?
There are many things to consider when deciding whether it is better to lease or purchase your commercial electric range. You have to consider the amount of the purchase, the working capital, and the restaurant's profitability. Whereas purchasing outright might be something to consider when the appliance's price allows, leasing is also an interesting choice. Generally, in a more unpredictable environment, where financial risks are higher, it might be wiser to maintain cash flow and opt for leasing the equipment. Ultimately, it is all dependent on your situation and your plan in the medium and long term. However, one thing remains clear: Top Financial Resources' team is always available to answer your questions.
Why choose Top Financial Resources?
Whether you want to open a new restaurant or you want to grow an existing food-related business, Top Financial Resources can provide you with the financing your restaurant needs to thrive. Top Financial Resources has been providing small business loans for a while now. We specialize in providing affordable equipment financing to entrepreneurs who are working hard to feed themselves and their customers.
When you require financing to open a new business or update a piece of equipment, it is more than likely a traditional bank will not bite. Since restaurants have to invest heavily in inventory and equipment, food businesses are regarded as risky investments to banks. Regardless, Top Financial Resources has an appetite for financing foodies. We also provide encouragement and the support you need to prosper, which is the reason why 97-percent of our customers are still in business a year after acquiring their loans. Whether you are looking for funding for Garland 36ER32 or any other commercial electric range, we encourage you to learn more about financing or start your application today.