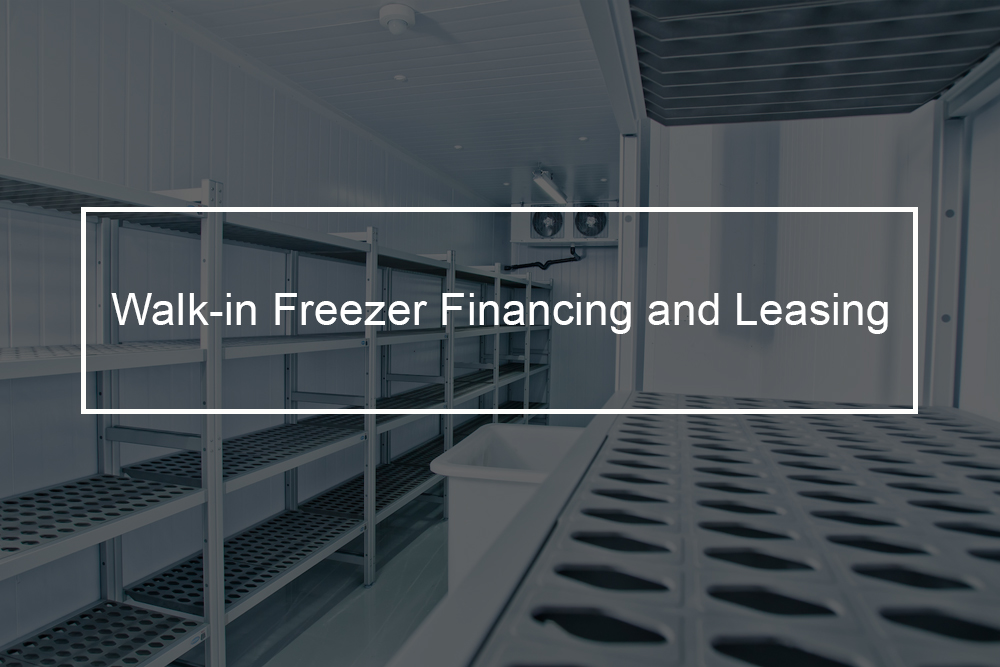 It is simple to get restaurant equipment financing for your business through Top Financial Resources. Opening a restaurant or expanding your business can be stressful, Top Financial takes the stress out of the process by offering financial solutions for new commercial equipment such as the Kolpak QS7-0812-FT walk-in freezer. Whether you need a new or used freezer for your restaurant, you should consider financing or leasing rather than buying equipment outright from the start, enabling you to preserve your capital for use towards running and expanding the business. Whether you need just one item or a full more refurbishment for your bakery or restaurant, we have a solution to suit your needs.
---
All you need to know about Kolpak QS7-0812-FT
The Kolpak QS7-0812-FT freezer boasts a rugged, high-performance design intended for years of trouble-free use. A top-mounted, two hp refrigeration system fits flush to the interior cavity, offering you 100 percent usable interior space. Its self-contained design with an automatic condensate evaporator does not require any plumbing, and it installs easily without the need for a refrigeration technician.
The magnetic gaskets and walk-in's 'Posi-Loc' fasteners ensure an airtight enclosure for high performance and energy efficiency, and an interior safety release prevents accidental entrapment. This walk-in features a 1/8′ smooth aluminum floor that assists insulate the freezer and protect it from condensation forming. This is very essential if you do not have a concrete floor at ground level on which to place your freezer.
Features of the Kolpak QS7-0812-FT walk-in freezer:
 100 Smooth aluminum floor

26 Gauge embossed galvalume interior and exterior finish

4″ Thick foamed-in-place polyurethane insulation

Actual size: 7'9″ wide x 11'7″ deep

Air-cooled condensing units

Auto condensate evaporator

Capacity: 432 Cu.ft

Compressor: 2 HP

Defrost timer

Door heater

Door size: 26″ x 78″

Electrical: 208-230v/60hz/1-phase

Expansion valve system

Exterior height: 7′ -6 1/4″

Foamed-in-place panel gaskets

High-pressure safety control

Holding only refrigeration systems

Interior height: 6′-10 5/8″

Interior safety release

Keyed door locks

Low temp: -10°F

Magnetic door gaskets

Modular

NSF panels

Polar-Pak

Self-closing door

Self-Contained

Shipping weight: 1762 lbs

Thermometer: 2 1/2″ dial

Top-mounted refrigeration

UL door section

UL panels

Vapor proof interior light
How we can fund Kolpak QS7-0812-FT for your restaurant?
Our restaurant equipment financing solutions make obtaining new or used freezer fast and straightforward with options that include fixed-term leases, flexible rentals, and business loans. We provide contract terms ranging from one to five years. Applying for the loan is a breeze; just visit our website and begin the application process.
We provide the following contracts
Business loans: Contract terms range from three to five years; this option offers you the benefit of owning the assets from the start of the contract.
Lease: Contracts range from three to five years, and at the end of the term, the freezer is yours. 
Rental: Contracts from one to two years minimum; you can change the qualifications without being locked into a long term contract
How to apply for the walk-in freezer financing?
After you have found the equipment you need (the Kolpak walk-in freezer) for your restaurant or other, start the application process online on our website. Choose which option you prefer, business loan, lease, or rental. Complete the application and submit the invoice or quote from a reputable supplier in the USA. We will then assess your loan application promptly and usually have you approved within twenty-four hours. After you have been approved, we will email you a simple and easy to understand contract. We will then finance the freezer. To learn more about restaurant equipment leasing & financing through Top Financial Resources, call us on 1-(800)-260-5126.
---

Financing restaurant refrigerator or freezer benefits
Cash flow
As a restaurant owner, you know the importance of cash flow. Cash flow enables a restaurant to make better investment decisions, which can lead to a business's success. Financing a restaurant freezer allows you to invest your money in higher divided places like employees, supply, rent, and more. Take advantage of the payment of your restaurant equipment in terms of up to three years.
Lenders relationship
A Lender's relationship will prove to be a valuable tool for unpredictable financial situations. Financing restaurant equipment can assist you in building credentials with any bank. Developing a good relationship with your loaners can allow you to grow rapidly.
100 percent tax-deductible
Financing restaurant equipment, including the freezer, is 100 percent tax-deductible. The IRS Tax Code enables a corporation to deduct the full purchase price for equipment purchased or financed in the current tax year. This can indicate the free usage of your equipment in the first year of use.
Affordable payments
With Top Financial Resources equipment financing, you choose your payment terms. Choose a comfortable monthly payment that works for you.
More reasons to finance restaurant equipment
Conversion of Cash
Cash flow is vital to the success of any company. For some business owners, paying cash is a good method to obtain equipment, whereas, for others, it can be the most costly way to solve the problem. Financing restaurant equipment can work well if executed strategically.
Tax-deductible
The IRS Tax Code enables a restaurant to deduct the full purchase price of qualifying equipment financed or purchased during that tax year. In this way, you typically get free usage of your equipment for over a year. Take advantage of this now.
Conversion of Bank Line
An accessible line of credit is an extremely valuable tool to address unpredictable financial emergencies. Lowering your open lines of credit by using them to fund equipment can be dangerous.
Stay up to date
Equipment lease can be written for a term that fits the asset's usefulness. At the end of the term, the appliance might be returned, and a new lease can be written for a new piece of equipment that best suits your needs. You can have the asset for a low monthly cost.
Pricing
Our restaurant equipment loans are not the only valuable service we provide for restaurants that are looking to upgrade and expand. Our financing options include growth financing, working capital loans, purchase discounted equipment, equipment financing, and more.
Quality
As the best of the restaurant equipment leasing companies, we are here to provide you creative solutions to your financial dilemmas. We have offered hundreds of businesses with the capital they require to upgrade their equipment and ensure that quality is kept up to par at all times. Our financing solutions enable you to stay up to date without inconveniencing your clients.
---
Can I get financing for equipment with bad credit?
For restaurant owners with bad credit, financing a freezer might be a great option. There are programs available from some lenders for borrowers with a 550 credit score, and with flexible repayment options and fair market value leases, borrowers can keep monthly payments manageable.
Restaurant equipment financing calculator
The restaurant equipment finance calculator enables you to calculate what your monthly payments will be easily. The attributes will be the down payment, the total price of your order, and finance terms. Top Financial Resources is proud to introduce the Finance Calculator for restaurant equipment. The restaurant equipment financing is a great solution for buying anything for the kitchen. If you need Kolpak QS7-0812-FT but can use the cash flow, small payments made every month can make you own it. An equipment calculator allows you to see what those small monthly payments will be easily.
Top Questions:
Can I be approved today without extensive financing statements? Yes

Can I defer making payments until the equipment is installed correctly? Yes

Can I take advantage of deduct payments and tax benefits? Yes

Can I avoid financial reporting? Yes

Can I buy Kolpak QS7-0812-FT faster? Yes

Can I buy a used Kolpak QS7-0812-FT? Yes

Do I have ownership options when the term ends? Yes

Can I match monthly payments to current cash flow qualifications? Yes
---
Alternatives to restaurant equipment financing
Term loan
A term loan enables you access capital that is not necessarily earmarked for a particular use, and as such, term loans can be used for equipment financing, tenant improvements, and working capital. Generally, ranging between two and five years, term loans are not collateralize by a particular asset and usually have higher interest rates, which vary from nine percent to twenty percent or more, based on credit rating, time in business, and revenue. Businesses that require access to equipment financing with the benefit of extra working capital for other needs might wish to consider a term loan. Restaurants hoping to buy a piece of equipment that does not meet lender guidelines might also consider this option.
Business line of credit
A business line of credit is a revolving line that enables businesses to access capital for short and long-term financing as often as needed over a period known as the draw period. Like credit cards, interest is only paid on the amount of the line drawn, and paying down the line grants businesses access to that capital for future needs. The minimum required payments for a line of credits are usually interest-only, indicating lower payments, which can be useful for businesses with seasonal cash flow problems. Many restaurants and other service-based companies use a credit line to meet payroll requirements resulting from temporary lulls in business. Borrowers should generally have a minimum of 600 credit score and one year in business with $100,000 in revenue to qualify.
Typically, restaurants interested in financing their freezer will have to consider various factors, including Kolpak QS7-0812-FT useful economic life, how long you will need the freezer, and whether to lease or finance the equipment. Moreover, business owners will generally need to factor in their personal credit score and the amount of time in business, and the business's annual revenue.