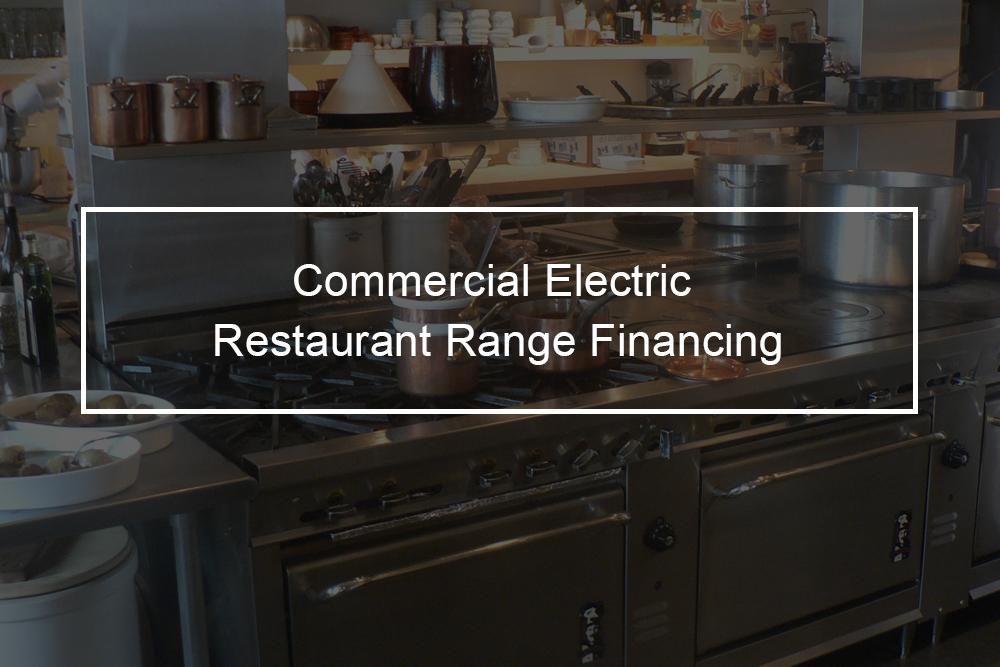 Commercial electric restaurant ranges like the Lang Manufacturing R30S-ATF make it simple for you to cook, grill, and bake all with the same unit. These products are great for cafes, restaurants, bakeries, and bistros with limited space in their back-of-house area. Designed from extremely durable materials, commercial electric ranges are created for frequent, daily use, so they are sure to manage your establishment's demands.
Some commercial electric restaurant ranges feature a griddle, making it simple to cook breakfast, favorites such as sausage, bacon, and eggs. Other ranges come with a cool touch door handle, so your staff does not have to worry about burning themselves. Some commercial electric ranges even feature convection oven bases, which enables more baking than a standard oven.
Whether you are short on kitchen space or want to cut down on energy costs, we have got you covered with financing for commercial electric ranges. We provide leasing for electric restaurants ranges with porcelainized interior finishes, which allow for better heat retention and easier cleanup. With various sizes and styles available, it is simple to choose the model that can best handle your restaurant bistro or diner's demands. Keep reading to learn more about Lang Manufacturing R30S-ATF Restaurant Range, how we can finance the range for you, and the advantages to your restaurant.
---
Lang Manufacturing R30S-ATF Restaurant Range Description
Restaurant Range, electric, 30 "W, (1) 30 "W x 3/4″ thick snap action griddle, standard oven base with three rack positions and one rack,150°-450°F solid-state oven thermostat with one-hour timer, 2″ vented stainless steel stub back, 430 stainless steel exterior, 4" casters, 14.0 kW, cULus, NSF.
Standard features of the Lang Manufacturing R30S-ATF:
1″ high range–top backstop

150-450°F oven thermostat with 60-minute timer and alarm

2.75″ wide full front grease trough, grease drain & spillage drawers

4″ casters standard

All ranges are factory wired for 3-phase service. The installer may wire 208 or 240V service 1 phase

Griddle configurations include a one-piece splash guard, back & sides

Heavy-duty 430 stainless steel exterior insulated on six sides
Standard Oven
Aluminized steel cooking chamber

Heavy-duty, hinge-down oven door

One center rack guide with chrome-plated rack

Two 3-heat switches for oven
Convection Oven
430 stainless steel oven interior

Five chrome-plated oven racks provided

Heavy-duty compartment door, with large double-pane tempered glass window

Heavy-duty right hinged door with magnetic closure

HIGH-LOW speed fan switch

Nine position oven rack slide supports

ON-OFF power switch

Simple knob-set time and temperature controls

Two-speed fan with fan pulse capability
Options & accessories of the Lang Manufacturing R30S-ATF:
480 Volt, 3-phase model

Extra wire pan racks

High Storage Rack

Set of 6″ casters, two lockings, two fixed
Parts & labor warranty of the Lang Manufacturing R30S-ATF:
Two years. parts & labor warranty, continental USA
---

Why restaurant equipment financing?
Medium and small-sized restaurant business owners face the constant challenge of managing cash flow, investing in kitchen equipment such as electric restaurant ranges. Today's successful restaurants can obtain new equipment to keep their new businesses competitive while preserving working capital and credit score. Top Financial Resources offers multiple financing sources that offer restaurant owners flexible financing solutions to lease or finance any equipment they require without a down payment or collateral.
Leasing Lang R30S-ATF range advantages and disadvantages

Restaurant equipment leasing financing options offer the restaurant industry an alternative source of funds.
Equipment financing will free working capital for productive use (because the money is not tied up in restaurant equipment). For a successful restaurant, food trucks and startup restaurateur shops, or an existing restaurant that needs to expand, create that dream restaurant, have limited funds for capital to take their restaurant to the next, financing equipment might be the best option to protect and preserve the restaurant's capital. Financing might be the best option for an under-capitalized wanting to up kitchen equipment. Cost less than other methods of obtaining restaurant equipment.
Restaurant equipment lease offers a hedge against inflation.
Leasing commercial electric restaurant range might provide a hedge against inflation because the lease payments will be made with cheaper dollars, which saves your restaurant a lot of money. Typically, the China-United States trade war has and will continue to raise the price of both imported commercial kitchen appliances, Commercial electric restaurant range, refrigerators, fryers, dishwashers, commercial ovens, ice machines, stove ranges, planetary mixer, char broil grills, and freezers. Restaurant equipment financing might act as a hedge against inflation; inflation offers the basis for strong arguments supporting ownership.
Financing commercial electric restaurant ranges with warranties extends the length of financing the equipment.
In contrast, typical bank loans and restaurant kitchen equipment loans, which are typically available only for significantly less time than the life of the Lang R30S-ATF, leases might be obtained for almost the total length of the equipment warranty. Lang range comes with two-year parts and a labor warranty. The result is a decreased cash outflow during the equipment's initial period, with the cost spread over a longer lease agreement. The advantage is two-fold. First, costs tend to be more correlated with revenues over the entire life of the Lang R30S-ATF range. Second, a discounted cash flow analysis will often mean a higher return on investment when cash payments are spread out over the whole equipment life.
Leasing & equipment finance provides constant cost financing.
Unlike some kinds of debt financing that vary in cost as a function of the prime interest rate, lease payments for equipment finance are almost always uniform over the lease's length.
Restaurant equipment financing enables more flexible cash budgeting.
This is an essential corollary to the preceding benefit. Many intermediate-term business loans have balloon repayments features, where the principal's bulk is because at the end of the loan and, if the restaurant maintains its credit ranking, forms the basis for a new loan. Such refinancing exposes your restaurant to additional financial risk if interest rates and the availability of capital. The uncertainty as to the availability of refinancing necessitates a more conservative liquidity position. Possible changes in the restaurant owners' financial situation, recent bankruptcy, and bad credit (and fluctuations in interest rates, if interest rates are tied to the prime) makes cash budgeting harder. It can negatively impact the restaurant's financial future and force business owners to pay the full purchase price for a new electric range or buy used equipment without any warranty.
Section 179 deduction
Generally, section 179 is a good option for small and medium-sized restaurants and borrowers. Any company that finances less than $1,000,000 in restaurant equipment (used or new restaurant equipment) during the 2020 tax year should qualify for the IRS 179 Tax Deduction. That is good news to your bottom line since you can invest the savings in your restaurant.
Avoid the restriction often found in traditional bank loan agreements.
Equipment leasing & financing tends to be faster and more flexible than borrowing funds. Your restaurant lease contract and affordable monthly payments might be arranged to meet the restaurant's seasonal cash flows and can be tailored to the specific needs of the applicant. A financial lease is a contract under which a lessee agrees to make a series of payments to the lessor, which in total exceeds the purchase price of the equipment obtained. Generally, payments under a financial lease term are spread over a period of time equal to the major portion of the useful life of the equipment. During this initial lease term, the contract is not cancelable by the restaurant or leasing company. The lessee committed to keep on leasing the restaurant equipment until the end of the lease.
---
Who qualifies for commercial electric restaurant range financing?
Top Financial Resources finds the best solution for your financial situation, whether you have a low credit score or just starting your business out. We have special financing programs for every situation and will get you manageable low monthly payments. The following qualify for equipment financing with us:
Startup restaurant

Small or medium restaurant

Low credit score

Established business

High credit score

Bankruptcies
---
What Top Financial Resources offer for restaurant financing?
Below is a list of our track loader lease and finance service features:
Simple one-page application

Application only up to $150,000

Master lease lines of credit

Terms ranging from 24 to 84 months

Prefunding Options

Fast 24-hour credit approvals

Deferred payment options and flexible terms 

100 percent financing (including soft costs)

Finance and operating leases, and more
Lease & finance commercial electric range with the help of Top Financial Resources today
At Top Financial Resources, we understand that you might not always have the capital to purchase the latest kitchen and front-end equipment. Our financial services for leasing restaurant equipment enable business owners to get the best equipment without depleting their capital. Working with Top Financial Resources means that you never have to wait for long periods to get feedback on your applications. We are able to give you feedback in 24 hours on average so you can quickly get the equipment that you need. Applications are simple, and you get a flexible repayment period that varies from twenty-four to 84 months.