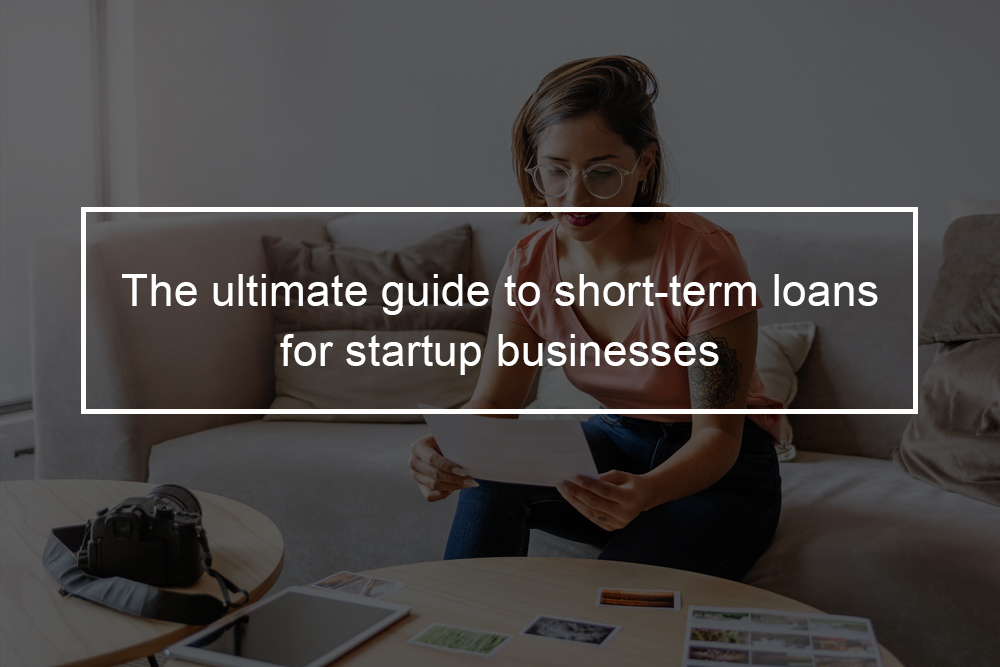 Obtaining loans for small business startups is not a simple task; the reason being that startups are not eligible for business loans from banks. However, there are various ways of funding your business. To find the most convenient means of financing a business, you will have to look under the rocks. In this post, we will discuss short term loans for a startup business.
---
Why do I need a short-term loan for my startup business?
There are multiple reasons why your company might need a short term business loan. Perhaps you are looking to expand your business or need to fill a large order, and you need additional cash. Possibly your company has hit a rough patch and needs an influx of capital to clear the hump. More often than not, these are all some cases of cash flow gaps. The first strategy in fixing a cash flow shortage recognizes the cash flow gap in the first place. After your business has determined where it requires funding, it can determine how to secure that capital.
---
What is a short term loan, and how does it work?
Just as the name implies, a short term loan is one of the quickest and most popular ways for small businesses to acquire the money they require with a short turnaround. However, how do you define a short term loan? The simplest definition is that they are exactly what they sound like. They are loans uniquely designed to be dispersed fast and paid back just quickly. A short-term loan is proposed to be repaid in one year, even though they are often repaid even faster. Nonetheless, there is more to a short-term business loan than what meets the eye. Even though fast access to capital can make a short term loan look like an attractive option, everything is not easy.
Short term business loan, a solution with a steep price
First, short term business loans tend to be more costly than traditional loans. If you need your money fast, you are going to have to pay for it. That means you will find yourself dealing with higher interest rates that can eventually hurt your business. There are even short term loans for companies with bad credit; however, they can be even more costly.
Provided you are assertive that you can keep up with a more aggressive payment schedule, and it is something you only see your business doing once or twice, a short term loan could be a good option for you. Remember, be careful to ensure your business does not find itself in a debt trap. What starts off as a blessing can turn into a financial curse so quickly if justify unchecked.
---
Does my startup qualify for a short term business loan?
One of the biggest hindrances for small businesses across the country is qualifying for a business loan. Like most loans, there is a requirement process involved in being accepted for a short term business loan. This often includes providing payment history for your business for the past few years and a cash flow record. You will also usually need to have a summary of your personal finances and a credit score check.
Even with these above-mentioned hoops to jump through, qualifying for a short term business loan can be much more comfortable than for a long term bank business loan. Bank loans are notoriously hard to come by, with more than eighty-percent of applicants denied. This makes short term loans a much more realistic option for SMBs in their early stages.
Can you get a short term loan for a startup business?
Generally, short term business loans subscribe to a different set of standards compared to traditional bank loans. The main difference is that it can be much simpler for startups to qualify for a short term business loan. With that said, it is essential to remember that, even though businesses may not have to supply the same level of financial history, there is a probability of having to put up additional collateral to offset the risk.
What type of collateral do I require for a short term business loan?
When you are applying for a short term business loan, you are dealing with a different set of standards when it comes to requirements. These more lenient standards also mean that there is a higher chance that your startup will have to provide some kind of collateral. What can be accepted as collateral runs on the available assets? This can range from property to accounts receivable to real estate.
Accounts receivable are one kind of collateral that is mainly notable. This is money that your company is already owed, so you can get a loan based on the knowledge that you have incoming money on the books. The ability to make use of invoices you are waiting to be paid is a driving force of what makes invoice funding work so well for B2B businesses aiming to bridge a cash flow gap between invoice payments.
---
Invoice factoring transforms receivables into working capital
Invoice factoring is a popular lending alternative for short term business loans for new businesses looking to build their cash flow faster. Online invoice factoring has made the process quicker and easier than ever, with startups able to find the cash flow they require as little as twenty-four hours. Online invoice factoring uses your accounts receivable in the form of invoices you have already created and advances of up to 100 percent of the invoice value. Innovative online sites mean that there is no unnecessary paperwork to hold up the process of getting you your cash.
Invoice factoring transparent fees beat high-interest rates every time
One aspect of invoice factoring that makes it stand out from other kinds of short term business loans is how fees are managed. Whereas other short-term loans for startup businesses come with high-interest rates, invoice factoring costs are designed to be transparent. Thus startups know what they are signing up for. This is usually a fee that is calculated up-front, so small businesses have all the information they require to make an informed decision. For new businesses looking for an easy path to short term business loans, invoice factoring is an affordable and valuable way to get working capital now. As small business loans become increasingly hard to find, ensuring you get paid the money you have already earned is just sensible.
---
5 Smart tips for getting a short term loan for your business startup
Some tips for getting good loans for startups
Borrowing from family and friends
Pitch your concept idea to your friends and family. If they like your business idea, they will be inclined to contribute some money to the business. Make sure you get the loan in writing, so there are no misunderstandings later on.
Use crowdfunding
You can center on raising small amounts of money by engaging a large number of people. You can do this by using a crowdfunding website. There are various ways of crowdfunding.
Use credit cards to fund a startup business
It can be a cost-effective method of paying for the startup. Various credit cards provide zero percent interest promos. During that duration, you can borrow money free of any interest. There are cashback and rewards programs. These programs enable you to earn money for your company by just charging the purchase of the card. Some cards will let you make $500 by signing up for the card. You will then make a few purchases in the first few months.
The drawback of credit cards is that they are not a stable source of credit. The credit card organizations have the right to reduce the credit limit without warning you. Besides, the interest rates are high as compared to other sources of finance. Using personal credit cards for business can impact the individual credit card score.
Conventional bank loans
The most significant benefit of bank loans is that they have very low-interest rates. The rates are low since there is no involvement of any federal agency. These business loans can have a shorter time for payment as compared to the SBA loans. They can frequently incorporate balloon payments. It can be tough to get a successful loan application.
Peer to peer loan
There are peer to peer websites that center on providing personal loans for three to five years. The purpose of the loan is debt consolidation or to pay off the credit cards. Personal loans can be used for starting a business. The problem with this kind of loan is that you will be eligible for it if you have a good credit score. If your credit score ranking is not okay, then do not waste your time trying to get this loan.
The responsible use of the card can establish business credit. Moreover, credit cards are sufficient for good debt consolidation tools. You can transfer balances and save money  You can establish a strong foundation for your startup by opting for any of these short-term loans. They will give your startup the boost it requires while providing your investment a security blanket as well.