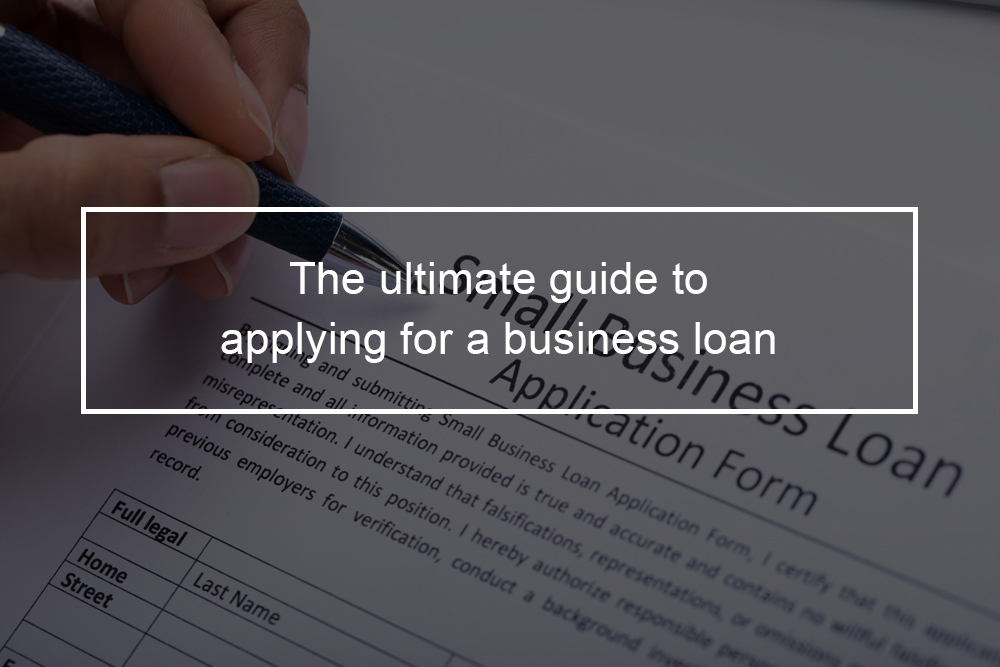 Many businesses require loans to launch or grow. This guide will assist you in applying for a business loan and improving your chances of approval. Doing some research and employing due diligence before filing a small business loan application is vital and will assist you in determining which financing options work for today and in the future. Far too often, business owners get impatient when trying to secure a small business loan and jump at the first opportunity. But that is a good way to get the wrong funding. 
---
Steps when applying for a business loan
Step 1: Determine if you should get a business loan
Determine exactly why you need outside financing. Do you require financing to start your business or manage the daily expenses? Or do you require capital to expand your business? Provided your answer is yes, you can go ahead and apply for the loan. The reasons for seeking a business loan should steer you toward which funding options best suit your needs and how you should secure them. For instance, if you are seeking a loan for startup capital, equity financing can be a better choice.
There are many options for financing out there. Do your research, ask yourself about your funding needs, and provide yourself honest answers. While at it, consider how much funding you need for your business. Most business owners interested in applying for funding often wonder how much financing they can get. However, the better question is, how much do you need to borrow?
If you do not have a good idea of how much your business needs to get through its projects or short-term expenses, you might end up borrowing (and paying interest on) more financing that you need. Contrarily, some business owners are too conservative when it comes to asking for a longer-term or larger loan. Do not underrate the amount of money you need. That can jeopardize your business financial sustainability. Understand what you are asking for and the amount you need to make the investment successful.
Step 2: Start searching for business financing options
After you have decided your company needs funding, it is time to track down some of the best options for a business loan. Applying for financing has never been easier. Before you rush to submit your business loan application, prepare yourself. Ensure your company's financial records are organized and available before you apply for a business loan. Also, take steps to make sure your credit score and financial metrics are the best they can get. You are more likely to get approved- and get more competitive rates.
Step 3: Know your credit score
Not all companies are the same in the eyes of lenders. In fact, there are metrics and scores that separate trustworthy businesses from those that are riskier for lenders. If you desire to get approved for an affordable business loan, you will want lenders to put your business in the first category. Noting it can take some time for a small business to establish a strong credit rating, most lenders consider other requirements and guarantees. Some assess personal credit scores.
If you apply for a small business loan with poor credit, it can affect your rates and overall financing options. It is essential to build your credit score by maintaining credit lines, paying off debts, and making payments on time. Other essential metric creditors use to determine creditworthiness are your debt-to-income ratio, which assists lenders in measuring your business's overall financial health and ability to repay additional debts. If your debt to income ratio is too high (under thirty-five percent is preferred; however, ratios as high as fifty-percent can still be okay), most creditors might deem you unfit to take out a new loan.
Applying for a small business loan with bad credit
Are you wondering about how to get a business loan with bad credit? It is possible. However, the terms will not be favorable. The worse your company's financial condition, the more costly your loan will be. Ensure your business is in the black and not operating at a loss during the time of loan application. If your personal credit score ranges from fair to very poor (580 or below), you should begin building positive credit as fast as possible to boost your loan approval. Most lenders look at your creditworthiness when evaluating your business's fundability.
Step 4: Choose the right lender
Some new entrepreneurs presume they have to get a small business loan from a large, national bank. You have a high odds of being approved if you solicit a smaller, regional bank with a history of taking on smaller clients. Bear in mind there are other lender options to consider, such as credit unions, alternative lenders, and not-for-profit financiers and alternative lenders, inclusive of online marketplace operators like Fast Capital 360. Ensure you review your funding options and research where to get a small business loan.
Step 5: Select a kind of business financin

g
All too frequently, new business owners apply for a long-term bank loan without considering other financing alternatives. It can be tough for a startup business to lock down a long term loan right off the bat. Sometimes new owners do not have what is needed to secure a small business loan until they have operated for a while. An owner may get approved for a loan and receive funding; however, the terms might dictate finances for years to come. Not unless your business has long-term capital expenses that can not be covered by other means, other funding options might be a better choice. Here are the top three financing options for small businesses:
SBA loans
Generally, this is a secured loan backed by the Small Business Administration (SBA). These low-interest loans are typically provided by financing companies, commercial banks, and nonprofit lenders instead of the U.S agency itself. When you are applying for a regular term loan at a bank, you need to put up assets to secure the financing. If you wish to get a small business loan without collateral, like cash, inventory, or capital- the bank will possibly consider the application too risky.
Enter the SBA and its loan program: The federal agency offers the capital guarantee required to secure the loan on your behalf. Because SBA loans are typically less expensive than other alternatives to regular term loans, they are one of the most cost-effective ways to finance a small business. Getting approved for an SBA loan can be competitive, so get ready to meet the qualifications.
To qualify, you need:
A credit score of 650 or more

Annual revenue of $75,000 or higher

In business for two years or more
A business line of credit
Business lines of credit are convenient. Contrary to conventional loans, a business line of credit offers available funding for companies requiring an indefinite sum of money to get them through a major expense or a cash crunch. A business credit line enables better control over your business's debt and can be simpler to secure than a small business loan. Acting as a reserve source of money to be used whenever required, the line of credit can also supplement a conventional loan.
To qualify, you will need:
A credit score of 575 or higher

Annual revenue of $160,000 or more

In business six months or more
Invoice financing
Invoice financing involves the pleading of unpaid invoices as collateral in exchange for cash. Companies that require fast cash for short-term expenses often turn to invoice financing if they have high-value outstanding invoices yet to be paid. Most creditors and banks offer between 75-90 percent of the invoice face value. The money is then advanced to the borrower, and the remaining balance is remitted after the invoice is paid in full, deducting the fees. If you are looking to get a small business loan with poor credit, you can take advantage of invoice financing since your customers' creditworthiness is weighted more heavily compared to your financial health.
To qualify, you will need:
A credit score of 600 or higher

Annual revenue of $150,000 or more

In business for one year or more
Step 6: Complete the loan application
Now that you have pegged down the kind of loan or financing option that is best for you, you are ready to apply. You will need to go to the lender and start the application. Typically, a loan officer will be your first point of contact and go-to for all things related to your loan. Some online lenders offer web access to applications and business advisers to assist with this stage. In that case, you might speak to an adviser over the phone to complete the process. Meeting with a loan officer, possibly face-to-face will be a vital step in securing your loan.
Collect your documents
Ensure you have all the vital documents on hand, including:
Proof of ownership

Business license and permits

Government identification
You will also have to offer proof that you are the lawful owner of your business, like:
Company stock certificates

Internal revenue service form k-1

Stock ownership documents (if applicable)

Owner's tax return, inclusive of the Schedule C form

Articles of incorporation (if applicable)
Step 7: Make your case
After your loan application is signed, sealed, and delivered, you should prepare to meet face-to-face with your financial institution's loan officer. You will pitch your situation why your business can be trusted with the funds by explaining its intent. Be prepared: go with a rehearsed pitch and a well-organized business plan. Give yourself ten to fifteen minutes to go over your planned capital expenses and a blueprint to profitability. Make sure your presentation starts with an executive summary that quickly states the main talking points and your company's competitive advantage.
Step 8: Wait for approval
How long it takes to learn if you are approved for financing depends on the lender. It can take months to get accepted for a small business loan from a bank, particularly a large one. Smaller, regional banks tend to take notably less time to process small business loan applications. The approval process is generally much quicker if you apply for a business loan online, with some lenders approving business loan applications within a few hours of receiving them.