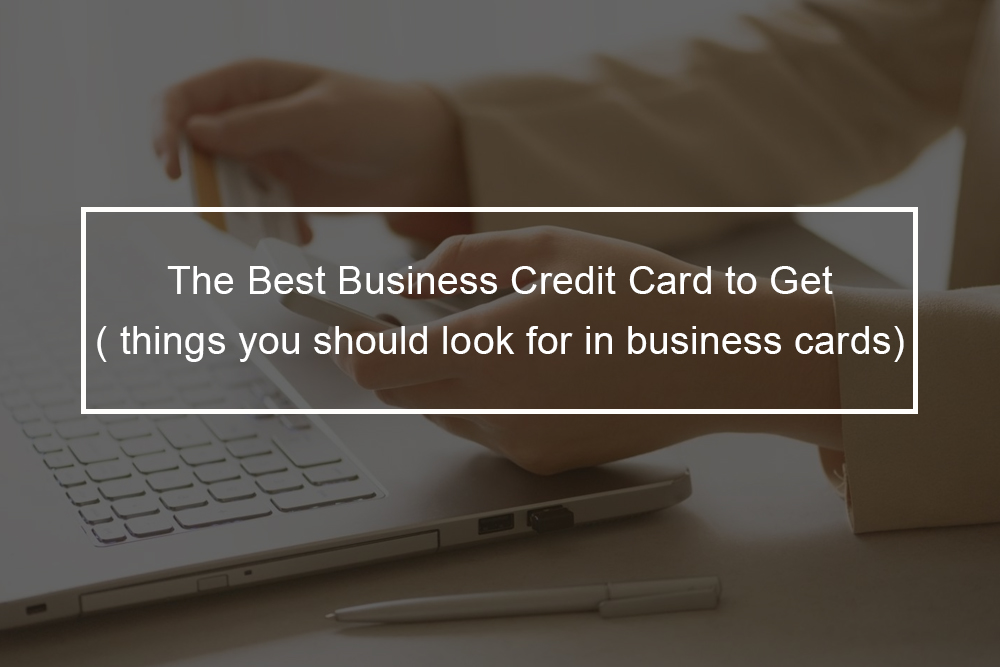 Choosing the best business credit card is not so different from selecting the right personal credit card. Nonetheless, business owners have to do more thorough research to understand how this financial tool can assist their business and ensure it does not backfire on their personal finances.
According to the 2019 Federal Reserve Small Business Credit Survey, the majority of business owners in the United States used their personal credit to access capital for their business regardless of size. Even if you are just a startup or an established business, business credit cards are essential tools for financing your business. However, with dozens of options, how do you choose the right one for your business?
Note that no single business credit card will be the ideal choice for all business owners across the board. Just like the business funding options available to your business, the best credit card for your company is based on the benefits vital to your business, what you are likely to qualify for depending on your income and personal credit score as well as how much cost you are willing to incur to access capital. In this feature, we will outline the best business credit cards in the market.
---
The best business credit card for startups
Generally, not all business credit cards are created equal, and startups have some very unique business needs that a business credit card can assist solve. Whether you are a sole prop startup or have already incorporated or established a partnership, there are business credit cards that can help you access a line of credit faster while leveraging your personal credit.
Some considerations startups should make when selecting a business credit card include:
How will it affect your personal and business credit scores?

Who will require access to the business card?

If you are in a partnership or you have a co-founder, whose name will be on the application?

How much working capital do you require?
Brex card for startups
If a business charge card is something you need, the Brex Card for startups offers you a fair balance of rewards across various spending categories. With no foreign transaction fees and a $0 annual fee, it is an inexpensive way to fund purchases for the full billing cycle and establish your business credit history. Because payment in full is due when the bill comes (or sixty days post-purchase), there is no interest rate.
Team members can have their own business credit cards, either in plastic or virtual form; additional business cards also have an annual fee of $ 0. The card has no foreign transaction fees, and it comes with Mastercard's zero fraud liability protection program; if you did not make the purchase, you are not on the hook to pay for it. Moreover, there are entrepreneur-friendly cardholder discounts and credits that have been arranged with popular businesses, like Amazon web services, Hubspot, DocSend, We Work, and Google Ads. Discounts vary from 15 to 50-percent off service prices, and they change regularly.
---
The best business credit cards for travel
If you are frequently traveling for your business and have a good personal credit score, it is sensible to consider a travel reward credit card to access points and cashback that make life on the road that much simpler.
Recently, travel perks from major co-branded credit cards have lost some of their luster as rewards and merge program restructurings and rebrands have gotten rid of the perks road warriors know and like. Nonetheless, business travelers can still benefit greatly from a travel card's rewards, mainly if other business rewards cards do not provide cashback or rewards points for purchases in categories where you mostly spend. Below a few considerations you should make when selecting a business credit card for travel:
What is the annual fee?

Does the credit card carry traveler's insurance or other travel-specific support or protections?

Who gets to use the points/perks?

Will the credit card be used for international travel or domestic only?

Are you loyal to a particular airline or hotel chain, or do you want to be able to use your rewards with any carrier?
Ink Business Preferred℠ Credit Card
There is a lot to like about this credit card, including a 100,000-point bonus for new cardholders who spend $15,00 within their first three months. Because points are worth 1.2 cents each when redeemed for travel through Chase, this exciting offer is worth $1,250 (or probably more if you transfer your points to eligible hotel or airline programs. Besides, the annual fee is reasonable, and there is a good rewards proposition. Moreover, airfare and other travel will earn three points for every $1 on the first $150,000 spent annually on phone services and the internet, social media advertising, and shipping.
---
The best business credit card for businesses with bad credit
Business credit cards for owners with a bad personal credit score are rather limited; however, they are not unavailable entirely. There are definitely more alternatives in the fair credit category. If you are in between the bad and fair credit phases, take some time to improve your personal credit scores to open more options with better terms, rates, and fees. Here are a few considerations you should make when selecting a business credit card for bad credit:
How much working capital do you need?

What is the annual fee?

Is there a penalty APR if you pay late?

What is the APR for purchase?

Will the credit card help you build personal and business credit so you can access better funding down the road?

Would a no-personal-guarantee business credit card be a better option for your needs?
Capital One Spark Classic for Business
The best part about Capital One Spark Classic for Business is that it is an unsecured credit card. This means you will not have to put down a cash deposit as collateral. Moreover, you can secure a real line of credit that you can actually borrow against right away.
You can also get accepted for this business credit with average credit, which makes it a doable option for this business credit card with an average credit score, making it a doable choice if your credit is not stellar. Finally, you will love the fact that there is no annual fee and that you get free employee cards for your business. You also had the opportunity to earn one percent back on all the business purchases made with your credit card, and you can start building your credit immediately.
---
The best high limit business credit card
The key unknown that results in many business owners' frustration when seeking a business credit card is not being aware of how big of a credit line they can access before they apply. Whereas other business funding options such as term loans and lines of credit have a screening process and prequalification tools that can assist you in determining if you are likely to be approved for the business credit line you need before you apply, these typically are not available till you get approved for a business credit card.
Often, issuers do not share maximum limits or even ranges in their promotion, which can make it a real guessing game for entrepreneurs who know they would charge a bigger bill to the card if they had a big-enough limit. Here are a few considerations startups should make when selecting a business credit card:
How will it affect your business and personal credit scores?

Who will need access to the credit card?

If you are in a partnership or you have a co-founder, whose name will be on the application?

How much working capital do you need?
The Business Platinum Card® from American Express
This credit card was designed for business owners who spend a lot of time jet setting from place to place. Receive a 5X Membership Rewards® points on flights and prepaid hotels on amextravel.com. You will also earn 75,000 Membership Rewards® points once you spend $15,000 on eligible purchases within your first three months of credit card membership.
Besides, this credit card offers several annual perks, including airline credits, hotel credits, and even a $200 statement yearly credit for making purchases directly with Dell. Cardholders can also make some excessive use of the Pay Over Time functionality, making it possible to carry balances, with interest, on purchases that are over $100.
American Express also provides business owners some unique offers during the first year of membership, including a one-year membership to WeWork, which incorporates access to private office space, onsite staff, event space, shared workspace, and pantry amenities at over 335 workspaces globally- a $2,700 value. Typically, these advantages can make The Business Platinum Card® from American Express a genuinely valuable addition to your wallet. Unfortunately, there is one significant catch- a $595 annual membership fee.
Typically, there is a great chance to earn one of the highest-earning categories ever for business credit cards, provided you know your spending habits and choose the category you are most likely to earn.