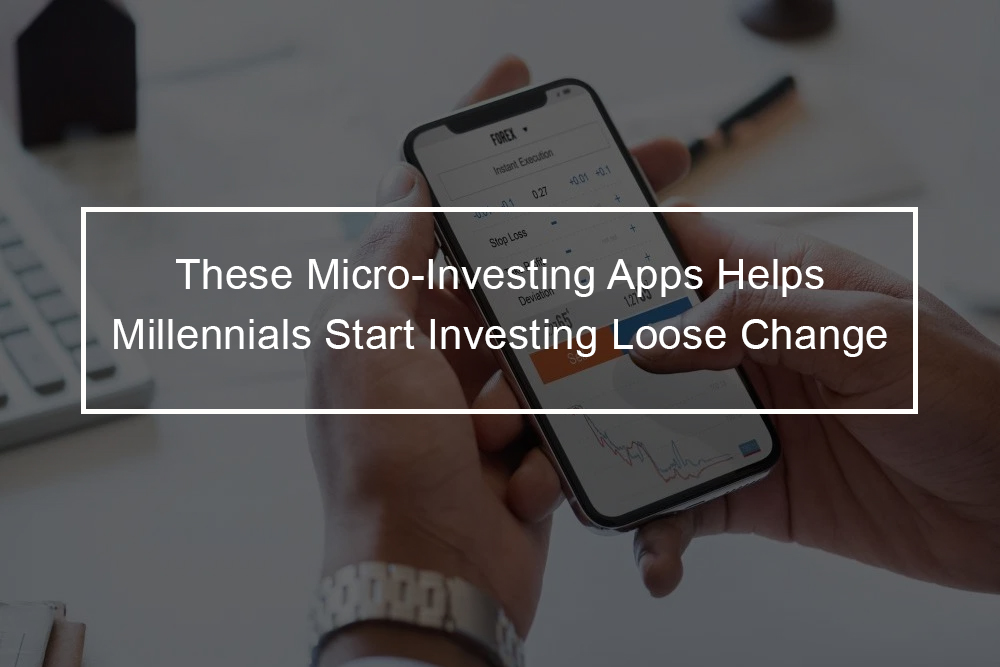 Micro investing apps appear to the current trend in the investing world. And it makes sense why there are so many people using them today.
With a savvy investing app, you can round up your purchases to the dollar, tucking away the extra change into an investing account. If you can kick your day off with a latte and a contribution to your future, then why not?
It feels great – you are saving money without even thinking about it; however, how much of an impact will that change make in your financial goals? Let us get deeper at what micro-investing is, why it has become a popular investing alternative, and some of the best apps in the market today.
---
What is micro-investing and how does it work?
Micro-investing apps automatically enable you to invest in small amounts in stocks, even though you know absolutely nothing about the stock. Usually, the app funnels your extra cash into portfolios of stocks that they craft for you. In short, the app makes saving simple.
Your investment money is typically used to purchase exchange-traded funds or EFTs. These funds beneficially spread your risk around by purchasing up shares in dozens or even hundreds of various companies.
The best thing is you do not have to start following the stock market suddenly. Most either charge fees on trade or provide free trades till your account reaches a certain amount, such as $5,000.
Why do millennials like micro-investing?
Here is the thing: you do not need much money to start micro-investing. The idea is just to get you investing. You have possibly that most Americans are not saving enough for retirement. That is true! The average United States family has nowhere near sufficient enough money set aside for retirement. This can be hard when we all get old.
If you are not already investing, the first step is the most difficult. No, micro-investing will not make you rich, but it will get you started. Micro investing makes saving a few dollars here and there easy. It is a set-it-and-forget-it strategy. It does not need strategic saving; instead, it makes use of spare change you may throw on your counter after work. That is definitely a low effort.
---
The 6 best micro-investing apps right now
Many apps are competing for your macro-investing dollars. They all promise to grow your investments like diligent little money gardeners. Virtually all of these alternatives will have you set up a profile that allows the app to know what types of things to invest in your money.
Here we discuss some of the best micro-investing apps of 2020. They are accessible on Android phones and Apple.
Acorns
Acorns make it simple to invest without missing the money you set aside. It rounds up your credit or credit card purchases to the nearest dollar and invests your digital change.
You can automatically round up all your purchases, or manually round up only the transactions you select. Since the money comes out in increments of less than $1, you are less likely to feel an effect in your bank account.
Typically, the more you use credit cards, the more your round-ups amount to much more money. You don't have to select exactly where to invest your money. Instead, you will answer a few questions to create a financial profile and state your goals. Acorns use this to build your investment portfolio, which ranges from aggressive to conservative.
Acorns cost $1 per month for an account with a balance below $5,000.
Stash
Stash allows you to start investing with $5. You can frame it up to withdraw a specific amount of cash from your bank account each week or monthly, so you can grow your investments over time.
Similar to Acorns, Stash will ask you a few questions to determine your risk profile: aggressive, moderate, and conservative. They will then invest your dollars in a set of simple portfolios reflecting goals, interests, and beliefs.
You can select from more than 150 EFTs and stocks. Rather than overwhelming you with industry jargon, Stash curates and categories these funds and gives them understandable names. Stash costs $1 per month for an account with a balance below $5,000. Balances of $5,000 or more will cost 0.25 percent a year.
Rize
Rize is an investment and savings app. The saving part is a pay-what-you-want web application that will help get your savings on track. It puts part of your paycheck into a separate savings account.
Generally, you will create a goal and set a deadline. This could be a short-term goal, such as saving for a weekend road trip or meeting your monthly student loan payment. You will even earn a 1.16 percent interest on your balance. (For some situations, that is 19 times higher than the national average of savings accounts).
If you have a longer-term objective, have Rize invest the money and help you maximize returns. Besides, you can easily tweak your settings in Rize at any time. Even better, the app has some fun automated features such as accelerate, which automatically increases your savings by one-percent monthly or boost, which triggers Rize to squirrel away when it makes the most sense. The annual management fee of Rize is 0.25% of your investments.
WiseBanyan
With WiseBanyan, you can start investing with as little as $1, and the app charges no trading fees and monthly fees. Typically, a financial advisor can cost more money than you are even willing to invest, particularly if you are just getting started. However, free online services such as WiseBanyan can offer the same kind of support.
The service is entirely digitized, removing the general management, rebalancing, and trading fees; however, it still offers the same service as traditional financial advisers.
After you sign up, you can create a Milestone by entering your goals (whether it is saving for retirement or trip) and a time frame. WiseBanyan app automates everything, from suggested deposits to rebalancing your accounts to help you achieve your goal.
WiseBanyan is free, but fees do kick in if you opt to upgrade to premium services. You can combine and match services to create personalized premium packages. These packages incorporate detailed investment strategies, additional automation services, and increased personalization.
Robinhood
The Robinhood app is the most famous app for no trading fees. You can purchase and sell stocks on United States exchanges without paying a commission, and you will pay no account maintenance fees. You can also purchase and sell ETFs and cryptocurrencies if you are into that kind of thing.
In keeping up with its stripped-down strategy, Robinhood does not offer investment research or advice on your portfolio. So you will not necessarily get so much guidance here. It is a no-frills, bare-bones application designed for investors who want to trade stocks often while keeping the cost down.
Robinhood is free. There is also a premium service known as Gold that allows you to purchase on margin, which indicates borrowing money to purchase stock. But that might not be suitable for beginners. The cost depends on how much you want to borrow. Besides, you need a minimum of $2,000 in your account to do this.
Public.com
If you combine investing with social media, the result might resemble Public.com. Android Apps and public's iOS apps allow you to connect with other investors, much like you connect with friends on social media. When you are uncertain about where to start as an investor, interacting with more experienced traders can assist.
Public.com makes mindful investing easier through its use of themes. The platform has about fifty investing themes that bundle similar companies together. Perhaps you want to invest in women-led businesses or environmentally conscious organizations.
Public.com investing features: commission-free trading, fractional shares, and a referral bonus. Besides, there are no minimums; you can open an account and invest in any amount.
---
Is Micro-investing worth it?
Typically, if you invest small, you can expect a small return. And that is okay. You possibly will not become a millionaire or retire early by investing your spare change. However, logically the app can help you set aside a few hundred dollars a year. You could even have $500 in your emergency fund by the end of the year. Alternatively, you can use micro-investing as the first step into more significant investments.