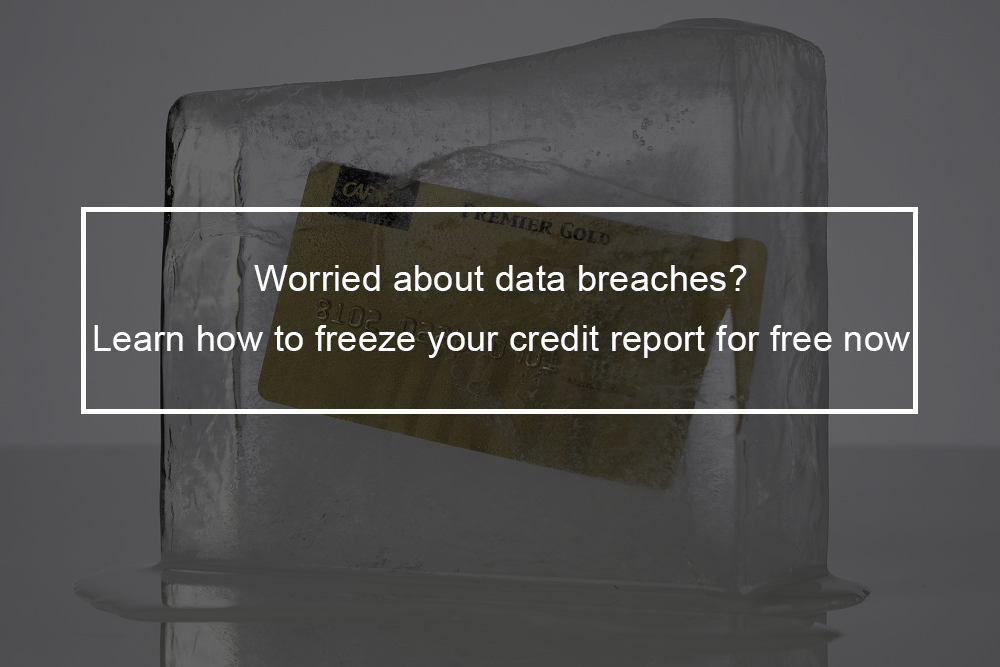 One of the best ways you can protect yourself from some kinds of identity theft is to freeze your credit record at each of the three major credit bureaus.
Having a credit freeze on your credit record at the three major credit bureaus- TransUnion, Equifax, and Experian- can assist you to prevent identity thieves from accessing your credit reports to open new accounts, make significant purchases in your name or access credit, even if they have your Security number and other personal information.
---
What is a credit freeze?
According to credit sesame, a credit freeze is a process that locks down your credit file and prevents cybercriminals and identity thieves from opening credit in your name.
Typically, access to your credit file is inaccessible to everyone apart from you. Creditors, like banks and credit card companies, request to see a credit report before opening new accounts. Since they will not be able to see your credit report, they will be able to extend you a line of credit. And credit freezes will not negatively impact your credit score.
Unfreezing your credit
After you have frozen your credit, there might be times when you want to unfreeze it. That may include when you apply for a job ( for some states), a mortgage, auto loan, or take any other measures where there is a legitimate requirement for a business to assess your credit report.
This is straightforward to do by using the PIN you were given by each of the major credit unions when you froze your credit record. Then, after your new credit has been developed, you can freeze your credit report again using the same PIN.
It is worth noting that when you unfreeze your credit record, you can indicate that you desire your credit report to be frozen again after a particular period.
What does it cost to freeze credit?
The price of freezing and unfreezing your credit records became free on 21st September 2018. This was when the Economic Growth, Regulatory, and Consumer Protection Act became a federal act. The act enables consumers to freeze and unfreeze their credit reports free of charge at any time.
Before that date, the price of freezing and unfreezing your credit at each of the three credit bureaus was determined by state laws.
When should I freeze my credit?
Most people freeze their credit after their identities have been stolen, which is okay. Nonetheless, you are typically in a race against criminals who can get your credit report. As such, you can freeze your credit now and always.
Think of it as a preventive tool. This might be the best measure you can take to prevent yourself from being a victim of identity theft. Even though your social security number was in the hands of an identity thief, you will still be protected. If you would instead not put your credit on a freeze, you should consider it in the following cases:
You are a victim of a data breach: If your personally identifiable info has been exposed, cybercriminals can try to open new accounts in your name. A credit freeze can offer an additional layer of protection. Leners will not be able to access your credit record, making it unlikely that they will grant credit to anybody using your Social Security number.

You believe you might have become a victim of identity theft: You might begin receiving bills for accounts you do not recognize. Or you might receive calls from credit bureaus seeking payments on accounts you have never opened. These are possible signals that you may be the victim of identity theft. A credit freeze can assist prevent criminals from creating more accounts using your personal data.

You need to protect against identity theft for a kid: A provision of the Economic Growth, Regulatory Relief, and Consumer Protection Act authorizes guardians and parents of children under 16 years to frame up a credit report for a child and then freeze it for free. This can assist you in protecting against child identity theft.
After your credit is frozen, you will still have access to your credit record, as will present debt collectors and creditors. Employers- both potential and current- have limited access to your credit report, as do some government agencies. 
---
How to freeze your credit?
To freeze your credit, you will have to do some work. You will need to ask for a credit freeze from all three credit unions: TransUnion, Experian, and Equifax. Each union has a slightly different process.
Step 1: Reach out to the three major credit bureaus
To freeze your credit, you will need to give information such as birth date, Social Security number, and most current addresses on hand when you make the request. You can freeze your credit by online, phone, or mail.
How to Freeze your credit report with Equifax?
Phone: 800-685-1111

Mail: Post a mail on Equifax Security Freeze, P.O. Box 105788, Atlanta, GA 30348
How to Freeze your credit report with TransUnion?
Phone: 888-909-8872

Mail: Post a letter on TransUnion LLC, P.O. Box 2000, Chester, PA 19016
How to freeze your credit report with Experian?
Phone: 888-397-3742

Mail: Post a letter on Experian Security Freeze, P.O. Box 9554, Allen, TX 75013
Note that the three credit unions say requesting a credit freeze by mail is the slowest method, thus if time is of the essence, you should consider seeking the freeze over the online and phone.
If you opt to appeal for a credit freeze by mail, ensure you include the date, your full name, date of birth, last two addresses, Social Security number and a clear copy of a government-issued identification card, bank statement, clear copy of a utility bill bank or other kinds of proof of address.
Step 2: Receive your pin and keep it safe
The credit agencies will frame up with a PIN that will enable you to control your credit freeze.
After you receive this number, ensure you keep it in a safe place where you can find it always. Remember, if you ever need to unfreeze your credit, you will need it.
Step 3: Manage your credit freeze
Typically your credit freeze should be active one business day once you request by phone or online. For mail requests, the time frame is three days. You can tackle it by logging into the credit bureau's site using the credentials you developed when you requested the credit freeze. If you want to make any changes through mail or phone, you need to have your PIN on hand.
---
What are the cons and pros of credit freezes?
The benefits of having your credit frozen are quite straightforward:
It is free

It will not impact your credit score

Prevents anybody from creating new accounts in your name
Nonetheless, there are some possible shortcomings you should consider before appealing for a credit freeze:
It does not protect existing accounts

You will have to lift the freeze as long as you want to apply for a new credit item

Managing and requesting credit freezes via the three credit bureaus can be a pain
---
What are alternatives to a credit freeze?
A credit freeze can be an incredibly useful and powerful tool to protect your credit and identity; however, you should not allow it to lull you into a false sense of security. Here are alternatives you should consider to ensure the safety of your identity and credit.
Fraud alert
A fraud alert is a ninety-day alert on your account that needs companies to call you before offering new credit. For instance, if you provide the company with your contact, they should call to confirm your identity before they get a copy of your credit history.
This service is free. You only have to frame up an alert with one of the credit reporting agencies, and the agency you frame up the alert with must notify the other two. Generally, there are three types of fraud alerts: Active duty military, extended fraud alert, and a fraud alert.
Credit lock
A credit lock blocks everyone, including you, from making any changes to your credit report. This access is controlled via a mobile app or website, and access is immediate if you unlock your credit.
This choice is the most costly: You should request a credit lock from each credit bureau, and each one charges $20 upward per month.
Credit monitoring services
If you want to take your identity and credit protection further, you can sign up for a credit monitoring service. You can use Credit Sesame, which offers you access to your credit report via TransUnion. This credit report card demonstrates your credit report using simple language, tools, and tips to help you manage your credit.
Besides, Credit Sesame provides free identity theft protection, which will alert you of significant changes to your credit history-inclusive of when the next hacker steals money and tries to create an account in your name.
Assess your credit reports
You can ask for a free credit report from each of the credit unions after a year via AnnualCreditReport.com. Carefully assess your credit reports when you get them, making sure that no new accounts have been created without your knowledge.
If you find anything that looks suspicious, take note of it and report it as potential theft to the Federal Trade Commission and police.