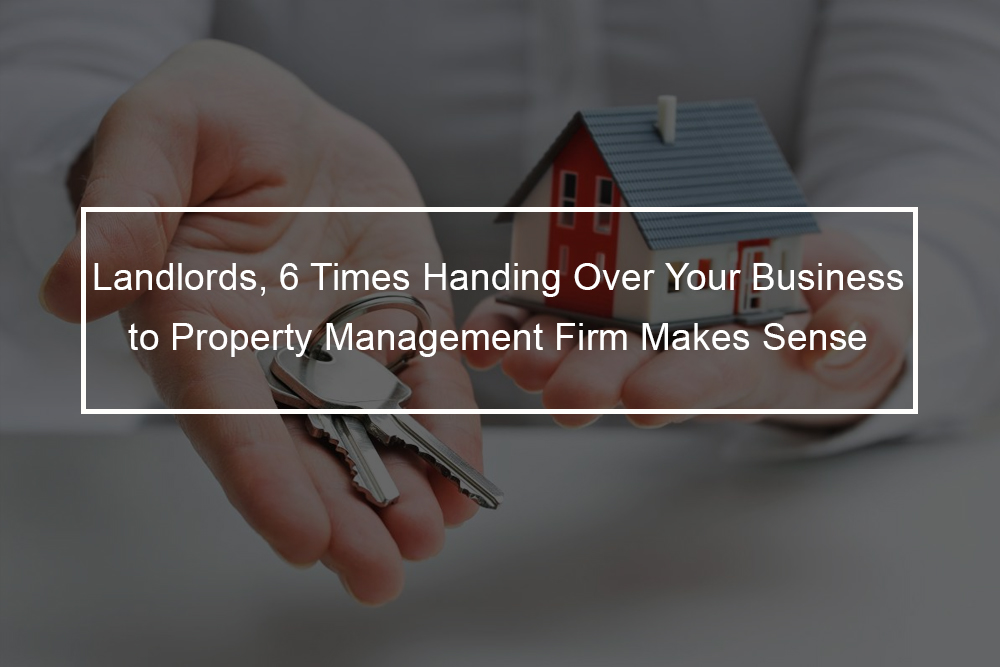 If you have considered becoming a landlord, you might have wondered if it is in your best interest to hand your business to a property management company. This is a question most landlords often ask themselves; however, they are justify uncertain if contracting out the management of their property is the correct strategy for their individual situation. 
The idea of having some assistance from a property management company can be very appealing to landlords, given that owning a rental property comes with unique challenges- above and beyond the responsibility of ownership. However, before you decide, you should consider various considerations to determine if hiring a property management company is ideal for you. 
In this feature, we will discuss six reasons a landlord should consider handing his or her business to property management. 
---
What are a landlord's responsibilities?
On the surface, a landlord's responsibilities might appear as simple as finding a tenant, collecting rent, signing the lease, completing a move-out inspection when the renter wants to move out, collecting rent, and starting it all over again when the tenant wants to move out. 
These surface-level responsibilities fail to show the energy and time that may be needed if any rental-related issues arise. We are talking about problems with the property, problem tenants, and issues that might be out of your control; however, you will still get blamed or need to mediate. 
---
6 Times you might need a property manager
We have compiled a list of six rental issues in which you might value a property manager's time and skills to manage it. 
You lack time
If you are like most buy-to-let landlords, high chances are the real estate comes with a secondary income stream for you to enjoy.  Nonetheless, mixing this with a full-time job can be hugely tiring, especially when you consider the challenges of managing tenants and the properties in which they reside. 
Without skilled property managers, you might find yourself regularly called out to attend property repairs and maintenance tasks, while also arranging for tradespeople to visit and take care of these problems. You can also be inundated with queries from renters, most of which have to be addressed urgently under the terms of your agreement. 
In this respect, working with a property management company can assist you to save both money and time over a significant period. 
Distance
The distance between your rental property and home, even though it is just one property, can be the most significant factor when deciding to hire a property management firm. You might think that traveling to the property several times per year or the ability to travel on short notice is enough to keep abreast of the challenges that come part and parcel with property management. But in actuality, even though it can be sufficient in some cases, sadly, it usually is not.
The reason being that tenants and property issues do not follow a schedule. Provided the distance is anything more than a few hours, and mainly if it requires a day's travels, challenges can begin to mount- faster. Besides, as a landlord, you might have to be at the property at times of the day that are not convenient for you because of work and other commitments. 
In case you live a fair distance from your property, the solution might be to find lodging close by to promptly make sure you are dealing with any issues or problems. This adds unwanted costs and stresses that only you will have to bear. 
Your experience managing a property
Before diving into investing in property, it is hard to conceptualize what exactly property management comprises. Having base-level knowledge will undoubtedly aid in the beginning stages; however, in the cut-throat world of real estate, this is usually not enough.
It might be hard to give up the reins of your newly acquired rental property- after all, it is part of most investors' enjoyment to play a hands-on responsibility in the management of their property.  
Having said that, if you do not have experience and you have a steadfast drive to be on the front line of managing your property, in the end, this might be your detriment as a landlord, investor, and individual. Distinctly if you are a first time home buyer, or just at the early stages of tinkering with the real estate market, it is often recommended that help early on is invaluable.
Utilizing expertise, skills, and professionalism of a property management firm does not mean you have to hand over full control of your property if you do not want to. Typically, you retain as much or as little responsibility for the management of your property as best suits your case as the property owner. Since not every property management firm is the same, ensure you do your research and find one willing to work with you to match your expectations. 
Shorter vacancies
You might find it extremely hard to minimize turnaround time and fill vacant properties after a tenant's agreement has come to an end. This scenario can cost you a lot of money in terms of lost rental income and the time needed to source brand new tenants. 
You can depend on a property management company to focus on this problem and make it a key priority; nonetheless, creating a scenario where vacancies are filled much faster with barely any effort at all on your behalf. 
As a result, you can optimize your primary income stream while also reducing the amount lost in rental income. In most situations, these provide more savings more than makeup for the cost of hiring a property management company in the first place. 
The condition of the property
A further reason that convinces most landlords to hire a property management company is in regards to the condition of the property. Not unless you have the financial capacity to purchase a pristine property, there is a high chance that you will have to settle with buying a property that requires a considerable amount of maintaining and fixing. 
What is more, as your property empire becomes more fruitful, you will need to deal with things becoming clogged, broken, or leaking on a growing basis. Whereas some people take this task quite naturally, the overwhelming number of people find it quite a struggle to get the resources, time, or even the motivation to do so. 
Besides, if you need to deal with more fundamental challenges, such as a perpetually leaky roof, or many problems at the same time, you might find yourself becoming infuriated at the effort it takes to keep a handle on it all. 
The painful truth is that if you want to remain, someone who has the time to acquire property, you can not spend all of your time fixing and maintaining the property you own. Decide about property management depending on your ultimate goals. In the property game, pragmatism will go a long way. 
Tenant turnover and screening
As a landlord, you will soon realize that carrying out effective tenant screenings is integral to finding a tenant who meets your standards and expectations. You have to select a tenant who cannot only afford to pay rent but also is responsible enough to pay it on time.
Furthermore, you will want to find someone who reflects the qualities you believe an ideal tenant should hold. Maybe you are looking for somebody who does not party too much, is okay with your no-pets policy, or has a full-time job. 
Leaving it to the property management companies, in this case, the professionals of this market will lessen the pain of this often tedious process. Property management companies are trained to vet prospective tenants, so they know the exact red flags and qualities to look out for. In turn, they can identify the most suitable people to sign your Lease Agreement and become your tenants. 
Getting the right tenant the first time around can save you the stress, time, and money it takes to evict a troublesome renter. The best advice for anyone who is not sure how to conduct tenant screenings or feel consistent in their capabilities to source reliable tenants is to hire a property management company to do the job.
A lot of real estates investors have found enormous success in self-managing their rental properties. Self-management offers you the opportunity to retain a higher percentage of your monthly rental income as revenue. When you have a dream tenant, self-management is a breeze. However, when difficult rental cases arise, you might value property management.
The purpose you hire a property manager is not to cash a check every month; however, to be there to answer the phone and tackle problems, you can enjoy yourself and watch that bottom line's rental income get bigger over time with less effort.