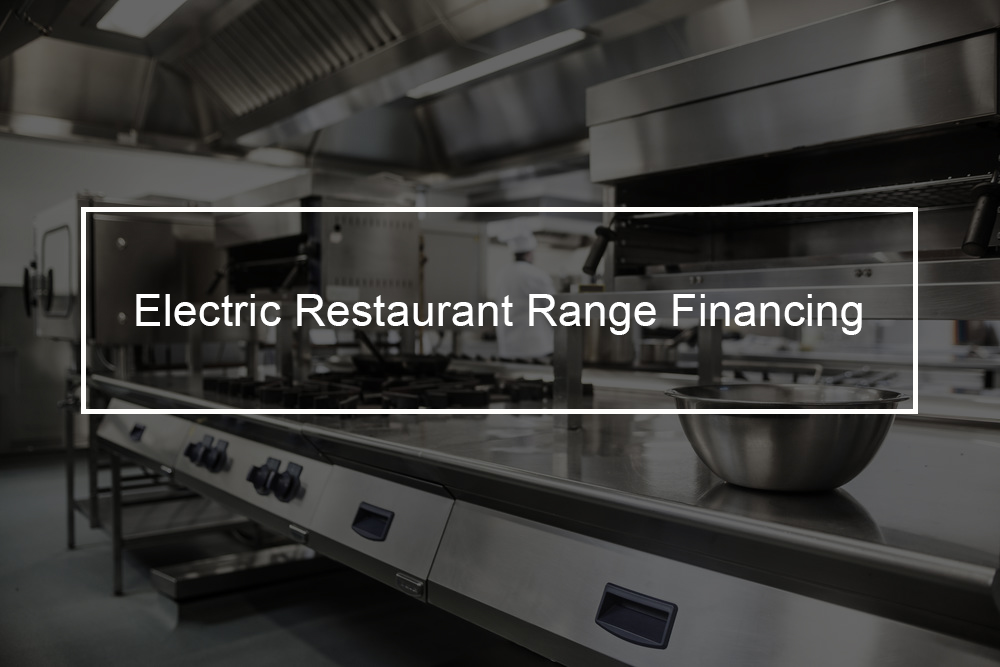 You need a lot of equipment to run a restaurant. Apart from pans, pots, dishes, silverware, glasses, restaurateurs need heavy-duty equipment like the Garland US Range SS686 electric range, refrigerators, countertops, and heating stations. There is also the need for POS systems, computers, and accounting software. The list is endless. All things considered, restaurant owners have to buy a lot of equipment when opening their establishments. And these purchases can be quite costly. Following recent research, the average restaurant owner who is just starting can expect to pay $115,655 on the bar and kitchen equipment. With so many other costs to consider- utilities, furniture, salary expenses and rent, the cost of drink and food- it can be downright impossible for new restaurant owners to piece together that type of cash on their own.
To open and run a restaurant without compromising on the quality of the equipment that is powering the kitchen, many owners turn to outside funding to cover these costs. There are many options one can pursue; equipment financing, Small Business Administration loans, short term business loans, merchant cash advances, and business lines of credit. Unfortunately, many banks are hesitant to approve loans for small businesses or new businesses. Following a recent piece in the Wall Street Journal, small business lending is down thirty-eight percent from its peak in 2006. Luckily, that is where alternative lenders like us exist. Are you in the market for electric restaurant ranges? We are going to discuss one of the best ranges, the Garland US Range SS686 Sentry Series Electric Oven, financing options, and financing swindles to avoid.
---
Description of the Garland US Range SS686
Sentry series restaurant is an electric Garland range with 36″, (6) high performance sealed element burners. It has an electric medium-duty range with full size, the all-porcelain oven interior, contoured front stainless steel plate rail, 36″ (914mm) wide, with six all-purpose tubular heating elements. It comes with a stainless steel exterior, with stainless steel 10″ (254 mm) high backguard with slotted black enameled angled cap. 
The Garland electric range is available with optional sealed elements with overheat protection- reducing power if the element is turned on w/0 pan for eight minutes, griddle, and hot top (s). Available with a convection oven base. Note that ranges supplied with casters must be installed with an approved restraining device.
Standard features of Garland US Range SS686 Sentry Series:
One large, full-size oven with complete porcelain interior finish

1-year limited warranty on parts & labor (USA & Canada only)

10″ (254mm) high stainless steel backguard that has slotted black enameled angled cap

6 sealed, high-performance elements with overheat protection and 6-heat switch instead of tubular elements, CE approved model SU686 or North American Model SS686

6 tubular heating elements, infinite switch controlled

6″ (152 mm) high stainless steel legs Adjustable

Cool touch oven door handle

Electromechanical heavy-duty oven thermostat, (150°F/66°C – 550°F/288°C)

Removable, 4-position, rack guides w/ 1 oven rack

Stainless Steel exterior
Optional features of Garland US Range SS686 Sentry Series:
 17″(432mm) high stainless steel backguard 

Convection oven base (add suffix ‑ RC) with 3-position rack guide assembly and three oven racks

Extra Oven Rack

Marine equipment ‑ oven door latch, storm rails, drip tray stop, and deck fasteners

Range mounted salamander broiler (Model SER‑686). CE Marked range mounted salamander is SUER‑686.

Set of (4) Polyurethane (nonmarking) swivel casters with front brakes

Solid Steel Hot top 1/2″(13mm) thick using front and rear switch controls, available in 12″, add suffix 1, and 24″ add suffix 2, standard on the justify, right optional (Note: Maximum (2)two hot top sections per range.)

Stainless steel two-piece simple to assemble backguard and plate shelf
---

How to lease and finance the Garland US Range SS686?
When you are trying to get your restaurant off the ground, we understand that the new kitchen equipment you need can be expensive if bought outright. That is why our commercial financing, leasing, and rental equipment is a cost-efficient option. Leasing or financing options enable you to keep your commercial kitchen up-to-date without the hassle of continuously buying and selling equipment.
Top Financial Resources is a trusted financing partner for commercial restaurants and other industries' equipment. Our leasing and financing teams can help you choose the right products, together with a financial plan that works best for your needs.
---
Benefit from financing your restaurant equipment
Break up the expense over a larger time

Make monthly payments versus purchasing outright.

Continue to keep the equipment for years after the lease is finished.

Experience tax benefits of lease versus purchase completed.

Gain access to credit programs for new and startup restaurants
Restaurant equipment financing processes and terms
These typically appear in chronological order when they would be encountered in a typical equipment financing transaction:
Application/ applying
The first step in an equipment financing process is applying for financing. The amount of information you need to offer varies by lender, as does the way you do it (off or online). Top Financial Resources Take: For financing equipment under $250,000, we have a simple online application. You can make the application right from your desk and leave your tax returns and financial statements home, too ( we do not need to see them). You can also expect feedback within a business day, if not faster.
Equipment financing term lengths
This is the length of your equipment (SS686 Sentry Series) finance lease or agreement. Typical terms typically run anywhere from 24 to 72 months, with the majority of deals in the 36 to 60 months (three to five years) range. Top Financial Resources take: We work with our customers to get them the term and monthly payment that makes the most sense to them.
Electric restaurant range financing swindles to avoid
If you need finance or lease your restaurant electric range, be wary of the following:
The kitchen equipment leasing calculator scam
One thing restaurant owners looking for financing usually run into online is sketchy calculators that show an approximate of what payments could be to lease equipment. However, in the vast majority of circumstances, the numbers those calculators show are nowhere close to what your real payments will end up as. In order to get real numbers, you will have to fill out a credit application, and the actual rates will not be revealed until the lender has fully evaluated your situation. You will find that every restaurant equipment leasing calculator on the internet quotes pretty much the same payments if you try it yourself.
Phony restaurant equipment leasing & financing company proposals
Note the difference between lease proposals and approval letters. With lease proposals, you have not actually been approved for financing. You might be confused with these letters because some proposals are slyly crafted to appear to be an approval. The other difficulty is that there is a little bit of a gray area- many totally legit companies ask for a commitment fee of a few hundred dollars to cover costs of underwriting (for instance, if you were leasing used restaurant equipment and an inspector had to be sent out to inspect the equipment before approval) and will happily refund those fees if they ultimately end up declining the transaction. Nonetheless, asking for two payments, or several thousand dollars upfront before full and final approval is something you should never have to do and sign that you have to look elsewhere for financing.
Betting you can not calculate the rates to lease restaurant equipment.
Most equipment financing contracts do not actually contain a stated rate since they are technically done as a lease, both a loan, they are not accounted for like a bank loan, so are not quoted like one either. The first question you are to ask when leasing commercial restaurant equipment is: what are the rates? Be cautious since some companies just give you a bogus number. Here is the catch: these companies know that most people who call them do not really know how to calculate the rate anyways. This type of scam makes it hard to compete against somebody who lies about the rates because the swindlers can just make up any low number they want. The simplest way to combat this swindle when you are shopping is to worry about comparing payments instead of rates.
The "No Prepayment Penalties''
If you think you would be likely to pay the contract for your equipment in a shorter amount of time, usually the best thing to do is look for a shorter term. Probably if you ask a company if there are prepayment penalties, they would answer would be yes, but some could lie. The best way to be safe is to shop with a company that you know will be honest.
Daily payment financing for restaurant equipment
Daily payment loans can sometimes be an appropriate option for your company because they are very simple to qualify for. Nonetheless, in most cases, they are a terrible way to fund restaurant equipment- because the payments are much higher compared to an equipment leasing or financing contract, there are only two cases where you would want to look at these:
There is no other way to qualify for equipment financing.

Sometimes, if you require a downpayment to lease your equipment and making the down payment would create a large strain on your cash flow, daily payment loans are an appropriate option to fund your down payment.
This post will hopefully help you avoid some of the biggest swindles out there when you are trying to finance your electric range or any other equipment your restaurant needs.