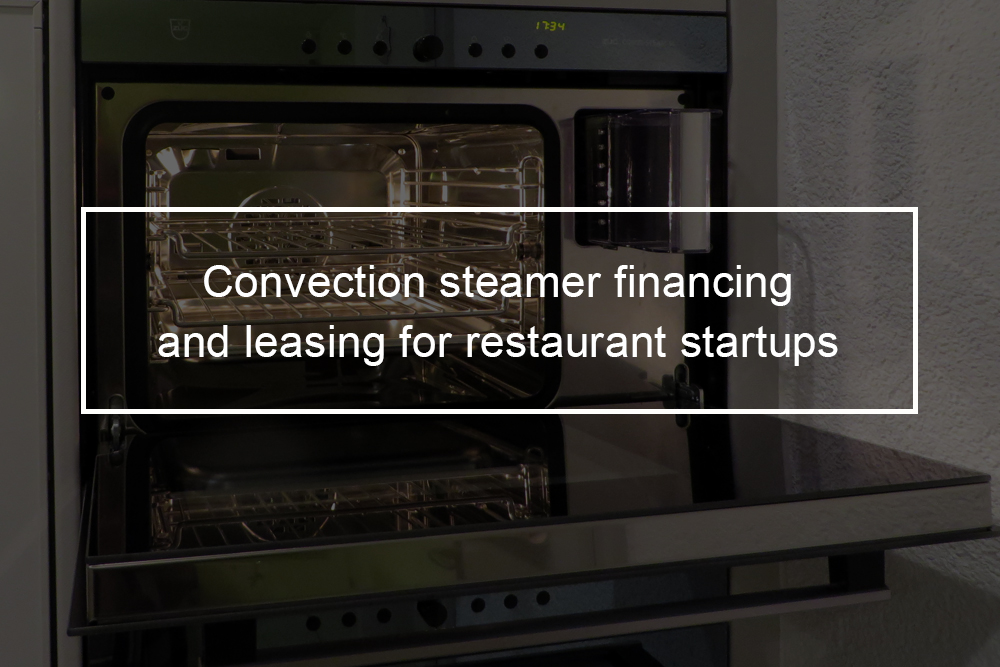 Sometimes, the seasonality of your restaurant can feel like a roller coaster ride. We have restaurant equipment financing solutions to smooth out the ups and downs of running a restaurant. Let us help you find ways to preserve working capital so you can expand your restaurant by financing AccuTemp E32081D060 SGL convection steamer for you. By having the right equipment, your restaurant can significantly increase its sales and productivity.
Adding equipment will often enable a business to increase the scope of its service, enabling the business to reach an expanded or new client base. The equipment a company puts into operation is also a reflection of the organization and the sense of professionalism and quality offered. Convection steamer financing and leasing terms provide very flexible options that will not stress the restaurant's cash flow, as most payback terms run between twenty-four to seventy-two months. Besides, buyout options are available, and the ability to add equipment to your lease at any time.
---
AccuTemp E32081D060 SGL overview
 AccuTemp E32081D060 SGL is a boilerless, convection steamer that features Steam Vector technology, digital controls and requires no water filtration. This electric unit holds three 12″ x 20″ x2-1 /2 deep pans. It does not require water and drains connection, and the warranty is not voided by water quality. You will be happy to know it is cULus, UL EPH certified.
Features and benefits of AccuTemp E32081D060 SGL:
 5′ power cord with plug included

Automatic altitude compensation

Bring steam cooking to your commercial kitchen without the need for hookups, water filtration, or drain connections!

The cast aluminum heating compound is not exposed to water

Cook mode and Variable Hold Temperature mode

Dishwasher-safe one-piece wire pan racks

You can open the door at any time during the cooking cycle

Easy-to-clean control panel

Easy-to-use digital controls with digital temperature display

Fast cook times with patented Steam Vector Technology, which uses no moving parts

Front-mounted drain valve

Heavy-duty, field-reversible door

Holds three two (2) 12″ x 20″ x 4″ full size pans or (3) 12″ x 20″ x 2.5″ full size pans 

Includes stainless steel stand (Select between 5″ casters, adjustable bullet feet, or flanged feet)

Independent digital electronic timer with programmable preset

High water, low water, and overtemp indicator lights

No scheduled de-liming or maintenance

No warranty exclusions for water quality

No water and drain connections

No water filtration or treatment required

Operating instructions on the door

A simplified service access panel

Steamer cavity constructed of reinforced 14 gauge 304 stainless steel

Three-gallon water reservoir

The steamer utilizes less than 1.5 gallons of water for every hour
AccuTemp E32081D060 SGL dimensions:
Depth: 29 Inches

Width: 27 Inches

Height: 49.1 Inches
AccuTemp Warranty: One year parts and Labor
---
What is convection steamer leasing?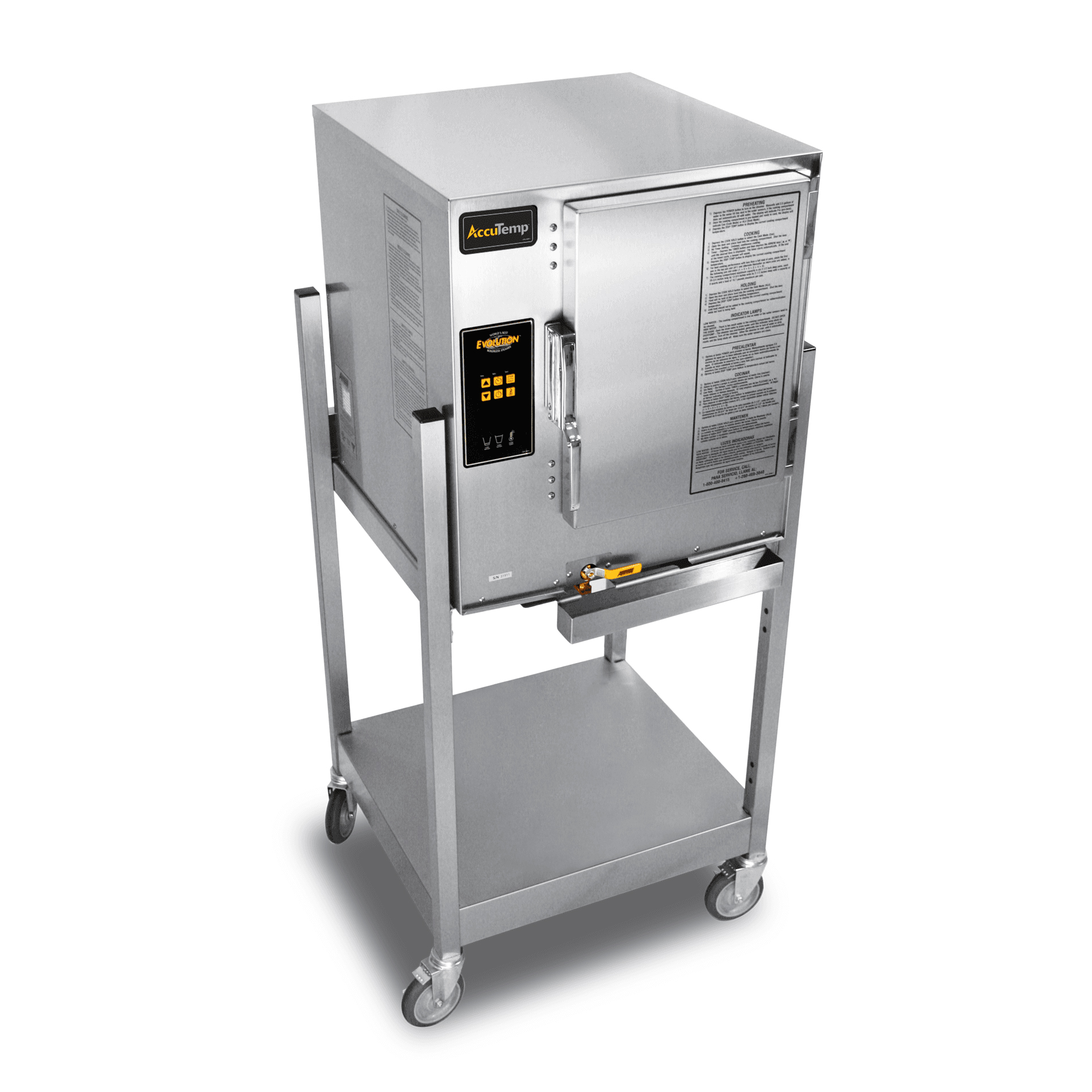 As with the case with almost all the heavy commercial equipment in a restaurant, the convection steamer also has a high initial cost. Fortunately, there are options available to you, the budding restaurateur, to be able to save money on the high expenses. To save money upfront, you can always obtain a leased steamer. A leased steamer enables you to make fixed, regular monthly payments, and most of the leasing agreements will allow you to keep the steamer at the end of the lease duration for a very small cost, which can be as less as one dollar.
Leasing E32081D060 SGL is a smart choice to save a large outlay at the beginning. Typically, in today's fast-paced industry, where many transactions and interactions occur online, leasing a convection steamer is easier than you think. Using leasing sites such as Top Financial Resources, food service businesses all over the United States can have access to convection steamer leasing options, and many other product leasing options.
Why take advantage of AccuTemp E32081D060 SGL leasing?
Save money: Leasing commercial steamers will help you save your startup cash for other areas. Rather than paying five thousand dollars for a steamer, you should use that money toward your first food order, marketing budget, and first payroll.

No paying for repairs: If the steamer breaks, you do not have to cater to the repairs

Easy to upgrade: When the lease on your commercial restaurant equipment is up, you can get a new model if you opt to renew.

Experience a no surprise lease return and simple end-of-term options

Set up a customized payment schedule depending on your individual needs.

Eliminate the hassle of disposing of used convection steamers.
---
What is convection steamer financing?
There are numerous options available to you for financing a commercial steamer. You can always opt for a loan either from the equipment financing company or get the steamer from a leasing company. Equipment financing is exactly what it sounds. It is a loan offered mainly to buy, repair, or replace equipment for a business to process their products. In this case, you will get a loan to buy an AccuTemp steamer. The trick here is to get the best deal from various equipment leasing and financing options available. The first principle, while financing a convection steamer is to get quotes from good sources. You can ask the equipment provider for the available dealers who deal in financing and leasing commercial steamers, or you can look for quotes online from a lease quote provider like us.
Why take advantage of AccuTemp E32081D060 SGL financing?
Why do restaurants use equipment financing? It is because of access to a wide range of benefits. With commercial steamer financing, you can:
Get 100-percent financing with no down payment: Unlike most traditional lenders' qualifications, you might be able to arrange 100-percent equipment funding with no down payment. This is important if cash flow is a concern to your restaurant.
Maintain cash: Restaurant equipment financing is a source of funding that allows you to hold onto your working capital, cash so that it can be used for other areas of your restaurant, like improvements, expansions, marketing, or R & D.
Hedge against inflation: Financing convection steamers might hedge inflation risk since instead of paying the total cost of steamer up front or with a large sum of down payment in today's dollars. The stream of payment delays your outlay of funds. Moreover, either a loan or lease can lock in the rates that exist on the closing date. In simple words, the financing company absorbs your payments' devaluation over time because of inflation and financial risks.
Manage risk: Financing AccuTemp steamer can help reduce the uncertainty of investing in a capital asset your restaurant needs until it attains the desired return, saves costs, increases efficiency, and meets other business objectives.
Plan expenses for business cycle fluctuations and cash flow: Convection steamer financing helps maintain business cash flow and better certainty in budgeting by setting customized financing payments to match cash flows and seasonal cash flow.
Address tax considerations: Tax-oriented leases should generate lower rents because the lessor retains title and depreciation. A tax-oriented lease is a transaction that incorporates the value of tax benefits. Conversely, a conditional sale or loan enhances the tax benefits of higher deductions to the borrower.
---
Where to find restaurant equipment financing?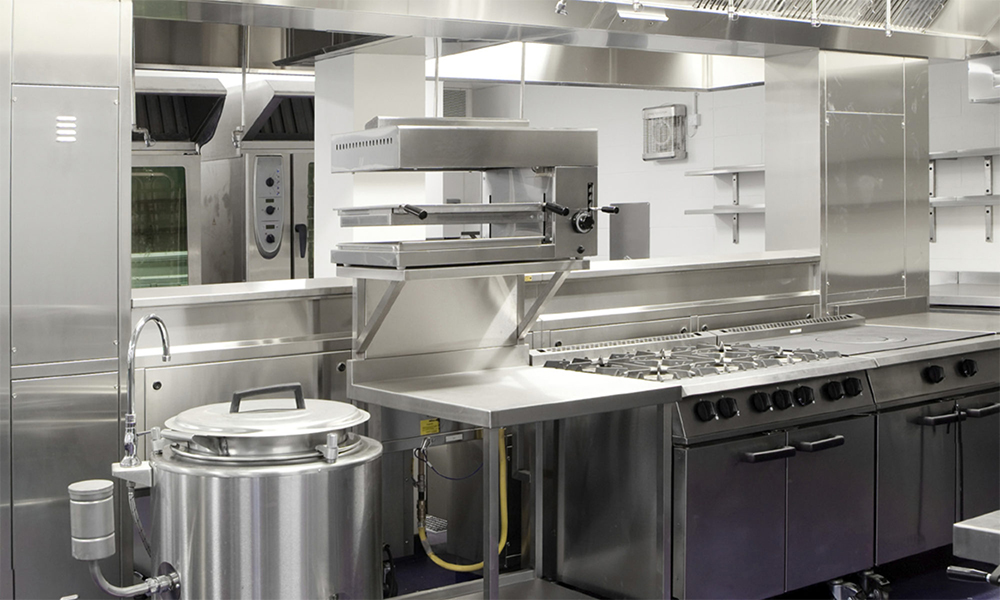 With an especially excellent reputation for its high-grade restaurant equipment financing, including countertop steamer options, Top Financial Resources is a company to look at when considering your AccuTemp E32081D060 SGL financing and leasing preferences. E32081D060 SGL model is a good commercial steamer for those food service companies and restaurants that accommodate a big volume of steamed food products than many other concessions or establishments operations. Featuring all stainless steel construction, this is an attractive steamer option from AccTemp.
Regardless of what particular food service company's volume of steamed food product output you have, there is a commercial steamer leasing or financing option that can accommodate this given volume of output. AccuTemp E32081D060 SGL available for leasing is just one of the many choices of convection steamers that we have to offer. There are many more viable restaurant steamer product solutions out there that we can quickly lease or fund.
Final word: Convection steamer financing and leasing for restaurant startups
As with most small business financing decisions (and any choice you will make in the life of your restaurant, period), convection steamer financing comes with many things to consider. But that is good. And so is the fact that even if you are a startup, you will still get options available to you. Sure, it might be hard to secure the best commercial steamer financing out there with tip-top rates, but certainly, you will not be out of options.
Above all, when you are pursuing restaurant equipment financing when you are a startup, ensure you fully understand the cost of the steamer you are buying, besides the maximum monthly payment your restaurant can afford to take on. This is key in figuring out which financing options are right for you, mainly if there are many options to choose from, like leasing or buying the commercial steamer.