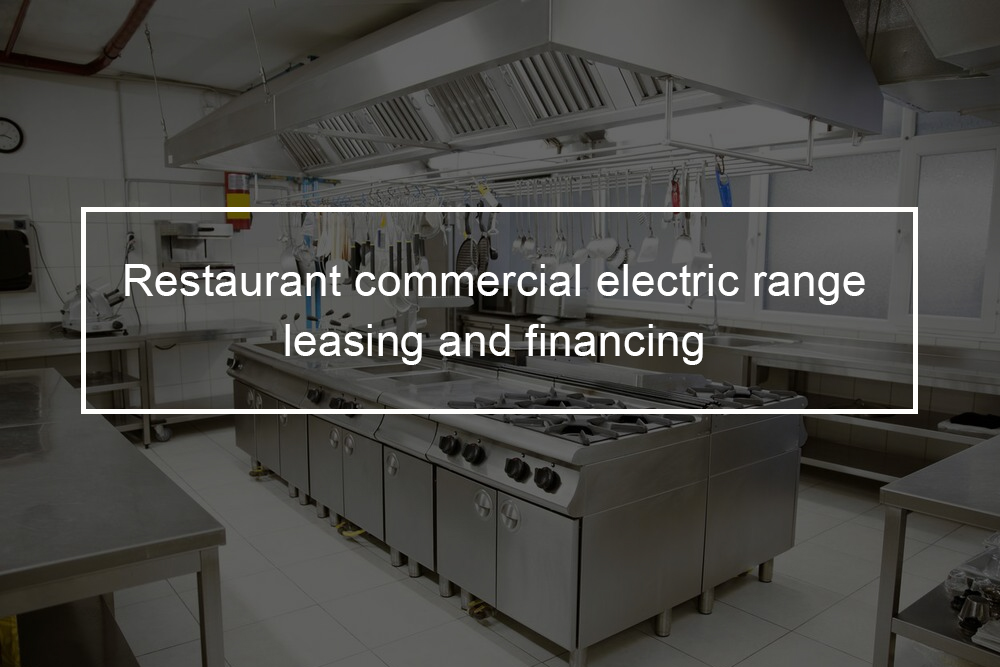 Commercial electric stoves such as the Lang Manufacturing R12-ATHM are a common choice for large and small food services since they provide simple, versatile installation. Whereas commercial electric ranges might take longer to heat up and might cost more to operate than gas ranges, there are many cases where an electric style is preferable over gas.  For instance, food service businesses that can not accommodate proper gas lines or ventilation should consider a commercial electric range. Commercial electric ranges are appropriate for small and large restaurants but mainly appropriate for kitchens with limited space. These relatively compact stoves come in various sizes, though, so they can accommodate establishments of any size.
Upgrade to a more efficient, organized restaurant kitchen with a style featuring extra French plates, hot plates, oven racks, and enough all-purpose burners to manage any amount of boiling, frying, sauteing, or browning that is vital for an efficient output during the dinner rush. Heavy-duty commercial ranges are usually equipped with more than just the cooktop. We have cutting-edge styles that are designed with standard and convection oven bases that can accommodate a few sheet pans for double-duty cooking. This is vital for bustling commercial kitchens that require to maximize space.
We only offer high-quality yet affordable electric ranges by industry leaders, including Garland, Lang, Southbend, and Vulcan. Despite the style or brand you choose, you will always get a low-price guarantee at Top Financial Resources. For this post, we will concentrate on financing the Lang Manufacturing R12-ATHM Lang® Marine Range. Before we dive into financing, let us first look at the product.
---
Lang ManufacturingR12-ATHM Lang® Marine Range preview


Features and benefits of the Lang Manufacturing R12-ATHM 
 2″ Vented stainless steel stub back

2-3/4″ wide front grease trough

3-1/4″ wide plate landing

6″ adjustable legs w/ bolt-down flange standard

Full front grease trough, grease drain & spillage drawer speed cleanup

Full front landing simplifies and speeds plating

Grease drain in trough with spillage drawer

Griddle top configuration includes one-piece welded splash guard back & sides

Hatchable 12″ module allows movement through 26″ X 66″ watertight hatch

One-piece heavy-duty 430 Series stainless steel exterior, with attractive No. 4 finish

Sea rails and front-mounted grab bar

Two (2) 8″ diameter French Plates

Two 6-heat switches for French Plate

Unit expands productivity of 36″ Marine Range
Lang ManufacturingR12-ATHM Lang® Marine Range product dimensions
Height: 41.7 inches

Depth: 40.6 inches

Width: 12 Inches
Lang Manufacturing Warranty
1 Year Parts & Labor

Price: $3,449.00

Equipment financing : $82.78 /month
---

What is restaurant equipment financing?
Restaurant equipment financing is a kind of business loan that offers adequate funds to small business owners so that they can buy any piece of equipment and that the equipment can serve as collateral. Restaurant equipment financing is suitable for startup restaurants; its no-collateral policy enables business owners to lease equipment without facing any issues. A business owner might be a bit discouraged after looking at the skyrocketing price of the commercial restaurant range. Do not give up on your dream yet. With restaurant equipment financing, you can buy Lang ManufacturingR12-ATHM Lang® Marine Range without distorting your cash flow. You can even lease Lang ManufacturingR12-ATHM Lang® Marine Range with a bad credit score.
Features of restaurant equipment financing
Top Financial Resources offers are open to all types of food hubs, cafes, full-time restaurants, and more. If you need a Lang ManufacturingR12-ATHM Lang® Marine Range give us a call at 1-(800)-260-5126:
No upfront cost
Financing for startup restaurants as well as established restaurants. Get a credit decision within seconds (you will get an instant quote without waiting)
Affordable and flexible monthly payments
Get cash to fund your equipment, i.e., Lang ManufacturingR12-ATHM Lang® Marine Range. With Top Financial Resources, you can expect:
New and used equipment For Restaurants, cafes, and bars

Our soft credit pull indicates no impact on your personal credit.

Broadest credit window available — competitive rates from A++ to D-

Specialists assist startups and challenged credits — for FREE.
---
What is the difference between financing and leasing Lang Manufacturing R12-ATHM Lang® Marine Range?
Top Financial Resources offers restaurant equipment financing and restaurant equipment leasing. These terms are used interchangeably on several platforms; however, there is a slight difference between them. If you apply for restaurant commercial equipment financing, you will be the official owner of the Lang Manufacturing R12-ATHM Lang® Marine Range. On the other hand, the lender will be responsible for the equipment.
Both of these options have some lows and highs. If you continue with equipment financing, the financed equipment will become a part of your company's assets. After you make the payment in full, the Lang Manufacturing R12-ATHM is yours to keep. So, if you are not satisfied with the Lang Manufacturing R12-ATHM, you do not have the option to change it.
On the other hand, if you opt for equipment leasing, the option to change the Lang Manufacturing R12-ATHM and not to buy it is alive. Lastly, if you intend to keep your restaurant up-to-date, equipment leasing would be a great pick for you.
---
Where to buy Lang ManufacturingR12-ATHM Lang® Marine Range?
These days there are many places you can buy commercial kitchen equipment. Here are a few suggestions:
Local equipment retail stores
Chances are there is at least one of these retail stores in your vicinity. They sell restaurant equipment and provide certain advantages over other options. For instance, you can fully inspect the Lang ManufacturingR12-ATHM Lang® Marine Range and better visualize how it will fit in your restaurant. Besides, you have access to the salespeople's expertise with respect to the different styles and brands of electric ranges that might interest you. The only major shortcoming is that the volume of equipment to choose from is often a lot more limited than what you will get online.
Online suppliers
The main advantage of buying your Lang ManufacturingR12-ATHM Lang® Marine Range from an online supplier is the wide variety of other brands and prices available to you, a factor that should not be underestimated. Nonetheless, you will not be able to inspect the equipment until it is in your possession. Moreover, shipping large items is costly, something you will need to factor into the final price Lang ManufacturingR12-ATHM Lang® Marine Range if you opt to buy it online.
Resale stores
You can also try to look for a used Lang ManufacturingR12-ATHM Lang® Marine Range. Most resale stores either have a used section or trade used equipment exclusively. Whereas these vendors might only have a limited selection, most of them certify, verify and guarantee their inventory, so you know you will not have to worry quite as much about buying a damaged Lang ManufacturingR12-ATHM Lang® Marine Range.
Auction houses
Restaurants that have gone out of business and have to liquidate their equipment quickly usually use auction houses. There is likely to be at least one in your area and most now list their inventory online so you can review the equipment that interests you in advance.Better, many auction houses evaluate and inspect the equipment on offer since they need to price it, which puts you in a better position so far as not buying damaged or defective equipment.
---
2 Steps to apply for restaurant equipment financing and leasing
Applying for Top Financial Resources' restaurant equipment and financing is a simple and smooth process. Upgrade your electric range in three simple steps:
Step 1: Fill your folder with documents
Every lender has a particular requirement of documents. Arrange all the financial documents outlined on our website. Early preparations will speed up the leasing and financing process. For other loans, we usually ask for a credit score and balance sheet. However, we will ask for the vendor's contact and an equipment quote in the case of equipment financing.
Step 2: Apply for financing
After you have arranged all the necessary documents and analyzed your restaurant needs, set your demands, and lastly, apply for financing.
---
Why Choose Top Financial Resources?
A lot is happening behind the scenes to present a six-course meal on the table, and commercial restaurant equipment plays a significant role in it. Typically successful restaurant business has fair pricing, quality service, and palatable food as necessary ingredients.
Top Financial Resources dedicates its sources to assist people in the restaurant business; we provide quick and affordable restaurant equipment financing and leasing with flexible terms. We exist to fill up the gap between your restaurant and financial insecurities. Top Financial Resources is familiar with the cruel realities- streamline and consistent working capital; a small business owner goes through. Thus, we provide the required necessities at an affordable price.
You need more than an oven and fryer to run a flawless restaurant. Restaurant equipment comes with a hefty price; it is no brainer. Top Financial Resources offers customized financing and leasing to ensure the success and progression of your restaurant. Generally, we comprehend the workload that goes on running a successful business. So, lease all your favorite culinary tools from Top Financial Resources, including Lang ManufacturingR12-ATHM Lang® Marine Range.