Money Books: Best Personal Finance Books Of All Time
You possibly know the cliche that if you give a person a fish, they will just eat it for a day, but if you teach them to fish, they will never go hungry. The same applies to the work we do as financial coaches guiding characters to assist them in making financial decisions, which is different from advice where we would just tell them what to do. So instead of giving away fish for a holiday season, why not teach your family and friends how to fish with a gift of financial education? After all, another year will be here soon, and better money management is one of the most common resolutions. While, unfortunately, you cannot buy finance coach service as a gift for someone, an excellent personal finance book can be the next greatest thing. Below are six personal finance books that we have found to be specifically insightful.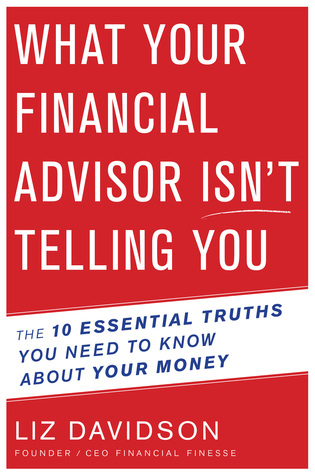 What Your Financial Advisor Is Not Telling You by Liz Davidson
This book provides an overview of how to manage your money with some perspective that you do not generally find in other personal finance books. ( In spite of the title, the book is just as useful if you do not have a financial advisor, so do not let that stop you from checking it out).
---


The Automatic Millionaire by David Bach
This financial book goes into more detail about one of the strategies discussed in What Financial Advisor Is NotTelling You. It covers true stories of real people with average salaries who were able to create large sums of wealth slowly and even become millionaires over time just by automatically setting aside an increasing amount of savings yearly. ( Your employer's retirement plan might even have 'auto-escalation' or 'contribution rate escalator' feature to make this occur automatically.)
Most people find this much simpler than budgeting. For instance, if you are currently saving ten percent in your 401(k), it might feel impossible to save twenty percent, but how about just an additional one-percent. You possibly will not even miss it in your paycheck. Increase your 401(k) contribution by one percent yearly, and you will be saving that twenty percent in ten years in a comparatively painless way.
---


The 4-Hour Workweek by Timothy Ferriss
Are you too impatient to wait for retirement? Instead of just saving now to retire later, The 4-Hour Workweek advocates taking 'mini-retirements' throughout your life as well. Even though you are not quite ready to work just four hours a week, it has more interesting ideas on how you can earn extra income and save time by doing things more effectively.
---


Thomas Stanley book, Stop Acting Rich And Start Living Like a Real Millionaire 
If a four-hour workweek is just a bit unconventional or too extreme for you, this book might be more your cup of tea. It is written by the author of The Millionaire Next Door and goes into more detail about how the wealthy really live. Note if you want to be a millionaire (who doesn't), do not live the stereotypical millionaire lifestyle, till you are one (and maybe not even if you want to stay one).
---


John Carreyrou Bad Blood: Secrets and Lies in a Silicon Valley Startup
Whereas not a how-to book for attaining personal wealth, this is high up on Amazon's best-seller list going into 2019. The book documents the too-good-to-be-true rise and subsequent collapse of Theranos, the multibillion-dollar Silicon Valley biotech startup. In 2014, Elizabeth Holmes, the CEO and founder of Theranos, was contemplated by the female Steve Jobs expressed as a brilliant Stanford dropout whose startup unicorn pledged to revolutionize the medical field with a facility that would make blood testing significantly easier and faster. The organization, under Holmes's leadership, was valued at $9 billion at its peak. However, that was all to be quickly eradicated when the technology did not work. Instead, deceit and lies were revealed.
---


Rich Dad, Poor Dad, by Robert Kiyosaki
This finance book has been around for a while now, but it is quite possibly one of the best overviews on wealth building. It deals less with particular money-making strategies and more with the mindset that is necessary to attain great wealth. Writer Robert Kiyosaki builds on his early life experience as a teenager of an accomplished, high-income but constantly broke father, in comparison to the father of the best friend, who was poorly educated but a multimillionaire.
Kiyosaki archives the differences in financial philosophy between his natural father and his wealthy model father, also known as his rich dad. Kiyosaki's poor dad worked for a living but never attained a significant amount of wealth while his rich dad started accumulating money early in life and put it to work via income-producing investments. With time, his rich dad increased his wealth, whereas the poor dada remained working individually for the rest of his life. Kiyosaki followed the route of his rich dad and retired comfortably at forty-seven. The information he shares in the book is well worth and priceless, especially for anyone who aspires to be independently rich.
---

Mary Buffett and David Clark: The New Buffettology 
The title in full of the finance book 'The New Buffettology is 'The Proven Techniques for Investing Successfully in Changing Markets That Have Made Warren Buffett the World's Most Famous Investor,' and that captures the significance of this financial book. Some investment experts have had flashes of genius for a few years; however, Buffett's investing career success spans decades, and his insights are timeless.
The New Buffettology will show you how he has been able to build what he has, which is to create long-term wealth in the stock market via value investing. And if you are wondering, author Mary Buffett is the former daughter-in-law of Warren Buffett.
---


Global Asset Allocation by Meb Faber
Do you want to know how you can invest all that money you are saving? It has been said that your asset allocation determines ninety-percent of your investment returns, so which asset allocation strategy should you use? With numerous conflicting opinions out there, it is simple to feel overwhelmed.
This financial book compares model portfolios by some of the top investment experts and reaches a shocking conclusion. It discovers that in the long run, it really doesn't matter much which one you choose. The key is being reasonably diversified, reducing your costs, and even sticking with your program through thick and thin. It is simple but not necessarily simple advice to follow when the urge to chase past time or performance of the market can be so strong.
---

Dear Debt: A Story About Breaking Up with Debt by Melanie Lockert
In her debut finance book Dear Debt, personal finance expert Melanie Lockert combines her endearing and humorous personal narrative with practical tools to assist readers in overcoming the harsh impacts of debt. Depicting from her personal experience of paying off eighty thousand dollars of student loan debt, Melanie offers a wealth of money-saving tips. This she does to assist her community of debt fighters in navigating the repayment process, increasing current income, and ultimately becoming debt-free. Through breaking down sophisticated financial concepts into clear, manageable tools and step-by-step processes, Melanies has offered a venerable guide to overcoming debt challenges and obtaining financial freedom.
---


Jason Vitug personal finance book, You Only Live Once: The Roadmap to Financial Wellness and a Purposeful Life
This book is the guide to attaining your best life through smart money moves. Before you even start making a budget, you need to think about why. Where do you anticipate to be financially in five years? Ten years? This time next year? After you know your destination, you can start charting your course. Step-by-step guidance takes you through the budgeting process and depicts how to plan your financial path to point toward your goals. You will learn how to prioritize spending, how to save effectively, and how to make excessive use of simple tools you didn't know you had. Besides, it will also teach you how to be in control of your money.