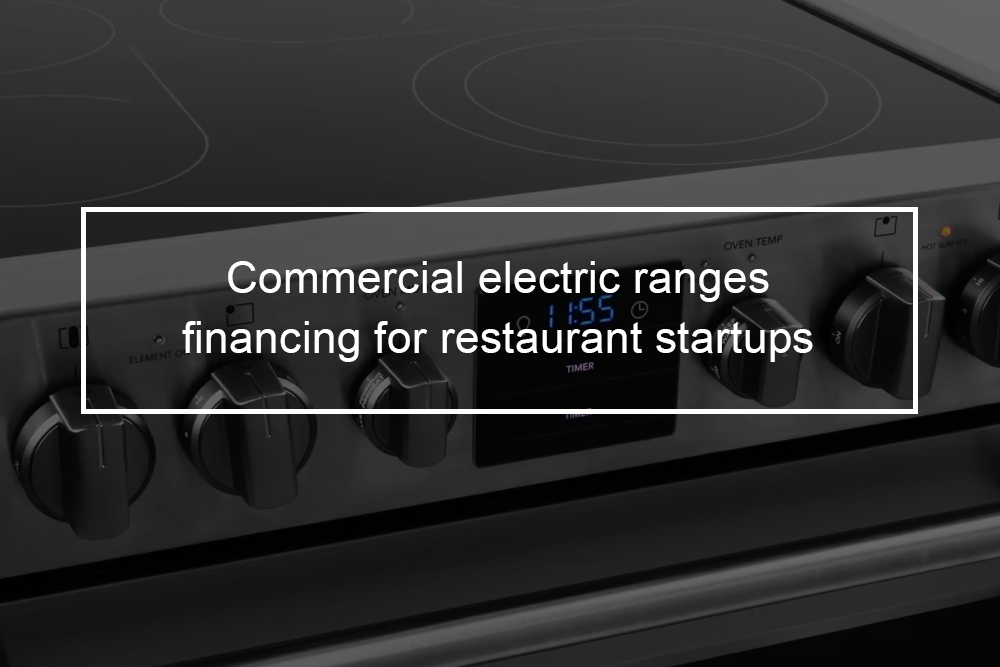 Unlike other financial institutions, Top Financial Resources can approve startup restaurants for Lang Manufacturing R36S-ATF electric range financing. Having the most reliable and upgraded electric range for your startup business, acquired with affordable and fixed monthly payments, can have many advantages for your startup. Get loans for startup equipment that depreciates and save your working capital for things like hiring the best staff, inventory, new location rent, and supplies.
---
Lang Manufacturing R36S-ATF commercial electric range description
R36S-ATF is a heavy-duty electric range designed by Lang Manufacturing. It features 36 ", (one) 12″ hot plate, 3/ 4″ thick, thermostatic controls, (four) French plates, and standard oven base with (one rack). It also comes with a one-hour timer, 2″ H vented stainless steel stub back, and stainless steel exterior. This model sits on 6" adjustable legs and is cULus, NSF certified.
Standard features of the Lang Manufacturing R36S-ATF commercial electric range:
150°F-450°F oven thermostat with alarm and 60-minute timer 

3″ wide full front grease trough, spillage drawers, and grease drain 

6″ adjustable legs standard

6″ wide full front landing

All ranges are factory wired for three-phase service. The installer might wire the 208V or 240V service 1 phase.

Damper control

Full width 2″ high range-top back riser

Griddle configurations including a one-piece splash guard, back and sides

Heavy-duty 430 Series stainless steel exterior insulated on six sides.

The two-piece unit fits through a 36″ wide door.
Standard Oven 
 Heavy-duty, hinge-down oven door

One center rack guide with chrome-plated rack

Two three-heat switches for oven
Convection Oven 
Heavy-duty right hinged door with magnetic closure

ON-OFF power switch

Six position rack guides with three chrome-plated racks provided
Options & Accessories
480 Volt, three-phase model

Additional wire pan racks

High Storage Rack 
Set of 6″ casters, two lockings, two fixed
---
What is commercial electric range financing?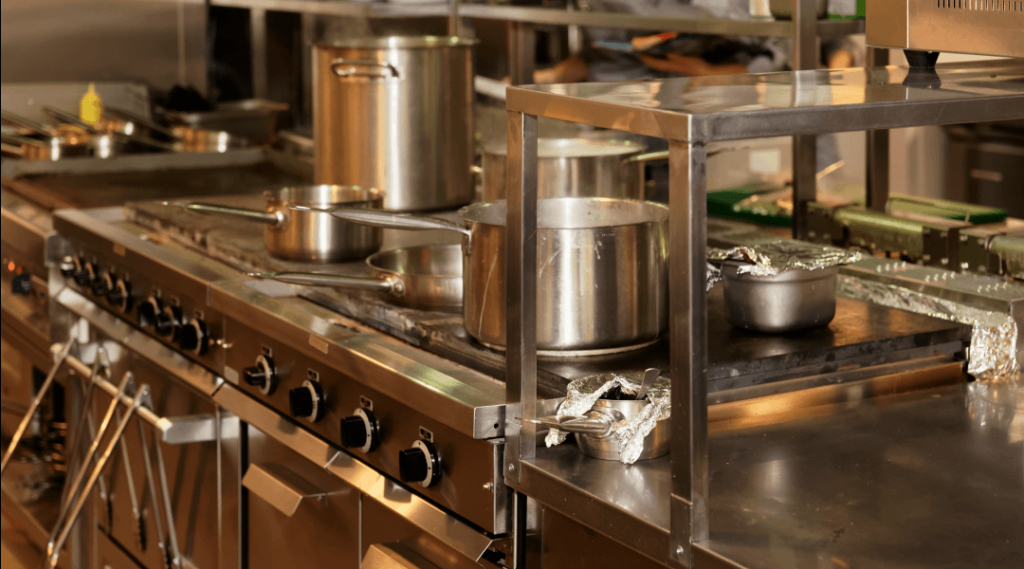 Commercial electric range financing is the act of borrowing capital to pay for a new or used electric range. This helps business owners to get the business equipment they need without having to pay out of pocket. Borrowing capital can save restaurant owners from cash-flow disruptions that come from paying with working capital. Rather than paying upfront, restaurant owners can pay off their equipment in installments over time. Combining Trump's equipment tax codes, you can save thousands of dollars through borrowing. Moreover, restaurant equipment financing requires no security to be leveraged on behalf of the business owner. Instead, the Lang Manufacturing R36S-ATF itself can be leveraged as collateral, protecting your other assets.
Commercial electric ranges financing vs. leasing
One of the more confusing aspects of restaurant equipment financing is that it comprises two different kinds of financing that are, however, discussed interchangeably. These are restaurant equipment loans and restaurant equipment lease.
Let us start with the more familiar one: restaurant equipment loans are installment loans utilized exclusively to obtain hard assets like commercial electric ranges. They use the asset as security for the loan, often leading to better terms that you would experience with a comparable working capital loan. Payments made monthly are often spread out over a pretty long window ( three to seven years). Mostly you will be anticipated to make a down payment on the equipment in the neighborhood of 15-percent. Restaurant equipment loans usually have better rates than comparable leases.
Commercial electric range leases are a universe unto themselves. Whereas they were traditionally used for renting appliances, and still are, leases comprise far more than simple rental contracts. Based on the lease contract, either you or the financing entity (known as the lessor) owns the title of the heavy-duty electric range for the lease duration. This has fairly profound tax ramifications, so ensure you talk to an accountant if you want to maximize your value here.
Like equipment loans, leases spread the cost of your appliances and interest throughout the term length. Contrary to loans, some of the cost is justiifyover after the term length, an amount known as a residual. This amount might be as little $1 or as high as the product's fair market value. How much it depends on the kind of lease you got. Capital leases, which are meant to replace equipment loans, generally end with a small residual, and you are resuming full ownership of the machine. Operating lease, usually shorter in duration, will leave a larger residual; however, you will have the option to return the appliance and purchase it. Leases generally finance the full cost of your equipment and deduct the first and sometimes last month's payments, making them a better option if you do not have a large sum of cash lying around.
---
What do you need to qualify for Lang Manufacturing R36S-ATF financing?
Credit requirements for startup restaurants include:
No minimum time in business: We finance all restaurants, from the most ancient to those taking their first steps (with 600 (plus) and everything in between.
$120,000 in annual gross sales: If your credit score is 650 or higher, there are no required sales minimums- Top Financial Resources has the perfect financing option for you.
No minimum credit score: You do not need a squeaky clean credit to be eligible for restaurant equipment financing- we work with all credit profiles. If you make $120K in annual gross sales and you have been operating in business for 6 (plus) months, even if you have bad credit or have filed bankruptcies, high chances are we'll fund you.

Active business entity or business license with the secretary of state
What are the benefits of commercial electric range financing?
Fast and simple application and funding process: We have a streamlined process with a fully digital lease and finance application and funding in as little as twenty-four hours.
Choose your vendor: You can buy the best equipment for your restaurant, regardless of size (no restrictions).
No security requirements: It is not every day you get a secured business loan without actually having to secure the loan, but restaurant equipment financing lets you do just that. With restaurant equipment financing, the equipment you are obtaining is the collateral.
Bigger down payments can circumvent qualifications: Restaurant equipment leases and loans are typically simpler to qualify for to start with, but you have some extra leverage that you do not have with many other kinds of financing: if you can manage a bigger down payment ( or pay for an additional month in case of a lease), the financier might waive some of their qualifications.
No up-front charges: Finance the entire cost of electric range, without high fees in the beginning.

No pre-payment penalties

No debt on owners personal credit reports

Eligibility for all used and new equipment purchases

Lowest rates in the industry for qualified restaurant owner borrowers

No down payment requirements- qualified borrowers

12 to 72 month fixed payment terms
How can the Lang Manufacturing R36S-ATF financing help you?
Business growth: Purchase the electric range you want to take on more clients and grow your restaurant.

Business expenses: You will avoid large, out-of-pocket expenses by preserving your capital and write off the entire cost on your tax return.

Business opportunities: Deliver more value to your clients by upgrading old heavy-duty range or adding new equipment.
---
Why choose Top Financial Resources for restaurant equipment financing?
Our restaurant equipment financing programs are designed specifically with the restaurant owner in mind and provide the capital required to get your restaurant up and running. Starting your own restaurant can be a daunting task. At Top Financial Resources, we are here to lend a helping hand with some of the best restaurant startup equipment loan programs.
Our loan specialists are versed in new business owners' needs and will tailor a custom financing solution that meets your unique requirements. At Top Financial Resources, we want you to succeed, and our startup loan programs will give you the tools you need to do so. Our expertise in this specialized market, together with our ethical approach to leasing and superior customer service, has spearheaded our success. Be assured, we understand business owners' unique business needs and can tailor a financing solution tailored to your individual needs.
Top Financial Resources offers a quick and efficient financing experience to all businesses in the food industry. Whether you are looking to market your services, consolidate debt, upgrade equipment, or want to increase your operational cash flow, Top Financial Resources has a commercial equipment loan program for you. Traditional equipment lenders operate with a wide range of restaurants and are not in tune with your business's challenges every day. From day one, Top Financial Resources has been committed to offering business professionals customized solutions and an unparalleled equipment financing experience.
Borrowing with Top Financial Resources is secure, straightforward, and convenient. We do not spring random fees on you, we do not hike up your interest rate, we do not require you to collateralize your equipment loan with personal assets, and we do not need you to write a novel on the reason you deserve a startup equipment lease or loan for your restaurant. Do not bother raising money from family and friends for a startup restaurant equipment capital. Top Financial Resources can quickly help you get all the mission-critical appliances you need for your new business.
Can I finance other Lang Manufacturing R36S Heavy Gas Ranges?
Are you not convinced about acquiring Lang Manufacturing R36S-ATF? We finance other Lang Manufacturing R36S heavy gas ranges as well, including:
Lang Manufacturing R36S-ATA Heavy Duty Range

Lang Manufacturing R36S-ATD Heavy Duty Range

Lang Manufacturing R36S-ATC Heavy Duty Range

Lang Manufacturing R36S-ATB Heavy Duty Range

Lang Manufacturing R36S-ATE Heavy Duty Range

Lang Manufacturing R36S-ATBM Heavy Duty Range

Lang Manufacturing R36S-ATCM Heavy Duty Range

Lang Manufacturing R36S-ATDM Heavy Duty Range

Lang Manufacturing R36S-ATFM Heavy Duty Range

Lang Manufacturing R36S-ATEM Heavy Duty Range