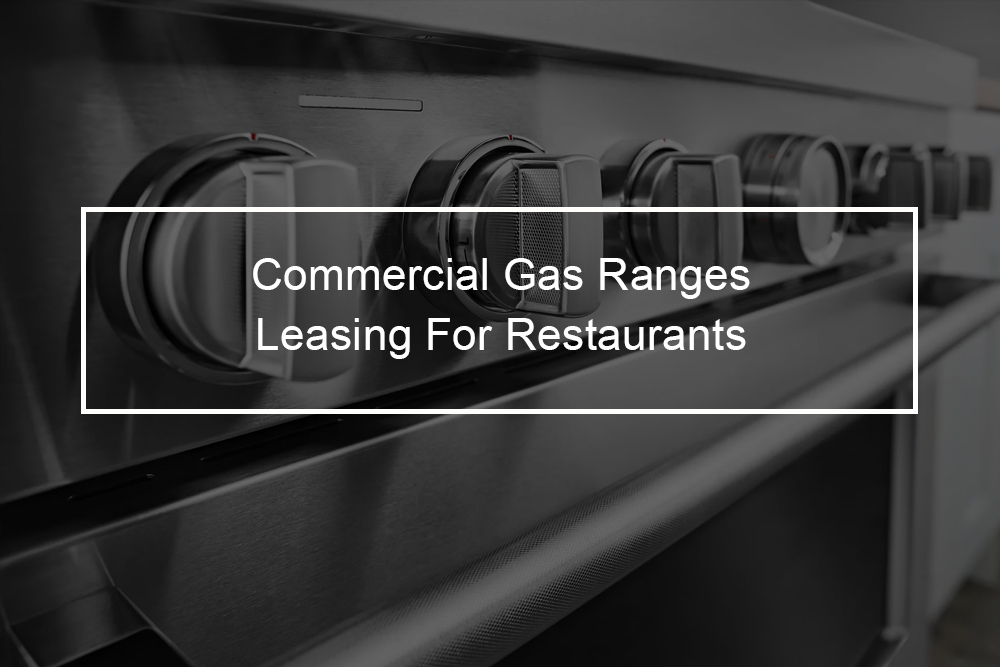 When you are purchasing the Garland C12836-6M commercial gas range, your budget is top of mind. Your challenge is to purchase or lease the equipment without breaking the bank. And that is a challenge, indeed. Buying and maintaining a commercial gas range is costly, and as soon as you invest in a piece of equipment, it is only a matter of time before a new version comes out, making yours outdated or inferior. As a result of the high costs involved in owning and operating equipment, many restaurant owners opt to lease instead of own. Leasing commercial gas range offers advantages that owning does not, including lower monthly payments, which are generally spread out over the course of months or years instead of delivered in a lump sum. Many restaurant equipment leases also incorporate service contracts or service add-ons, which provide peace of mind for restaurant users.
If your restaurant needs Garland C12836-6M, but you can not afford it, leasing might be an option to consider. Leasing equipment allows you to make smaller monthly payments, generally over a multi-year period, rather than buying it all at once. At the termination of the lease, you can return the gas range or purchase it for a price that will factor in appreciation and how much money you paid over the lease's life.
---
Description of the Garland C12836-6M commercial gas range
Garland C12836-6M is a Cuisine Series heavy-duty range. It features 12″ modular, Add-A-Unit, 30,000 BTU burners, standard depth, and a 6″ backguard. It comes with stainless steel sides, and front and "tubular legs are not available on 12″ modular tops." This Cuisine series is CSA, Star, NSF (US Range) categorized.
Standard features of the Garland C12836-6M commercial gas range
 1″ (25mm) thick steel plate 

1-1/4″ NPT front gas manifold 

305mm (12″)wide front 30,000 BTU open burner 

305mm (12″) Hot top – one 25,000 BTU burner per plate French Top (12836-15) 

305mm (12″) wide rear hot top with 15,000 BTU burner 

30,000 BTU burners Open Burners (12836-6) 

30,000 BTUs per burner

152mm (6″) chrome steel adj. legs Griddle Top (C12836-1) 

6″ (152mm) H stainless steel stub back 

Cabinet base or modular (Suffix M) 

Can be installed in a battery or individually

Full-range valve control (-1) 

Griddle control Low to 500°F (-1-1) 

NOTE: Units supplied with casters should be installed with an approved restraining device.

One-piece cast iron top grates 

Removable drip pan Hot Top (12836-8) 

Stainless steel front rail w/ position adjustable bar 

Stainless steel sides and front 

Two for every 12″ (305mm) width 
Optional features of the Garland C12836-6M commercial gas range
3/4″ NPT (max 250,000 BTU) rear Gas Connection, (not available on models C12836-1, C12836-1-1 or C12836-8)

Casters w/ polyurethane wheels – non-marking 

Double or single deck high shelf or back riser 

Flanged feet set of four 

Gas flex hose w/ quick disconnect 3/4″, 1″, 1 1/4″ (Specify) 

Gas regulator: 3/4″- 1 1/4″ NPT (Specify) 

Gas shut-off valves – 3/4″, 1″, 1 1/4″ NPT (Specify) 

Grooved griddle – (12 "W sections) 

Modular model (suffix M) (Stand w/ shelf or for the counter mount) 

Modular model for Refrigerated Base (change suffix M to PC) 

Stainless steel back 

Stainless steel burner box top interior

Stainless steel door for cabinet base units 

Stainless steel intermediate shelf for cabinet base 

Swivel casters (four) w/ front locking
---
Why should you consider Garland C12836-6M leasing?
It will save you money: Leasing commercial gas range instead of buying it can save you a lot of money at the beginning, which you can utilize as you need. The commercial gas range can be purchased later on as you start making more money.
Repairs are incorporated: As the gas range breaks, as it inevitably does at some point, you will not be accountable for fixing it.
Simple to upgrade: As soon as your lease is up, you will be able to get a newer, better version without the hassle of selling your gas range. 
State of gas range: For the case of a used gas range, you do not know how second-hand appliances have been utilized previously, which indicates the equipment could have potentially been mismanaged and might not have a long lifespan to start with. Used equipment almost never comes with a warranty. Nonetheless, this is something to be said for purchasing your gas range- if you are capable of doing so from the start.
Restaurant equipment financing enables more flexible cash budgeting: The majority of intermediate-term business loans come with balloon repayment features, where the bulk of the principal is due at the end of the loan and, if the restaurant maintains its credit report, forms the basis of a new loan. Such refinancing exposes your restaurants to additional financial risk if interest rates and the availability of capital. The unpredictability of refinancing necessitates a more conservative liquidity position. Possible modifications in the restaurant owner's financial situation, recent bankruptcy, bad credit ( and fluctuations in interest rates, if the interest rate is tied to the prime rate) make cash budgeting more challenging. This can negatively impact restaurants' financial future and force restaurant owners to pay the full purchase price for a new gas range or purchase used appliances without any warranty.
Equipment leasing provides total financing: Lease loan repayments are often made at the end of each period, with the start of every period, with the first payment due at the beginning of the lease the first payment is due at the end of the month (or some other duration) after purchase. These factors impact the cash flow budget and the timing of cash flows.
Lease options offer restaurant equipment financing for acquisition and related costs: The total acquisition cost, incorporating sales taxes, installation charges, and delivery charges, might be included as a part of the commercial gas range leasing contract and spread over the life of the lease. These front-end costs might be substantial, resulting in a heavy original cash outflow if the appliance is purchased.
Leasing offers fast, flexible financing: Gas range leasing might be tailored to the lessee's need to be more easily than ordinary kind of financing. Leasing tends to be more flexible and faster than borrowing funds. Your restaurant lease agreement and affordable monthly payments might be arranged to meet the restaurant's seasonal cash flows and might be tailored to the particular needs of the business, applicant, and lessee. Financial leases is an agreement under which a lessee accepts to make a series of payments to a lessor, which in total surpasses the purchase price of the appliance obtained. Generally, payments under a financial lease term are spread over a period equal to the major section of the appliance's useful life. During this original term of the lease, the agreement is not cancel-able by the restaurant or leasing company. The lessee is committed to keeping on leasing the restaurant equipment until the end of the lease.
Section 179 Deduction: Generally, section 179 is a good option for small and medium-sized restaurants and borrowers. Any restaurant that finances less than $ 1,000,000 in restaurant equipment (used or new restaurant appliance) during the 2020 tax year should be eligible for the IRS 179 Tax deduction. 
When looking for restaurant equipment leasing, what should you be aware of?
Length of agreement: Ensure that you know the ins and outs of your entire contract, like how long it is for and what happens if you want to change the terms.
Different interest rates: It seems obvious that different equipment leasing companies offer different rates, but you might be surprised at how much they can vary.
Get to know your options before you buy new, used, or lease a gas range. Know what you can comfortably afford and what your business needs immediately versus what you can wait to obtain.
---
Garland C12836-6M leasing process: What to expect?
When applying for a lease at Top Financial Resources, you can expect the process to incorporate the following steps:
Step 1: You complete the commercial gas range lease application. Ensure you have financial data accessible for your restaurant and its principals since this might be needed upfront or after initially completing the application.
Step 2: We will process your lease application and notify you of the result. This usually happens within 24 to 28 hours of you submitting your lease application. For dollar amounts less than $100,000, you do not have to provide financial and business plans. But for financing on equipment over $100,000, expect to provide a complete financials and business plan.
Step 3: After you receive approval, you should assess and finalize the lease structure, including the fixed APR and monthly payments. You will then sign the documents and resubmit the documents to us, together with the first payment.
Step 4: Once we receive and accept the signed documents and first payment, we will notify you the lease is in effect and that you are free to accept delivery of the appliance and commence any training necessary.
Step 5: The funds are released within 24 to 48 hours directly to you or the manufacturer you are buying from.
---
What other C12836-Cusine Series Heavy Duty Range are in commercial gas range financing?
Plenty. Garland C12836-6M is just one in a long list of other gas ranges that we finance at Top Financial Resources. Here are other C12836-Cusine series heavy duty ranges you can consider: 
Garland C12836-6 Cuisine Series Heavy Duty Range

Garland C12836-15M Cuisine Series Heavy Duty Range

Garland C12836-1M Cuisine Series Heavy Duty Range

Garland C12836-8M Cuisine Series Heavy Duty Range

Garland C12836-15 Cuisine Series Heavy Duty Range

Garland C12836-1 Cuisine Series Heavy Duty Range

Garland C12836-8 Cuisine Series Heavy Duty Range

Garland C12836-1-1M Cuisine Series Heavy Duty Range

Garland C12836-1-1 Cuisine Series Heavy Duty Range