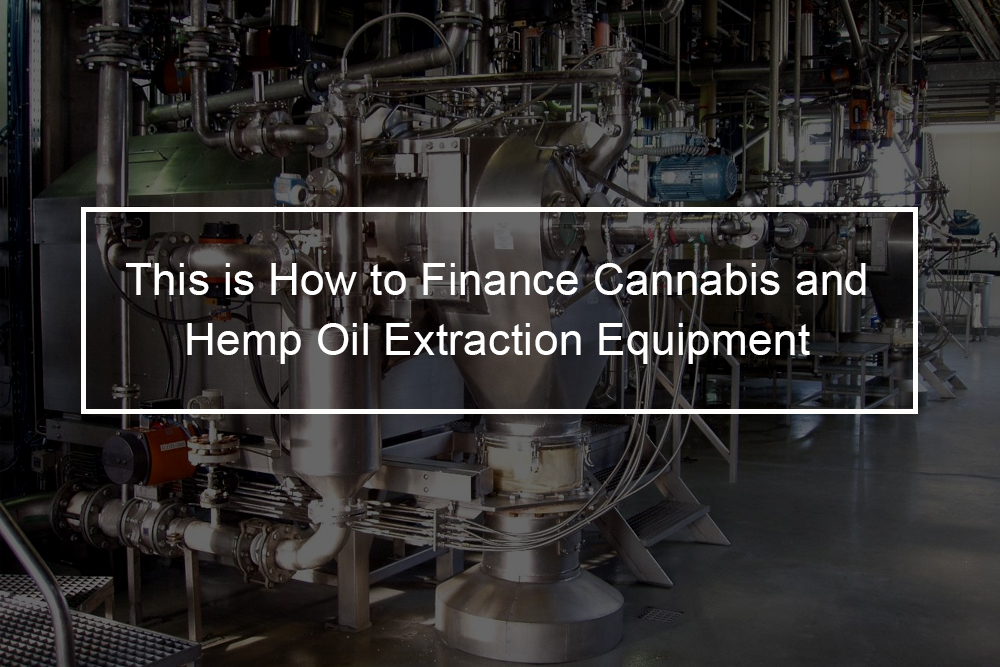 The cannabis extraction business is expanding, with existing companies working to gain market share and potential companies looking to join the marketplace. No matter the precise stage business has reached, smartly investing in top-of-the-line extraction equipment might well be the most significant prospective capital expenditure, any cannabis manufacturer or brand will make. 
Extraction equipment is costly, highly specialized, and newly improved technological iterations are introduced at a frenzied pace. There are different ways to purchase and pay for the equipment you require to grow your business. This article will explore cannabis and hemp oil equipment financing options to help you find the appropriate fit when it comes to purchasing the things you need to take your cannabis business to the next level.
---
Cannabis Equipment financing 
Whether you aim to begin a new company or expand your existing cannabis sales, there are different ways to get the essential equipment. First, consider if used or new equipment is preferable in your scenario. Obviously, new equipment comes with peak performance and the latest features.  Nonetheless, there are deals to be had on older, gently used equipment. Many firms specialize in selling used cannabis and hemp business equipment that they fix up and warrantee. If you do not need something new and shiny with all the bells and whistles, selecting used equipment might be an easy way to save your firm some money.
Next, decide if financing, leasing, or buying your equipment will work best for your business. Leasing is ideal for equipment that needs to be replaced frequently. On the other hand, buying can be better for something you plan to use long-term. However, just because you have the cash to purchase something outright does not mean you should. That money may be better spent elsewhere based on your business goals. Business loans enable you to pay off equipment little by little with a low-interest rate. Refinancing an existing piece of equipment can give you access to cash when you need it. It can also lead to lower loan rates and better terms based on market conditions.
If you decide to move forward with a loan, you will need to choose one with a fixed or variable rate. Fixed-rate loans provide stability; however, monthly interest payments are often higher. Variable-rate loans can be suitable for business owners with higher risk tolerance. Monthly payments are typically lower, even though rates may fluctuate significantly at the end of the loan term. Shop around, since some cannabis business financing options can provide attractive perks such as delayed payment for more than a year and no prepayment penalties.

What are the financing rates for cannabis and hemp oil equipment?
Cannabis and hemp oil industry equipment leases and loans will have higher interest rates than equipment financing for a more traditional business. For instance, conventional equipment loans typically charge about 5-8 percent interest based on down payment amount, market rates, and the borrower's credit history. Since the marijuana industry is riskier, rates typically range around 8-25 percent. Since most cannabis financiers are alternative lenders, there is little regulation, and rates can vary widely.

What are the financing options for cannabis equipment loans?
As a result of strict federal regulations, getting traditional bank loans for cannabis equipment financing from large national banks is typically impossible. The cannabis business will also possibly appear on the restricted industry lists of most online lenders.  You also will not be able to obtain a business credit card from these sources. Moreover, scoring an SBA loan is impossible in this arena. Nonetheless, private lenders, credit unions, and venture capital investors that function on a regional basis might be inclined to loan you capital in areas where cannabis is legal.
Specialty finance options exist that focus on the marijuana industry. These lenders provide a financing program for businesses like cannabis dispensaries and medical cannabis companies. Marijuana-specific alternative lenders are knowledgeable about the terrain and know how to navigate federal and local regulations. These lenders can help companies in the space with various cannabis equipment financing needs, including invoice financing, merchant cash advance, working capital, and bridge loans that smooth cash flow loans. Some of these lenders also provide entrepreneurs commercial real estate financing for their cannabis business. If loan funding is not in the cards, your cannabis business can lease equipment. Leasing has some benefits, including tax benefits, lower monthly payments, and more accessible capital.

The problem with finding cannabis equipment financing
Even though we briefly explained the problem with cannabis equipment financing above, it is worth taking a more in-depth look at this issue. At the end of the day, cannabis equipment financing is so hard to access for one main reason: Even if cannabis is legal on the state level in many areas throughout the United States, on the federal level, it's still technically illegal.
Thus, federal banking regulations surrounding cannabis businesses regard handling all cannabis-adjacent capital as money. As of September 2018, only 486 depository institutions— credit unions and banks— were actively operating with cannabis businesses in the U.S. Nonetheless, within states that have legalized adult and medical-use recreational cannabis, local financial institutions are definitely getting more creative then large, national banks are. There are reports of Colorado-based credit unions finding legal loopholes to enable weed companies to bank with them.
Sadly, cannabis equipment financing currently falls into a mostly gray and sophisticated area, making it hard for business owners to obtain financial solutions. With that being said, even though more and more local banks are finding ways to offer financial services—such as checking and savings accounts—to cannabis companies, cannabis business loans are still pretty difficult to find. But the good news is, a few local government entities are attempting to make cannabis business more available to communities that have historically been disproportionately disciplined for marijuana crimes before legalization.
Oakland, California, for instance, has put aside half of its cannabis business permits for demographics that have been unfairly targeted in the past. This program is accessible exclusively for Oakland residents who make up to 80-percent of Oakland's median income ($53,000) and have either had a cannabis conviction in Oakland or have resided for ten of the last twenty years in a community that experienced disproportionate cannabis law enforcement. Maybe even more significantly, Oakland has also put aside $3.4 million in interest-free cannabis business loans for these same communities. This is just one of many examples of local government and law enforcement taking steps towards ensuring that the expanding cannabis industry is not only benefitting the few who can access venture capital.
---

Common cannabis and hemp oil equipment that can be leased or financed 
Some of the most common pieces of equipment that entrepreneurs choose to lease or finance include:  
 HVAC units: Typically, the cannabis grow rooms have specialized HVAC needs to maintain humidity and temperature for healthy crops. Because the HVAC has to keep the room at consistent levels constantly, these units must be energy-friendly and help with airflow to reduce strong odors.

 Marijuana lighting equipment: When it comes to indoor grows, perfect artificial lighting is vital. Grow lamps can break or make a harvest. Thus, cannabis businesses need to invest in the best lighting technology they can manage.

 Security equipment: The cannabis business industry is highly controlled, so companies in this arena must take security very seriously. Indeed, there are regulations at the state and federal levels to make sure cannabis products are safeguarded. Cannabis growers can finance or lease the necessary equipment, including digital storage, alarms, and video surveillance.

 CO2 extractors: These machines extract oil from the plant material and are necessary to create products containing CBD or THC. Because most have a five-figure price tag, they are the ideal kind of equipment for business financing.
---
Types of cannabis and hemp oil equipment financing
Different financing types may be available based on how you purchase the equipment for your cannabis or hemp business.
Through dealership: You may find a lease, refinancing, and purchase options on both use and new equipment through dealers that trade farm equipment. Terms typically last 2-10 years. Companies will find easy leasing and financing applications at dealerships and quick decisions depending largely on your credit score. If you are uncertain about your credit profile, you can obtain free business credit scores online.

Through a private party: Lease and purchase options are accessible on farm equipment sold through private party transactions. This equity financing is typically available on machines with a minimum buying price of $25K before down payment. Monthly interest payments are often low and "ag-friendly."

At auction: Auctions are ideal places to get good-quality used equipment for farming and retail businesses like cannabis and hemp oil extraction business. Lenders will check your credit before the auction, so ensure you review your business credit report before the action. Again, the minimum purchase is about $25,000 (before down payment), and terms aim to meet the unique needs of agriculture-focused businesses.
---
What is the difference between hemp and cannabis businesses?
If you wonder why cannabis businesses have such challenges finding equipment financing, but hemp businesses have access to more options, there is a reason for that. Since the 2018 Farm Bill, signed into law on December 20, 2018, hemp is no longer a Schedule I controlled substance; however, it is still under the FDA's regulation. This change indicates that the federal government no longer monitors hemp-based products but by the FDA, just like other cosmetic and food products. As a result, finding equipment financing, working capital, and bank accounts will be much easier for hemp businesses. Moreover, interstate commerce of hemp products is now legal, as well. Plus, all of these changes apply to cannabis businesses. As far as the THC concentration of a product is no more than 0.3 percent, it qualifies as now-legal hemp or CBD product.
Which provides cannabis and hemp oil equipment financing?
Specialized loan companies that are knowledgeable about cannabis regulations and are entrenched in the market are possibly the best option when it comes to cannabis and hemp oil equipment financing. Before applying for any loan, make sure you check out a lender's website and locate their "restricted industries" list. Most financial institutions have the policy to avoid various high-risk industries, so it is best to know whether cannabis is included in that list before wasting resources and time to apply.