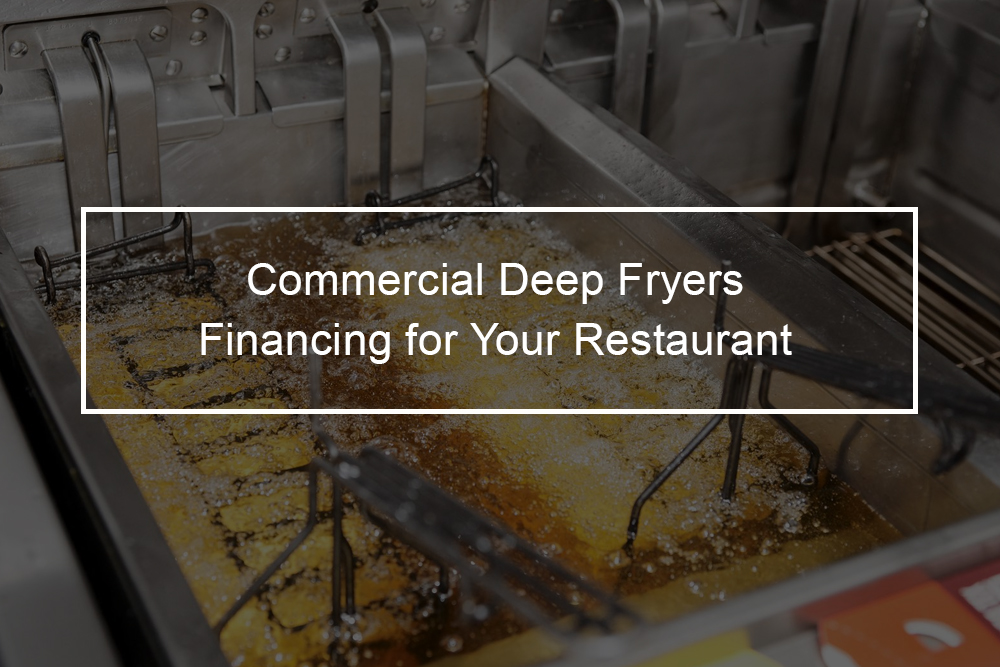 Commercial deep fryers like the APW Wyott APW-F15C Fryer are some of the essential pieces of equipment. Regardless of what type of food service business you own- restaurant, food truck, concession stand, deli, and catering business. These vital appliances reliably cook large batches of food with high heat and oil. They create some of the most oft-ordered and beloved items on your menu like onion rings, French fries, funnel cakes, and donuts.
Whether you are looking for a commercial deep fat fryer for your large-scale operation, check out our financing and leasing programs. And if you are looking for something small and portable with good oil filtration, Top Financial Resources got you. We are happy to help you find the perfect countertop deep fryer or floor fryer. And, of course, with specific needs, space and budget. The two main categories of commercial deep fryers are electric and gas fryers. Both of which come in countertop and floor styles. The stainless steel construction of those prevents rust. If your main aim is to save money on your restaurant deep fryer, electric models are a good choice.
Countertop electric fryers and floor electric fryers help you maximize savings on operation costs since they do not need natural gas for power. Having said that, gas fryers tend to heat up faster. Besides, they provide more temperature control. This makes them the primary choice for food fryer applications. We finance both floor gas fryers and countertop gas fryers to perfectly accommodate your restaurant kitchen food service; regardless of whether electric or gas, you will want to consider a tabletop or counter gas fryer. Especially when you need something affordable, another thing to consider is the kind of fryer. Enough about generalizing the commercial fryers; let us narrow down to one of the best fryers -APW Wyott APW-F15C Fryer and how we can help you finance it.
---
APW Wyott APW-F15C Fryer Details
Created for optimum performance in high-demand situations, the APW Wyott APW-F15C Fryer natural gas countertop fryer is built to recover almost instantly during top periods of use. Perfect for busy, high-volume concession areas and restaurants, this fryer delivers exceptional results every time.
There are two burners that deliver 40,000 BTU of heating power via the fryer's tube-fired heating system to rapidly heat oil to your set temperature. Thanks to its deep 15 ib. Fry tank, the APW-F15C fryer can easily manage large batches of fried goods while the tank's sloped bottom traps food particles and prevents carbonization in the 10″ x 12″ cooking area to improve the quality and taste of your fried delights. Users can feel secure knowing APW Wyott APW-F15C Fryer is engineered with operator safety in mind, thanks to a safety shutoff system that will terminate the gas flow if high-limit temperatures are reached.
APW Wyott APW-F15C Fryer comes complete with two 11″ x 4 1/2″ chrome plated fryer baskets featuring cool grip plastic coated handles for safety and comfort.
Overall Dimensions of APW Wyott APW-F15C Fryer:
Capacity: 15 lb.

Front to Back: 29 1/2″

justify to Right: 12″

Height: 20 3/4″
---

APW Wyott F15C Fryer Financing and Leasing
Any restaurant that uses APW Wyott F15C Fryer for business or commercial use is eligible for financing. Top Financial Resources goes beyond just putting its professional skills to work financing your equipment because there are definite economic advantages to leasing APW Wyott APW-F15C Fryer. Consider whether this option can benefit your restaurant.
100 percent financing
Banks might require as much as twenty-percent down on equipment purchases, whereas covers 100-percent of the equipment (APW Wyott APW-F15C Fryer )cost. In most situations, that can include the cost of installation, freight, and needed software.
Tax advantages
Leasing APW Wyott APW-F15C Fryer provides potential tax advantages of depreciation and interest expense with the $1.00 lease, or you might expense the monthly payment with a Fair Market Value (FMV) lease. Make sure you consult your tax adviser to assess the best option for your restaurant.
Conserves working capital
Leasing APW Wyott APW-F15C Fryer can ease the strain on working capital. You retain available credit lines at other financial institutions for investments, current cash flow purposes, and other profit-generating activities. Besides, lease payments can be structured into longer terms and lower payments to suit your budget.
Fixed Payments
Unlike bank lines of credit with variable rates, lease payments are locked in. This helps to plan for other financial requirements. Note that Top Financial Resources does not benefit from any documentation and filing fees that are usually applied to lease documents processing. Sales taxes are charged individually and added to your monthly lease payment per month. First and last lease payments are generally required up-front, but these are applied to your total lease payments.
---
Commercial fryer lease process
Follow the following steps to lease APW Wyott APW-F15C Fryer:
Step 1: Complete the online credit application form. It might be necessary to supply additional financial information at a later time.
Step 2: After you have been approved for credit, lease documents are prepared and sent to you for signature.
Step 3: Used equipment, in most cases, demands payment before shipping. This requires you to accept the goods before the equipment (APW Wyott APW-F15C Fryer) is physically at your place of business. 
Step 4: A Purchase Order is sent to the equipment vendor, and the machinery ships to you. What affects your interest rate?
Age of your restaurant

Personal credit history and prior bankruptcy

Payment history: Late, delayed, and on time
Note that restaurant equipment financing is only the right move if you need to invest in a piece or multiple pieces of equipment for your restaurant. If you do not need a piece of equipment, in this case, APW Wyott APW-F15C Fryer, to grow your restaurant, then you should look into other small business loan options that will not fundamentally depend on equipment purchases. Additionally, if you are not inclined or able to offer collateral to secure your restaurant funding, but you still want to access the long repayment terms and low rates of secured business funding, then restaurant equipment financing is an ideal fix.
Finally, if you are working with less-than-stellar qualifications- such as little business history or average business and personal credit rating- then restaurant equipment financing could provide you the most affordable terms you will be able to find. Since APW Wyott APW-F15C Fryer itself secures the financing and takes some risk of the lender, less-qualified restaurants will be able to access lower interest rates and longer repayment terms. With this in mind, let us discuss if you can get APW Wyott APW-F15C Fryer financing with bad credit?
Generally, bad credit will not necessarily mean that you will not be able to access financing for your APW Wyott APW-F15C Fryer. As a reminder of what we just discussed earlier, the fryer's self-secured nature makes it ideal for less-qualified restaurant owners. Since APW Wyott APW-F15C Fryer acts as collateral, lenders will take on less risk providing you with this financing. As a result, you will be more likely to be approved.
All in all, many equipment financing companies will pay just as much attention to the quality of the restaurant equipment, that is APW Wyott APW-F15C Fryer, you are trying to buy as they will to your credentials. Consequently, bad credit will not necessarily be a deal-breaker for some lenders, mainly if the rest of your restaurants' credentials are strong. With that being said, if you are trying to access restaurant equipment financing with bad credit, then you should be ready to fortify your application to prove to the lender that you are less risky than your personal credit score indicates. Whatever clout you can tap into- be it solid annual revenue, good business credit, or ship-shape equipment as collateral- will assist you in storing up your application.
---
Can you get restaurant equipment (APW Wyott APW-F15C Fryer) financing as a startup?
The same general idea applies to accessing restaurant equipment financing for a startup restaurant as it does to obtain this kind of financing with bad credit. Most of the lenders will not even require a minimum time in business, and if they do, mostly six months in business is sufficient. Generally, if limited time in business is your only setback, finding restaurant equipment financing as a new restaurant will be much easier than it would be if you were looking for financing with bad credit. If you are working with good to excellent personal credit and solid revenue, then most equipment financing providers will be inclined to work with your application, even if they formally need a certain number of years in business. Again, since the APW Wyott APW-F15C Fryer you buy with the proceeds of your financing will act as collateral, lenders are less strict with their requirements- the equipment collateral means they are more likely to get their money back one way or another.
---
Commercial Fryers financing solutions: why choose Top Financial Resources
Top Financial Resources is a great place to get financing. The best price guarantee backs all of the products we provide. Apart from APW WyottAPW-F15C Fryer, we can finance other deep fryers from the industry leaders such as Star, Frymaster, Admiral Craft, and Garland/US Range, including :
Frymaster ESG35T 35 lb. Stainless Steel and Aluminium Gas Floor Model Full Pot Fryer with Millivolt Controls – 70,000 BTU

Frymaster 4FQE30U (4) 30 lb. Full Frypots Electric Floor Fryer with SMART4U Controls and Built-In Filter System, 208-240/480 Volts

StarMfg. 301HLF QUIK-SHIP Star-Max Fryer

Frymaster MJ1CF Performance Fryer