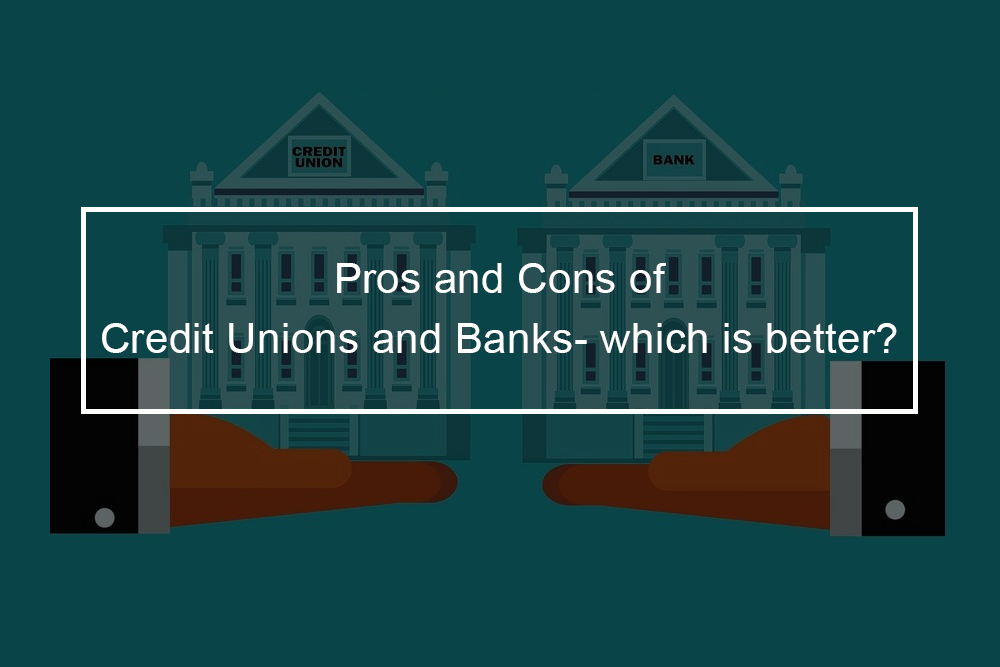 With uncertain regulations of banks and increasing fees, most consumers are turning to credit unions as an alternative.When choosing between a credit union and bank, it is essential to consider which works best for your specific financial needs. While both credit unions and banks operate under similar laws and agencies concerning safety, mortgage, and loans, the customer experience you get can be different. The overall differences between credit unions and banks can be confusing, even for those who are well-versed financially.
---
What is the difference between banks and credit unions?
The bottom line is that banks are for prof institutions, while credit unions are nonprofit. Typically credit unions offer better customer service and lower rates, but some have higher rates. On the other hand, banks usually have higher fees and lower interest rates; however, they are more convenient regarding rewards programs, mobile access, technology efficiency, and location.
Both banks and credit unions are generally insured through the United States government for up to $250,000 per deposit account. Banks are protected via the Federal Deposit Insurance Corp (FDIC) and credit unions via the National Credit Union Share Insurance Fund, which is a part of the National Credit Union Administration (NCUA).
Credit unions and banks offer similar services like loans, checking and savings accounts, and business accounts. Despite some discrepancies, the products and services you will get from either a bank or credit union are relatively the same. Each type of financial institution has its advantages and shortcomings. Here is how banks and credit unions compare in eight essential categories.
Interest rates
The most significant advantage of credit unions is the higher interest rates they pay. Since credit unions are member-centered, they prioritize higher interest rates on checking accounts, money market accounts, CDs, and savings accounts.
On the contrary, banks, particularly national banks, have higher overhead and are profit-focused, so they pay lower interest rates on their bank accounts. So if your primary concern is interest rates, you might want to go with credit unions.
Fees
For the same reasons, credit unions pay higher interest rates; they can offer lower fees on their accounts than banks. Most credit unions provide free checking accounts and free savings accounts, while most banks charge monthly maintenance fees to account holders.
Credit unions and banks may also require minimum account balances; however, banks are more likely to have higher overdraft charges. The higher fees at banks, combined with the lower interest rates, can be a real hindrance for financial gain. Again for this category, credit unions are better than banks.
Mortgage and loans
Credit union members can typically get lower loan rates, auto loans, personal loans, mortgage loans, and small-business loans than members of national banks. Even for those individuals with bad credit scores, credit union offers will sit down with you and discuss options suitable for your unique credit situation.
On the other hand, banks calculate risk based on credit scores and are more likely to reject applicants with bad credit scores. Nonetheless, banks are more likely to offer credit cards, even though they have high-interest rates. So if you need a financial institution with easy access to loans, credit unions are ideal for you.
The ease of joining the financial institution
Banks are delighted to have you open an account with them since you represent a source of revenue. On the other hand, credit unions can be a little more difficult to join, since membership is limited to individuals within the field of membership.
Generally, your ways into a credit union's field of membership are via your employer, physical location, place of worship, or your membership in a particular organization. Most credit unions will allow you to join if a family member meets the requirements or make a small charitable donation. In terms of the ease of entering a financial institution, banks are better placed.
Technology
Typically, larger banks have had the resources to top the digital transformation industry over the last decade. This means better mobile apps and websites, and advances in card technology (such as chips), mobile wallets, and mobile check deposit. Nonetheless, as time has progressed, credit unions have been advancing by redesigning sites and mobile apps updates. If you would opt for a financial institution with better technology, go with banks.
Customer satisfaction
As nonprofit, community-based institutions, credit unions are more centered on offering personalized, friendly customer service. In the FIS Performance Against Customer Experience (PACE) Study conducted in 2018, credit union members reported higher satisfaction than bank members. An essential aspect leading to satisfaction across all age groups was trust. This was a good indicator that a more personalized credit union strategy might lead to superior customer trust and lead to satisfaction.
It is worth noting that small banks typically receive the same customer satisfaction ratings as credit unions since they have a personalized approach and face-to-face interactions.
Physical location
Big banks have brick-and-mortar locations all across the United States, while credit unions tend to be regional. If your family often moves, investing with a national bank can keep you from opening and closing accounts at every move.
Since large banks have more locations, it is convenient to access your funds in person and through-free ATMs.
Rewards
Here is the major shortcoming of credit unions. While banking with a credit union can provide better interest rates, better loans, and lower or no fees, a bank generally offers better rewards programs- a simple way to generate money by opening an account or purchasing groceries.
For instance, bank credit cards are more likely to offer cashback and rewards points, while bank accounts frequently come with sign-up bonuses. Generally, credit unions lack such options. If you are more interested in rewards, it might be wise to choose a bank.
---
Bank vs. credit union: how to choose which one is right for you?
If you are keeping a score, both Credit Union and Banks tied at four-four across the eight categories discussed above. Here is how to know if you should go with a credit union or a bank.
Determine your needs: Identity what you need. Ask yourself if you want to earn more from higher interest rates or annual dividends, or you would opt for convenience and advanced technology from your financial institution. Also, consider if you prefer a higher level of customer service.

Consider the best option for your case: The advantages and disadvantages are very general. Credit unions and banks might diverge from the norm. You may get a bank with no fees and great loan options or a credit union that makes it incredibly simple to join and offers a rewards-based credit card. Do thorough research on several credit unions and banks before making a decision.

Check online banking: In this digitalization era, managing your finances has gone entirely digital. Online banks frequently offer much higher interest rates than credit unions or banks. So you may want to include these in your research.

Minimum balance requirements: Some accounts need you to maintain a minimum balance before charging account fees. Ensure any minimum balance requirement is something that you can comfortably afford.

Availability of funds: Some banks offer an early release of active duty per deposits. This is a functionality that is popular with most customers.

Consider these deposits: Even in this age of the direct deposit, everyone has an occasional need to deposit cash or checks. Even though your bank does not have a physical location near you, they might provide mobile or home deposit services to make check deposits fast and straightforward. Consider how frequently you may want to deposit cash and how that would happen. If you can not even imagine a case where you would be depositing money, that may not be a factor for you.

Create multiple accounts: Nothing will stop you from opening savings and checking accounts with a credit union and later applying for a credit card from a large bank. Diversifying your finances can make things difficult; however, it can also get you the best rates, features, and rewards.