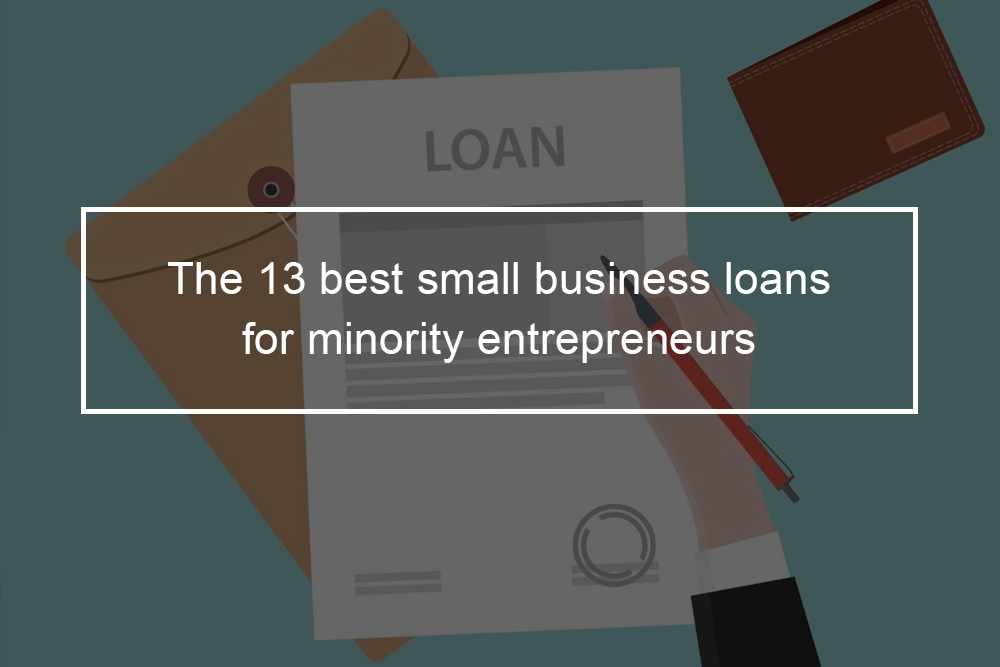 Minority entrepreneurs can obtain business loans from various sources, including banks, U.S Small Business Administration, nonprofits, and online lenders. There are over 8 million minority-owned businesses in the U.S., yet those businesses trail the average small business in terms of access to capital and overall revenue. Minority business loans can be vital sources of funding to assist entrepreneurs from historically underserved communities in starting a new company or growing an existing one.
---
Details about these small business loans for minorities, together with funding sources for minority-owned small businesses.
SBA 7(a) loans
The SBA 7(a) loans are guaranteed by the United States Small Business Administration (SBA), a federal entity designed to foster small business growth. SBA 7(a) loans are not exclusively for minorities, and any entrepreneurs are free to apply for these loans via participating lenders. But, almost one-third of SBA 7(a) loans go to minority applicants.
You can use an SBA 7(a) loan to qualify for as much as $5 million in the capital, making this an excellent option for large investments in the business. The maximum repayment terms generally range from ten to twenty-five years. Even better, the interest rates on 7(a) loans are some of the lowest around, enabling minority business owners to invest more revenues in growth instead of paying off debt.
SBA community advantage loans
Also managed by the SBA, the Community Advantage Loan Program works to meet the financial mission-based on small businesses in underserved markets. This program motivates local, mission-based lenders such as nonprofit organizations to make loans of up to $250,000 to minorities, veterans, women, and other underserved business owners.
By guaranteeing up eighty-five percent of the loan amount, the SBA attempts to assist small business owners who may not be eligible for traditional financing, so this is a great option if you seek minority small business loans. You have to show creditworthiness and your ability to pay back the loan; however, a lack of balance sheet assets or collateral will not prevent you from qualifying. To get started, approach your local SBA district office.
SBA Microloan program
Minority small business owners seeking loans of $50,000 or less should investigate the SBA microloan program. Even though this program is open to any eligible small business owner, SBA microloans can be an especially good starting point for minorities.
These small business loans offer up to $50,000 to assist small business owners in starting and expanding. The SBA makes these loans via third party nonprofit lenders. Most of these local nonprofits exist to support minorities and other underserved entrepreneurs. They offer management and technical assistance to small business owners along with the loan. To get local microlenders, reach out to your local SBA District Office.
SBA 8(a) Business Development program
Every year, the SBA 8(a) Business Development program aims to award at least five percent of federal contracting dollars to small deprived businesses. One of the qualifications is that the business must be at least fifty-one percent owned and controlled by the United States citizens who are economically and socially disadvantaged like those who face biases. 
Minorities are assumed to be socially disadvantaged under federal law. On the economic side, the owner's average gross income and personal net worth for the last three years should be $250,000 or less, and their assets must be $4 million or less. If you meet these basic eligibility, you can apply to get certified online, after which you can begin competing for contract set-asides. You can also get help with free business mentorship and training via the 8(a) program.
Nonprofit loans
Various nonprofit lenders give loans to small businesses. For instance, international lending organization Accion has a United States loan program targeting moderate to low income business owners who have a hard time accessing capital through traditional channels. This makes it a great option for loans for a minority small business. Though not minority-specific, Accion's U.S. branches offer loans from $300 up to $1 million in all fifty states.
Another nonprofit lender you can check out is Kiva. This organization, built on a social lending model, offers up to $10,000 in no-interest funding for eligible small business owners. First, you should get a small network of your family and friends to lend money to you, after you can pitch your business idea to Kiva's network of 1.6 million lenders to get extra funding.
Union Bank's Business Diversity Lending Program
Union Bank provides minority small business loans to minority business owners whose business has annual sales that do not exceed $20 million whose borrowing needs are $2,5 million or less. These products have less stringent lending standards compared to traditional Union Bank small business loans. Loan products come with variable or fixed interest rates, with up terms up to twenty-five years.
Business Center for New Americans
The Business Center for New Americans (BCNA) offers business loans of $500 to $50,000 to minority owners in the United States. The BCNA specifically works with women, refugees and immigrants, and other minority entrepreneurs. These are short-term loans that should be paid back between six months and three years. They provide low, fixed-interest rates.
This organization assists finance minority entrepreneurs who were turned down from traditional funding options for many reasons. The loan the borrower requested may have been too small, the bank would not lend to a startup, or the borrower's credit score was too low. As long as you can prove the ability to repay the loan, you are likely to qualify for a loan from BCNA. As a result of the looser qualification requirements, this program is also an excellent startup loan for minorities.
Business Consortium fund loan
Business Consortium Fund Loans are loans reserved mainly for minority-owned businesses that have not been able to secure funding through other channels. Loans are certified by the United States Department of the Treasury and can range from $500 to $50,000. Interest rates are capped at three-percent above the prime rate, and loan repayment terms can be as long as seven years.
To qualify for a Business Consortium Fund Loan, you must certify your business with the (NMSDC) National Minority Supplier Development Council and have had a supplier or vendor relationship with an NMSDC national or regional corporate member.
Minority and Women Revolving Loan Trust Fund Plan
This program was designed to provide low-cost financial assistance to minority and owned businesses that cannot access traditional financial services. The plan offers working capital loans up to $35,000 and fixed asset loans of up to $50,000 for businesses located in New York.
USDA Business loans
As a last option for minority business loans, consider applying to the (USDA )United States Department of Agriculture Business and Industry Loan Guarantee Program. The USDA guarantees these loans, which local banks and direct lenders make to small businesses. The main qualification criteria are that your business should be located in a rural region, defined as a town with fewer than 50,000 inhabitants. USDA business loans are open to any eligible rural business; however, they are a great choice for minority entrepreneurs since minorities in rural communities are more likely to live substandard housing and more likely to be poor.
The USDA loans extend to a maximum of $25 million. They can be put towards a variety of business needs, including financing of real estate, working capital, debt refinancing, and business expansion. These are a good option for business owners who require large amounts of capital. USDA loans come with longer terms, low-interest rates, and need ten to twenty percent down.
Online small-business loans for minorities
There are plenty of fantastic loan programs available to minority business owners. But some of these options might be challenging to score because of high demand and limited capital resources. Therefore, if you do not qualify for any of the above options, try checking to see what you are eligible for with small online business loans available to all small business owners. Here are the top three:
Kabbage
Kabbage is a great lender to work with if you seek funding while dealing with a poor credit score. Kabbage provides credit lines of up to $250,000 for almost all business purposes. Kabbage does not have a minimum personal credit score needed, making them an accessible lender for less-qualified minority entrepreneurs.
OnDeck
OnDeck is another alternative lender that provides business loans in a broader credit spectrum. OnDeck provides both business lines of credit and short-term loans for borrowers with a minimum personal credit score of 600. You can qualify for up to $500,000 in funding with a fast, online application. OnDeck is a great option for minority business owners who need capital for just about any business need.
Fundation
Fundation provides business lines of credit and medium-term loans. If you are looking for up to $500,000 in the capital, Fundation is a good option. Qualified borrowers will require to have at least a credit score of 660, making this slightly harder to qualify for than Kabbage or OnDeck. Nonetheless, Fundation also provides more affordable funding, with interest rates beginning at eight-percent. You can use the financing for most business needs.
This list should help you get started with a search for your capital for your small business.