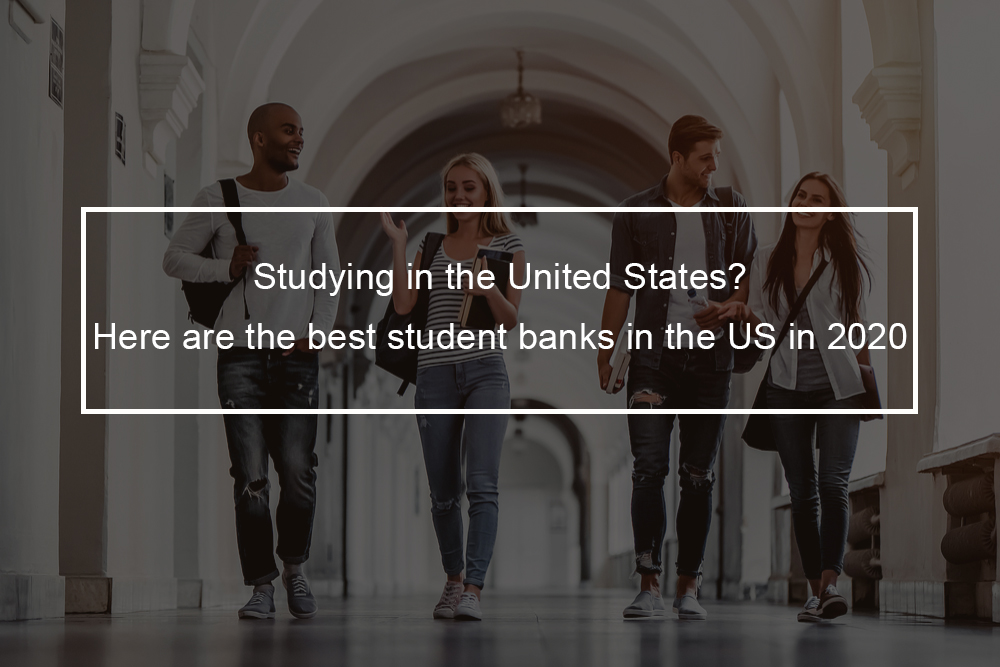 If you want to empower yourself financially as a student, opening a student checking account is an excellent way to start gaining control of your money. A student checking account is an account that is made to precisely fit the needs of young adults who are still schooling.
Paying for food and rent and your social life and maybe even your tuition on limited funds can be challenging. Fortunately, many banks offer checking savings accounts, particularly for students, with more straightforward offerings and lower fees.
If you search enough, there is a good chance you can get an account that will offer you everything you need from a bank during your pre-working years for free, or close to it. Here are the best five banks for college students in 2020 that you might want to consider.
---
How to choose the best banks for high school and college students?
When considering choosing a student bank, consider the following (the factors considered when selecting the best five banks for students in this post)
The more branches and free ATMs, the better. You might presently be, or soon, be splitting your year between your college town and your hometown.

You might not have funds to put down for a minimum deposit. Having to save money to open a bank account can be another reason not to create a bank account.

You may overdraft a lot. Typically, there is no shame; it can take some time to understand how to live off close to nothing without crossing into the red occasionally.

Maintenance fees are a deal-breaker: Most college students and high schools have low discretionary funds so that a monthly charge can take its toll.

It is not a time for saving yet. While in this post, we provide necessary information about the savings account options at every bank on the list, we prioritized the checking account functionality to narrow the field.
---
The 5 Top Banks for Students in 2020
Now that you are aware of what to look for in a bank account while you are still studying, here are the best options for the five best bank accounts.
Alliant Credit Union: Best bank high school students
Credit unions work differently than traditional banks. One, members are owned by members; this means you will need to become members to open an account, Alliant.
Credit union accounts offer higher interest rates- you will realize that Alliance's annual percentage yield is the highest on this list at a rate of 0.65%. Your account will require at least one electronic deposit during the cycle to get that rate in a given billing cycle.
The Alliant Teen Checking Account is accessible to members ages 13 to 17. There is no minimum creating maintenance or deposits fees. You will have access to 80,0000 fee-free ATMs nationwide, and Alliant provides a $20 retable for out-of-network ATM charges every billing cycle. Alliant will also restore your ATM card for free.
When it comes to savings accounts, Alliant's High-Rate Savings Account needs a $5 opening deposit (and a $5 balance to remain open). If you can keep a standard average daily balance of $100, your account will earn 2.1% interest- a reasonable rate for a standard savings account.
On the downside, overdrafts will cost you $25 per transaction- not unreasonable; however, ideally, a student account would be a little more forgiving. There is also a $10 inactivity charge if you do not use the account for a year, so this might not be the spot to deposit that one-time check from a close relative.
Chime: Best Bank for college students
Chime is not limited to students; however, the bank mobile bank's barebones should cover the needs of most college students.
Typically, most of the banks advertise their lack of fees. Most times, on closer inspection, you will find that the fees have been redirected more than waived. What you will like about Chime is that when they say fee-free, they are serious.
There is no account balance requirement or minimum opening deposit. You will not pay a monthly service charge. Your card will not enable overdraft charges, which indicates no overdraft charges. Replacement cards are free. It is free to use 38,000 in-network ATMs.
Moreover, there are no foreign transaction fees, which can run as high as three-percent at major banks. Besides, Chime deposits payments into your account as soon as it receives the notification of the transaction. This puts the money in your account up two days earlier.
When it comes to opening a savings account through Chime, there is no minimum deposit. However, if your balance is $0 for nine months, it will be considered an inactive account. Chime savings accounts earn just 0.01 percent interest.
The downside of a Chime account is that it does not earn interest. Even though checking accounts are typically known for their high-interest rates, something is obviously better than nothing at all.
Capital One: Best national bank for students
Capital one 360 checking account does not have minimum account balances or maintenance fees. Also, the annual interest is competitive. But what is even better about this account is the bank's size and overdraft protection alternatives.
Capital one has 775 branches across the US, and your card will give you access to over 80,000 ATM fee-free. If you want to move soon, you can be assured you will have access. You will also have the alternative to manage your overdrafts in one of four ways below:
Capital One can automatically transfer money from your savings account to cover the charge at no additional cost

The bank can decline any fee that exceeds your balance

You can request Capital One to create a line of credit for any overdrawn funds, which will be needed to pay back with interest

You can get the next day of grace, which enables you to have a full business day to fund the overdrawn balance before you accumulate a $35.
To open a savings account at Capital One, you do not need a minimum deposit, and no monthly fees are associated. The account will earn one-percent interest. On the shortcoming, an outgoing transfer will run you $40 per transfer- the highest charge from the banks on this list.
Ally: Best online bank for students
Like most of the bank accounts in this list, Ally's interest Checking Account does not require a minimum opening deposit and charges no monthly service fee.
You will have access to over 55,000 ATMs for free, and Ally will reimburse $10 per statement for charges at out of network ATMs. Also, incoming wires are free (inclusive of international transfers). 
When it comes to savings accounts, Ally savings account has no maintenance charges or minimum balance requirements. However, the accounts APY of 1.9 percent compounds every day- indicating your funds will grow rapidly than it would in an account that compounds annually or quarterly.
On the shortcoming like Alliant, Ally does not offer an overdraft safety guard, except that it will not charge you over one overdraft fee in one day.
PNC: Best bank for international students
PNC's alternative for student banking is the virtual wallet student, which is really a bundle of three accounts: a more standard savings account, an interest-earning checking account, and a non-interest-earning checking account.
When you are working with a new currency, there is a learning curve. And PNC provides a few useful functionalities. PNC's interpreters speak 240 languages on the customer service line, which is accessible 24 hours daily. While the bank does charge a high overdraft fee, your first charge will be waived.
The virtual Wallet Student also offers a digital calendar that will show you upcoming payments and paydays- it will even display potential danger days to assist you to avoid an overdraft. You will need $25 to get started with the Wallet; however, you will not pay any fees for six years. You can receive one incoming wire transfer (international and domestic) for every period at no cost. You will also have access to over 2,400 PNC locations and 15,000 in-networks ATMs.
When it comes to savings accounts, you will have to contact PNC for current interest rates and APYs. On the downside, APYs card replacement will cost you $7.50, and the overdraft fee is the most of the five banks on this list. If your bank account stays overdrawn for five days, you will be charged an extra $7 every day up to the maximum penalty of $98.
Choosing a student-friendly bank is all about looking for benefits and perks that appeal to you as a young account holder. For college students, particularly those living out of state during the school year, having strong mobile and online account features can make banking more convenient. Along those lines, so could have many fee-free ATM options.