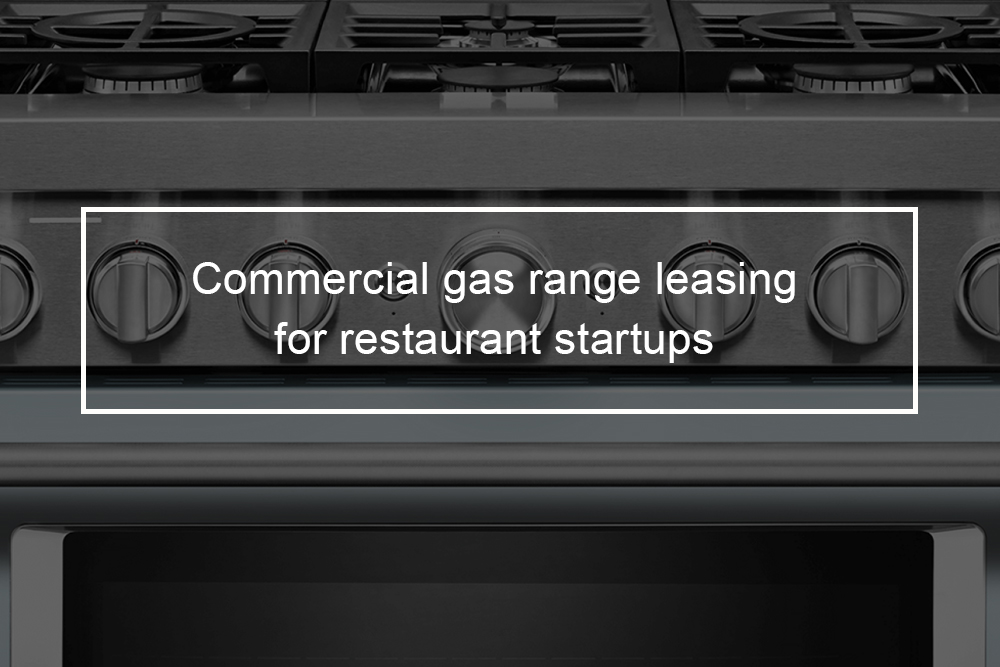 New restaurants, especially those with no credit history, have a challenging time securing bank loans. Luckily, startups who need the Garland C12836-6 commercial gas range or any other commercial equipment can use leasing financing to obtain the equipment. Both established and startup restaurants can utilize equipment leasing and enjoy long-term benefits. You will need certain documents to qualify for this financing option. Most lessors require loan borrowers to provide current financial statements and written equipment lease proposals. Your lease proposal must clearly define what you want to lease, an outline of your restaurant, and the equipment you need. These details will assist you in convincing your lease provider. If you are looking at leasing a commercial gas range, keep reading to find out more about this solution and how we can help you. Or please get in touch with us through 1-(800)-260-5126 to tailor a suitable program for your business needs.
---
Garland C12836-6 commercial gas range overview
Garland C12836-6 is a cuisine series heavy duty range. This gas range features 12″, Add-A-Unit, (two) 30,000 BTU burners, 6″ backguard, standard depth, and stainless steel front and sides. It also features a cabinet base, 60,000 BTU. Garland C12836-6 rests on 6″ adjustable legs and is CSA Flame, CSA Star, and NSF certified.
Standard features of the Garland C12836-6 commercial gas range
1″ (25mm) thick steel plate 

1-1/4″ NPT front gas manifold 

12′ (305) wide front 30,000 BTU open burner 

12″ (305mm) Hot top – one 25,000 BTU burner per plate French Top (12836-15) 

152mm chrome steel adj. legs Griddle Top (C12836-1) 

152mm H stainless steel stub back 

30,000 BTU burners Open Burners (12836-6) 

30,000 BTUs for every burner

305mm)wide rear hot top with 15,000 BTU burner 

Cabinet base or modular (Suffix M) 

Can be installed in a battery or individually 

Full-range valve control (-1) 

Griddle control Low to 500°F (-1-1) 

NOTE: Units supplied with casters should be installed with an approved restraining device.

One-piece cast iron top grates 

Removable drip pan Hot Top (12836-8) 

Stainless steel front rail w/ position adjustable bar 

Stainless steel sides and front 

Two per 305mm width 
Optional features of the Garland C12836-6 commercial gas range
3/4″ NPT (max 250,000 BTU) rear Gas Connection, (not available on models C12836-1, C12836-1-1 or C12836-8)

Casters w/ polyurethane wheels – non-marking 

Double or single deck high shelf or back riser 

Flanged feet set of four 

Gas flex hose w/ quick disconnect 3/4″, 1″, 1 1/4″ (Specify) 

Gas regulator: 3/4″- 1 1/4″ NPT (Specify) 

Gas shut-off valves – 3/4″, 1″, 1 1/4″ NPT (Specify) 

Grooved griddle – (12 "W sections) 

Modular unit (suffix M) (Stand w/ shelf or for the counter mount) 

Modular unit for Refrigerated Base (change suffix M to PC) 

Stainless steel back 

Stainless steel burner box top interior

Stainless steel door for cabinet base units 

Stainless steel intermediate shelf for cabinet base 

Swivel casters (four) w/ front locking 
---
What is a commercial gas range lease?
In simple words, a lease is a contract for using a piece of equipment over a specified period where the user of the equipment becomes the lessee and agrees to make periodic payments to the lessor of the machine with specific end of term options. The lessor is the owner of the leased equipment; in this case, the commercial gas range, and makes the original cash investment for the purchase of the equipment from an equipment vendor. The lessee uses the commercial gas range and gets the benefits of its use, just as though they owned it. Leasing enables a company or consumer to finance the usage without having to finance the purchase. Put simply, a lease is a legal contract whereby the lessee utilizes the lessor's real or personal property for a particular time and a specified rental charge.
Why use restaurant equipment leasing?
The most popular reason leasing is so common is that it meets the needs of so many food industry businesses. For instance, a mature and established restaurant can lease a commercial gas range to keep bank credit facilities employable.  Many startup restaurants lease to conserve cash or because they are unable to qualify for conventional financing. Many restaurants are still growing and use equipment leasing to preserve the ability to upgrade. The financing needs of restaurant equipment are as unique as the equipment itself, and leasing meets these opportunities in a wide variety of ways.  Restaurants will frequently consider leasing a commercial gas range for the following reasons:
Retain capital: Leasing Garland C12836-6 will allow you to acquire the gas range today while spreading the repayment across time. This allows your restaurant to reserve cash for other day-to-day operating expenses, emergencies, and new opportunities.
Off-Balance Sheet Financing: When a restaurant obtains equipment, it must capitalize the asset on its balance sheet showing the equipment as an asset. If the business financed the equipment through a conventional loan, it has to record the balance sheet's corresponding liability. If a restaurant leases its equipment, it might be classified as a rental payment on the income statement, thus no liability on the balance sheet.
Affordability: The acquisitions of assets through leasing, as compared to an outright purchase, can become more significant as the equipment's price increases. As technology improves and new and more costly commercial gas ranges become available, many restaurants find it vital to acquire the use of new equipment through leasing instead of a direct purchase simply depending on the affordability factor. This is mainly true for two reasons:

Other costs of acquiring commercial equipment like sales tax, delivery costs, installation costs, and other soft costs can, in most cases, be incorporated in the lease payment.

As a general principle, restaurant leasing and financing companies will require lower down payments at the inception of the lease.

Speed: Lessors can provide a lessee a leasing program in hours instead of days or weeks under a traditional financing arrangement. This allows a restaurant to acquire the equipment promptly and use the equipment to accumulate revenue.
Customized solutions: Leasing commercial gas range allows a lessee to structure a financing program that addresses individual business problems, including usage, cash flow, transaction, budget, cyclical fluctuation, and obsolescence. For instance, if your restaurant experiences seasonal fluctuations, it can structure a leasing program around the heaviest months. 
---
Qualifications for commercial gas range leasing and financing
Leasing new or pre-owned commercial gas range is an accessible option for many restaurants. If you have multiple pieces of Garland C12836-6 that need to be replaced, you can lower costs by leasing or purchasing outright. Small restaurants, startups, and restaurants with low credit scores can especially benefit from commercial gas range leasing. Many restaurant startups install kitchen equipment all at once, so items start to show wear around the same time as well.
Leasing a new commercial gas range will help you replace older equipment and provide for your restaurant operation. Top Financial Resources is a restaurant equipment lease and finance leader with low monthly payments and multiple loans and lease options for startups. Here are our qualifications for equipment leasing for restaurant startups:
FICO credit score of 600 plus

Equipment quote from a vendor

No bankruptcies

Your restaurant should generate sales in excess of $8,500 per month
How to apply for Garland C12836-6 financing?
Applying for a new or used Garland C12836-6 lease is easy. If you have no past bankruptcies, you have a FICO score over 600, and you have an equipment quote from a vendor, we can help your startup restaurant get started with Garland C12836-6 leasing.
Step one: Apply; start with our simple and fast online application.
Step two: Connect; Your financing specialists will discuss the right leasing options for you.
Step three: Get the financing decision. You will get feedback in as few as twenty-four hours. Apply on our website or call 1-(800)-260-5126.
---
Why Top Financial Resources?
As a business owner, your restaurant needs are unique from any other restaurant. Top Financial Resources has helped many businesses in foodservice to keep their operations moving. Let our loan specialists create a customized equipment leasing program for all of your restaurant and commercial kitchen equipment needs.
We know restaurant businesses: We have experience supporting restaurant business owners.
Companies like yours have trusted us: We finance businesses nationwide.
Personalized experience: Lending programs and payment options tailored to your specific needs.
Fast and simple application process: No cost, no-obligation application with financing in as few as twenty-four hours.
Loan specialists who care: Experienced loan specialists will help you make the right decision.

Leasing equipment at Top Financial Resources allows you to hold on to more of your hard-earned cash for use in other parts of restaurant operations.
Top Financial Resources takes every opportunity to assist strengthen small restaurants. We empower small restaurant owners to do what they do best- with customized small business options to help foster their financial well being and let you transform your vision into reality.
How Top Financial Resources compare to other financing solutions?
Top Financial Resources is an ally to small business owners and startups, a trusted resource that works hard and moves faster to provide leasing and financing programs. We are a passionate team of individuals driven by mutual respect, hard work, and transparency. We listen to our clients, understand their needs, and nurture their passion into thriving small restaurants.
---
Find other Garland C12836 Series Heavy Duty Ranges That We Finance 
We provide leasing & financing for a wide range of equipment. Whatever commercial gas range you need, whatever your budget, Top Financial Resources can help your restaurant succeed. Here are Garland C12836 Series Heavy Duty Ranges, among others that we finance at Top Financial Resources:
Garland C12836-15M Cuisine Series Heavy Duty Range

Garland C12836-1M Cuisine Series Heavy Duty Range

Garland C12836-8M Cuisine Series Heavy Duty Range

Garland C12836-15 Cuisine Series Heavy Duty Range

Garland C12836-8 Cuisine Series Heavy Duty Range

Garland C12836-1 Cuisine Series Heavy Duty Range

Garland C12836-1-1M Cuisine Series Heavy Duty Range

Garland C12836-1-1 Cuisine Series Heavy Duty Range