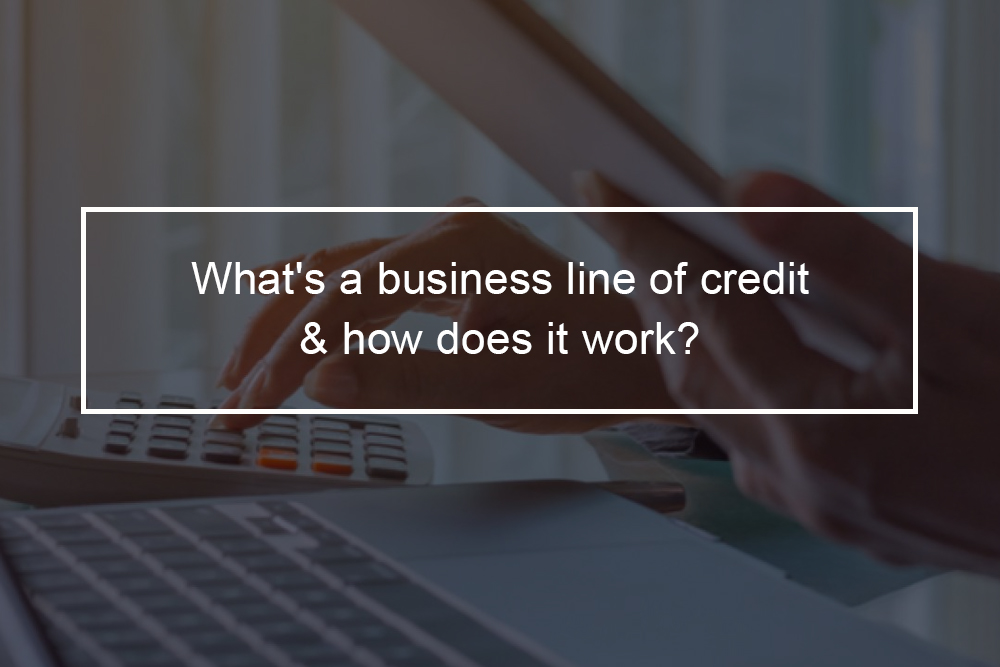 A business line of credit is a useful asset for small businesses that take a strategic approach to ensure they have access to the resources they need to meet their daily working capital needs and fill other short-term financial needs. It enables them to apply and qualify for borrowed capital they might require down the road. Most businesses use a line of credit as part of a larger capital access approach, including short-term and longer-term funding to fuel growth and finance other revenue-generating projects.
---
What is a business line of credit? 
A business line of credit has more in common with a small business credit card than with a small business loan. Just like a small business loan, an unsecured line of credit offers business access to money that can be utilized to address any business expense that arises. Contrarily to a small business loan, however, there is no lump-sum disbursement made at account opening that necessitates a subsequent monthly payment. 
A small business line of credit is open to annual renewal and credit review and is revolving. Like a credit card, interest starts to accumulate after you draw money, and the amount you pay (apart from interest) is again available to be borrowed as you pay down your balance. Just like with a credit card, the lender will set a limit on the amount you might borrow.
How to use a business line of credit?
The main reason to open a business line of credit is to gain access to short-term financing. Most businesses use these funds to support funding for operational expenses such as payroll and supplies or increasing inventory. Cyclical businesses usually depend on an unsecured line of credit as a source of off-season working capital.
Contrary to many small business loans, an unsecured line of credit is not designated for a particular purchase or purpose- it is a good choice for small businesses looking for ways to manage their cash flow better. Generally, funds are drawn from the line of credit using a business checking account, a mobile banking app, or a business credit card.
---
Types of a business line of credit
Two types of a business line of credit
Secured Business Line of Credits: This kind of business line of credit requires the business to pledge particular assets as collateral to secure the line. Because a line of credit is a short-term liability, lenders generally ask for short-term assets, like accounts receivable and inventory. Lenders do not often need capital assets, like real property or equipment, to secure a credit line. If the borrower cannot repay the line, the lender will assume the ownership of any collateral and liquidate it in order to clear the balance.

An unsecured business line of credit: This kind of line of credit does not require specified assets as collateral; nonetheless, a general lien and personal guarantee will possibly be needed. Since there is no specified collateral with this kind of credit line, the business will perhaps need a stronger credit profile together with a positive business track record to qualify. Besides, interest rates might be slightly higher, and unsecured credit lines are usually smaller.
---
A business lines of credit: How it works?
Once you open a business line of credit, the business gets access to a stated amount of money to use as needed. A monthly statement revealing the amount of credit used will also include any interest charges (unlike a term loan, where you only pay interest for funds you use as you use them). Your interest and payment are based upon the funds you use. Once repaid, the credit line is available to be reaccessed as required. The periodic payment schedule to repay a business line of credit will vary based on the lender. Either a monthly, or weekly periodic payment schedule is common.
Apart from the interest charges, an annual fee for a business line of credit is not uncommon. If your business often accesses the line of credit, transaction fees might also apply. A small line of credits (under $100,000) can operate as a credit card account, with advances made by writing checks issued for the account or using a credit tied to the line of credit. Some lenders also opt to deposit money directly into the business bank account through an ACH deposit.
Business Line of Credit vs. A Business Term Loan
From the perspective of a lender (both traditional lenders, such as online lenders and banks, offer business credit lines), a term loan and line of credit are very different. For instance, when a lender assesses your creditworthiness for a term loan, they are looking at the business' credit profile to decide on a loan today. For a business line of credit, they are looking at a business's credit performance today to make decisions about the business's creditworthiness at some time in the future when it accesses the credit line. When it comes to a lender, these are two very different cases and explain why the line qualification process for a line of credit may be a bit more thorough.
That is not the only difference between a line of credit and a term loan. A term loan engages a fixed amount of money, which the business receives in a lump sum after the loan is approved. Periodic payments are generally repaid over a defined period, or a term, in a prearranged schedule until the balance is paid in full. A business line of credit also incorporates some additional flexibility that is not part of small business loans. A line of credit is typically a credit limit a business can borrow against any time they need it, repay and use it again- often for a specified term. Most lenders require the line of credit balance to be brought to zero at some time during the term of the credit line. A business line of credit often used for short-term operating purposes and for more immediate revenue-generating activities since the business can access the money as needed.
When should you consider a business line of credit?
If your business often requires access to money to meet short-term capital needs to manage the business's day-to-day capital requirements. In that case, applying for a small business line of credit can be sensible.  A new business with a business owner who has a low personal credit score or without an established business credit profile will probably have a hard time qualifying for a line of credit. Most lenders prefer to offer a line of credit to more established businesses with revenues and a good track record to support the more flexible funding provided by a credit line.
---
Who offers business lines of credit?
The majority of banks that serve small businesses -including community banks, commercial banks, and credit unions- provide business lines of credit. Most online lenders, such as OnDeck, also offer business lines of credit.
As mentioned above, lenders will often only consider more established businesses with positive credit history for a line of credit. For new businesses 9under two years old), some banks provide lines of credit backed by the Small Business Administration (SBA). The SBAs CAPLine Program offers qualified businesses the choice of four types of credit lines to assist fund their short-term capital needs.
---
Applying for a business line of credit
Like term loans, most lenders will need to see documents and financial records that show a track record and demonstrate creditworthiness. Traditional lenders such as credit unions, community banks, and banks will need some extra documentation online lenders may not need, so it is a good idea to find out before you first meet with the lender what they require. Some of the basic info you will need to apply could include:
A business bank account

Two to three months of bank statements

 Tax returns

 Business license

Standard financial documents such as AP, AR, P&L Cash Flow, etc
You should be prepared to discuss the particulars of the business' financial position with the lender, so any documents you might not be familiar with, you should ensure you consult with a trusted advisor such as your CPA or accountant to ensure you understand exactly what the documents suggest about the financial health of your company.
As a general principle, lenders will rarely provide a business line of credit to:
Startups or idea stage companies

Cover losses on past operations

 Meet immediate expenses that will not necessarily result in profits
Generally, maintaining a business line of credit in good standing can help you build your business credit score rating and position you for better loan terms if you seek future funding. Most business experts suggest that first-time applicants begin a modest line of credit and pay off the debt faster to build a credit profile. Keeping your small business funds, running smoothly can be challenging in today's fast-paced globe. Based on your particular business needs, a small business line of credit can be the simple solution to meet your business growth goals- at a pace that is right for you.