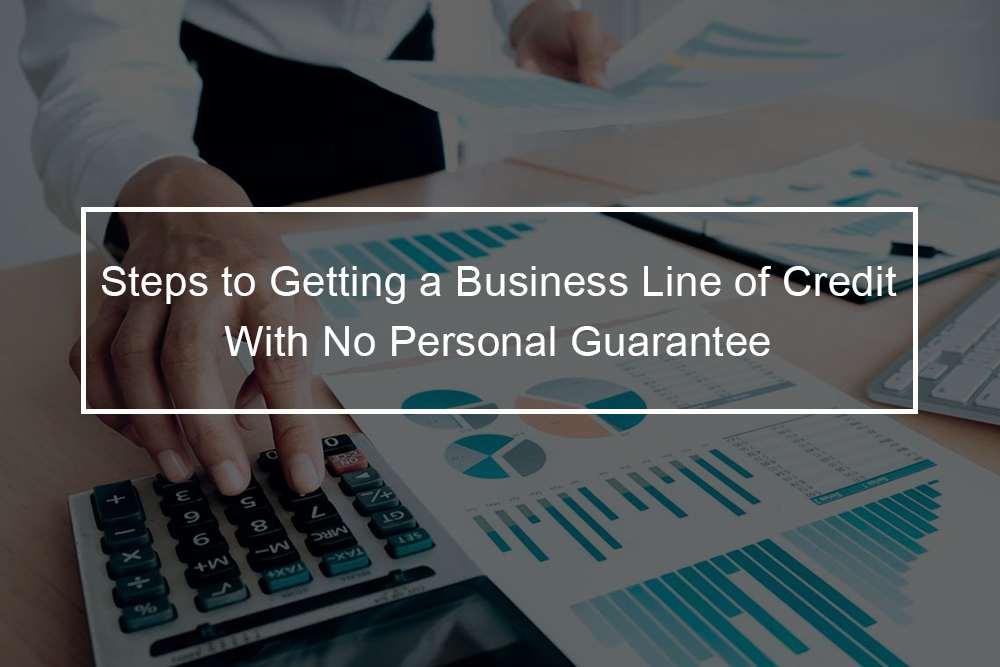 Getting credit for your company without personal guarantees is not something you can accomplish overnight; however, it is crucial, and it is possible. The fact is that banks and other financial institutions might not extend lines of credit or loans to a company without a personal guarantor or collateral. It is about reducing risk for the lender and not unless your business has substantial revenues or other elements that mitigate risk expect to supply a PG. So what strategies do you take to help you obtain credit without issuing a personal guarantee? The key is sticking to a strict plan for establishing a company's creditworthiness. For beginners, a business should focus on applying for credit that will positively affect the company's credit reports.
---
What is a personal guarantee?
A personal guarantee, also known as joint-several liability, essential makes you a co-signer to your business on loan. If your business cannot pay off the debt, you are legally accountable for making payments. And if you cannot do that, the lender can claim your personal assets, like your home, investments, or car for repayment. Based on the lender, you might be required to sign a limited personal guarantee or unlimited one. With an unlimited guarantee, you accept to be accountable for paying the entirety of the loan's principal; you will sign if you are the sole owner of your business. On the other hand, a limited personal guarantee is common with businesses that have many owners. Every partner or owner is assigned a percentage of the debt, and your liability is limited to your share.
Why lenders require a personal guarantee?
Small business lending is a risky business. Thus, most business lenders have minimum qualifications for revenue, collateral, and time in business. With unsecured loans, nonetheless, the lender requires some kind of certainty that it will get its money back if your company does not work out. That certainly comes in the form of a personal guarantee. Bear in mind, too, that provided your business is structured to limit your liability that does not apply to a personal guarantee.
---
How to secure a line of credit without a personal guarantee?
The following strategies will increase your chances of being approved for a credit line with no personal guarantees:
Get a credit card in the name of your business
Credit cards are available in mind-boggling numbers. Consequently, you will need to shop around to obtain the best deal, ideally business credit cards that report your activities only to business credit files. Also, look out for the issuer's fees and terms. It will also get rid of a lot of footwork on your part when it comes to applying for extra credit with no personal guarantees.
Apply for a third-party guaranteed loan
This kind of loan is commonly provided by banks that service a distressed geographic region or meet technological needs. The Small Business Administration offers various loan programs, and will even guarantee as much as 85-percent on loans as long as the borrower ever goes into default. Multiple municipalities provide these loans as incentives for businesses to invest in their regions.
Establish additional vendor lines of credit
This will help you to diversify your profile and allow your accounts age. Once you have established strong business credit ratings, you will be ready to apply for business credit with much bigger credit limits and more favorable terms because you have earned a credit reputation to deserve it.
Save some of the profits from the unsecured business loan for your business
As soon as you get the loan, set apart twenty to thirty percent of the loan amount as a buffer to ensure that your loan payments are on time. The IRS considers these accumulated or retained earnings, and are taxed; however, keeping these monies aside to ascertain that your loan payments are made on time is worth tax. Not to mention the building of your business repayment history. Use this money to pay back your loan. It will also establish your business credit for the next three to five years.
Focus on building your credit score
Once you have accomplished all of these steps, particularly after you have a minimum of ten positive trade references, you ought to have an adequate business line of credit without a personal guarantor. In the meantime, nonetheless, there are ways that you can increase your chances of getting it by establishing a reputation as a responsible company. If you are careful with spending and particular with payments, you can set yourself up for a no personal guarantee credit card. You can also get credit cards in your business name from companies that do not require a personal guarantee. These include Sam's Club® business MasterCard®, which usually waives a personal guarantor for businesses with large annual revenues. Use the credit card on occasion and ensure you pay it on time, every time.
Prove you can pay back debts
To get a business line of credit without a personal guarantee, you will have to show creditors the history of your company successfully paying debts. You must also show you are an established company that makes steady revenue. For a complete image of your credit history, you will need reports from various business credit bureaus. The reports depict your ability to pay monthly bills, banks, and vendors. Most businesses use Dun & Bradstreet, a company that reports business financial information. D&B looks at all your financial history and rates your ability to pay debts. A strong D&B rating offers your business higher credibility when applying for business credit cards without a personal guarantee.
Use your relationship with the bank
You can be able to negotiate your way out of a personal guarantee depending on your good business financials, solid payment history, and low debt-to-credit ratio. Some banks will waive the personal guarantee once you have had a line of credit for a while, built up your business credit score, and made payments on time. If you already have a line of credit with a bank, it might waive the personal guarantee requirement on subsequent financing rounds. Typically, the bank has to trust you. Note this is all about risk.
Consider applying a business line of credit with no personal guarantee requirements
This type of funding is not common, but it does exist.
Fundbox
Fundbox borrowers provide borrowers two kinds of business loans: a line of credit and invoice funding. Both options are suitable for businesses with short-term capital needs. With invoice factoring, you can get an advance on up to 100-percent of an outstanding invoice that is due to you. Fundbox utilizes the invoice as collateral if you cannot repay.
Repayment terms include twenty-four or forty-eight weeks, and you can fund up to $100,000. Fundbox charges five to seven percent of the total invoice value, providing you an APR of 13.44 to 67.70 percent. To be accepted for invoice factoring, you need a business checking account. You also have to connect your accounting software and have at least three months' worth of data with it. There is no minimum credit requirement.
With a Fundbox business line of credit, the lender provides funding of up to $100,000 with weekly payments for up to twelve weeks. If you need a credit line increase after your initial draw, though, it might require you to appoint a personal guarantee for the added money. The APR will range from 10.1 to 68.7 percent. In general, to be eligible, you need to be in business for at least three months with not less than $25,000 annual revenue. You also need a business bank. However, there is no minimum credit requirement.
StreetShares
StreetShares will require a personal guarantee on its term loan and business line of credit. However, you can avoid it if you qualify for the lender's contract funding. With this product, you can get up to ninety-percent of verified invoice amount up to $500,000 in total. APRs vary from ten to 12 percent, and your repayment period is ground on the terms of the invoice.
To qualify for contract funding, you will have to be a subcontractor to a fortune 500 company or a prime government. Having said that, there are no personal credit requirements or revenue.
Admittedly, obtaining business credit without a personal guarantee is not simple; however, it can be done. Not unless you are a subcontractor to a fortune 500 company or a government contractor Fundbox is your best choice. Even then, the lending institution's short repayment terms and lack of true business loan can make it challenging to use for some businesses.
Be assured that when you do try to get business lines of credit and have difficulty, you are going through the same challenges that practically most business owners have gone through and succeeded. It is a very common case for anyone who is in the process of starting a business. This procedure may be hard to overcome; however, it can be done, just as it has been for many other business owners all through the country.