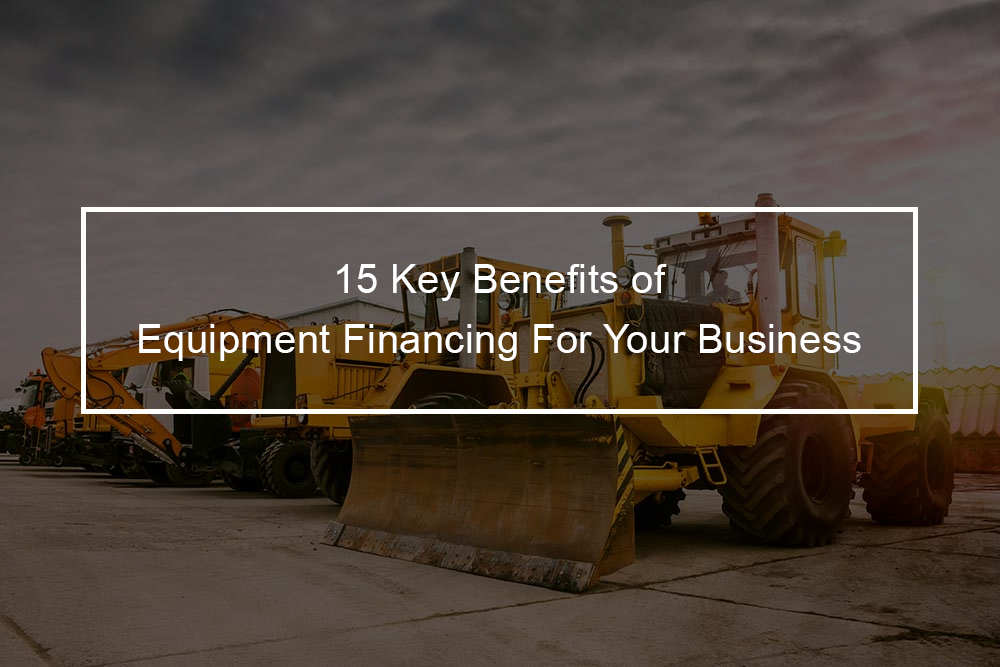 Both large and small businesses utilize equipment financing as one of the most important ways to invest in the capital while managing cash flow and the business's balance sheet. Equipment financing enables businesses to acquire equipment while avoiding many uncertainties usually associated with new equipment acquisition. This post will discuss fifteen benefits of business financing equipment, but before that, let's look at how this financing option works.
---
What is Equipment Financing?
Equipment financing is a funding option intended for hard assets designated for business use. You might purchase the equipment outright, put products on a payment plan, rent business equipment, and secure a lease. Funding is available through government loans, small business loans, and traditional business loans. 
When you are approved for equipment financing, you do not necessarily own the equipment, even though you purchase it outright. The lender will possibly create a UCC-1 (Uniform Commercial Code-1) filing, also called a lien, against the equipment you purchase. The equipment substitutes for collateral for the loan, and the lender can repossess your hard assets in the event you are unable to pay the loan in full.
---
15 Benefits Of Financing Your Business Equipment
Every business uses some type of equipment. You cannot operate a successful business without getting the essential equipment first. Equipment financing enables businesses to increase revenue and lower expenses.
15 Ways That Equipment Financing Can Benefit Your Business
Head start on productivity
Financing equipment is a good idea since it offers immediate access to cash so that you can get your business running. Based on the lender you choose, you might get a convenient deal, and you might not have to provide a down payment. Sometimes you can even do a deferred payment program. Enabling you to start making money off the equipment before any of your payments commence.
Conserve cash
It is not a secret that operating a business comes with a lot of expenses. Some of these expenses have to be paid on regularly. Therefore, as opposed to saving money for an extended period for buying equipment, you can save money for emergencies or business-boosting investments such as:
Insurance policies for your employees and business

Merchant services

Marketing and promotion campaigns

Shopper loyalty programs

Customer appreciation events

Remodeling and renovations

Training programs

Benefits, bonuses, raises for employees

Tuition reimbursement for technical classes or college courses
Note that investing in your business will improve employee satisfaction, which will benefit your customers. Employees who feel valued might put more effort into their work and treat customers better than employees who feel underpaid and unappreciated.
Take advantage of the state of the art technology
Technology is changing quickly, and most pieces of equipment can become obsolete instantly- despite- regardless of the field. Thus, by getting financing to buy equipment, you have the opportunity of selecting the latest technology for your business. Fundamentally, this will contribute to your firm's long-term growth. Equipment financing offers businesses more buying power and the capability to purchase the newest most advanced equipment for their company.
Customized structures and terms
Equipment financing offers businesses the flexibility to customize your loan terms by factoring in your individual specifications. Thus, you can do this based on your seasonal income fluctuations and your cash flow specifications. Seasonal payments are a great alternative for businesses that have a slow season. Adjusting your payments depending on your cash flow enables you to run your business more smoothly. Seasonal payments would allow businesses to have a lower payment in their slow season so that cash flow is simpler to manage.
Take advantage of Bundling Solutions
Moreover, another major benefit of financing equipment is that you can accumulate the equipment, installation, and maintenance into a single financing solution. In terms of management, this can be convenient. For instance, let us say you have various pieces of equipment from several vendors. You can fund everything under one schedule so that you can have one payment for all the equipment.
Equipment financing helps you avoid Inflation
Moving on, an equipment loan can help you battle inflation. That is because, upon signing the lease, the borrower locks in the loan rates.
Maximize your ROI
Based on the lending institution from whom you secure your business equipment loans, you might be able to make excessive use of flexible payment options. As such, instead of having to pay a significant amount of money to buy the equipment required for your business, you will make monthly payments. In the meantime, your equipment will generate revenue and reduce expenses.
Some lending institutions will offer you the option of selecting monthly, biannual, seasonal, annual, or quarterly based on the types of loan you secure. Remember that you might also be able to make excessive use of a ninety-day deferment on repayment of your equipment financing. You will have to work with your equipment loan lender on your loans to find out what will work best for your business needs.
Improve business credit
If you make timely repayments on your equipment loan, this will contribute to improving your credit score. Thus, when your business needs financing in the near future, you will benefit from better options and terms. Establishing a business credit score is essential for companies that are looking to obtain capital as their business grows.
Redistribute asset management
Another distinct benefit of equipment financing could be that you can let the equipment financing company manage your equipment from the delivery to the disposal.
Equipment financing can help you stay on top of industry demands
For any business, inventory represents a major expense. Thus, considering that you will make regular payments for your equipment, you will have the financial means of buying inventory when required. This way, you want to make sure that the cash flow is just right. Besides, equipment financing often has better terms and options than working capital loans. If you do not fund your equipment and later, you need working capital for inventory, the terms might not be as desirable.
Preserve bank lines of credit
Companies use financing to keep the business running. Equipment financing is an additional financing source and does not tie up or lower lines of credit established at banks or any other financial institution.
Potential tax advantages
Certain finance products might be eligible for tax-deductible payments and other tax-relief possibilities. This information does not constitute tax advice. You have to consult your tax advisor to determine how to use equipment financing to make excessive use of depreciation and expense tax savings.
Increased purchasing power
Financing might allow businesses to acquire additional and higher end-equipment because of affordable payments and customizable solutions.
Equipment financing might cover repairs
Even when companies are careful with their equipment, accidents do happen. When investing fully in new business materials, in case something goes wrong with the equipment, companies must pay for replacements and repairs entirely on their own. Equipment loan lenders can take the burden of some of these expenses, assisting businesses remedy equipment problems sooner than later. This way, companies do not have to spend exorbitant amounts of money or time trying to get back on track with operations.
Quick approval
Typically, equipment loans are approved (or denied) very quickly. One way to fasten the process is to consider applying for a loan with a non-traditional lender like Kabbage for your small business line of credit. Kabbage is an online lender that provides quick finance for many purposes, including equipment upgrades, inventory, and marketing efforts. Kabbage also considers your loan request within a matter of minutes. That indicates you can have the additional capital you need faster, so you can buy or replace the equipment you need. These are just a few of the benefits of equipment financing offers.
---
Can Equipment Financing Benefit My Business?
Typically, equipment financing can benefit your company if you are struggling to provide services or create goods due to faulty, nonexistent, or outdated equipment. With assistance from a business loan, you can meet the demands of your clients- and the unspoken expectations of your employees.
Some cases where a company can benefit from equipment financing
Members of your sales team feel they can perform their job responsibilities at home just as easily as they do in the office. Buying laptops for your employees can improve workplace flexibility.

A delivery company that struggles to keep up with package drop-offs because of a lack of company vehicles for employees. Adding extra vehicles can make it simpler to deliver packages faster.

Your office staff and warehouse workers share a copy machine and a printer. This causes frequent printing delays as different and your staff switch paper sizes and types to meet their needs, and clients are often justify waiting for bills or receipts. Purchasing separate equipment for the warehouse can assist improve productivity and get clients out the door faster.

Callers hang up on your call center representatives frequently since they can not hear them clearly. Buying a noise-canceling headphone or phone system can help improve caller satisfaction.
It is simpler to complete tasks when your team has the tools it requires to finish jobs correctly. If your company's equipment is broken or outdated, consider upgrading new workplace essentials with equipment financing.