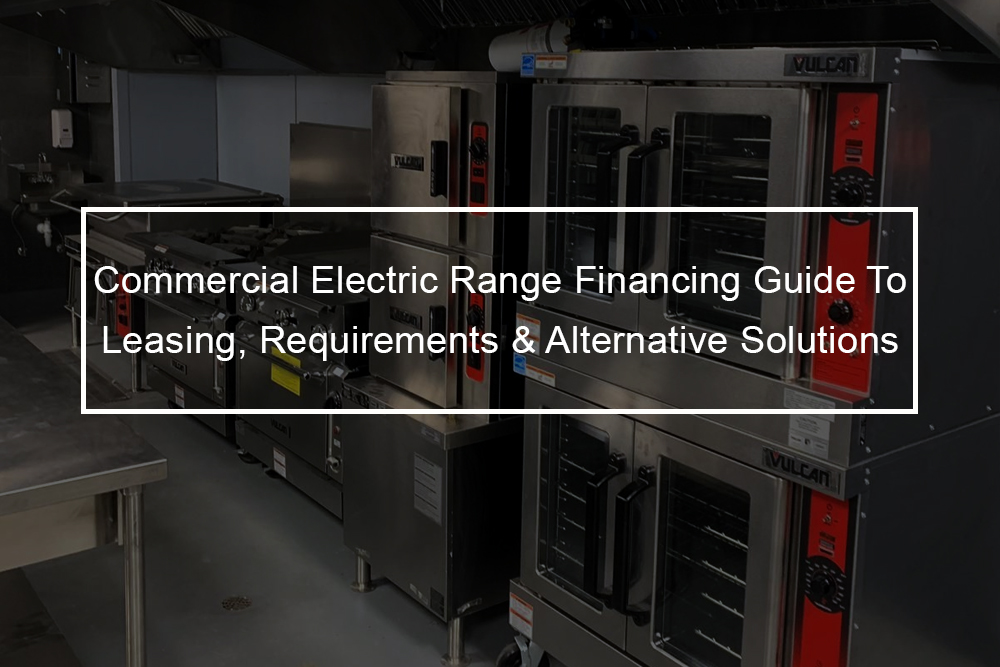 Do you need the Vulcan EV60SS-6FP24G208 commercial electric range for your restaurant? You can apply for a loan to finance it. Commercial equipment is often one of the most costly investments for a business owner. Aside from real estate, equipment is one of the most challenging expenses to plan for. Luckily, Top Financial Resources offers commercial electric range financing to make these purchases easier to cover. Commercial electric range financing is a loan you can use to Vulcan EV60SS-6FP24G208 or any other electric range for business purposes. As an assurance, we will get to hold the equipment as collateral against your loans. You will own the electric range free of claim after you have paid your loan in full.
---
Vulcan EV60SS-6FP24G208 Overview
The EV60SS-6FP24G208 commercial electric range unit features a dual oven base for low volume baking and warming needs. The ovens each have a 5 kW output with an adjustable temperature range of 200° F – 500° F and cool touch control knobs that let you operate that unit more safely and precisely. Inside, this oven has a single oven rack with three-position options and top browning control. This unit's range top features six 9-1/ 2″ french plates with infinite heat control switches and a 24″ thermostatic griddle.
Vulcan EV60SS-6FP24G208 Features
 Burner Style: French

Color: Silver

Electrical specifications: 60 Hertz, 208 Volts, 3 Phase for 28.8 kW

Field convertible to 1 phase

Griddle Location: Right

Griddle Size: 24″"

Material: Stainless Steel

NSF Listed

Number of Burners: 6

Number of Ovens: 2

Temperature Range: 200° F – 500° F

UL Listed
Benefits Of Vulcan EV60SS-6FP24G208 
5 KW oven with top browning control

Cool to the touch control knobs and oven handles

Each oven has one oven rack and three rack positions

Six 9-1/2″ round, 2 KW French plates with infinite heat control switches
Overall Dimensions:
Front to Back: 34-11/16″

justify to Right: 60″"

Height: 58″
Oversized Oven Dimensions:
Front to Back: 26-3/8″

justify to Right: 26-1/2″"

Height: 58″
Standard Oven Dimensions:
justify to Right: 20″"

Height: 14″

Front to Back: 26-1/2″
Griddle Dimensions:
Front to Back: 27-1/4″

justify to Right: 24″"
---
Commercial Electric Range Financing Without A Loan
Not getting a traditional loan does not mean that you necessarily have to lease the commercial electric range, not unless you are OK with the idea of leasing. Alternative lenders like Top Financial Resources are less strict and will offer restaurant equipment solutions to start-us. Commercial electric range loans tend to have lower rates and longer terms than conventional working capital loans do. This fact can help keep the overall costs of the machinery down. Bear in mind that commercial electric loans usually require monthly payments. In contrast, cash flow requires that you make a payment per week.
You might be able to work out a deal with the lender that involves putting the appliance you want to finance up for security. It is possible to get full 100-percent financing initially. Nonetheless, some of the lenders will need that you put up a down payment- usually around 20-percent. Term loans are accessible to established restaurants that have consistent revenue and need to borrow a higher amount. When it comes to a term loan, you will need a good credit rating, usually 600 or more, and generate steady annual revenue.
What Is Commercial Electric Range Financing?
Commercial electric range financing is how you finance a piece of electric range or repair for production. But commercial electric range loans work a bit differently than other loans. The main difference is the security you use to get the funding you need.
Why Use Commercial Electric Range Financing?
Commercial electric range financing can be used for both repairs and purchases or either new or old equipment. The main benefit of commercial electric range financing is that it helps you save for other expenses. You can use the loan to cover your largest equipment expense. This allows you to save your restaurant from soaking up the entire cost of costly repairs upfront or purchases. Other benefits that commercial electric range financing offers include:
Tax benefits

Bad-credit friendly

Less paperwork and fast approval

Simple collateral requirements
How Vulcan EV60SS-6FP24G208 Financing Work?
Similar to car loans, Vulcan EV60SS-6FP24G208 loans use the purchase you finance as collateral. Since your bought equipment is used as security, no other collateral is required. This is a less risky option from the financing company's perspective as well. Thus, you should be able to get better rates than you can with other business loans.
---
Factors To Keep In Mind When Financing Or Purchasing Vulcan EV60SS-6FP24G208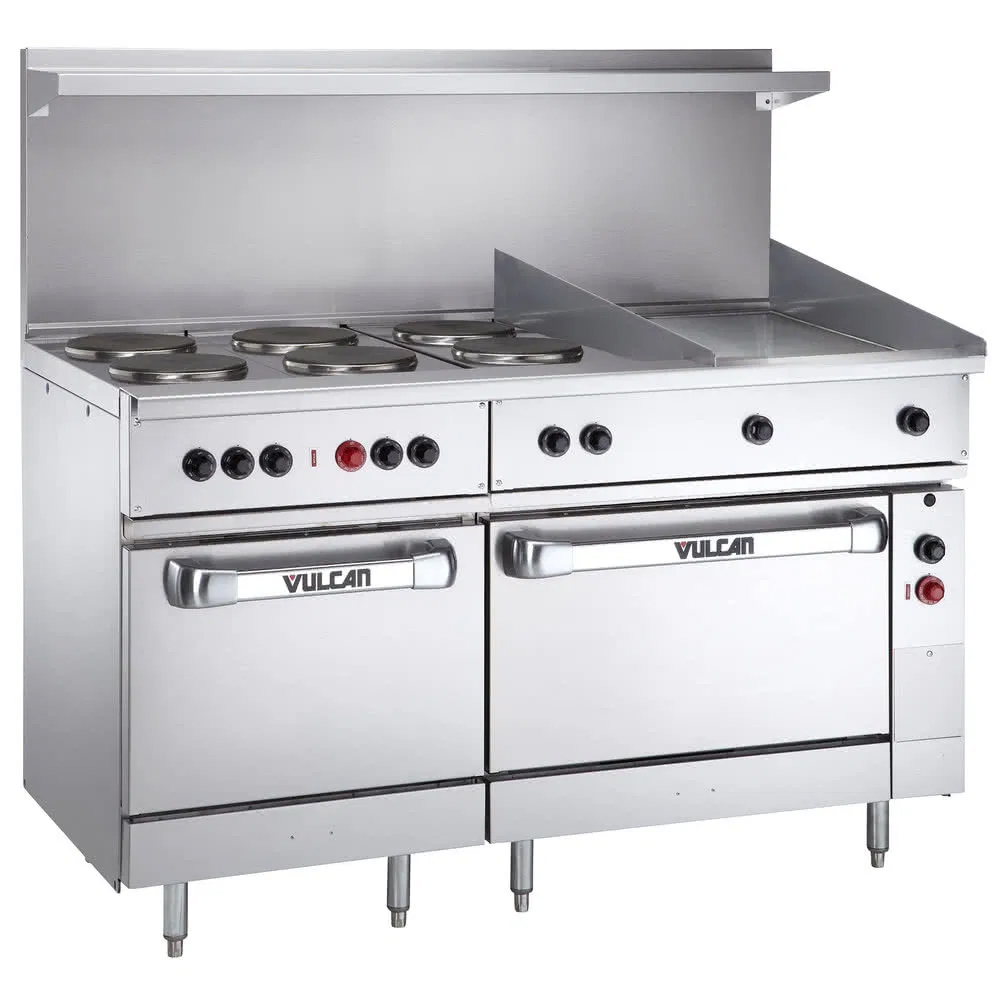 Commercial electric range loans usually require down payments. These down payments are generally about 20-percent, so your purchase will still take a toll on your working capital. Bear in mind that business equipment loans are not risk-free. All loans come with risks, but not all of them require security. Note if you fail to pay the commercial electric range loan, it can cost you the Vulcan EV60SS-6FP24G208. You can end up losing money from expensive repairs. As always, be cautious and ensure you have a strong plan to pay back your loan.
What Are The Next Restaurant Equipment Financing Options?
You can also use non-specific business loans to pay for EV60SS-6FP24G208 units. These loans offer different rates and terms than specified commercial electric range loans. However, they are just as usable.
Business Term Loans
Typically a business term loan is a more open-ended option than a commercial electric range loan. You can employ a business term loan for almost any commercial purpose. Also, if your credit rating is high, you can avoid collateral payments altogether. A business term loan is a simple lump sum of cash paid back in installments. In most ways, they are similar to restaurant equipment loans; they are just less specific in their intention. Another advantage of choosing a business term loan is that they are simpler to find. It is incredibly simple to get a business term loan. At Top Financial Resources, we can approve you for one in less than a day.
Business Lines Of Credit
Business lines of credit are great tools for financing ongoing restaurant expenses. If you need to finance multiple Vulcan EV60SS-6FP24G208 purchases or repairs, a business line of credit can be the answer. A business line of credit can give you ongoing access to credit. If you want to spread your equipment purchases out, you can take a business line of credit and draw funds every few months or weeks to pay for new equipment. Luckily, you can also get business lines of credit very fast. Just like business term loans, we can approve you for a business line of credit in a few days or even minutes.
SBA (Small Business Administration Loans)
SBA does not offer loans. They just set the standards that business lenders offering SBA loans should follow. For restaurant equipment purchases, you will have to take out an SBA 7(a) loan. These loans offer long repayment terms and low-interest rates. The repayment terms for SBA 7(a) equipment loans are ten years. But these loans require a stellar credit score to qualify, and they take months to provide funds.
---
Due Diligence In Commercial Electric Financing
No matter if you choose to finance your commercial electric range purchases, you will need to do your due diligence. First, note that typical commercial electric range financing comes at a risk. Since you are using the purchase as collateral, ensure you can pay the loan back. Otherwise, you risk losing your valuable machinery.
How To Find Commercial Electric Range Financing?
When trying to find a restaurant equipment loan, there are a few paths you can take. For instance, a cursory Google search will bring you many search results, but you must understand what you are looking for. For example, a company that appears to be a restaurant equipment financing company might actually be a broker- and that has its own costs linked to it (i.e., more expensive money since the broker layers in their fees). Other places might also appear to be a lender, but really they are a marketplace. By applying with them, your information is getting sent to multiple lenders to compete for your restaurant. This sounds great, right? But the issue here is multiple hard credit pulls can damage your credit score. So, how do you find commercial electric range financing? Try an independent alternative lender like Top Financial Resources.
We are one of the easiest platforms to qualify for an equipment loan. You simply need to have a credit score of 550, a year in business, and annual revenue of $50,000. This is enough for your restaurant to qualify for Vulcan EV60SS-6FP24G208. We also fund restaurants with bad credit and startups.
The best part is that the loan application process can be done in just minutes. You can find out very fast if you will get the loan or not, and the funds will be in your account within the next business day if you provide all the required information. In other words, if you want money in your account today without any stress with banks, then Top Financial Resources is the way to go. Visit our website to apply for Vulcan EV60SS-6FP24G208 finance or a lease. Alternatively, you can talk to one of our loan specialists at 1-(800)-260-5126.
Can I Get Financing For Other Commercial Electric Ranges in Vulcan EV60SS Series?
Commercial electric range financing can be used in all restaurant electric ranges. It is not limited to Vulcan EV60SS-6FP24G208. As such, you can use it to finance other commercial electric ranges in the Vulcan EV60SS series:
Vulcan EV60SS-6FP24G240 Restaurant Range

Vulcan EV60SS-5HT-480 Restaurant Range

Vulcan EV60SS-5HT-240 Restaurant Range9

Vulcan EV60SS-5HT-208 Restaurant Range

Vulcan EV60SS-6FP24G480 Restaurant Range