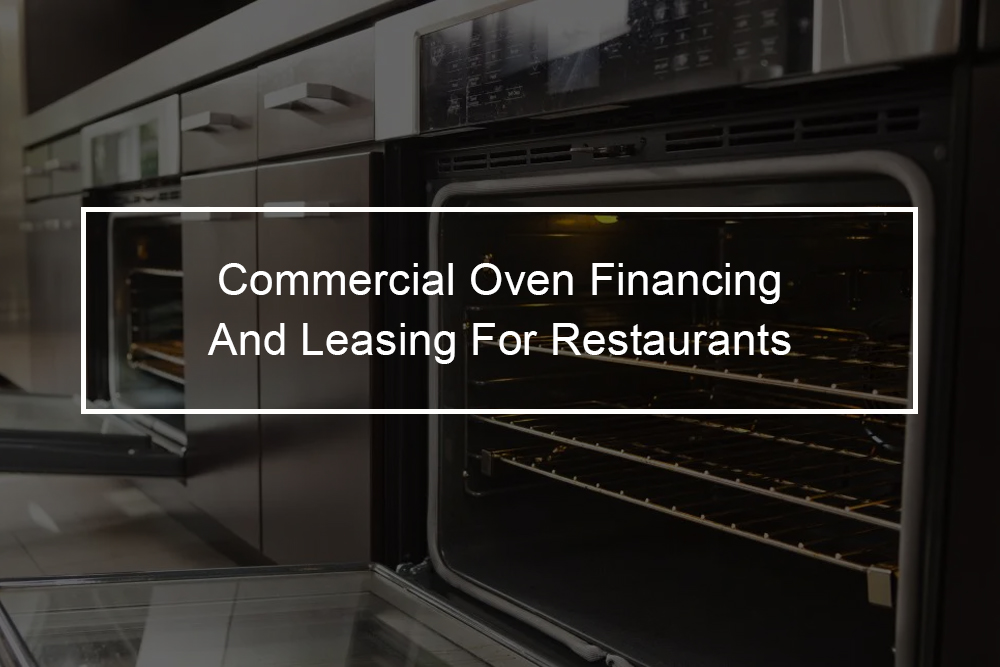 Have you been putting off buying the new Convotherm 6.10ET oven since it is just not in the budget right now? Restaurant equipment financing enables you to get the equipment required to grow your business today while spreading payments over time. We are here to help you with commercial oven financing and leasing to take your restaurant to the next level. 
Restaurant equipment financing can take various forms, and what is appropriate for one business might not be for another. After reading this post, you will better understand how commercial oven financing works, how the different financing methods compare, the pros and cons of each one, and where to get financing.
---
Convotherm 6.10ET Overview
6.10ET is a convotherm mini easyTouch Combi-oven. It features programmable controls, 250 recipe program capacity, and four operating modes for hot air. This electric oven has a capacity of (4) 12″ x 20″ x2-1 /2″ steam table pans or four 12″ x 20″ wire fry baskets or (6) 13″ x 18″ half-size sheet pans. Convotherm 6.10ET is UL EPH and cULUs certified.
Standard Features Of Convotherm 6.10ET:
Operating modes:

Combi-steam (212°F-482°F) with automatic moisture adjustment

Convection (86°F-482°F) with optimized heat transfer

Rethermalization function

Steam (86°F-248°F) with assured steam saturation

easyTouch user interface:

 7″ Full touchscreen

Cook and Hold – cook and hold in one process

easyStart – automatic baking and cooking with product profile and smart suggestions

eco cooking – energy-save functionality

Low-temperature cooking / Delta-T cooking

On-screen Help

Press and Go – Automatic baking and cooking using quick-select buttons

Programmable with unlimited cooking profiles, each with up to 99 steps and one picture

Start-time preset

TrayTimer – oven-load management for various products at the same time

ConvoClean Fully Automatic System
Flexible shelf spacing
Multi-point core temperature probe
Preheat and cool down function
Robust rotary door lever with safety lock and sure-shut function
Safe Cool Down (activate in service mode)
Steam Protect (activate in service mode)

Steam reducer
Key Features Of Convotherm 6.10ET
Extra functions:

Auto-reverse mode and reduced fan speed

BakePro – three levels of traditional baking (added steam and resting phase)

Crisp and Tasty – three moisture-removal settings

ConvoClean system, fully automatic cleaning system with Safe Cool Down function and express mode before cleaning
easyTouch 7″ full-touch screen
Ethernet port (LAN)
Four operating modes: Steam, Convection, Combi-steam, Rethermalization
Right-hinged door
Steam obtained by injecting water into the cooking chamber (boilerless)
UL listed ventless (KNLZ) no hood required, local codes prevail
USB port integrated into the control panel
Options Of Convotherm 6.10ET
Exterior design in matte black on stainless steel

RJ45 Ethernet port

Unit door with a justify-hand hinge

Various voltages (single-phase on request)
---
What Is Commercial Oven Financing?
Restaurant equipment financing is mainly designed for the purchase of restaurant equipment. In the case of commercial oven financing, your restaurant makes payments towards what you borrow over time, and after the debt is repaid, you own the oven free and clear. With certain kinds of restaurant equipment financing, the appliance itself acts as collateral so that if you default, the lender presumes ownership. Based on how the financing agreement is structured, the lender might impose a blanket lien or ask for a personal guarantee. A blanket lien enables the lender to lay claim to business assets, including the oven itself, if you default. A personal guarantee does the same regarding your personal assets, so it is essential to understand what you agree to before you borrow.
Convotherm 6.10ET Financing Vs. Leasing
When you need commercial equipment, you do not necessarily have to purchase it- you could lease instead. This indicates you are essentially paying the equipment's owner to rent every month just as you would if you were leasing space or office for your restaurant. When the lease term ends, you can opt to renew your agreement, or you might even be able to purchase the equipment outright.
Leasing also provides an advantage over financing in that you are not required to provide any kind of down payment to acquire the oven the way you might be expected to with a loan. Typically, you are not bound by any lien, collateral, or personal guarantee requirements. It might also be easier to qualify for a leasing arrangement than financing if your restaurant or personal credit are less than stellar. There is a potential shortcoming, however, in terms of the cost difference. Leasing a commercial oven over the long-term indicates you are not locked in as far as ownership; however, you could end up paying more to lease than you would by buying the commercial oven instead.
---
Restaurant Equipment Financing: What Are The Options?
Small restaurant owners have many financing avenues they can use to get Convotherm 6.10ET. Deciding which one is best fit ultimately depends on various factors, including:
Your preferred repayment terms

The desired loan amount

Your annual business revenues

How long you have been in business

Your personal and business credit scores
---
Viable Ways To Finance Convotherm 6.10ET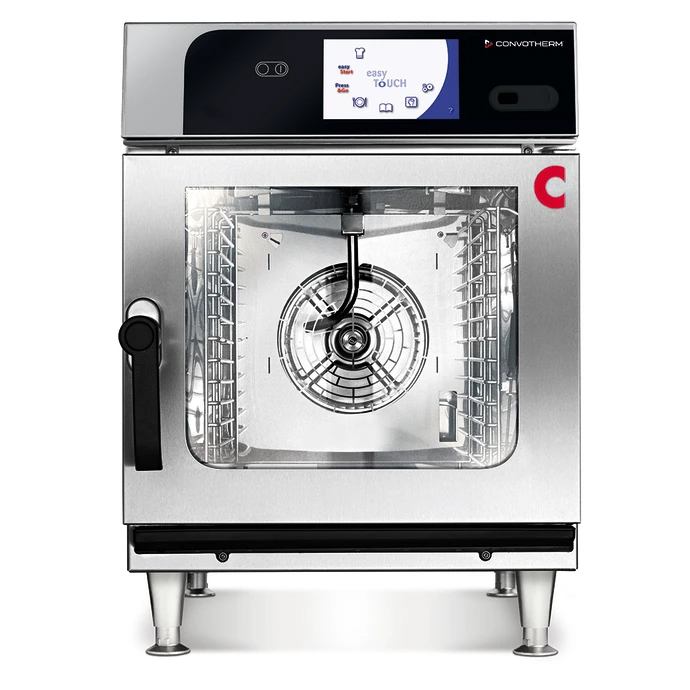 Bearing that in mind, here is a look at three ways to fund a commercial oven:
Restaurant Equipment Loans
These are good for new restaurants that need to finance commercial equipment to expand operations. A restaurant equipment loan most closely parallels the definition of equipment financing discussed earlier. The appliance serves as collateral for the loan, and it is possible to get up to 100-percent funding, even though some lenders might require a small down payment. Repayment periods can be as short as three years or stretch over ten years or even more, depending on how much you are borrowing. Equipment loan limits can go as high as the equipment's cost, and the APR for equipment loans can be as low as six percent.
On the positive side, equipment loans can be funded fairly faster, usually in as little as two business days. Because many term loans and equipment loans offer operations within the online sphere only, underwriting is usually much more streamlined instead of having a physical location. It is possible to fill out an application, upload documents like tax records or financial statements, and get an approval decision in 24 hours or less.  With a traditional bank, you might be waiting for days, weeks, or even months for your application to go through underwriting. Excellent credit is not a requirement for acquiring an equipment loan. However, lenders usually require you to be in business for at least one year before applying, so you might have a tougher time qualifying if you are still in the startup phase.
Term Loan
Term loans are best suited for established restaurants with consistent revenue that need to borrow up to $5 million. They are another possibility for small business owners who need fast access to cash for an equipment purchase. Just as the name suggests, term loans are repaid over a set period similar to a car loan or mortgage. Annual percentage rates are lesser than those linked with equipment loans and might be variable or fixed. Term loans can be unsecured or secured, depending on how much you are borrowing. If you do not want to use the oven as collateral, you might have to offer another asset as a substitute.
Whereas term loan lenders can have higher credit standards than equipment loans that can work to your advantage if you can leverage a higher credit score to qualify for a lower interest rate. You can snag a lower origination fee, which can lower the cost of borrowing. A difference of even one percentage point, may it be in the annual percentage rate or the origination fee, could help you save thousands over the loan repayment term. Like equipment loans, it is possible to acquire funds in just a few days because of the streamlined application and loan approval process that online lenders like Top Financial Resources offer. That efficiency is yet another reason why a term loan is an attractive option.
---
Why Choose Top Financial Resources For Commercial Oven Financing And Leasing?
Our quality lending, realistic pricing, and supreme service set us apart from the traditional lender. At Top Financial Resources, we take the time to get to know you and your restaurant needs regardless of your credit report or if you are just starting out. Our specialists will work with you to develop a custom finance program. 
We have experience of working with businesses in the hospitality finance sector. We also understand that your industry is highly competitive and susceptible to economic conditions. In a fast-paced environment, you need the right equipment to ensure that operations run smoothly while maintaining positive cash flow. That is why we are ready to help you fund your equipment. Our restaurant equipment financing solutions are fast, flexible, and available to all companies. We also provide commercial loans for all businesses, including HMRC liability payments, working capital, and expansion. Can we help you with anything today? Let us get started today! Simply call 1-(800)-260-5126 to speak with a representative or start the application process on our website.