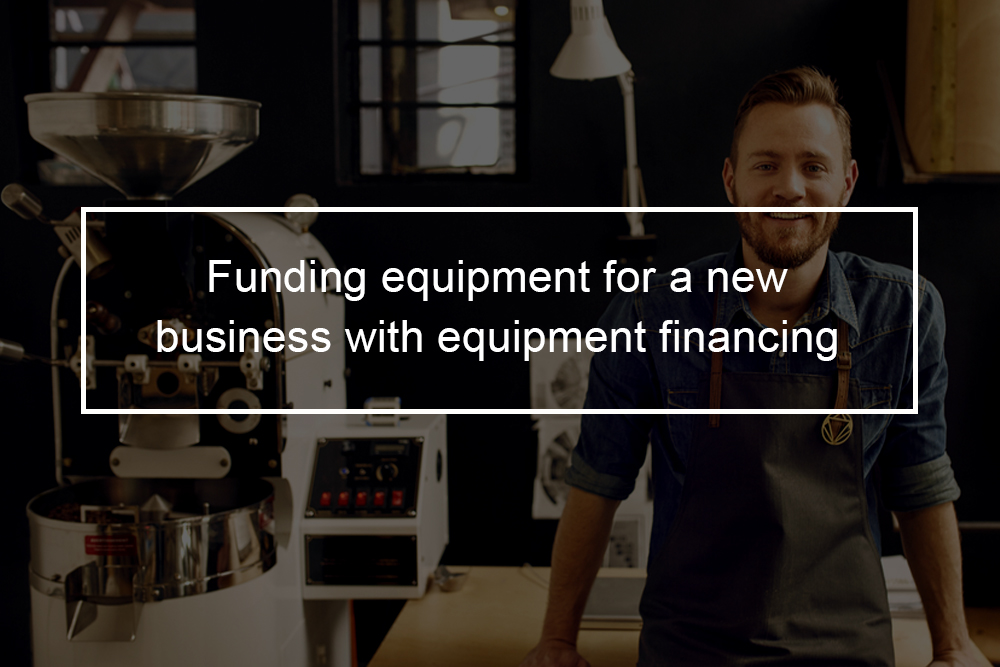 Equipment is the foundation of every business, allowing it to provide its goods or services. As an owner, it is on you to make sure that your new business has all the equipment it requires to keep up with demand in the market the most efficient way possible. So much of the choices you make on what equipment to purchase hinges on the finances available. Self-financing your equipment can appear like the safest option, but it can put a strain on cash flow on a new business or force you to buy cheaper goods that do not serve employees and customers properly. 
---
What is business equipment finance?
Business equipment financing offers you the funds and the backing to buy the equipment that your company requires to evolve and grow, helping you to keep up with demand without breaking the bank.  There are many ways that a new business can finance its assets – like using a business loan, bank overdraft, or entering into a lease agreement. Nonetheless, all mean that you can upgrade existing equipment or purchase a new asset without needing high levels of working capital.
What can equipment finance be used for?
Generally, equipment financing is one of the most common reasons new and small businesses seek external financing. The funds offered to a business can be used to buy the equipment the company requires to operate. Such equipment can range from expensive equipment for farming, PCs, to office furniture and IT infrastructure.
Business equipment financing can be used for anything from any type of business. For instance, a mobile hairdresser might need to borrow money from an equipment financing company to purchase essential hairdressing tools such as colorants, scissors, and razors. Or a new construction business might require finance to buy major equipment such as drilling machines, excavators, and bulldozers. Some of the most common purchases utilized by equipment financing include company vehicles, farm equipment, manufacturing equipment, healthcare equipment, commercial computers, printers and servers, restaurant equipment, and larger construction vehicles and equipment.
---

Benefits of business equipment financing
Equipment financing has many benefits, particularly for new businesses, small businesses, and those looking to take advantage of opportunities in the marketplace.
Tax efficiency: Financing equipment can be more tax-efficient; for instance, with leasing, rentals can be 100-percent tax-deductible against profits.

Cost reduction: Financing with an equipment loan leads to reduced upfront costs, indicating that you can immediately buy and use the equipment.

Flexibility: Various forms of equipment financing are very flexible and can help spread the cost of investing in new equipment over time, indicating that payments can be tailored to support your cash flow needs.

Fixed interest rates: Most of the equipment financing agreements, interest rates are fixed. This means they remain the same during the entirety of the contract period, making it a cost-effective and budget-friendly financing choice.
Are there any cons to using equipment financing?
Business equipment financing allows you to have the best equipment when you need it. However, when borrowing funds of any kind, some extent of risk needs to be factored in. Firstly, in the event you fail to keep up with the payment amounts, you could be forced to hand the equipment back to the equipment financing company, which could be disastrous if you depend on it to operate your business.
Nonetheless, both the payment amounts and interest rates can be fixed and agreed upon from the outset, enabling you to budget more effectively and reducing the possibility of falling behind on repayments. Secondly, if you decide to lease the equipment, you are effectively paying for goods that you will never own outright (even though there are finance options available that mean the asset is yours at the end of the agreement). Nonetheless, after one agreement has ended, there is nothing stopping you from starting a new agreement on a brand new, upgraded piece of business equipment– so your company can continuously perform with a competitive edge, affordably.
---
Equipment leasing for a new business
Leasing is similar to borrowing, but in a lease, the lender purchases the equipment and then rents (leases) it back to you for a flat monthly fee—sometimes lesser than the payment on a loan. Most equipment leases come with a fixed term and fixed interest rate, but interest rates and terms can vary based on the leasing company and your credit profile. You can anticipate seeing anywhere from high single digits to double digits, so it is sensible to shop around before you commit. When the agreement term concludes, you might be able to buy the piece of equipment at fair market value. Sometimes you can buy the equipment at a predetermined amount—for as little as $1, based on the lease.
How Does Leasing Work?
Many equipment dealers provide equipment leasing through an in-house leasing department or work with other leasing firms they recommend. This can streamline the application procedure and make leasing equipment very convenient. Note that a lease is not a loan; thus, it does not appear on your credit report as a loan. However, like a loan, standard lease terms can incorporate three, seven, or even ten years. Moreover, your lease payment might even be deductible as a business expense ( you should consult with your tax advisor about).
Even though the lease does not appear on your credit profile as a loan, your timely payments will possibly be reflected on your business credit profile the same as any other revolving debt—offered by the leasing company reports to the business credit bureaus (which it possibly does). Even though there is no rule for what kind of equipment is best suited to a lease vs. purchase, there are some kinds of equipment that could make more sense for a lease due to the shorter usable life of the equipment:
Software

High-tech computers

Some medical equipment

And equipment that gets a lot of tear and wear
Whether you decide to lease or purchase business equipment, it makes sense to ensure you completely understand the costs and terms. Go through the fine print and ensure anything unfamiliar or difficult to understand is explained to you.
How to apply for equipment financing?
As with any business loan, ensure you have the documents needed for the particular lender where you will be applying. The requirements for online lenders and traditional lenders are different, so the amount and type of documentation will vary based on the lender. For instance, a bank loan might require a business plan, while an online loan possibly will not. If you are looking for a bank loan, you will meet with a loan officer at the local branch. If you are working with an equipment dealer, they will probably be able to handle your application on-site. If you pursue an online loan, that loan application will take place through their online website and possibly a phone call.
---

Common mistakes entrepreneurs make in their equipment financing loan proposals
Entrepreneurs should be careful to avoid the following common mistakes when applying for an equipment loan.
Not considering the long term use of the equipment
Entrepreneurs can overlook properly evaluating their equipment needs over time. Make sure the equipment you are buying fills the need today and in the future. Maximize your machine's value by thinking about how the new equipment will accommodate the future growth of your new business or whether it will help you stay ahead of your competitors in a changing marketplace.
Forgetting about downtime
Another popular mistake is forgetting to factor in training and downtime when making a proposal to purchase equipment. Ask yourself if you know how to run the piece of equipment.
Not understanding the numbers
Many entrepreneurs do not know their financial numbers, as well as they should. Every business owner should have a rudimentary understanding of how their financial statements work—how the income statement ties into the balance sheet, and what is your cash flow statement.
---
Alternatives to equipment financing
Once you have decided whether you want to buy or lease equipment, and you did not get funding with a bank or equipment financing company, you have more options to pay for it:
Have somebody else pay for it: Based on your location and kind of business, you might qualify for government grants. Note that these are likely to involve paperwork and hoops for you to jump through, but it's hard to beat 'free money.

Request your community to invest in you: Crowdfunding is not always an option to fund equipment – good luck convincing people to fund your new server. However, if your local community will directly benefit from the investment, they might be able to help you. 
In conclusion, the equipment your new business uses greatly affects your operations, no matter what industry you are in. It is important to periodically evaluate your equipment's state so that you can determine if anything needs to be fixed or replaced. Ultimately, by applying for a small business equipment loan or lease, you can continue growing your business.