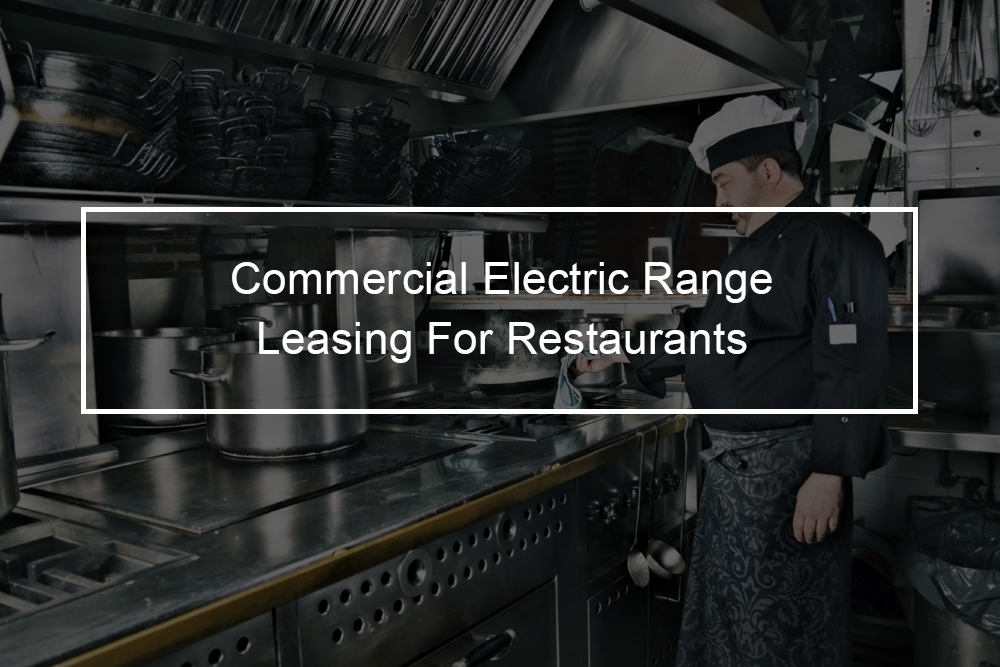 If you need the Imperial IHR-6-E-M commercial electric range, you have two options: buy it or lease it.
Not every restaurant or foodservice business can afford to buy new equipment outright. Some lack capital, whereas others find that restaurant equipment financing is a better fit for them in terms of tax benefits. Either way, the best part is that it is fast and easy to get-accepted for commercial electric range leasing at Top Financial Resources. Top Financial Resources makes it easier than ever to finance commercial equipment with a wide variety of flexible options. Step by step, we assist you in choosing the best financial product that best suits your needs, turning your dreams into reality. We provide restaurant equipment leasing for startups and established restaurants. It is a fast, simple process. Simply fill out the application, and Top Financial Resources will contact you to discuss the options available to you, including:
Lease or finance to own

10-percent or $10 end of term options

Longer-term contracts. Lower monthly carrying costs

Lower monthly carrying costs
---
Imperial IHR-6-E-M Overview
Imperial IHR-6-E-M is a Spec series heavy duty electric range. It features 36″ modular (six) round elements, infinite heat controls, backguard, landing ledge, stainless steel front, sides, back guard, and landing ledge. The unit is cETLus, ETL-Sanitation, CE certified.
Sealed Elements Of Imperial IHR-6-E-M
 2 KW round plates with an easy-to-clean top surface

 Infinite heat controls for maximum cooking flexibility

Plates are 229 mm in diameter for maximum pan contact

Solid flat surface for faster, even heating

Solid top prevents spills from entering the model for easy clean-up
High-performance oven element
 5.3 KW oven element

 Heavy-duty thermostat

Provides even cooking temperatures all through the cavity

Temperature range from 150 to 500°F (65 to 260°C)

Unique baffle above the element distributes heat flow
Splatter screen protects the element
Porcelainized side, door, and rear lining for quick clean-ups

Splatter screen shields element from spills
Standard oven
It accommodates 18″ x 26 sheet pans front-to-back and side-by-side

Chef depth standard oven interior

Interior is 14″ h (673 w x 660 d x 356 mm h) x 26-1/2″ w x 26″ d

The liner provides extra strength while optimizing heat retention

One chrome oven rack included

Porcelainized interior provides better browning

Stamped inner door liner
Exterior Features Of Imperial IHR-6-E-M
One year parts and labor warranty

16 mm mounting stub is strong and mounts easily

64 mm diameter non-marking legs

7″ (178 mm) front ledge

The base is constructed of rugged ten gauge steel

Knobs feature a Valox™ heat protection grip

Stainless steel exterior, except back

The Diamond Series Line is sleek with European styling

Uniquely styled cast aluminum knobs

Wide radius high shelf
---
Commercial Electric Range Leasing Options
Commercial electric range leasing solution is ideal for hospitality businesses, including all restaurants and commercial kitchens, looking to outlay less, lower the potential risk, and improve your equipment's flexibility. Leasing gives you options that others do not:
Buy the Imperial IHR-6-E-Mat any time: Purchase at any time during the 12-month duration, and your payout is simply the initial purchase price less than sixty-percent of the lease paid.

Upgrade the commercial electric range at any time: Upgrade at any time to a commercial electric range suited for your restaurant.

Return the electric range: Return the appliance after twelve months if you no longer need it.

Kee on renting: At the end of the twelve months, keep on renting with no obligation.

Easy to own the equipment: At twelve months, you can lower your rental payments by 30-percent over three years and choose ownership at the end of the term for just $1.
---
How To Get Started With Imperial IHR-6-E-M Leasing?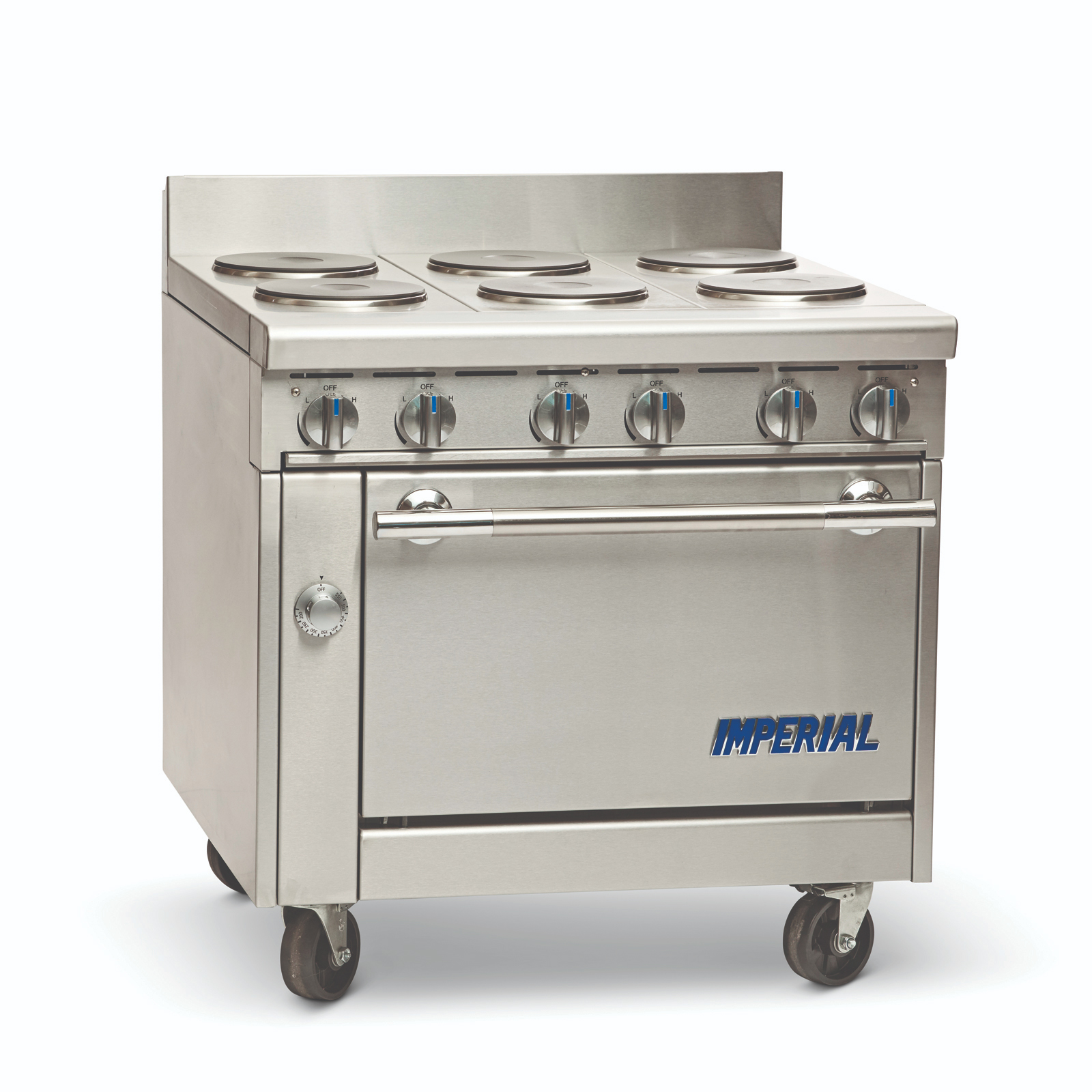 Get started in four simple steps:
Step 1: Apply
It is easy and simple. Simply fill out an application. We provide instant approval.
Step 2: Get Equipped
Choose the commercial electric range you need, and we will buy it for you on your behalf.
Step 3: Start a business
After you have received your restaurant equipment financing, you are ready to go.
Step 4: Flexible options
Purchase or upgrade the commercial electric range at any time. More flexible options are accessible after one year.
---
Advantages Of Leasing Commercial Electric Range 
Leasing frees up cash flow and operating business lines for your daily expenses. From commercial equipment leasing, financing, and working capital loans, leasing restaurant equipment offers cost-effective solutions to many of your significant financial needs. By understanding every business unique case, leasing provides a product that best suits you and your business need as well as:
Save cash and credit: Get the commercial electric range you need at the price you can afford.
Liquidity is vital: You must have cash reserves. This can become an outright survival problem when slow clients, slow sales, or anticipated expenses put pressure on cash reserves.
Conservation of cash: Cash flow is vital to the success of any restaurant. Usually, people are lulled into thinking that paying cash is a good way to obtain commercial equipment since doing so avoids finance charges, interest expenses, and leads to a lower total cash outlay. In actuality, paying cash can be a more costly way to solve the issue.
Conservation of bank credit lines: An accessible line of credit is an extremely valuable tool to address unprojected emergencies; lowering those open lines by utilizing them to finance restaurant equipment can be dangerous. Besides, appetites, bank terms, and flexibility on appliance transactions range from less than optimum to downright hard.
With equipment leasing, you can avoid bank restrictions: Leases do not come with blanket liens, rate escalator clauses, restrictive covenants, call anytime provisions, compensating balance qualifications, or any other items that are part of conventional lending agreements.
100-percent financing: Leases can be used to fund everything that you need to make your appliance work for you. This incorporates installation costs, linked leasehold improvements, and even supply items. This further reduces your initial costs and lets you earn profits from your equipment faster.
100-percent tax-deductible: Section 179 of the IRS Tax Code lets a business subtract the full purchase cost for qualifying equipment bought or financed during the tax year. By leasing equipment and subtracting the full purchase price, you basically get "free" usage of your appliance for over a year.
Direct tax expensing: Restaurants that do not qualify or choose to use the Article 179 Alternative equipment lease payments are written off as they are made. This removes the need for depreciation and enables faster write off. This leads to increased cash flow for your clients.
No obsolescence: Many businesses fear that the equipment they purchase will wear out or their needs will change before they can depreciate it fully. Generally, a lease can be written for a term that corresponds to how the restaurant feels the equipment can be employed efficiently. At the end of the term, the machine might be returned, and a new lease can be written for a new appliance that best suits the client's needs.
---
Why Chose Top Financial Resources?

As an independent partner, Top Financial Resources offers various benefits that you can not get through banks and other financial institutions. We aim to make the equipment financing and leasing process as simple as possible for you- the client. That is the reason we work together to tailor leases depending on your needs and will walk you through the often-sophisticated process of acquiring lease approval. Moreover, our programs are designed specifically for start-ups and can help businesses obtain full funding.
We also know that operating a restaurant is time-consuming. And that is why we strive to make the financing process fast and easy with little to no effort on your part. The financing process is simple. First, a simple application gets filled out, and we submit your loan application for approval. After approval, Top Financial Resources will go over all the different options available to you. After accepting what term or product works best for you, the fun starts- you source your appliance, and Top Financial Resources will get it for you!
Is It Better To Lease Restaurant Equipment Or Finance It?
Whether leasing or buying is better depends on the duration you want to use the equipment and the available financing options. Typically, it is better to purchase if you're going to keep the equipment for a long time and lease it when you are only using the commercial electric range for a short time or often has to be replaced with a newer model.
How Big Is The Restaurant Equipment Leasing Industry?
According to experts, the United States' equipment leasing field makes over $100 billion in rever every year. For instance, the Rental And Leasing Industry Report released by Statista approximated that the industry's revenue was $167.1 billion in 2019.
How Are Commercial Electric Range Lease Payments Calculated?
Your commercial electric range lease payments will vary based on metrics like: 
The cost of the electric gas range

The type of lease

The perceived risk of lending to you

The length of the lease
Many Restaurant Equipment Financing and leasing companies provide calculators on their websites so you can see how payments change when you input various metrics.
---
Other Imperial IHR Heavy Duty Ranges That You Can Finance At Top Financial Resources Highlight
Get financing and leasing programs for your commercial electric range at Top Financial Resources. Here are other Imperial IHR heavy-duty ranges that you can lease or finance with us:
Imperial IHR-2HT-2-E-M Heavy Duty Range

Imperial IHR-4-1HT-E-M Heavy Duty Range

Imperial IHR-6-E-XB Heavy Duty Range

Imperial IHR-GT24-2-E-M Heavy Duty Range

Imperial IHR-4-1HT-E-XB Heavy Duty Range

Imperial IHR-GT36-E-M Heavy Duty Range