When you are ready to upgrade your restaurant refrigerator to a newer model like the True TS-49-HC commercial refrigerator, you need access to business equipment financing options that will help you get the equipment you need quickly without a hassle. With equipment financing options from Top Financial Resources, you can ensure your restaurant has the tools it needs to grow and thrive.
Commercial refrigerator financing allows businesses to acquire refrigerators they need for their commercial operation regardless of the brand. Having the right machinery in good working order is vital to any business, but it can be costly. Small businesses and startups often lack the capital required to obtain and repair critical equipment. This could leave a restaurant operating with old and inefficient equipment, which affects revenue and could prevent the business owner from growing. Having insufficient capital is one of the main reasons why many businesses fail.
Conversely, restaurant business owners might see costs decrease with the right commercial refrigerator financing plan in place. Replacing or repairing old equipment reduces your production capacity, which often outweighs the cost of financing. For instance, with higher quality refrigerators, restaurants can simply afford to take on additional projects, knowing they have what they need to get the job done.
---
True TS-49-HC Overview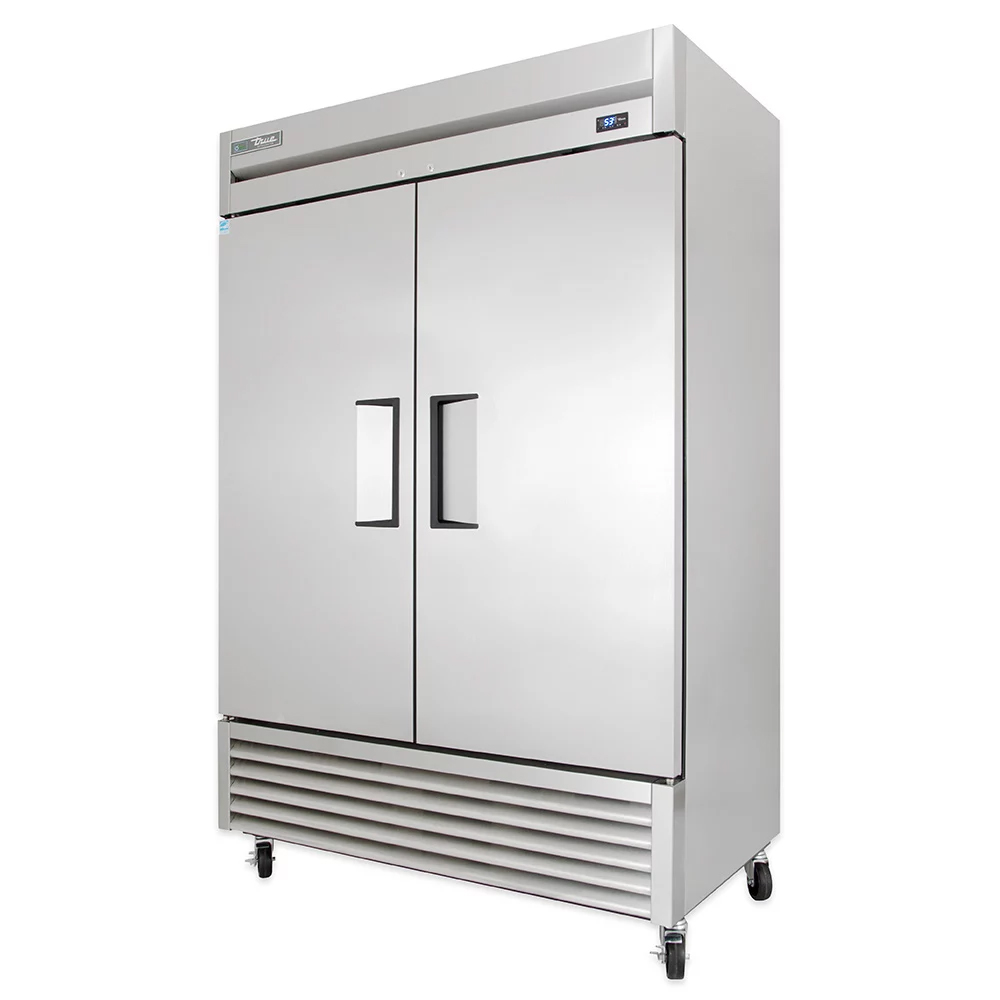 The True TS-49-HC reach-in-refrigerator comes with a solid stainless steel door that self-closes to keep cold air in the cabinet, while the interior is lined with stainless steel that is quick to wipe down. The door frame has magnetic gaskets snap-in to create a strong seal and can be removed without cleaning tools. Its six shelves and floor can be adjusted in 1-1/2-inch increments, supporting and organizing food in the cabinet. The unit also has a set internal temperature ranging from 33 to 38 degrees Fahrenheit and is shown on the external digital display.
Utilizing R290 hydrocarbon refrigerant, The True TS-49-HC two-segment refrigerator maintains cool temperatures, and this kind of natural refrigerant is nicer to the environment than synthetic, conventional options. It has capillary tubes that regulate the refrigerator flow, and the consistent cooling, condenser fans, and evaporator circulate air at a constant rate. The item's bottom-mounted condensing unit does not require a ladder or stool for maintenance access, enabling dry storage space at the top of the model.
True TS-49-HC Details
 Bottom-mounted condenser and self-contained system simplifies servicing

Capillary tube system utilizes R290 hydrocarbon refrigerant

CE certified; cULus and UL-EPH listed; ENERGY STAR certified

Condenser and evaporator fans provide consistent air circulation

Digital thermometer is straightforward to read

Epoxy-coated, corrosion-resistant evaporator

Includes six adjustable, PVC-coated wire shelves

LED lighting brightens product on the shelves

Made with innovation in the United States

NSF/ANSI Standard seven compliant for storing open food product

Part of the TS series

Temperature holding range: 33 °F to 38°F

Top of the unit can be used for storage
True TS-49-HC Sturdy Construction
 4-in. castors with locking front set

Constructed of stainless, coated steel for rust resistance and durability 

Doors and cabinet are insulated with foamed-in-place polyurethane

Self-closing doors with magnetic gaskets to save energy

Solid swing doors that have 12-in.-long recessed handles

Steel frame rail enhances structural stability
Dimensions And Utilities Of True TS-49-HC
Shelves: 249⁄16 in. W x 223⁄8 in. D

Overall: 541⁄8 in. W x 291⁄2 in. D x 835⁄16 in. H

5.4 A, 1⁄2 HP

115 V/60 Hz/1 ph, 9-ft. cord with a NEMA 5-15P plug
---
What Is Commercial Refrigerator Financing? 
Commercial refrigerator financing is a kind of business finance that provides restaurants and other businesses in the food service industry with the required capital to buy a refrigerator to grow their business. Restaurants will usually use this loan to help lease, purchase, or repair a refrigerator that is imperative to their production process. Using commercial refrigerator financing, your company will be provided with the necessary funds to secure your required commercial equipment, and in return, you will be required to pay back the money with interest in scheduled monthly repayments.
Why Do Restaurants Need Commercial Refrigerator Financing?
Commercial equipment needs to be replaced and updated regularly; for the most part, it is not just a single, one-off cost. Typically technology is continually advancing, and it is vital for restaurant business owners to keep up with these equipment advancements to avoid falling behind the times; a refrigerator from ten years ago cannot be compared to a refrigerator from 2020. It can be a true lifeline for when things go wrong and random breakages or faults occur.
---
How Often Do Businesses Need To Consider Restaurant Equipment Financing?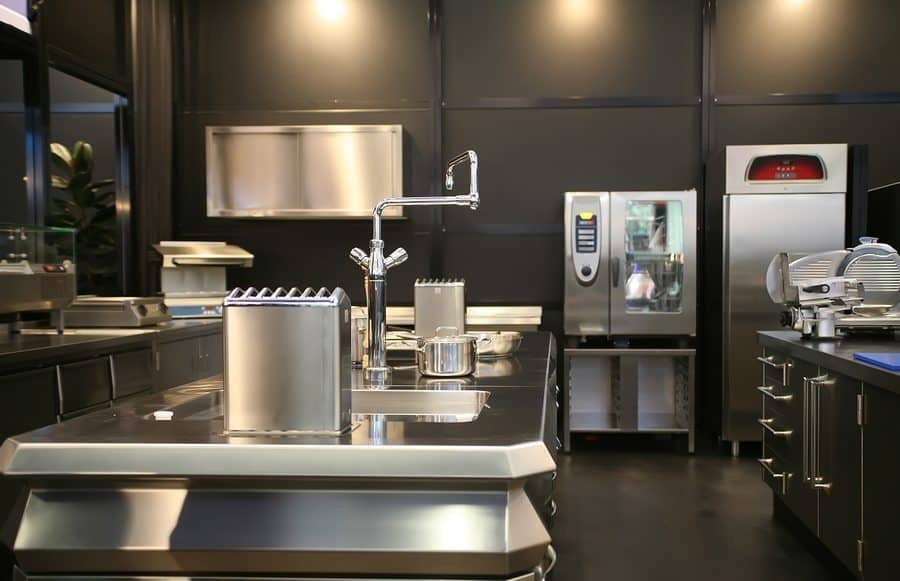 As practically every business relies on equipment, this kind of finance is a common and very popular choice. The majority of restaurateurs will consider restaurant equipment financing at some point in their careers to help keep their cash flow steady and restaurant operations running smoothly and successfully as possible. Every couple of years, you might wish to replace or update certain equipment, not just a refrigerator, and equipment financing or leasing can help you to afford to do so easily.
What Are The Most Viable Options To Finance True TS-49-HC?
There are many ways to finance True TS-49-HC for your business. Ultimately, finding the right commercial refrigerator financing for your business depends on your business profile, which can vary. Keeping this in mind, let us consider several practical ways to finance equipment:
Restaurant equipment loans: Best for the US SMEs looking for a straightforward way to receive True TS-49-HC financing quickly.

Operating lease: Commercial refrigerator leasing is the ideal finance solution for restaurants that need a refrigerator for the very short-term.

Hire purchase: A good option for restaurants who do not mind using the machinery on a hire basis till all payments have been made.

Business credit card: Easy for restaurants already familiar with using and paying off a credit card efficiently.

Merchant cash advance: Typically, a funding product that best suits restaurants that take the majority of their payments through credit or debit card transactions.

Asset finance: The lender finances the physical asset or equipment; the restaurant will then repay a regular sum of money to the lender. Eventually, the equipment can become the property sum of money to the financing partner. Eventually, the refrigerator can become the property of the business over time, based on the arrangement.
How Long Can You Finance A Commercial Refrigerator?
The funding timeline for a commercial refrigerator loan will depend on the cost of the equipment you are looking to buy and its economic life. We offer our customers the opportunity to finance equipment for a period of one to seven years when they choose our restaurant equipment financing programs.
Why Choose Top Financial Resources For Your True TS-49-HC Financing Needs?
We care about your restaurant and want to see it grow. Our experience as a direct lender and providing financial services indicates we understand how fundamental equipment is to running your business. 
Success is a big part of our company culture, and we strive to achieve it, not just for our valued staff members but also for customers. We have helped many business owners build their dreams to unimaginable heights. Every member at Top Financial Resources is fully trained and capable of guiding you towards the path of financial success and economic stability.
We offer our customers:
Restaurant equipment finance up to $250,0000 in just 24 hours

A commercial refrigerator loan that will keep your personal, business assets and equipment safe

There are no fees to make an application or arrange the finance

Unsurpassed customer service

Flexible terms and conditions to meet your restaurants' specific needs

No hidden charges
Why Commercial Refrigerator Financing?
Operational productivity: Improve efficiency with new machinery

Up to $500 000 to finance commercial equipment

You will preserve cash: So you can use it in other parts of your restaurant

Flexible payments: Options include quarterly, seasonal, and customs plans

Tax savings: Eligibility for deductions for commercial equipment acquisitions
How Can I Get Commercial Refrigerator Financing?
When your restaurant refrigerator breaks down, or you experience a period of increased demand, the last thing you want to do is wait around to boost your supply. The finance you need to buy True TS-49-HC could be yours in just 24 hours. Our online application form is simple for clients to complete, and we do not wait to get in touch.
How To Apply For Commercial Refrigerator Financing?
Step one: Click the "apply now button" on our website and fill in your restaurants' credentials- we will ask you the period you have been in business, the cost of the equipment you need financing, and how much on average you turnover per month.
Step two: Provide your full-time phone number and email address so that we can easily contact you.
Step Three: Read through our equipment loan and lease terms and click get my quote.
Step Four: From there, your loan application for commercial refrigerator finance will be processed, and one of our loan specialists will find the most suitable option for your restaurant.
Am I Eligible For A Commercial Refrigerator Loan?
To qualify for a commercial refrigerator loan, your business must fulfill the following criteria:
Have a credit score of 550

You have been actively trading for at least six months

Have a minimum of $ monthly turnover of $8,500
Commercial T-Series Refrigerators Financing
Apart from True TS-49-HC, we also provide funds for other commercial refrigerators in the T-series. As just a few examples, commercial refrigerator financing can be used to purchase:
True TS-23G-2-HC~FGD01 Refrigerator

True TS-43-HC Refrigerator

True TS-35-HC Refrigerator

True TS-23G-HC~FGD01 Refrigerator

TrueTS-23-1-G-1-HC~FGD01 Refrigerator

True T-19-HC Refrigerator

True T-12-HC Refrigerator

True T-12G-HC~FGD01 Refrigerator

True T-19G-HC~FGD01 Refrigerator

True T-23-HC Refrigerator; and any other sort of commercial refrigerator