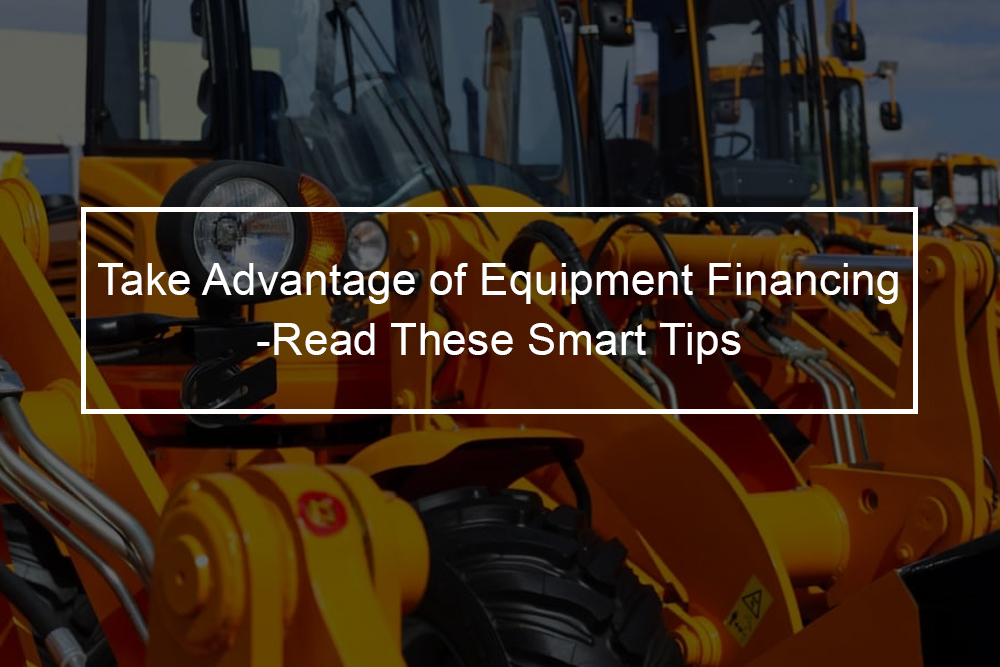 As a small business owner, it will be necessary to upgrade or replace various equipment pieces regularly. During this period, equipment financing options are like a lifeline to any business owner. You might wonder how you can successfully apply for equipment financing. Or how you can fully utilize it in your business. Here is a rundown. 
---
What is equipment financing?
First, you need to understand what equipment financing means for your business. Loans that are used to buy or lease equipment are equipment loans. Small companies often need to buy, replace, or repair their equipment. Depending on your business needs, there may be equipment that is vital to extract maximum productivity and efficiency. The need for this equipment can either be long-term or short-term. Accordingly, you can either lease or buy the equipment. There are numerous types of equipment loans, some that even finance for only one type of equipment. You can analyze these various types present in the market before finding the best fit for your company.
Equipment financing for small companies is self-secure loans that are explicitly meant for buying items that serve as collateral for the loan. Every lender has different terms with a loan; a small business owner can fund around 80-percent of the total purchase price of the equipment using small business equipment financing. When you opt to purchase your business and finance equipment through a loan, you own the equipment from day one. A 20-percent down payment is typically required for most small business equipment loans.
---
What is equipment leasing?
Equipment leasing offers your small business more flexibility than a loan. Either you can buy the equipment at the end of the lease for a short amount or return it once the loan principal has been paid in full. Leasing typically does not require a down payment. It is useful for businesses with little to no available capital. Even though the down payment is required, it is relatively small to that of a traditional loan down payment. You can get financed around 100% of the equipment's cost along with 20 to 25% of the soft costs (i.e., any delivery or taxes charges) with a lease.
---

How to succeed in applying equipment financing?
Clearly, equipment financing has many benefits. Interested in applying for one? Many lenders provide these loans, including online lenders and traditional banks. The first step to successfully applying for one is to identify several potential lenders. After you have done that, you will have to evaluate each lender before preparing and submitting applications.
Understand your current position
Before assessing financing companies, you should be able to answer a few basic questions. Why do you require this type of equipment? How could it affect your profits, revenues, and overall business? By knowing the answer to these questions, you will be more prepared to discuss your options with an equipment lender.
Ensure you qualify for the loan
As you evaluate financing companies, check out their eligibility requirements. These will vary from one lender to another, so it is important to make sure that you meet the basic prerequisites before you apply. Here are the common criteria:
Credit Scores: Generally, you will need a score of at least 550 to qualify for equipment financing, even though many lenders prefer credit scores of 660 or higher.

Your time in Business: Some financing companies will only offer financing to companies that have been established for a particular number of years.

Revenues: To qualify, you might have to prove that you are generating a specified amount of income.
Bear in mind that some lenders might have additional requirements concerning your business finances or could have less stringent prerequisites than the ones mentioned above. As a result, you should conduct considerable research prior to applying (we'll get into this later in the post). Most business owners who were approved for equipment financing had:
Annual Revenue: Over $130k

Credit Score: 630

Time in Business: Over 2 years
Determine if you can comfortably make a down payment
When applying for equipment financing, you might have to make a down payment to qualify. Financing companies will want you to be vested in the purchase, and getting a down payment will make them more confident that you are able to repay your small business loan. Often, down payments will range from 5 to 10 percent. If you do not have sufficient cash on hand to make a down payment or do not meet the above requirements, you might not be approved. Thus, your best bet will be to find a different lender, improve your financial situation to meet the requirements, or seek alternative financing.
Research different equipment financing options
Finally, it is time to begin applying! The application process varies from one financing company to another. Still, if you have already figured out your current position and eligibility, you are off to a good start. It is smart to compare your options at this stage. Nonetheless, ensure you do not apply to more than one lender at a time. Why? Because numerous hard credit pulls can harm your business and personal credit scores. In addition, ensure you do not take out another loan if you are already paying off a previous one since this is considered "stacking." Instead, if your equipment loan offer is not enough to cover your needs, we suggest looking for a different offer.
Apply for the loan
A business equipment financing application can be a simple process, and more so after you have already done the above steps. But it all depends on the equipment lender you are working with. Note that equipment lenders will typically ask for information about the equipment you are buying with the financing. This is why most equipment financing applications will require an equipment quote or equivalent documentation of the equipment cost.
---

5 Tips you should know when applying for equipment financing
Besides the six steps, there is much more to consider when seeking equipment financing; you also should consider maintenance, tax deductions, flexibility, etc. Here are five key tips to consider when it comes to business equipment financing & leasing.
Tip #1– Know the difference between a $1 purchase option lease and a fair market value lease. An FMV lease offers low monthly payments, tax advantages, and great flexibility at the end of the lease term. If you opt for the $1 purchase option lease, you will get to buy the equipment at the end of the lease term for $1. Generally, compared to the fair market value lease, the monthly payments will be higher; however, you will also have depreciation and other tax incentives as well.
Tip # 2– Mix multiple business equipment purchases under one lease. To keep things simple and cost-effective, it is best to identify what types of equipment your business needs and bundle the leasing into one single payment. Doing this can allow you to get a better deal compared to the latter.
Tip #3 – Be ready to describe how the equipment will benefit your company clearly. An equipment financing company might want to know a projection of increased revenues and cost savings gained from using the equipment.
Tip #4 – Get creative with equipment in your small business. With the right equipment, you can boost not only the efficiency in your business but also an employee and customer loyalty. Beyond using equipment financing to purchase the tools, you need to operate or for major operational upgrades, consider using equipment loans for smaller pieces of technology that will greatly impact your customer and employee satisfaction.
Tip #5 –Figure out whether the opportunity cost of waiting and saving outweighs the interest payments you would make to have that equipment right now with equipment financing.
Remember, there is no perfect way to utilize equipment financing, but if you plan your finances well, the right piece of equipment should bring in more than those financing loan interest payments costing you.
---
How long does equipment financing last?
The period you can extend the term of your equipment loan depends on the kind of equipment you are financing, as well as the equipment's expected lifetime. It is sensible that not too many financing companies want to extend their equipment loan repayment terms beyond that equipment's life expectancy. Typically this is because the point is that they are financing a tangible asset—your equipment—on the basis that it will be worth something should they have to liquidate. Some equipment lenders will set terms for the anticipated lifetime of the equipment. However, most lenders will set a maximum repayment term of 10 years on a business equipment loan. Equipment loans are a great funding option for small business owners due to their low-interest rates and quick disbursal times. Nonetheless, you should still consider the drawbacks, such as short terms and the potential that you might not meet the financial requirements.