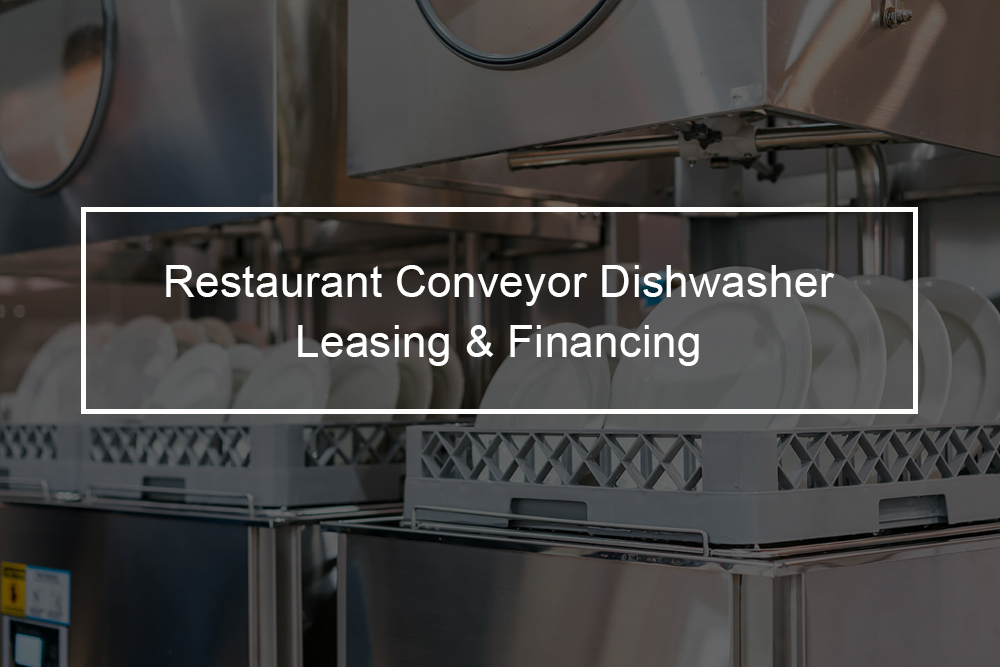 Commercial dishwashing equipment is key to any restaurant kitchen or bar operation. Jackson AJ-44CGP Dishwasher provides heavy-duty, high-performance cleaning to keep your kitchen team productive and your clients happy. Check out our financing programs for restaurant conveyor dishwashers or let one of our officers help you. We are glad to help. Restaurant equipment is the key to Top Financial Resources' enduring success. Whether you are furnishing your kitchen from scratch, shifting strategies to accommodate an evolving menu, or upgrading equipment, the secret to lasting productivity is heavy-duty restaurant equipment.
---
Jackson AJ-44CGP Dishwasher Conveyor Overview
The Jackson AJ-44CGP Dishwasher Conveyor comes with an adjustable conveyor speed, high temperature sanitizing rinse, washes approximately (248) racks/hour, single tank design (wash), 25'' H clearance through machine, stainless steel construction, recirculated hot water tank heat from external mounted gas booster heater, cETLus, NSF. 75.5″ H x 60″ W x 25″ D and vent fan control. Note that this product can expose you to chemicals, including Bisphenol A (BPA), which is known to the State of California to cause cancer and birth defects.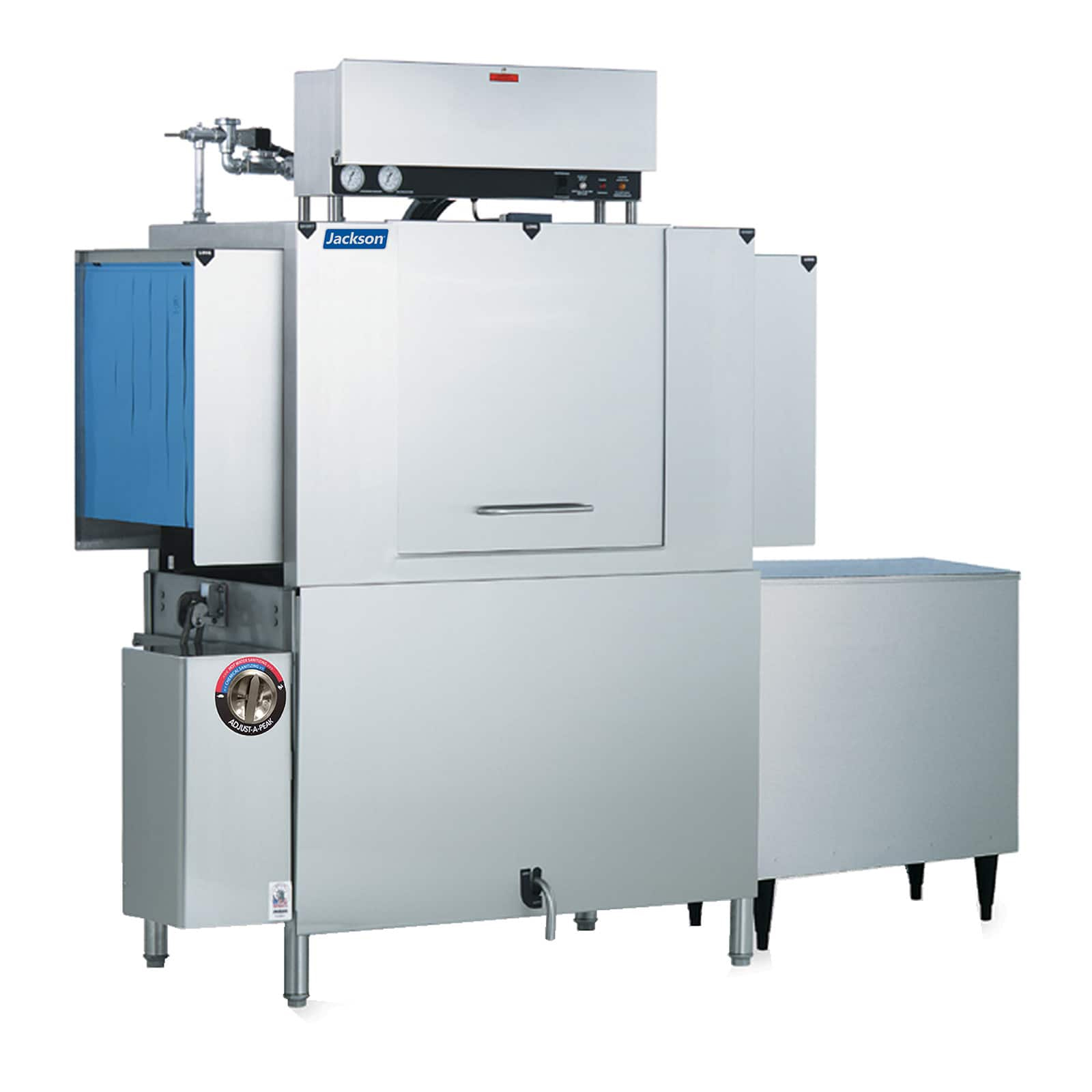 ---
How is Commercial Dishwasher Conveyor Leasing Important to a Restaurant Business?
Sometimes, a restaurant cannot purchase the equipment it requires to operate because it is a startup and needs to secure working capital or inadequate cash flow. This is where leasing equipment comes in as an ideal option. There are a few kinds of equipment leasing.
How Does Restaurant Equipment Leasing Work?
There are many wide varieties of equipment leasing options. So how does leasing a dishwasher work? With an operating lease, your restaurant is allowed to use assets but does not provide any equipment's ownership rights. Typically, ownership is justify to the leasing company or the financial institution. Nonetheless, an agreement to an operating lease is usually the financing alliances in an off-balance sheet. It is where the associated liabilities of later rent payments and a leased asset are not incorporated on the restaurant's balance sheet.
A lease-purchase agreement is another kind of equipment lease contract. This is where the company leases the equipment pledges to purchase the equipment after the leasing term is completed. A lease option is almost similar to a lease-purchase agreement. This is because the same business has the option to buy the equipment either during the lease period or at the end of it.
You could also find other leasing agreements like one-end and closed-end leasing arrangements. With a closed-end leasing agreement, no capital is obligated when the lease period is over. This indicates that the equipment can be given back without accumulating extra costs. On the contrary, an open-end lease is very different. In that little monthly payments are made and followed by a huge payment known as balloon payment when the lease duration is over. Even though this allows your restaurant to maintain cash flow, the last payment could cost you more than you would have bought the appliance. If an open-end lease is the only option you got, it is advisable to ensure that you do not incur extra fees like wear and tear.
Equipment leasing is the best option for new restaurants that find it challenging to obtain equipment because of their lack or little credit history. Various equipment leasing companies take into account personal credit reports throughout the approval process in such a situation. There are many restaurant equipment leasing providers like banks, brokers, distributors and equipment dealers, independent leasing companies, and leasing companies. Every option has its advantages.
Equipment dealers and distributors can help with arranging to finance through independent leasing companies. Contrarily, brokers ask for a small fee to serve as the lessors and lessees intermediary. Usually, the lessee is needed to provide the latest standard identification documents and a set of business accounts.
The Costs Involved In Restaurant Conveyor Dishwasher Leasing
The piece of equipment's final cost could end up being more than if the equipment was purchased right away. When it comes to a lease option, a premium is most probably going to be offered to have the chance to buy the equipment. If your restaurant does not employ that option, then the premium is deemed non refundable. Just like with any type of finance, it is vital to thoroughly go through the lease agreement before you become committed to it. You can compare the leasing costs to the present interest rates to find out if the terms are a good fit for you. You can also compare the leasing costs of purchasing the dishwasher right away since it can turn out that it is cheaper to take the instant financial hit.
How Long Does Leasing Restaurant Dishwashers Take To Arrange?
Based on the amount of capital in play and the kind of leasing, commercial equipment leasing companies take as little as one day to respond to your financing application. This is, of course, if your lease application has all the required information.
What Type of Security Do I Need To Lease Restaurant Conveyor Dishwashers?
Little security is needed since the equipment protects the lease agreement. Also, restaurants that have assets but are experiencing financial difficulties can borrow against that equipment by using asset financing while going on with their use.
How Does Restaurant Equipment Financing Work?
If you are looking to buy or update your restaurant dishwasher, it is prudent to go for equipment financing where you can purchase the unit right away. It is usually comparatively easy to be qualified for equipment loans. The amount of money you will be considered eligible to borrow depends on the specific type of item you intend to purchase and if it is used or new.
Because the unit you are purchasing can normally be used to acquire the loan, you will rarely be requested to give out any extra collateral. Nonetheless, these kinds of loans are accompanied with fixed interest rates of around 8-percent to 30-percent. Thus, it is essential to always keep in mind that even though acquiring a loan might seem affordable at the moment, you will end up paying more.  Contrarily to equipment leasing, the loan you apply will not be affected even if the dishwasher eventually becomes outdated. This indicates that when your payment plan is over, you can be spending money for a unit that is no longer of service to you.
---
Benefits of Restaurant Conveyor Dishwasher Leasing

You do not have to be bothered to look for more money: With a lease, you can lease dishwashers that seem financially impossible for you to purchase immediately. Usually, you will not be requested to make any type of upfront payments. Moreover, the monthly rate involved is typically lower compared to what you would find out attached to a business loan or a line of credit.
Cash flow flexibility: Using your working capital for purposes of buying or updating equipment might not be a good idea, mainly if you are already low on cash. With no down payment needed to get a lease, you will have additional money to take care of your bills, make payroll, and buy inventory.
Being up-to-date with technology: It is simpler to understand that your dishwasher should be the best in the market. It would not make any financial sense to keep on replacing the unit after a few years. If you realize that you will need equipment upgrades constantly, leasing would be a more considerable option compared to purchasing.
---
What Happens To The Restaurant Conveyor Dishwasher At The End Of The Lease?
It is not your obligation to purchase the equipment after the lease period is over. So you could return an obsolete piece of equipment after the contract is over and open another lease on another newer unit. In most cases, you can have the option to trade out your item in the middle of your agreement if the units you were using get obsolete.
Enjoy tax incentives: The lessees pay some periodic rentals that are considered as revenue expenses when calculating taxable profits. Thus, a benefit to a lessee who can lower his or her tax liabilities.
Leasing is more suitable than a term loan: Usually, equipment leasing companies take a relatively shorter time when processing your lease contract. This period tends to be lesser compared to the time taken to process a real term loan. This makes equipment leasing a more suitable source of finance than a term loan.
Low maintenance cost: Based on the lease agreement, sometimes the lessor can provide the lessee some specialized services. The less can offer these services to maintain a specific leased asset. Usually, the lesser charges through increased rentals for these types of specialized services.
---
Restaurant Equipment Lease Process at Top Financial Resources
Here are the three steps of leasing applications for Jackson AJ-44CGP Dishwasher Conveyor at Top Financial Resources.
Complete and send your equipment lease application to us.

We check your documents and credit rating.

We send you feedback. If you are approved, your lease documents are sent to you through email. Next, return the signed documents through email. Your vendor is authorized to deliver. We call you to confirm everything is correct on the order. After your confirmation, your lease is started. If the feedback is no, we will re-group and look for additional ways to strengthen your application. Add financial info, additional co-signers, or tax returns, and then submit your applications.
At Top Financial Resources, we take the time to get to know you and your restaurant needs regardless of your credit history or if you are just starting. Our restaurant equipment leasing specialist will work with you to develop a custom finance program. Get started today! Call 1-(800)-260-5126 to speak with a representative or begin the application process on our website.