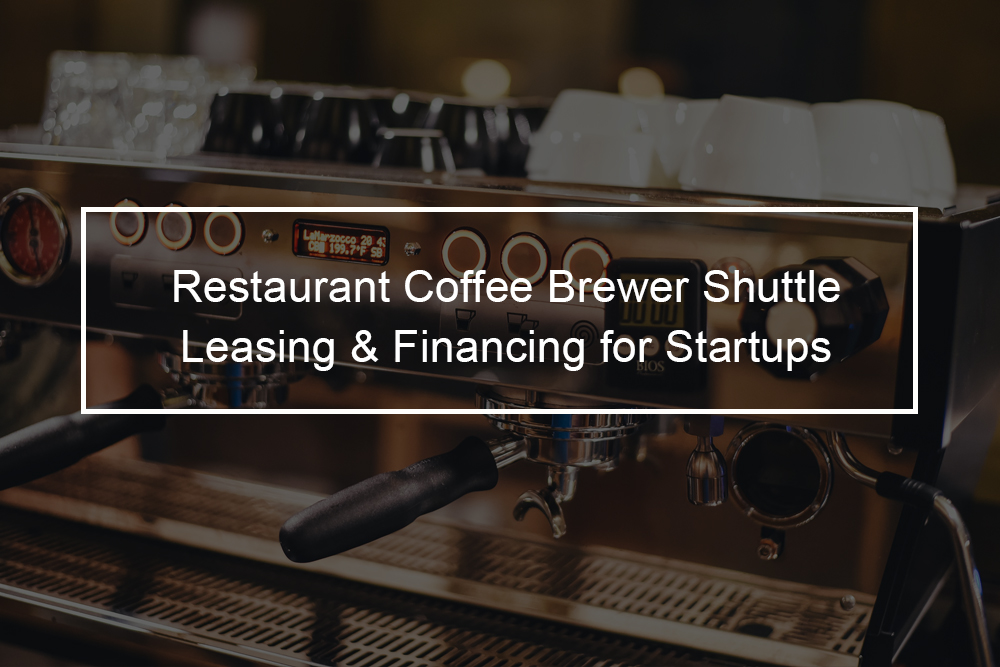 Commercial beverage equipment is vital to most cafeterias, restaurants, and caterers. We provide a wide variety of coffee equipment and beverage dispensers to satisfy your clients' thirst-quenching desires. Whether you are serving iced tea or hot chocolate, Top Financial Resources has the equipment that you need. What's more, we can finance you. Keep reading to learn about Grindmaster Cecilware PBIC-330 Precision Brew Vacuum Shuttle Coffee Brewer, Silver, 15 gals/hr; we will also answer all the questions about leasing the product.
---
Grindmaster PBIC-330 Vacuum Shuttle Brewer overview
The Grindmaster PBIC-330 Vacuum Shuttle Brewer is from the world-renowned PrecisionBrew line of coffee brewers. Featuring pulse brewing, digital controls that can adjust the temperature, and pre-infusion options, you can make your customers perfect cups of coffee. The brewer is perfect for restaurants, cafes, diners, hotels, and coffee shops.
With its vacuum insulated shuttle, your coffee also maintains its freshness and taste, keeping your clients happy, while its stand offers room beneath the faucet for convenient dispensing anywhere on your countertop. There are three brew volumes that assist in reducing waste from a half gallon to half gallons and have the ability to brew up to 385 cups of coffee per hour. Also, the brew has a separate hot water faucet for teas, soups, and other hot drinks that will not affect your brew volume. Other convenient functionalities are the Cycle Counter that counts the total number of brew cycles; programming Lockout, that locks the brew settings to prevent tampering; and the Shuttle Lockout switch that locks the brew cycle if the shuttle is not in place. This unit measures thirty-six inches in height by 12-½ inches in width by 17-¾ inches in depth. It is also UL, cUL, NSF certified.
---
Restaurant coffee brewer leasing
Preserving working capital is vital for any business, mainly restaurants and foodservice operations, where high operating costs put pressure on profitability and margins. Submit your application now. Save your cash and lease your Grindmaster PBIC-330 Vacuum Shuttle Brewer.
How to apply for commercial coffee brewers lease?
Leasing with Top Financial Resources is as easy as 1-2-3:
Get an idea of how much coffee brewer or any other restaurant equipment you want to buy.

Complete and submit our online financing application form.

Review and approve your documents and paperwork.
Advantages of leasing your restaurant coffee brewer
You will preserve working capital for other things, such as payroll and food inventory.

You will own the equipment at the end (no penalty for early payoff, fair market value leases are also accessible).

The lease payments usually count as tax deductions.

Support an equipment replacement plan to replace critical equipment often with new equipment to stay ahead of the repair curve.

Flexible financing options to shorten or increase your term. Municipal lease, custom terms accessible.
---

Frequently Asked Questions about leasing restaurant Coffee Brewer Shuttle with Top Financial Resources



How much money can I get approved for lease financing?
Your approval amount will depend on your credit rating. The least amount to finance is $ 500.00. All pieces of equipment with a minimum of $500.00 are eligible for lease. You can also finance smallwares up to 30-percent of the invoice total. For instance, if an invoice is $1,000, $300 of that amount of money can include items like blades, knives, or bar stools. Typically new restaurants have a maximum approval amount of $35,000.00. However, it can be greater based on the strength and depth of your personal credit.
What credit score rating do I need to qualify for equipment leasing?
The minimum criteria for a financing application is regarded as 550 FICO, with a minimum of four trade lines. Tradelines comprises things such as car payment, credit cards, home loan, etc. At Top Financial Resources, we will first look at business credit; it is only when there is no business credit yet established do we have to review personal credit.
Can I utilize a cosigner for the lease?
Cosigners are an excellent way to get approved if your credit score is not strong enough to be accepted alone. We accept additional members, owners, officers, blood relatives, family members, or legal spouses.
How long can I finance equipment for?
You can choose between two to five-year payment terms. If you are a new restaurant (less than two years' time in business), you will have a maximum of thirty-six months.
Can I pay off the lease early?
You can pay off your lease early, and there is no penalty. You are still responsible for paying the full amount that you committed to. And if you do want to finish your lease early, there can be a discount, but the amount you save will be based on how early you are paying it off, what the remaining balance is, and your payment history up to the point of paying it off.
How much money do I have to put down to qualify for a lease?
You have to make one month's payment because of signing along with the sales tax.
Can I return the equipment?
This is a non-cancelable lease agreement. After the lease is active (we will run your sales tax and first month's payment), you cannot cancel or return the equipment.
What if I do not get approved for the lease?
If you are not approved, your next option is to add a cosigner. It is possible that you might not get approved if the information you offer on the application does not pull out your credit score. It is essential to ensure the information you provide on the lease application is accurate. Please ensure you enter your full legal first and last name together with your social security number.
What is the APR (interest rate) for leasing a restaurant coffee maker?
We do not have an APR since we operate off a rate factor. The amount of interest you pay depends on your personal credit.
Is leasing only available for new equipment?
You can lease used and new equipment.
Do I have insurance or a warranty for the equipment?
We offer loss and destruction coverage for your item. There is a minimal charge that will be applied to you; however, it can be removed. To remove it, you can list the item you are financing on your business insurance policy and list TimePayment as a loss payee. If you then provide a copy of your insurance binder, we will no longer charge you this fee.
When will I get my equipment?
Your item will be released or ordered when we have cleared your advanced payment (this is one month's payment plus tax).
How fast is your lease approval process?
Our credit decision is very fast for anything below $10,000. If you have provided all of your information correctly and accurately on the original application, you will know instantly if you are approved. If you have a consumer statement on your credit report, you will need to call in to verbally permit a credit analyst to pull your personal credit score. If the amount being applied for is greater than $10,000, it will take one to four hours to have a financing decision. For most cases, we respond the same day or next business day. The time it takes to get a credit decision is based on the time of day the application is submitted and how many 9other applications are in the line to be assessed.
How long do I have to complete my equipment purchase before my approval expires?
Approvals are good for thirty days. If you get accepted and want to wait before making your purchase, you have thirty days to do so. If you exceed thirty days, we will have to pull your credit again to ensure nothing drastically has changed. If you are close to the thirty-day mark and still want to keep your approval open, kindly let us know so we can make an extension.
How to make monthly payments?
You can call in, set up an automatic withdrawal, make payments online, or mail them directly to the leasing company's billing department or us.
Do I own the equipment?
At the end of the lease term, you own the item without any extra buyout fees or added payments.
When will my payments start?
Your payments will start thirty days after you have returned your signed contract, and we have successfully run your advanced payment (one month's payment and tax).
Will my personal information be safe?
Your personal information is entirely secure and safe. We do not share any information with any other lenders or entities. The information you share with us is strictly used for the item you are interested in and will never be redistributed.
What information do you require for the credit application?
We require legal business names (if you have not yet filed your company, we have to know what it will be), your full last and first name, phone number, address, and social security number. We also have to know where the equipment is going to be located.
How do I sign the agreement?
You can sign the lease arrangement electronically from your pc or laptop, or it can be printed and signed by hand. If the agreement is signed by hand, you can scan and email the contract to us.
What option do I have after my lease term is over?
When all payments are made, you will own the item.
Does leasing equipment help my credit?
This will help build your business and personal credit. Provided you are able to make your payment without any missed days or delinquencies; your credit will build your payment history for good.