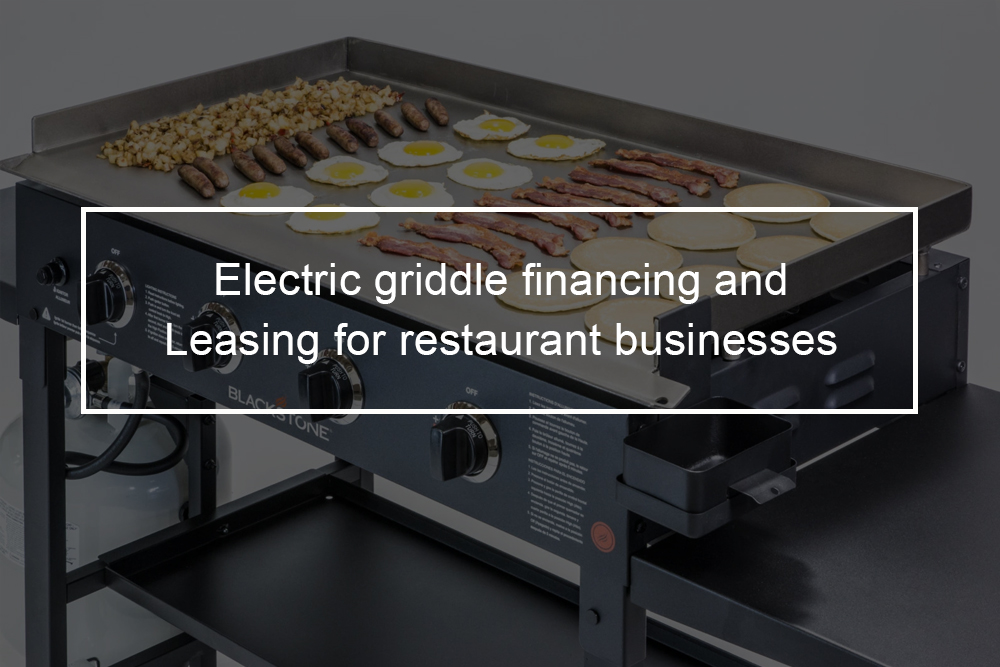 Having problems affording the Lang Manufacturing 148TC electric griddle upfront? Do you need to replace an old electric griddle? You can apply to finance your restaurant equipment.  For many first-time restaurant owners, the prospect of working with a financing partner to acquire commercial financing feels intimidating. There is a confusing array of lenders, equipment terms to choose from, types of financing, and the equipment financing process itself can feel less than transparent.
We are going to look at the basic steps of the Lang Manufacturing 148TC financing process to clear up confusion and ensure you know what to expect. Note that we will use the terms financing partner and lender interchangeably all through this post. At Top Financial Resources, we generally refer to ourselves as an independent equipment financing partner. Nonetheless, we know that many people tend to just utilize the term lender for simplicity, even when referring to companies such as Top Financial Resources that provide a wide range of financing options.
---
Lang Manufacturing 148TC electric griddle overview
148TC is a heavy countertop electric griddle from Lang Manufacturing. It features a 48″ W x 23″ D cooking surface, 1″ thick polished chrome griddle plate, and 200° F-550° F snap-action thermostat and 6000W elements every 12″, welded steel frame with a stainless steel exterior. This LG model has a 5″ tapered wrap-around splash guard, 4″ stainless steel legs with 1-5/ 8″ and 8qt grease drawer. Lang Manufacturing 148TC is NSF, cETLUs certified.
Standard features of the Lang Manufacturing 148TC electric griddle:
1″ (25 mm) thick griddle surface

5.5″ (140 mm) side and rear splash guard . It also has a 3.5″ (89 mm) by 1″ (25 mm) grease trough for easy cleanup

6 kW of power for every 12″ section of griddle

Both types of thermostat enable independent control of each 12″ (305 mm) section of the griddle.

Optional Selectronic™ controls utilize a solid-state system which reacts to a temperature modification as small as 1°F and operates between 175° F (79° C) and 450° F (232° C)

Standard Accu-Temp™ controls utilize snap-action thermostats and operate between 550° F (288° C) and 200° F (93° C)

Options And Accessories Of Lang Manufacturing 148TC

 Chrome griddle plate or polished steel

Radiant or contact clamshell hood – up to one per 12″ (305mm) of griddle surface

Custom grooved plate, 12″ or 24″ from either side

Solid-state temperature control or snap-action thermostats

Steel stand with casters or legs 
---
What is electric griddle financing and leasing?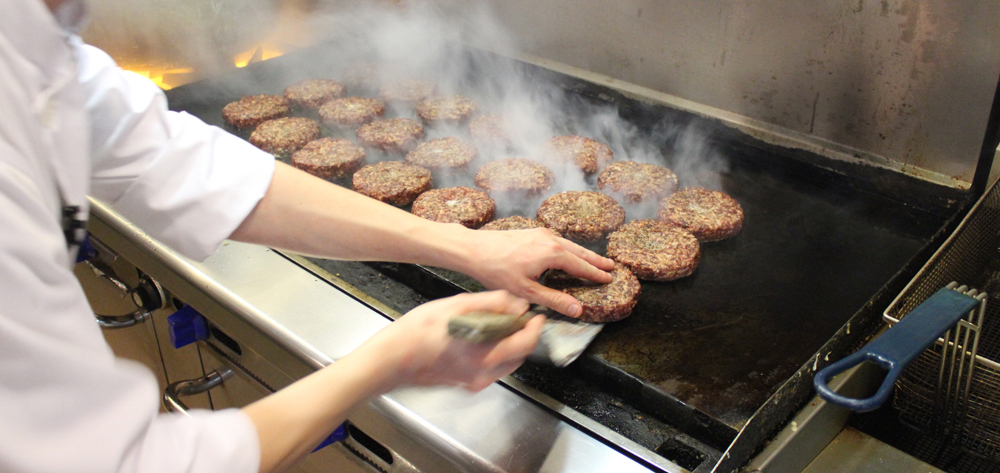 Restaurant equipment leasing helps business owners to rent equipment from a vendor or a leasing company for a period. Your restaurant must return, purchase, or renew the electric griddle at the end of the lease period. Generally, leasing appliances is way more costly in the long term than buying it, but it will be lesser on a monthly payment basis for restaurants. It will help your business in improving cash flow together with working capital. Electric griddle financing is a loan to buy a commercial griddle for production. Some lenders provide recurring payment terms that include interest. As an assurance to the lender, the electric griddle will serve as collateral. You will own the item free of a claim after you pay your loan in full.
Choosing a restaurant equipment financing company
If you are looking for Lang Manufacturing 148TC financing, the first step is choosing your lender. Your main selection will be between a bank and an independent financing partner like Top Financial Resources for restaurant equipment financing. Choosing an independent financer over a bank comes with its benefits. The biggest advantage is speed: Top Financial Resources can probably take care of your entire transaction within 24 hours, where a bank might take several weeks. Another significant advantage is that the bank might require a down payment, whereas Top Financial Resources will possibly be able to provide 100 percent financing. Apart from those two major advantages, an independent financing partner such as Top Financial Resources can provide other perks such as increased personalization and flexibility, experience working with a wide range of businesses that do not fit into the bank's rigid "box" of preferred customers, and existing relationships with equipment vendors.
---
Lang Manufacturing 148TC financing application process
After you choose a lender, the next step is to apply. The application process might vary based on your lender; however, we will walk you through the fundamental steps:
Electric griddle financing application
First, you have to fill out a lease or finance application. At Top Financial Resources, we understand that restaurant equipment financing can seem like a confusing procedure, so we ease the process with our basic application form consisting of your business name and contact information. This way, if you do not know precisely what you are looking for or you do not have all the data you need ready for a full financing application, you can signal your interest in applying and receive personalized help from Top Financial Resources with the rest of the application process.
After you have filled out the basic application form, you will receive an email with the option to download the full application. If you are ready to apply on your own, you can get a head start on your finance or lease application while you wait to hear back from our financing specialists.
Assessing your credit history
No matter which restaurant equipment financing or leasing partner you choose, you will need to provide credit information. The information you will need will be based on various factors, inclusive of how long your organization has been in business and your personal credit rating. At Top Financial Resources, our general rule of thumb is that for financing amounts in the range of $5,000 and $75,000, your personal credit report can often give us enough information to make an approval decision. For equipment financing amounts of $75,000 and up, we tend to need tax returns and other financial information. Business information that we sometimes need for larger financing transactions can include:
Business debt schedule

Current business bank statements

Profit and Loss forecast

Recent tax returns (past two years)

A federal tax ID
---
Lang Manufacturing 148TC financing approval and underwriting
Next comes the approval process. At this point, lenders sort through information about your restaurant to assess your risk level and your capability to pay back the financing you receive.
How lenders evaluate your electric griddle financing application?
A diligent lender will carefully evaluate your application to understand your restaurants' financial situation. Most financing partners will focus on assessing your:
Industry conditions

Debt service coverage ratio: the amount of cash flow you have accessible to pay your present debt obligations

Business and personal credit score
Credit unions, banks, and other lenders will also look at how much capital you have personally put into the restaurant and what assets you have accessible to put up as collateral. At Top Financial Resources, we operate with more flexibility than any bank, which gives us the ability to structure and approve a finance application based on many different factors.
How lenders determine your options?
After your lender has gathered all the relevant information about your restaurant, they will use this information to decide how much money they can loan your restaurant and under what terms. Generally, the better your personal and business financial history, the more flexibility you will receive when it comes to terms and payment options. At Top Financial Resources, we have experience offering financing for restaurants in a wide range of industries and at all stages of growth; thus, we can draw from this experience to create a custom financing offer that works around your restaurant's cash flow and unique needs.
The financial agreement
After your lender has assessed your finance or lease application and set the terms for your financing, you will have a chance to go over everything with the lender and decide if to sign the final financing agreement. The contract is a simple agreement stating your financing plan's details, including payment amount, the term length, type of financing, and the schedule.
---
Top Financial Resources helps you buy the restaurant equipment you need
Interested in acquiring Lang Manufacturing 148TC financing to help start or update your restaurant? Let us talk! Call us at 1-(800)-260-5126 or fill out our online form to get in touch and learn more about financing options.  Unlike many traditional lenders, Top Financial Resources offers customized financing solutions for your restaurant. We take the time to engage with you and get to know you instead of only looking at your financial history or credit rating. Our process makes it simple to get the funding your restaurant needs to keep moving forward. Our Restaurant equipment financing and leasing programs are not designed as one size fit all. We understand that various stages and industries have different needs. Even within an industry, no two restaurants are the same. Are you ready to apply? Visit our website and get started now. All you need to do is offer a bit of basic information, and we will step in to guide you through the rest of the procedure.