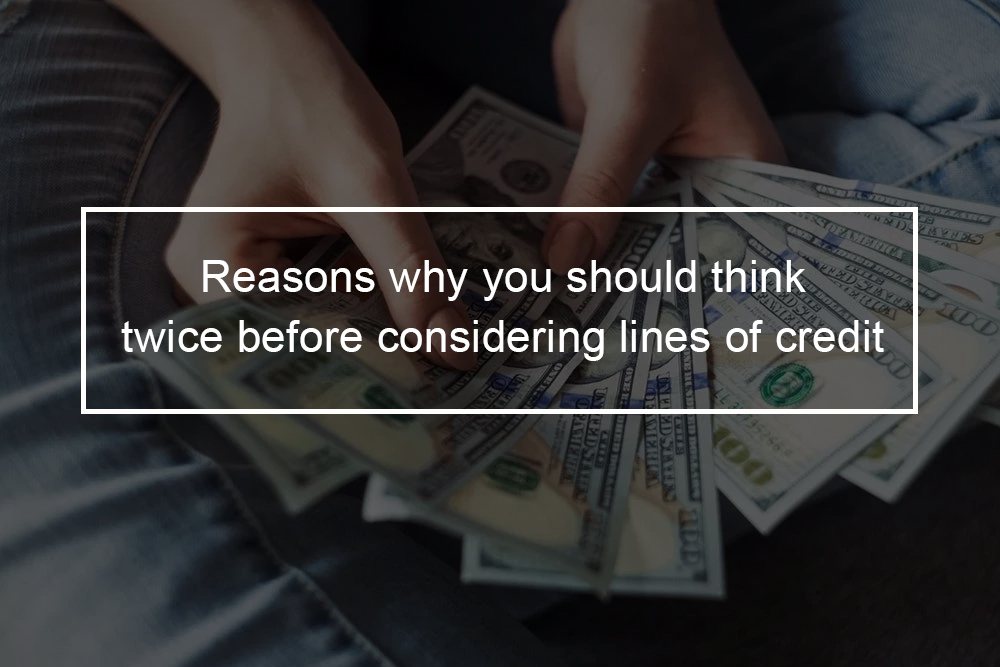 When it comes to running a business, having ample cash flow is imperative. Thus, most business owners apply for a business line of credit. Even though lines of credit can be a great funding source, it is essential to review the problems that come with lines of credit before submitting your application.
---
Some business lines of credit problems
Getting a line of credit is difficult
One of the challenges with lines of credit is that getting one is hard, mainly for new businesses. Lines of credit have stringent qualification requirements. Lending institutions only provide loans to business owners and companies with cash flow, assets, and a good credit score. If you do not have these, getting a line is almost impossible.
Lines of credit are also not directly available to pure startups. Companies must be profitable and have two years of trading history. They must also prove to the lender that they can repay the line. Nonetheless, there are ways around this qualification. Lending institutions can offer business lines of credit that are secured by the owner's (or major shareholders') personal assets. If the business defaults, then the owner pays.
And even though you are lucky enough to get a line of credit, keeping it can be hard. Lenders often add covenants to their business loans. You should also comply with these covenants to keep the business line of credit active. Some covenants include:
Advising a lender of material changes

Maintaining a minimum net worth

Paying the business line in full every so often

Complying with specific financial ratios
Lines of credit can be expensive
Even though they are not usually as costly as business credit cards, business lines of credit have high-interest rates. These are typically in the double-digit APR range, sometimes over twenty percent. Moreover, many business lines of credit come with hidden initiation, maintenance, and processing fees- not to mention late payment penalties and non-sufficient funds (NSF), increasing the cost significantly. These additional costs vary from the lender and will be based on the other agreement terms.
Ultimately, do not be drawn in by a low-interest rate, just to be slapped with numerous fees. Make sure you research and compare online lender's annual fees and other extra costs to either find the ideal line of credit for your small business or determine if another funding product will be affordable. Also, ensure you read the fine print carefully before you accept one.
Reducing the principal
Another problem with credit interest rates is that they do not necessarily make sure that you pay back the principal or main balance of the loan. The payments you make per month might only be covering the interest that has accrued, so after the term of your line of credit ends, you might still have to pay the lump sum of what you have borrowed, known as a balloon payment. Following the federalreserve.gov, there are lines of credit programs wherein all of your regular payments go towards clearing interest, and a balloon payment is expected at the end of the term.
There are wolves
It appears like every decade has its top-tier financial scam. The 1980s had junk bonds, while the 2000s had sub-prime mortgages. And the 2010s had business lines of credit. Note that not all business lines of credit are a bad deal managed by predatory institutions who want nothing but to milk your company of its hard-earned revenue. Most are legitimate, fair business deals, mainly those from established credit unions and banks. However, some are offered in bad faith, with extreme rates of interest and predatory policy details. Be wary, mainly offers that come to you instead of waiting for you to come to them.
Applying for lines of credit can be time-consuming
To apply for a legitimate line of credit, you will need to offer:
Resumes for leadership

Business documents (like articles of incorporation)

Recent profit and loss (P$L) statements

Business tax returns

Personal tax returns

Personal bank statements

Business bank statements
It is a long procedure with lots of moving parts, far more sophisticated than applying for a credit card or secured installment loan.
Potential for misuse
A business line of credit will empower you to act on opportunities. However, not every opportunity is a good one, and if you act on too many opportunities at once, you might leverage any of them as much as you should. 
Remember, a business line of credit is as useful as you make it. Therefore, it should only be utilized as an insurance policy for cash flow shortages. Using it exceedingly is a recipe for disaster; however, it is a real temptation for many. It can be surprisingly simple to accidentally borrow too much money against your business line of credit and spend your revenue on interest payments. Note that this can hurt your credit score. For example, if you draw a high percentage of the amount borrowed-taking $8,000 of the $9,000 you borrowed, it will hurt your credit score.
As long as your business has already acquired significant debt or is not confident that you will be able to repay your balance, this might not be the ideal time for you to take on a line of credit. Consider a business line of credit only if you have the discipline and financial systems to avoid this type of spending hazard.
Low borrowing limits
Compared to other funding options, business lines of credit generally come in relatively low borrowing amounts but higher than an installment loan. So, if you require money to afford new equipment, an upcoming expansion project, or any other considerably expensive project, you might be better off getting funding through another method. Generally, if the line has a limit lesser than your needs, it is not a very good solution. It just sets you up to accrue debt without accomplishing your goals.
Line of credit puts your business at risk
A line of credit can also put your small business at risk. Even though your business fails, a business line of credit is a business obligation that must be repaid. Whether you may be personally accountable to repay the debt all depends on the structure of your business. For instance, a sole proprietor might be liable while a corporation might relieve you from personal obligation.
It is, after all, more debt
This might seem obvious; however, it should definitely be a consideration. When money is tight, a business line of credit can create a cash infusion to a small business, but of course, a business line of credit is debt that has to be repaid, which can be challenging when finances are tight. While a business line of credit is excellent to have a hand for an emergency, you could eventually find that you have spent the entire amount you have access to, and you are not able to repay it as a result of a business slowdown. In some situations, businesses might be better off with a standard loan to avoid the temptation of access to immediate cash.
---
More downsides of lines of credit
Choosing the right lender is vital
The wrong lender, even one with an attractive product offering, can ultimately cause more difficulties.
The interest rates are variable, making them prone to the whims of the marketplace
 The interest rates can change from year-to-year, based on the terms of the loan agreement.
---
What are other alternative funding methods to a business line of credit?
There are other options and more straightforward ways to fund a small business, which also deserves consideration, including purchase order finance and invoice factoring. These methods are easy to put in place and can provide a range of flexibility suitable to the needs of most growing companies, and more comfortable to administer, even startups.
Other alternatives, like merchant cash advances, are also natural to establish; however, they deserve special mention and added caution due to their comparatively high notional cost and difficulty in unwinding.  Apart from traditional lines of credit discussed above, there are various alternative sources of funding for a business that is easier to arrange, easier to administer, and equally accepted. Arguably more flexible, they might be suitable for a larger universe of potential business users.
There is no universal no or yes answer to if or not your business will benefit from getting a business line of credit. Every business and each situation is different. Ultimately credit can help you drive forward towards a solid financial future; use it carelessly, and you might be headed for a financial crash that can take years to resolve. A line of credit is just a tool to help you manage your funds; it can be good or bad ground on how you use it. Nonetheless, as a result of its revolving nature, it can keep you in debt longer than a pay-down loan. Simply play it smart; use a credit line carefully and responsibly and never allow it to hinder your long term financial goals.