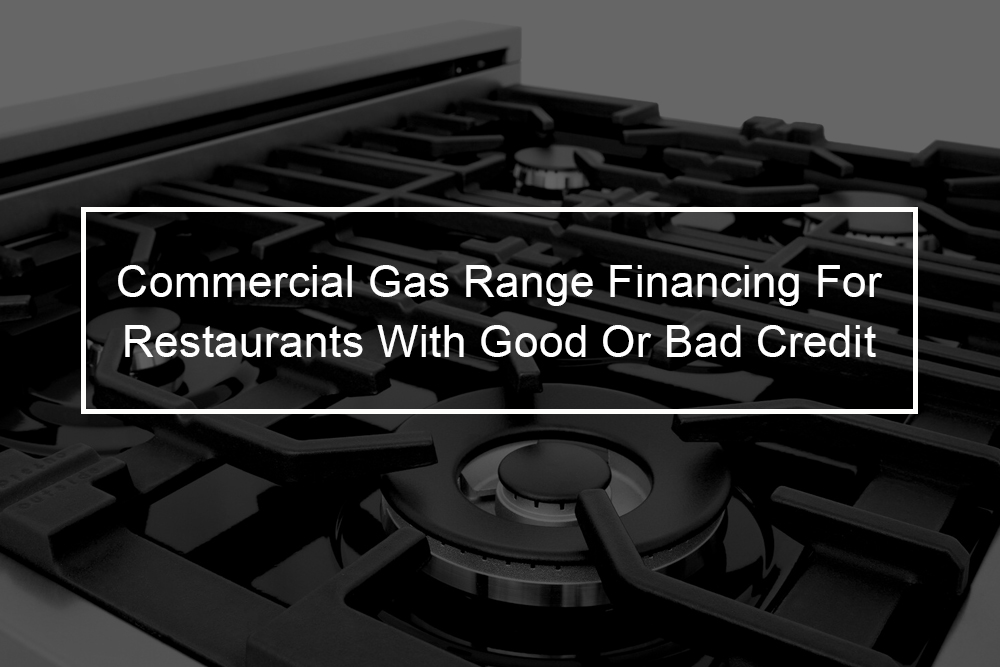 When you are seeking Garland M43-3S commercial gas range financing for your restaurant, it should match the cash flow needs of your company, the needs of the market you serve, and your business history. It does not matter if you have good or bad credit. Top Financial Resources offers equipment financing programs for every situation. We finance all types of commercial equipment as well.
It is not a secret that it is much difficult to secure equipment financing when you have a credit score lower than 600. Some people just can not secure financing through conventional means. Whether that indicates your bank has turned you down or have current charge-offs, we sympathize with you since we can relate that maintaining your credit score is not a priority when running a business.
Since most lenders do not approve equipment leasing or financing to customers with scores under 600, this presents a hard situation when you can not get the machinery that you need. Coming completely out of pocket for a commercial equipment purchase can cripple your business's cash flow as well.  So how can you get commercial gas range financing or leasing for a restaurant with bad credit? Keep reading; we will give you options for commercial gas range financing for restaurants with good or bad credit.
---
Garland M43-3S Overview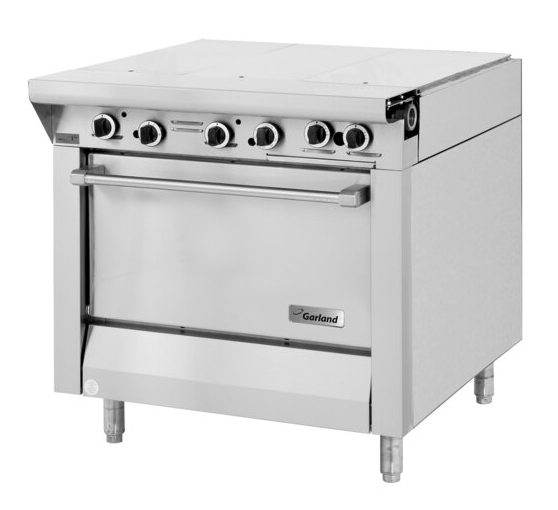 Garland M43-3S is a master series duty range. This gas range features (3) 12″ even heat hot tops, storage base, stainless steel front, sides, and 6″ legs. Garland M43-3S is CSA Star, NSF certified.
Standard Features Of Garland M43-3S
Piezo spark ignition for oven

Stainless steel front and sides

6″ chrome steel adjustable legs

Fully porcelainized oven interior

Stainless steel burner box bottom

One-piece stainless steel drip tray

Removable cast iron top and ring grates

Separate control valves for every burner

 35,000 BTU Propane, 40,000 BTU Natural, cast iron oven burner.

 (2) 24,000 BTU Natural, 20,000 BTU propane Starfire Burners for every section

Additional heavy-duty cast iron even heat hot top sections with "H" burners, 22,000 BTU Each

7‑1/2″ stainless steel front rail
Optional Features Of Garland M43-3S
 230 volt, 50 cycle elements, RC motor (export)

6″ stainless steel adjustable legs

Additional oven rack

Celsius dial for oven thermostat

Convection oven base

Dais base (not for utilization with RC oven)

End caps and cover

Gas flex hose and quick disconnect (3/4″, 1″ or 1-1/4″ NPT x 5′) with restraining device

Gas regulator 1-1/4″ or 3/4″ 

Gas shut off valve; 1-1/4″ NPT or 3/4″, 1″

Rear gas connection, 1-1/4″ NPT or 3/4″, 1″

Set of (four) Polyurethane non-marking swivel casters with front brakes

Stainless steel backguard: 10″, 17″ or 33″

Has a stainless steel common front rail up to 102″ wide (two or more units in a battery)

Stainless steel equipment stand option for modular top models.

Stainless steel main back

Stainless steel oven interior

Stainless steel tubular high shelf, double and single deck

Storage base shelf of stainless steel or aluminized
---
What Is Commercial Gas Range Financing For Restaurants?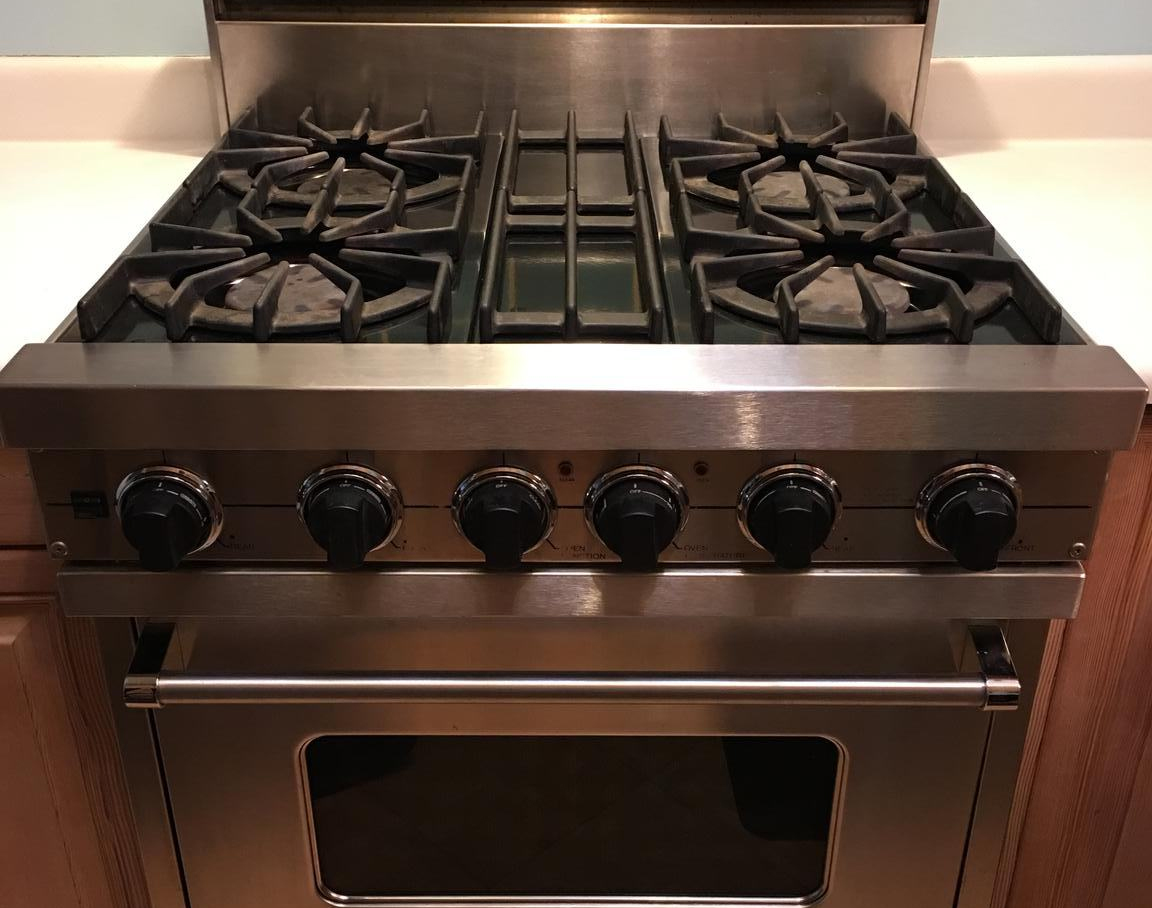 Commercial gas range financing requires that a bank or an online lender such as Top Financial Resources provide you with the financing you need to help you purchase commercial gas range. When financing your equipment with an independent lender, you will be confident knowing that your lender will remain constant all through the entirety of your equipment financing term. Typically this is just one of the many ways that we are able to provide the most value to restaurant business owners through direct financing.
If you would rather take the path of commercial gas range financing through an online lender, then you are probably wondering how our program works. For starters, no matter what types of restaurant you own, there is a good chance that we can help fund your company's needs. With 100-percent financing with flexible payment plans and no down payments, we are confident that you will be able to get the funding with ease.
Our funding process requires less paperwork and lets restaurant business owners work directly with our loan specialists. Contrary to indirect financing, our commercial gas range financing for restaurants program ensures that your application is never justify to an automated machine. In fact, every equipment financing or leasing application that Top Financial Resources receives is reviewed by an experienced loan specialist that is committed to helping you get funding for your restaurant, if possible.
What really sets us apart from banks and other online lenders is that we use a risk-adjusted business loan pricing model, which can help us better the qualifications of clients, no matter their credit ratings. So, if you are tired of being denied financing from banks, then you should need to talk to the friendly professionals at Top Financial Resources today.
Reach out to the friendly professionals at Top Financial Resources today at 1-(800)-260-5126 to learn more about all that our Garland M43-3S financing program. We are constantly working to help businesses grow by providing them with the working capital and equipment financing that they need to succeed. Whereas we provide a number of different financing programs to choose from, we also have several resources on our website for your convenience. From our informative FAQ page to our handle financing and leasing calculator, we continue to offer the most inconvenience for all our customers. Visit our website today to get started.
Commercial Gas Range Financing Application Process
Apply for commercial gas range financing in three easy steps:
Step one: Fill out an application and provide an invoice from the seller or vendor.
Step two: Submit your lease and finance application, invoice, and bank statements. 
Step three: We can advise you within minutes with what we will need to move forward. Simply apply for commercial gas range financing and help you acquire your new or used Garland M43-3S to improve your restaurant's growth. Contact us today, regardless of your credit rating.
Commercial Gas Range Financing Vs. Leasing
Suppose you are planning on starting a small or medium-sized restaurant and are lacking the financing to operate your restaurant without any hang ups properly. In that case, you can benefit significantly from commercial gas range leasing through a professional lender. If you are not familiar with equipment leases and what they entail, you might think that leases are the same as loans. Nevertheless, this could not be further from the truth. In fact, there are many differences between loans and leases, which we will outline below.
Receiving funding for a restaurant can sometimes be difficult, mainly if you do not process the credit needed to be approved for your Garland M 43-3S financing. We understand that you might be hesitant about applying for an equipment lease, which is why we work with all of our applicants directly and help them get funding in less than 24 hours after being approved. If you are interested in applying for a Garland M43-3S lease, but would first like to know more about how it is different from a loan, keep reading.
Restaurant Equipment Financing And Leasing Rates
When applying for a Garland M43-3Slease, you might be wondering what type of rates you will have to be mindful of during the term of your lease. Luckily, leases do not operate in the same way as loans and will rarely require an adjustable-rate to be set in place. Alternatively, when applying for a Garland M43-3S loan, you will most likely have to agree to floating rates that fluctuate monthly.
Financing Amounts
Those business owners that are looking for complete financing for their restaurant's Garland M43-3S will be relieved to learn that leasing is drastically different from loans. Many times, when applying for an equipment loan, you will be required to have a down payment that is equal to a section of the item's total value. Nonetheless, when leasing a commercial gas range for your business, you can finance up to 100-percent of the machinery's total value. This is mainly useful for small restaurant business owners that have limited capital to allocate towards equipment costs.
Approval
One of the main differences between Garland M43-3S loans and leases is the time it takes to get funding after filing your application and getting approved for financing. Generally, it is not uncommon for loans to take weeks before they are approved. However, with leases, you are able to get full funding in less than 24 hours after your application is approved. As such, leasing is a great way for restaurant owners to receive the funding they require without having to wait for several days to become approved.
These are just some of the reasons why equipment leasing is generally more suitable for small restaurants that are looking to get funded faster. If you would like to know how to get funding for your restaurant or would like to view every industry and type of equipment that we fund, simply visit our website and then click on the apply button. To speak with one of our friendly loan specialists about submitting your Garland M43-3S lease or finance application with Top Financial Resources, simply call 1-(800)-260-5126 or write to us at [email protected] to get started.
What Type Gas Range Is Eligible For Commercial Gas Range Financing?
Any gas range that is used for commercial purposes is eligible to lease or finance. Here are master series duty ranges similar to Garland M43-3S:
Garland M43-1S Master Series Heavy Duty Range

Garland M43FTT Master Series Heavy Duty Range

Garland M43-3T Master Series Heavy Duty Range

Garland M43-2T Master Series Heavy Duty Range

Garland M43-1T Master Series Heavy Duty Range

Garland M43S Master Series Heavy Duty Range

Garland M43T Master Series Heavy Duty Range