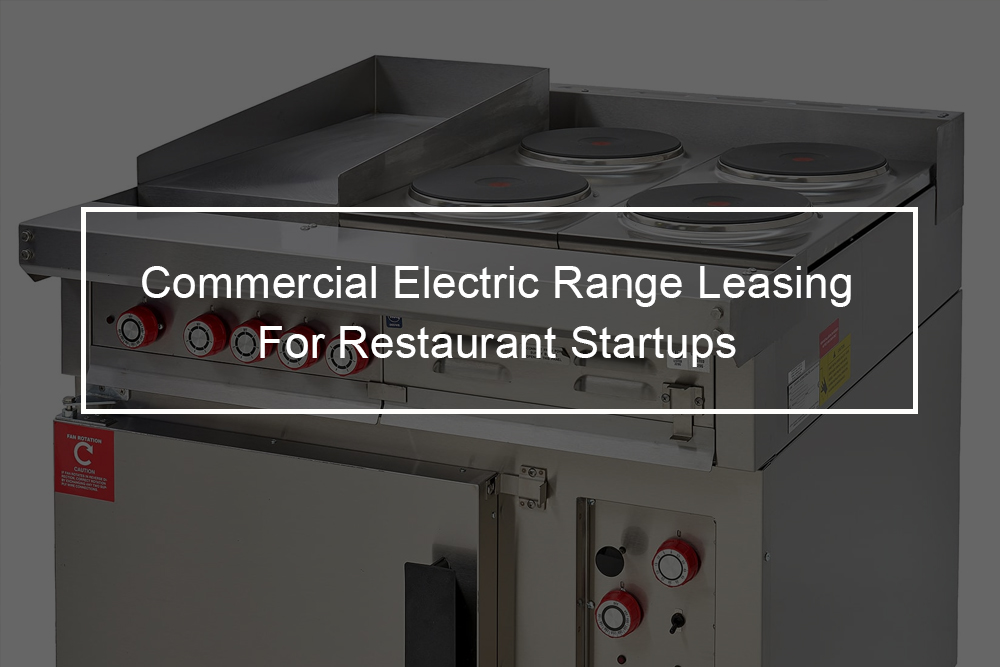 If you need an R30S-ATBM commercial electric range for your restaurant startup, Top Financial Resources can help. We are a direct independent lender, providing restaurant equipment financing and leasing programs for small and established businesses. Regardless of your credit, we strive to continue our successful track record of approvals; we say yes to financing you when other lenders say no. 
Commercial electric range leasing services can be better than buying the equipment with cash since you can conserve onhand capital for more uses like hiring more employees. Moreover, you can be able to lease the electric range you need for less, without fear of it becoming obsolete. After your lease ends, we give you the option to buy the equipment. In fact, many restaurants in the US currently use some kind of financing to acquire the equipment they require. Working directly with Top Financial Resources and Leasing services ensures you receive competitive rates and excellent customer services. Keep reading to learn how to finance Lang R30S-ATBM.
---
Lang R30S-ATBM Overview
R30S-ATBM is a restaurant range from Lang manufacturing. This electric unit features (one) 12" hot top, (two) 8" French plates, standard oven base with (three) rack positions. It also features (one) oven rack, 150 to 450°F solid state thermostat with one-hour timer, 430 stainless steel exterior, 2" vented stainless steel stub back, and flanged bolt-down legs. R30S-ATBM comes with a grab bar, sea rail, two-piece hatchable construction, and is UL Marine and NSF certified.
Features & Benefits Of Lang R30S-ATBM
 1″ High range top backstop

12″ High aluminized steel cooking compartment

150°F to 450°F oven temperature operating range

2 3/4″ Wide full-width front grease trough, grease drain, & spillage drawers

3/4″ Thick hotplate

4″ Adjustable legs with bolt-down flange standard

Compact 30″ wide range incorporates a half-size oven

Hatchable two-piece design allows movement through 26″ x 66″ watertight hatch

Heavy-duty 430 series stainless steel exterior insulated on all six sides

Heavy-duty hinge-down oven door with latch

One center rack guide with chrome-plated rack

One Hour timer with alarm

Seal rails and full-width front-mounted grab bar

Two three-heat switches for the oven for the bottom and top elements
Lang R30S-ATBM Dimensions
Depth: 32.6 Inches

Width: 30 Inches

Height: 41.7 Inches
---
What Is A Startup?
Restaurant startups (in the leasing world at least) indicate any company that has been in business for less than two years. Two years is a magic number for most business financing since most restaurants that fail do so in the first two years. 34-percent of restaurants fail within the first two years, and from years two through six, another 22- percent of businesses fail, and the number drops off sharply after that. So, if you are new in business, that is awesome, but note that equipment financing will cost you a bit more and for a really good reason. Within that two-year time frame, here is what you can expect as far as being able to qualify to lease Lang R30S-ATBM.
If you have a good credit score:
If you have a decent credit score, you can usually be approved for commercial electric range financing, even if you started your restaurant last week. The rates will be nowhere close to what you would pay if you had been in business for ten years, but they are not outrageous. The particulars of new business equipment financing vary based on the kind of equipment you are leasing and your credit profile.Commercial electric range is typically one the easiest kitchen equipment to lease for a restaurant startup since this kind of collateral retains value better than most other types of restaurant equipment that you could finance. Having said that, however, usually, if your business and situation make sense, it doesn't really matter what equipment type is.
If you have a fair to poor credit rating, can you still finance equipment as a restaurant startup?
If you have collateral or some security deposit or a reasonable down payment, you can usually borrow the money. The amount of money you will have to come with to make the transaction safer for the lender varies tremendously and is dependent on your situation and what kind of equipment you are buying. We have had business owners with horrible credit purchase equipment from 25 years ago with a 25-percent down payment, and we have had restaurant startups with decent credit purchasing new commercial equipment have to come with 100-percent collateral, so the answer is, it depends. However, the more common the collateral, the easier it is to finance.
---
Looking Into Restaurant Equipment Term Loans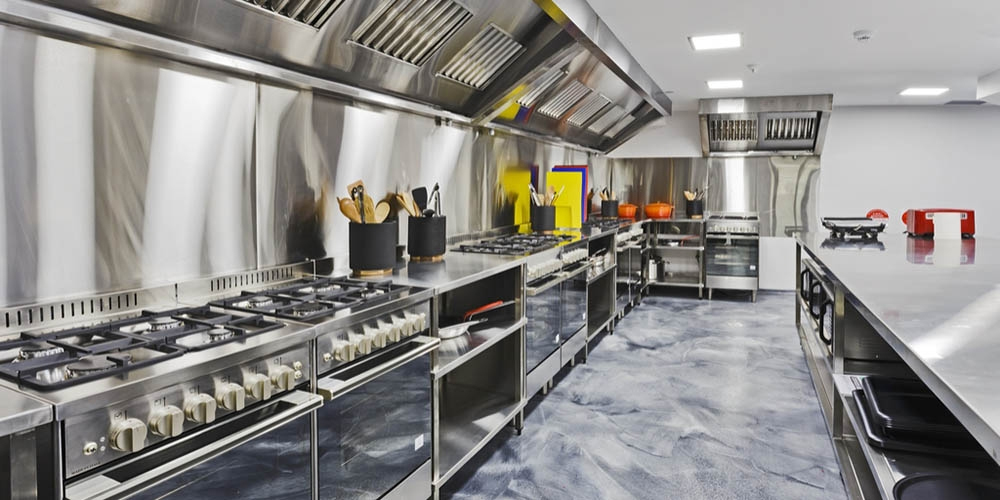 Generally, a term loan is a financial loan that requires you to make regular payments over a set term. It is common for term loans to last for ten years, but 20 and 30-year loans are accessible. When you are obtaining a loan like this to finance commercial equipment, it might also be described as an equipment loan. Typically term loans include unfixed interest, which indicates the total balance you will be paying will be higher than the value of the commercial electric range you are buying. There are many factors that can affect your term loan's interest rate, incorporating your credit rating, the value of the appliance you are financing, location, the current lending market, and the term of the loan.
If you are able to make a down payment on the equipment you are purchasing, you will be able to lower the amount of your loan, which indicates both your payments and your interest rates will be higher. Putting down a significant downpayment can also make it easier for you to secure a term loan when your credit is poor or a startup.
Whereas some lenders will not offer term loans to borrowers with bad credit or startups, there are lenders like Top Financial Resources that are inclined to work with people with significant credit issues. Banks have a tendency to have more stringent lending standards and might not be inclined to approve a loan for valuable commercial equipment. As a result of this, you might find that working with a private lender is a better option.
There are many options for commercial electric range financing with bad credit and startups. If you need to buy Lang R30S-ATBM and secure some kind of loan, you should take the time to look at the different financing options available to you. Make sure you are able to buy the equipment that your restaurant needs.
What Are the Potential Challenges When Seeking Lease/Finance for your Restaurant Equipment?
Although leasing a commercial electric range is lucrative and will assist you in getting the necessary appliance for your commercial kitchen, there are many things that you need to be aware of while applying for commercial electric range leasing.
Here are some challenges to aware of:
Get all the information before signing, including the final cost of Lang R30S-ATBM. Due to the systems put in place by financing companies, you should make sure that you have all the payment information before signing anything for your commercial electric range lease. It is vital to read all the fine print on the restaurant equipment leasing documents.

Approval vs. proposal: Be aware of the difference between an approval and a proposal. What you might think is an approval letter from a restaurant equipment financing and leasing company could actually just be a proposal for your commercial electric range leasing. It is definitely not very ethical; however, some equipment leasing companies are out there just to get your money instead of giving you a good deal on a restaurant equipment lease. In such cases, if you have agreed with the proposal, the company can come back and charge you a larger monthly amount instead of what is stated in the proposal.
Which Commercial Electric Range Can I Lease As A Startup?
Generally, you can lease any commercial equipment. If you are looking for a commercial electric range, here are other restaurant ranges in Lang R30S series that you might want to consider:
Lang Manufacturing R30S-ATF Restaurant Range

Lang Manufacturing R30S-ATE Restaurant Range

Lang Manufacturing R30S-ATD Restaurant Range

Lang Manufacturing R30S-ATB Restaurant Range

Lang Manufacturing R30S-ATA Restaurant Range

Lang Manufacturing R30S-ATC Restaurant Range

Lang Manufacturing R30S-ATFM Lang® Marine Restaurant Range

Lang Manufacturing R30S-ATCM Lang® Marine Restaurant Range

Lang Manufacturing R30S-ATDM Lang® Marine Restaurant Range

Lang Manufacturing R30S-ATAM Lang® Marine Restaurant Range

Lang Manufacturing R30S-ATBM Lang® Marine Restaurant Range

Lang Manufacturing R30S-ATEM Lang® Marine Restaurant Range
Final Thoughts On Lang R30S-ATBM Leasing For Restaurant Startups
With commercial electric range leasing, you will get to finance 100-percent of the equipment's cost with a flexible plan that suits your budget. Include shipping, taxes, installation, and warranty. You can even get working capital added onto the same commercial electric range lease term. Add working capital up to 25% of the restaurant equipment cost to your contract. At Top Financial Resources, a leading restaurant equipment finance company, we are dedicated to helping you get the financing required for your equipment promptly and efficiently. We create value for all of our customers by offering tailor-made leasing and financing options that speak directly to their restaurants' needs.
Top Financial Resources wants to help you as a restaurant business owner access the funding you need to secure the equipment you need. Our team comprises expert analysts who will leverage our unique position within the commercial equipment lending community to obtain your restaurant's best options. We service restaurants in any stage of development with understanding and expertise- Prior bankruptcy? New Business? Bad Credit? Established Restaurant? Contact us; we can get you the Lang R30S-ATBM leasing or financing program with the best rates available.