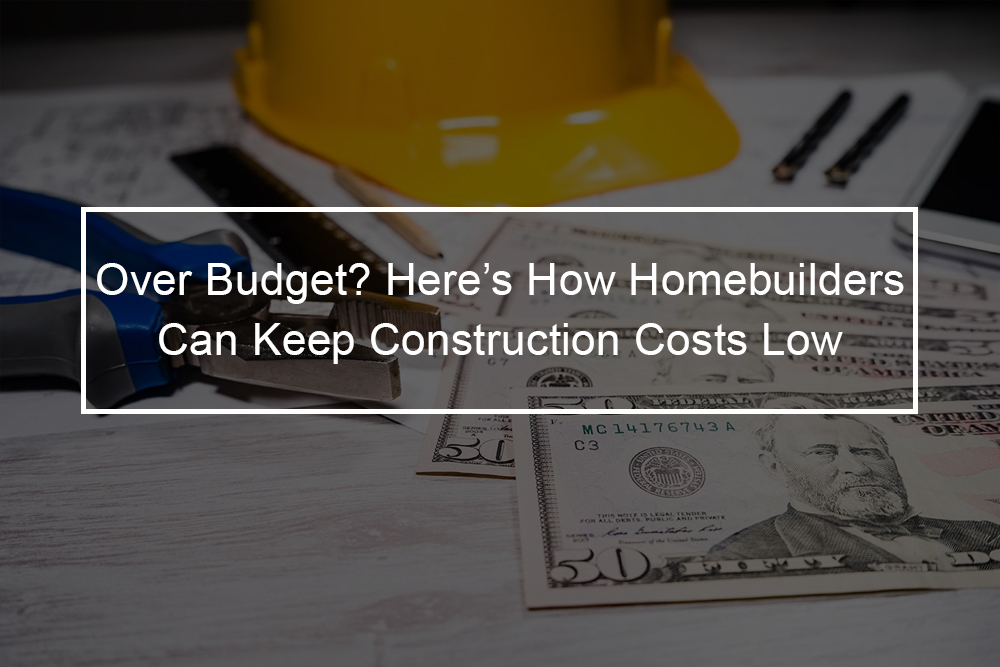 There are many ways to save money and to spend money when building your home. If you want to save, you have to know what is essential to you and save during the process. 
---
Tips that might help you keep your building budget within reason, without compromising on the home you want
Shop around
When looking for who will build your house, it is good to shop around and get a few different quotes to compare the costs. For instance, with architects, their fees can vary considerably depending on style, demand, and experience. You may find a specific architect that you love that is more costly than the other options. Maybe it is worth it for you; however, chances are a more expensive architect is also used to working with higher budgets, so your entire build might come up even more costly. 
Do not skimp on the essential things
There are various things that you should not try to cut costs when you are in the construction stage. For example, if you live in a state with insanely cold winters, then it could be a very costly mistake to skimp on proper heat trace systems for water pipes, as you could end up with pipes freezing over, burst and have to be replaced. This is a very costly job to do after a house is already constructed. 
Consider problem lot
Consider a narrow, hillside, or in-fill property. Typically, these kinds of lots are not as desirable as others, so they do not sell as fast and often go for a much lower price. However, with the right plan and a capable contractor, however, a potentially difficult lot may be perfect for your new home. 
Choose a canal lot instead of an ocean
If you must have a waterfront site, you can choose a bay or canal lot instead of a lakefront or ocean property. These choices are usually inexpensive but still water accessible. Besides, they offer great protection against inclement weather.
Space planning knowledge 
Use space effectively (rectangular or square floor plans will be economical) and also follow fewer corners on exterior walls. Corners increase the cost of labor and material in every phase of the construction process. 
Value of using a professional
If you are building the home yourself and are not an experienced builder, you are taking a significant risk with one of the most substantial assets most people ever own. Architects and builders have knowledge concerning rules, codes, and materials. Thus hire an experienced architect who is aware of locally accessible material. Find a good contractor who can save construction costs by managing and working on market finishes and rates construction without any rework. Ask your architect to recommend the best one; they are usually on your side. 
Source the materials yourself
If you have an architect or project manager managing the materials, you may find that you end up paying more for this luxury. If you have the contacts and time to source things yourself, you can save a considerable part of your materials bill if you source what you need directly. Usually, you can even negotiate a bulk deal for a lesser price per piece. If you are going to have someone else do everything for you, that will come with a higher price tag. Talk to your project manager to see if this is an option for you to save money. 
Buy low maintenance building materials
Cementitious or vinyl siding and metal roofing, for instance, are low maintenance building materials. Even though they are somewhat more costly at installation, they will pay for themselves in the long run since they will not have to replace, repair, or repaint. 
Collect salvaged materials from demolition sites
Distinctive wood doors used bricks, and old barn wood adds inexpensive character to a home without the expensive cost. Most times, you can have the materials at no cost, as far as you are willing to haul them away. Just make sure you check first with the owner of the building being demolished.
Consider reusing materials
If you are using wood in your home, then there is a good chance that you can find and use second-hand wood. It is a great way to give character to your home, whereas also keeping costs down. Check out websites such as Craigslist to see what is available in your area. While hunting for some gems to reuse, you can also look at some bargains for second-hand furniture. If you have the patience and time, it can be fun to snag a good deal. 
User simple method and materials
Usually, the more you know, the more confused you get. The more choices you find out about, the more money you will think you will have to spend to get it right. Use the same flooring in all the rooms, similar tiles in all the toilets; this will reduce wastage and save cost because of bulk buying and optimization on labor input. The fact is that if a system or a product is widely and commonly used across the industry and the country, there will be more people providing it, and there will thus naturally be more competition on price. 
Plan and budget for the construction
More planning equals less guesswork. Note that time is money, and in building and designing a new home, planning reduces lagging time. Lack of information leads to increased labor costs and loan interest. Improve time usage by detailed planning and budgeting of the project. Before starting any work, plan everything smartly. 
Avoid change orders
The changes in blueprints or materials that invariably happen amid the building process not only do they cost more money but also they add considerable frustration and time to the building process. Decide exactly what you want before your ground is broken- and then stick to it.
Do it yourself, not unless you can't 
Whether you are a die-hard-do-it yourself or just handy with a paintbrush, you can possibly choose a few of the activities on the construction to-do list. Contractors make an average of $18 to $25 for one hour, so when you do some of the work yourself, you save all of those labor costs. The key is to be realistic about what you can do. 
You are the only one who understands what your skills are. If you can do something yourself, it can save you a bundle; however, if you do not know what you are doing, there is a chance you will end up paying more to have a contractor fix your errors. Certain things, such as installing a toilet well, are more complicated than they might seem. Plumbing mistakes, in particular, can be very costly to fix, because leaks can cause water damage that you have to pay for on top of the cost to have things plumbed well.
Go green
The cost of construction incorporates what will cost you to occupy the finished space, so take efficiency into account. If you can save money monthly on energy and water bills, you can return on the up-front investment for things such as double pane glass windows or beefed up insulation.
Efficiency goes beyond structural features. If you are remodeling your kitchen, consider replacing your appliances with WaterSense models and Energy Star. For example, in Georgia, if you replace your old freezer or fridge from the early '90s with an Energy Star model, you can save around or more than $100 annually in energy costs. Even simple eco-friendly choices such as water-efficient fixtures in the bathroom and kitchen can help you lessen your utility bills and make that construction project work well for you. 
If you are really serious about saving on energy bills, you can also look into alternative energy options for your renovation, such as solar panels, solar hot water heater, or home wind turbines. Remember, you do not have to power your entire home with alternative energy to see savings. 
Consider prefabricated homes
Prefab homes have come a long way. Whether you are contemplating new construction or building an addition to your home, a prefabricated house might be the way to go if you are looking to save money. Modern prefab homes can be well-built, downright stunning, and energy-efficient. Companies such as Rocio Romero or Method Homes provide high-end prefabs that look great and can save you money over new construction.
Based on your location, you might be able to build with reclaimed shipping containers. A bigger part of construction expenses is to enclose and frame the structure, and shipping containers essentially enable you to skip a lot of those steps. The trick with a shipping container is to get a contractor who knows how to work with them and ensure your area's building codes allow you to use them.