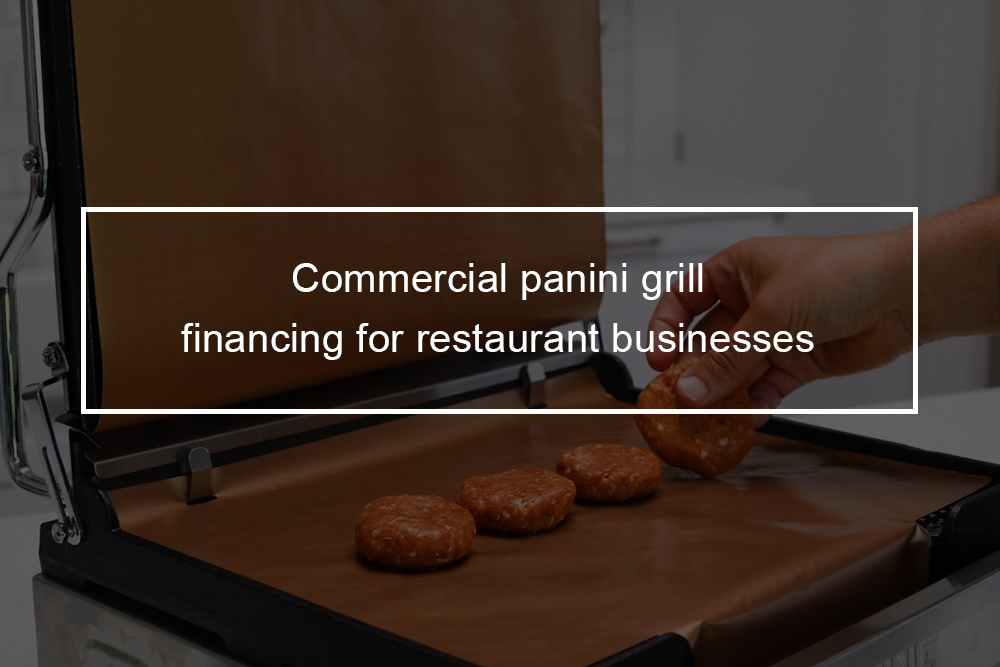 You need reliable restaurant equipment to run a successful business. Buying a Star PST7E commercial panini grill can be a significant financial decision.When making purchasing decisions, it is vital to understand the economic effects that different financing methods have on your business's financial condition- whether you finance, lease, or pay cash.
---
Star PST7E commercial panini grill overview
PST7E is a Pro-Max 2.0® Sandwich Grill designed by Star. It features a 7.5″ W X14.2″ D smooth aluminum cooking surface, low profile, removable grease drawer, and stainless steel exterior. This panini grill also comes with a performance torsion spring hinge with an ergonomically curved handle, non-skid feet, and electronic 175°F-550°F thermostat controls with timer. Star PST7E cULus, UL EPH Classified.
Standard features of the Star PST7E commercial grill:
Water-resistant conduit and heavy-gauge oil protects electrical connections

Smooth, grooved, or combination smooth grooved/ bottom-top cooking surfaces

Multiple control options – analog temperature with or without a digital timer, or electronic.

Heavy-duty spring hinge system tested to millions of cycles for a lifetime of durable, problem-free operation

Cast iron or aluminum cooking surfaces

3″ (76 mm) "flat landing" opening accommodates the largest sandwiches with consistent contact and heating
Options and accessories of the Star PST7E commercial grill:
Smooth, grooved, or combination smooth bottom/grooved top cooking surface

Single plate or split top for two-sided use (14″ only)

Electronic temperature control and timer or electronic timer only

Aluminum or iron cooking surfaces
---
When should you think about acquiring a new commercial panini grill?
Your current panini grill needs repair or becomes outdated

You want to expand the services or product you offer

When you start a new project

If you are experiencing growth in your restaurant
Adding a panini grill can be a good decision if you have continuous steady business growth, and you expect the growth to continue. You might also have to acquire a new grill to accommodate a new customer or project or if you might change your current services. Replacing obsolete or broken down machines can lead to increases in efficiency, capability, and productivity.
What should you consider when financing or buying a commercial panini grill?
When making the decision to buy a new commercial grill, the urgency of the need and the demand for the current appliance are essential factors to consider. Understanding these issues will assist you in determining which acquisition option makes the most sense: rental, lease, or purchase. There is no clear-cut plan for determining which acquisition method is best for your business, but knowing your equipment and restaurant requirements will help you assess your best options and terms for financing and leasing equipment.
A few essential factors when contemplating financing a panini grill:
How long do you anticipate to own the appliance?

What is the expected utilization of the equipment- number of service hours?

Does the loan amortization or equipment lease payment meet your goals for potential resale or trade-in value?
When deciding on an equipment loan, terms, amortization, and loan duration are important factors to consider. Comparing the amortization of the equipment loan to the depreciation of the appliance will help you determine the best finance terms for your appliance acquisition. To figure out the best options for your circumstances, answer the following questions:
What will the remaining payoff amount be at varying intervals (48 months, 36 months, or 24 months)?

At those intervals, what will the grill be worth? Consider the use application, hours of service, and maintenance for each.

How do these values compare? Figure out whether you would be in a negative or positive equity situation at each interval.
---
Long Vs. short term business needs
Many concentrate on their short-term cash flow needs and monthly payment amount when making restaurant equipment financing decisions. Whereas a longer loan term can lead to lower monthly payments, you might want to contemplate a shorter repayment term for your loan instead. Even if the monthly payments might be slightly higher, a shorter loan term can allow you to save a significant amount in interest. Generally, this can have a much better long-term financial effect than a slightly lower interest rate or monthly payment. There is also the added advantage of building equity on your appliance much faster. You might then be able to use that equity to support borrowing extra capital for your restaurant or to obtain new equipment. When deciding on the terms of your equipment loan, some other items to think about are:
What balance between current cash flow, cost savings, and accelerated equity best meets your restaurant goals?

What is a reasonable payment range that works for your restaurant cash flow?
Restaurant equipment financing rates
For some restaurants, monthly payment, liquidity, and cash flow are most important. For others, interest rates and the cost of borrowing (the amount paid over the loan lifetime) or building equity is a priority. Generally, a longer payment term with lower monthly payments can help restaurants who are concerned about maintaining cash flow liquidity. If your desire is to pay off the loan sooner and lower borrowing costs, then a shorter equipment loan term with higher monthly payments is a better choice.
---
Buying a new Vs. used Star PST7E grill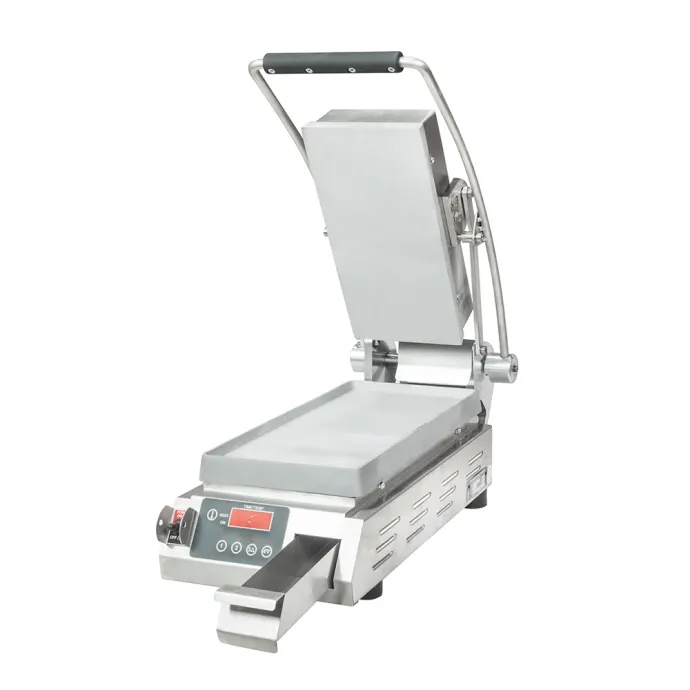 Whereas new panini grills come with the latest and most up-to-date features, they usually also come with sizable price tags. Based on the type of equipment and business needs, sometimes a less costly used machine might be a better option.
New commercial panini grill frequently provides:
Lower maintenance costs

Improved features that increase your restaurant productivity and throughput

Increased efficient energy use and capability
Old commercial panini grill benefits include
Immediate availability

Lower depreciation compared to a new appliance

Reduced cost of acquisition compared to a new appliance
As you evaluate various restaurant equipment options, understanding your business's requirements, goals, and challenges can help you determine if a used or new item is the right choice for your restaurant. The right financing partner can provide options for either kind of investment.
---
Who should I choose to do my Star PST7E financing?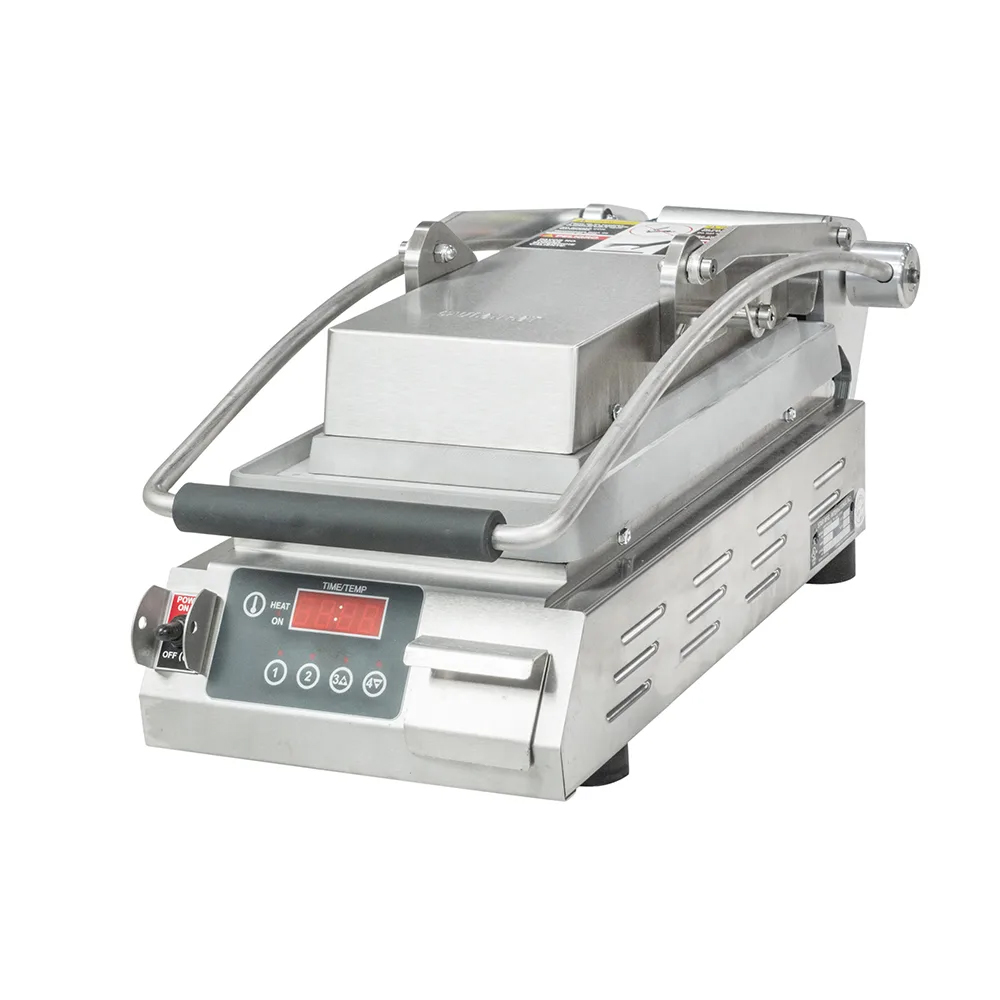 It can be challenging to find the right finance partner when there are so many types of lenders for restaurant equipment financing:
Credit unions

Banks

Independently-owned finance companies

Captive finance companies (finance units of equipment manufacturers)

Online lenders
Choose a financing partner that speaks your language
Top Financial Resources offers many kinds of restaurant equipment financing, including used and new equipment purchases, existing equipment refinancing loans, equipment leasing, working capital loans, and debt consolidation. We are experts in restaurant equipment and understand the specific industry that relates to service businesses.
What makes Top Financial Resources different from other restaurant equipment financing & leasing companies?
We think differently about restaurant equipment financing and leasing. You are not just a number or another customer to us. We understand that money and time are two of the most valuable assets a business owner has. When you finance or lease with To Financial Resources, you get a local representative and an industry expert who will meet you wherever and whenever is most convenient for you. This kind of the personal point of contact will support you all through the loan process and offer exceptional customer service for years to come. Since we are experts in restaurant equipment, our team is able to provide clear information about your panini grill financing options and loan structures. When making recommendations, we look at your full business story and consider current industry conditions.
As a Top Financial Resources' customer, you will enjoy the following benefits:
An easy and fast qualification process

Supplementary cash-out loans (working capital)

Coverage all through the United States

Refinance and debt consolidation options

Flexible terms suited to your specific needs

Adjustable payments to account for seasonal cash flow

A fixed interest rate for the life of the equipment loan
As your loan partner, Top Financial Resources looks at your full story. Your collateral, character, and cash flow all play into our credit approval, and we want to help make your restaurant successful. We aim to be a resource and educate our customers on all your options. We help you understand and match your financing terms to your needs and provide you the best financing solution for your restaurant.
Commercial panini grill finance solutions for your restaurant
Top Financial Resources partners with you to finance the cost of buying a new or used Star PST7E, providing working capital to fund your business operations. As your restaurant needs and goals change and grow, we are here to support you. Let our able team of restaurant equipment financing experts tailor custom financial solutions for you. Our restaurant and foodservice industry expertise, specialized equipment knowledge combined with our commitment to exceptional customer service, and years of practical experience mean you have a financial services provider who is dedicated to assisting you in growing and succeeding in your restaurant. To get started, apply for panini grill finance or lease by filling out our online application. The application process is short and takes only a few minutes to finish, and you will get a funding decision within the same day as the loan application.