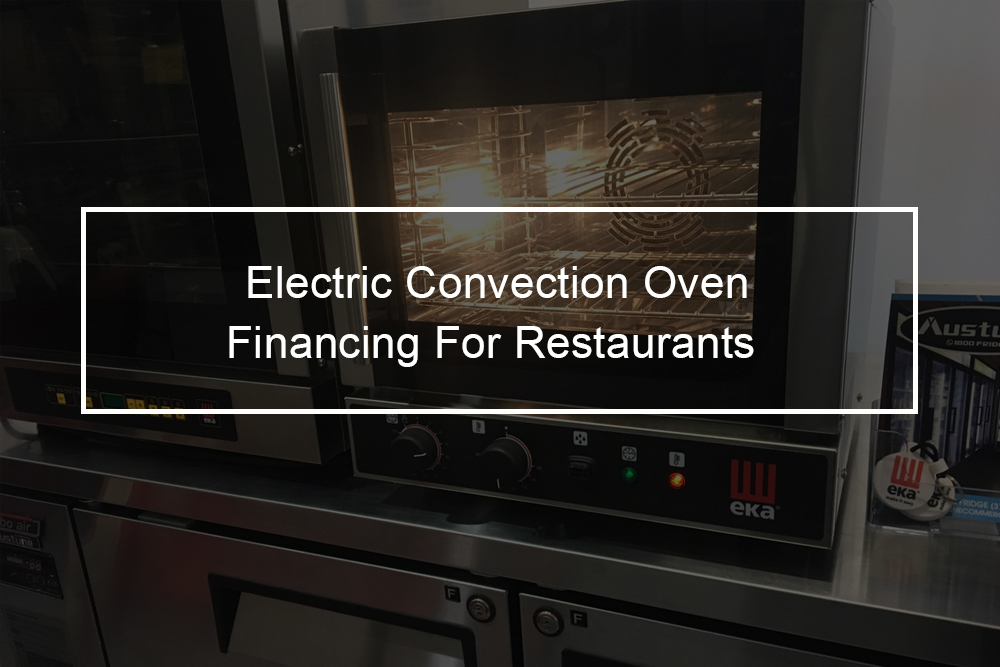 You have taken your recipes, time, and passion and combined them to build your dream business. Being in a restaurant environment can be fulfilling yet challenging and costly. If you are looking to buy a new or used Tecnoeka EKFA 412 AL electric convection oven, Top Financial Resources is here to make your purchase easy. At Top Financial Resources, we have various lending programs and can easily finance the equipment you need. If you would like to apply for an electric convection oven loan, contact us today at 1-(800)-260-5126.
---
Tecnoeka EKFA 412 AL Electric Convection Oven Overview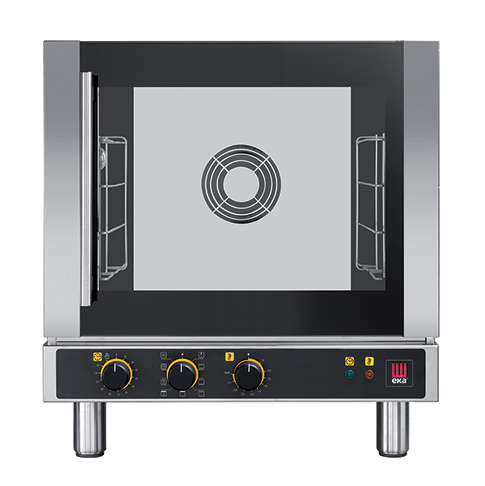 Tecnoeka EKFA 412 AL is an evolution convection oven. This electric unit features (four) 13″ x 18″ half size sheet pan capacity, manual controls with steam injection option, infinite or timed cooking modes, and 200° to 500°F temperature range. It also comes with one multi-directional fan, interior lighting, a single right hinged door with dual pane glass window, stainless steel construction, and four wine racks. Tecnoeka EKFA 412 AL cETLus, ETL-Sanitation certified.
Tecnoeka EKFA 412 AL Electric Convection Oven Specifications
 (4) 13″ x 18″ grids included

 Bi-directional fan

 Bottom control panel – manual

High-efficiency motor and fan

High-performance oven insulation

Internal glass designed to facilitate easy cleaning

Internal halogen light

Lateral supports for four trays at 2 29/32 "pitch

Recessed door gasket

Side-hinged, dual-paned glass door

Stainless-steel cooking chamber

Temperature range 200 ° F to 500° F

Timed or infinite cooking mode

Maximum cooking capacity in a small space
---
Electric Convection Oven Financing Explained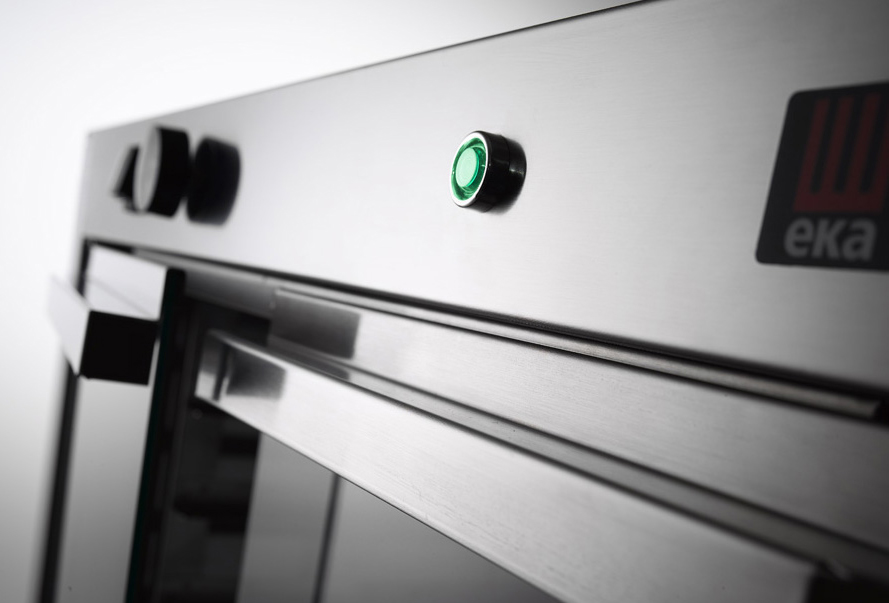 Starting a restaurant can be challenging- and so can getting funding. There are several things that can give you an advantage with lenders; a large down payment, a solid credit score, proven restaurant experience, and a substantial amount of collateral.Finding the right financing company is one of the most crucial decisions you will make when assessing the funding accessible available to you. It is important to assess your options to determine which product will best suit your business needs.
The expenses needed to make your restaurant modern and efficient usually come with a large price tag. To make your dream of that twelve-burner cooktop a reality or Italian pizza oven, you might require extra funding to cover the upfront costs.
By chance, there are special loans for restaurant equipment. Restaurant equipment loans are a type of restaurant business loan explicitly crafted to cover your restaurant's cost of equipment purchases. The money obtained through an equipment loan will only cover the cost of Tecnoeka EKFA 412 AL and taxes. Any extra costs like handling, delivery, and installation will need to come out of your existing profits. Restaurant equipment loans usually come with a fixed rate, enabling you to plan your payments accordingly. Because they span an average of three years, you have time to see a profit on your investment that helps you repay the debt.
Equipment leasing is also another way to finance your electric convection oven. You will pay a fixed amount every month to use the equipment that you will not own till you pay the lump sum at the end of the lease. Typically, this can be a viable option for funding restaurant appliances, but the ability to pay a lump sum toward the end adds some risk to this financing option.
Why take advantage of electric convection oven financing and leasing?
By having the right appliance, your restaurant can significantly increase its sales and productivity. Adding appliances will often let a business broaden its services, enabling a business to reach an expanded or new customer base. The equipment a restaurant puts into operation reflects the company and the sense of professionalism and quality provided. Financing your commercial convection oven offers a more sustainable method of adding production assets than buying the equipment outright when considering how rapidly evolving technology could considerably devalue your investment in a matter of just a few years.
Top Financial Resources restaurant equipment financing and leasing terms offer very flexible options that will not stress the restaurant's cash flow, as most payback terms run between 24 and 72 months. Besides, in the case of leasing, buyout options are available, as well as the ability to add machinery to your lease at any time.
Compared to the average business loan, commercial convection oven leasing provides the following benefits:
Tax-exempt leases 

Competitive terms and fixed pricing to fit your business needs and the business cycle

No down payment, with the option to buy the oven at the end of the lease

Customized leases and loans for both new and used equipment

Tax-free loan payments if the supplier is not required to collect tax
Where can I get an electric convection oven loan for my restaurant?
Conventional lenders tend to view restaurant loans as risky investments. Some might require you to demonstrate everything from relevant hospitality experience and a solid credit report to a strong business plan or even 20 to 30 percent of your desired business loan amount in cash.
At Top Financial Resources, we want to help you cut through the red tape to get the restaurant equipment loan or lease you need. Top Financial Resources small business loans are available through a fast, simple application that is fully automated. Provide us with basic data, and we will review your restaurant performance right away to give you access to the funding you need- up to $250,000.
---
Why choose Top Financial Resources?
There are many restaurant equipment financing and leasing lenders on the market, but not all understand the foodservice industry. We know the entire market and can help acquire restaurant equipment financing with competitive rates for your business.
Flexible funds: You decide when to utilize your funds and how much to take. As far as you have available funds, you can withdraw every time you need capital.
Transparent terms: Top Financial Resources loans have simple, monthly payments with no origination fees or prepayment penalties. You can assess your payment schedule before taking a loan, so there will not be any surprises.
Simple application process: Securely link your business information online to get an automatic financial review. This allows us to evaluate your business right away without the need to track down your financial statements.
Convenient access: You can apply for funding from your computer, using your mobile phone, or visiting us at our offices. You can also contact us at 1-(800)-260-5126 or email us through [email protected].
Trusted by thousands: Top Financial Resources customers have securely obtained the funding they need. We are certified for our commitment to customer privacy.
Personal services: From applying to managing your account and making the most of your capital, our financial experts are here to help when you need them.

We offer funds for any equipment. Moreover, we have up to 100 percent loan to value available, reduce monthly outgoing, and get low rates funding the assets.

Our services are free: We make no charge of any kind when we help you find the loan or lease you need.
What other electric convection ovens can I obtain funding at Top Financial Resources?
Competition is fierce in the foodservice industry. You always need to weigh the advantages and drawbacks of every decision- and the same goes for your restaurant financing. Fortuitously, our team is there to help you obtain the restaurant equipment you need, including:
Tecnoeka EKFA 412 D AL UD Single Deck Electric Convection Oven 

Tecnoeka EKFA 412 AL M Single Deck Electric Convection Oven

Tecnoeka EKFA 412 D UD Single Deck Electric Convection Oven

Tecnoeka EKFA 412 UD Single Deck Electric Convection Oven

Tecnoeka EKFA 412 M Single Deck Electric Convection Oven

Tecnoeka EKFA 412 AL Single Deck Electric Convection Oven

Tecnoeka EKFA 412 Single Deck Electric Convection Oven

Tecnoeka EKFA 412 S1 Single Deck Electric Convection Oven

Tecnoeka EKFA 412 S2 Single Deck Electric Convection Oven 
Alternatives to restaurant equipment financing
Here are some of the alternatives of funding methods you can use to acquire Tecnoeka EKFA 412 AL:
Restaurant-specific loans
 Restaurant-specific loans generally are offered by banks and other traditional institutions. Your business can use a restaurant loan for any financial needs like buying new equipment, hiring seasonal staff, or restocking and remodeling. The loan's size will determine the loan term and interest rate; the larger the business loan, generally the longer the terms and lower the interest rates.
Small business loans
 Alternative business loans might be an option for restaurant funding. Top Financial Resources is one source of business loans that thousands of growing restaurant business owners use to purchase equipment, hire help, expand, invest in marketing, among other uses. This capital source can provide the upfront funding required without the associated troubles of dealing with long loan application processes and difficult qualifying criteria. In the fast-paced restaurant environment, having money in five minutes instead of months or weeks can make a big difference. At Top Financial Resources, we are happy to support the small business community and those working in the food service industry. Generally, small business restaurant loans from an alternative lending platform such as Top Financial Resources can help support your company by providing capital for your immediate business needs and setting you up for success in the future.
Merchant cash advance
For a fast short-term fix to your restaurant financing, a cash advance can be the solution. This restaurant funding solution is considered a last-case scenario if you require a quick boost to get your business through a particularly demanding billing cycle. When revenue suffers from seasonal patterns, when your electric convection oven decides to quit on you without warning, or when you want to get the dinging space redecorated, that is when merchant cash advances come in handy. The amount your restaurant is qualified to receive in the form of a cash advance typically depends on your credit rating.