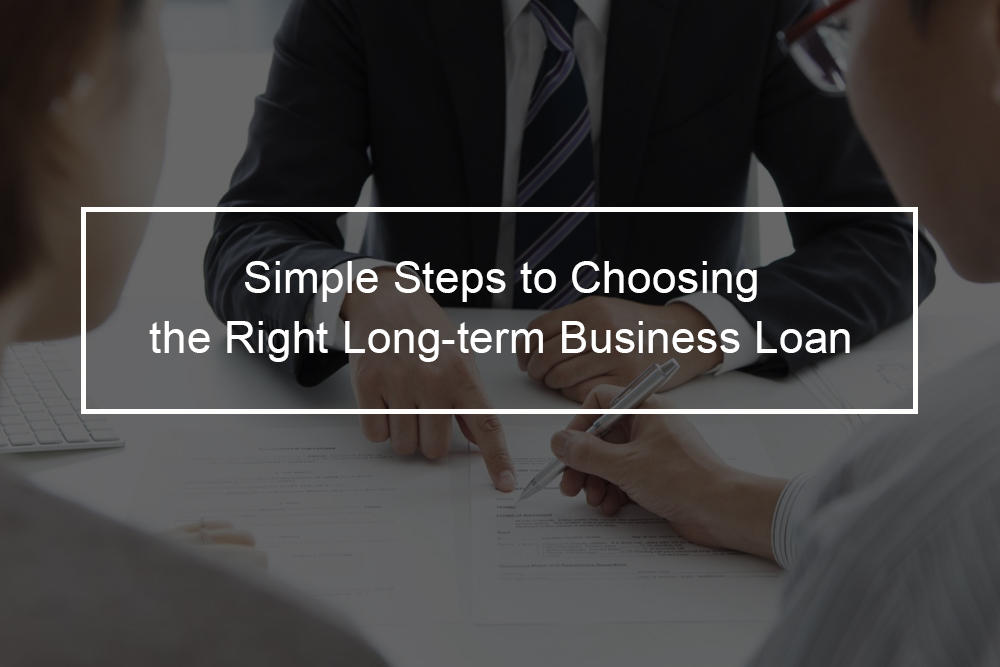 So you have chosen to take the next step with your business, and you will apply for a long-term business loan to help you get there. While there are several things you have no control over the process, one big one is pretty much to you: the provider, or in other words, the lending institution. This post will center on how to choose the right long-term business loan and outline where to look for long-term business loans.
---
How does long-term business loan work?
Before we look at the steps of choosing the right long-term business loan, let us briefly view how these products work. First and foremost, a loan- term business works like any other kind of business loan- where a lending institution provides you with a fixed amount of capital that you have to pay (with interest0 over a set duration. Contrary to short-term loans, which generally have terms up to one year (sometimes as long as eighteen months), a long-term business loan is characterized as any loan with a twelve-month repayment period.
Eventually, there is no official industry standard for what qualifies to be long-term loans, and thus, you will sometimes see loans with repayment periods between one to five years as medium-term loans. Typically, the terms of a long-term small business can range (often depending on what you are using the money for), reaching up to a twenty-five year repayment period. Due to their lengthy repayment period, long-term business loans generally have lower rates and are suitable for financing business growth, making large purchases like equipment or real estate, and refinancing existing debt.
Even though the specifics will vary depending on the individual product and business lender, typically you can expect long-term business loans to have:
Interest rates: About 4 to 30-percent, banks will offer the lowest rates.

Loan amounts: With online lenders, often up to $500,00, but bank and SBA loans can reach $5 million.

Qualifications: Excellent credit and financials, and a few years in business; banks will have stricter qualifications compared to online lenders.

Collateral: These loans often require collateral like real estate or other assets, and a personal guarantee.
---
Choosing the right long-term business loan?
Look for lending institutions that are flexible and inclined to negotiate payment terms. When comparing long-term business loans, keep the following factors in mind.
Lender reputation 
You may have better luck with a lending institution you are familiar with; however, pay attention to online reviews- many lenders new to the market have glowing reviews. Figure out if the lender is part of any other financing groups related to your business needs and evaluate if they are recognized nationally by any magazines or awards.
The loan processing speed
Typically long-term loans take longer to process, and if you are looking into an SBA loan, you can expect processing times to take many weeks.
Repayment term
Consider payment terms that are suitable to your business's revenue. Some lending institutions need weekly or daily repayments that can disrupt your cash flow, mainly when business is slow.
Find out how flexible the lender is
You already know that banks are not exactly the most flexible entity when it comes to long-term business loans. They often expect borrowers to have stellar credit, a lot of collateral, and long business history. They might not necessarily fund super-expensive equipment, either. Generally, the lender you work with should provide some level of flexibility to make the lending process as hassle-free as possible.
Compare lenders
Do not just look at one lender. Instead, find a few of them and make some solid comparisons. What is their average interest rate? How long are their long-term loans? What programs do they offer? The best lending institutions are those who score a ten out of ten in all areas of question.
Figure out how much money you need
Long-term business loans come with lots of sizes, so you will need to decide just what you need. And in spite of what you might think, the answer is not how much money you can get, but remember you will have to repay whatever you borrow. And a larger loan will possibly mean bigger payments, which can harm your cash flow. Besides, most lenders calculate interest and other fees as a percentage of your loan amount. A big business loan will come with higher fees. So, if you borrow the money you do not require, you will end up paying for that excess amount. On the other hand, you should ensure you do not get a very small loan. The last thing you need is to come up short on cash in the middle of an expansion project, for instance. Choosing the wrong size of the loan is one of the most common mistakes business owners make when applying for long-term business loans. Try to choose the right balance: large enough to cover your expenses; however small enough to stay manageable. 
Be honest with your creditworthiness
You have narrowed down to your choice by this point, but you need to get real about what type of loan you can actually get. Just because you need a $500,000 long-term loan, it does not mean a lender wants to give you one, after all. You will have to meet specific business loan requirements.
Lending institutions will consider many factors since they evaluate your creditworthiness. For instance, they might ask questions such as:
Have you ever declared bankruptcy?

For how long have you been in business?

What is your annual revenue?

How is your business credit?

What is your personal credit score?
A conventional lender will possibly need a specific set of answers to these questions (think: no, five years,$200,000, perfect, 780), whereas alternative lenders will have varying requirements. To choose the right long-term business loan, answer these questions honestly, and look for lenders that can offer you a loan within your qualifications.
Fees
Find out if lenders charge application fees or late fees for missed payments. If you are sure you can repay your loan early, choose a long-term loan provider that does not charge a prepayment fee.
Decide on the lender and loan
After you prioritize your business needs, you can decide on a lender and a loan. After that, fill a loan application and make sure you collect any relevant documents (like articles of organization, bank statements, tax returns, etc.) to speed up the procedure. If your loan application is successful, then it is time to use your funding to build your business. However, if you are denied, do not give up; there are many loan options out there. You can always apply from another lender or choose another type of business loan.
---
Best 5 long-term business loans
Whereas the best depends on your business's unique situation, these lenders can help businesses that are facing all kinds of financial needs.
Funding Circle
This a peer-to-peer business lender that provides a range of repayment terms to meet most budgets. It has a term length of 0.5 years to 5 years. When you come to the loan amount, you can acquire $25,000 to $500,000 based on your qualifications.
SmartBiz
SmartBiz is an SBA lender that also provides non-SBA bank term loans at affordable rates. Their term length varies from ten years to twenty-five years. You can acquire a loan amount of $30,000 to $5,000,000.
National Business Capital
National Business Capital is a lender and connection service that can match you with various loan terms you are looking for. The loan amount can be anywhere from $10,000 to $5,000,000, while the term length can vary from 0.5 years to 10 years.
Chase
Chase is a popular bank for business loans that provide lines of credit, SBA loans, and other financing types. Their loan amount varies from $5,00 to $500,000, while the term length can be anywhere from one to seven years.
Capital one
Capital one is a big-name bank that might have strict requirements; however, affordable repayment terms. The term length of the loan can range from one year to five years, and the loan amount is as low as $10,000. Generally, a long-term business loan features lower monthly payments, longer-term lengths, and larger loan amounts. In most situations, you should only pursue a long-term business loan if you have a substantial business expense that needs a large loan and might take years to pay off fully.
Before settling on the long-term business loan, it is essential to look at your situation objectively. Long-term business loans can offer the funds required to make excessive use of market opportunities and to grow your business. At the same time, these loans come with their own shortcomings and create risk if not chosen wisely. Ensure you consider these factors, so that you make the best decision for your small business.