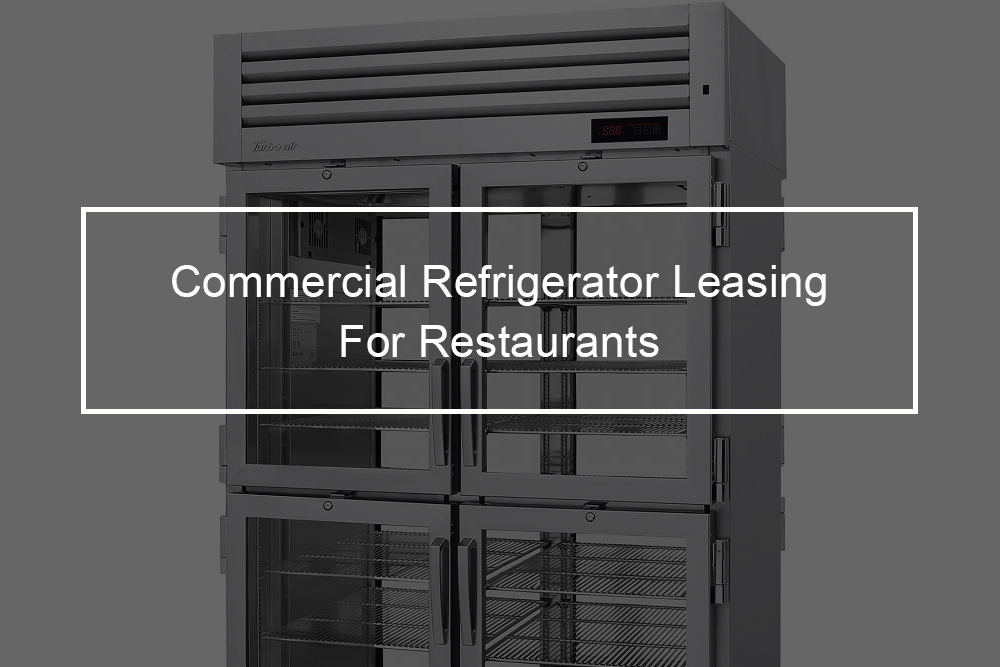 Looking for the US's lowest Turbo AirPRO-26R-GSH-N commercial refrigerator leasing program? Why choose expensive restaurant equipment leasing deals? With experience in catering equipment leasing and financing, we are confident in offering you the most competitive commercial refrigerator leasing rates.
Upgrading the equipment in your restaurant is generally put off for many reasons, but the main reason is because you, as the restaurant business owner, might not be able to afford it. Leasing a commercial refrigerator is the best option for you. All businesses need income to survive. Having proper cash flow management is vital when it comes to the important elements of success, regardless of whether your business might be a single restaurant or a chain. Leasing a commercial refrigerator can be easier than buying a new commercial refrigerator. Leasing will ease the process of getting the Turbo AirPRO-26R-GSH-N without having to spend a large amount of money at once.
---
Turbo AirPRO-26R-GSH-N Description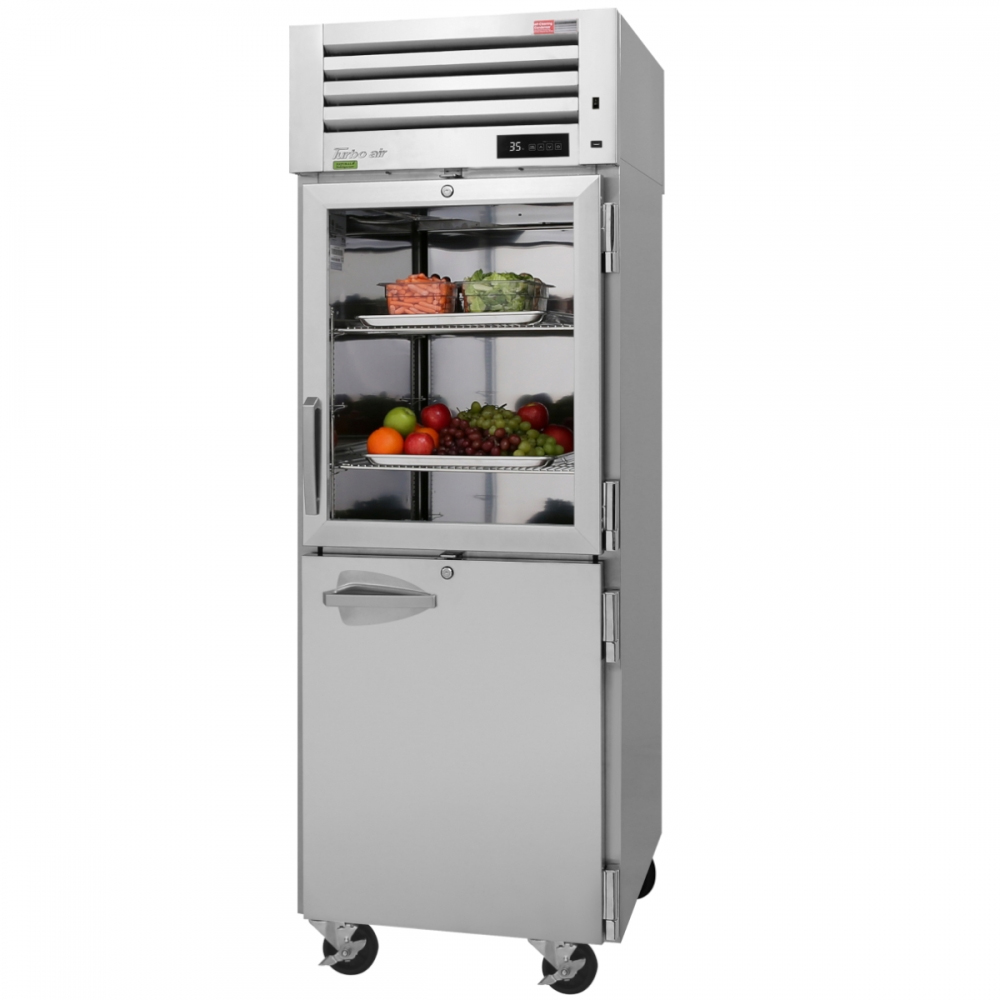 The Turbo AirPRO-26R-GSH-N PRO Series refrigerator is a split door unit with 25.15 cu. Ft. of storage capacity. The top door has a large glass window to easily view items inside, while the bottom is a solid, fully insulated door. The refrigerator's interior is made from durable and simple to clean stainless steel, including the three shelves. The sides and the door are also made from stainless steel, which is simple to maintain and will last for a long time in a commercial environment. The back, top, and back feature rugged galvanized steel construction. All corners and edges of the unit are rounded for safety.
The internal temperature is clearly visible from outside the refrigerator with the digital display. If the door is not appropriately sealed, operators will be alerted with an audible alarm to prevent spoiling food. Should the Turbo AirPRO-26R-GSH-N start to malfunction, a fail-safe system will alert the operator to prevent mass food spoilage. The unit features a 1/ 2 compressor that provides efficient cooling in conjunction with the foamed-in-place high-density insulation. The refrigerator utilizes 7.0 amps of 115v/60/1-ph power at full load. 
Standard Features and Benefits Of Turbo AirPRO-26R-GSH-N
 All stainless steel cabinet construction

Built to maintain NSF standard temperatures in 100°F ambient

Cold air distribution system

Digital temperature control and monitor system

High-density polyurethane insulation

Hot gas condensate system

Hydrocarbon refrigerants (R-290)

LED interior lighting

Lifetime guaranteed heavy-duty handles and hinges 

The refrigerator holds 33°F ~ 38°F for the best in food preservation

Self-Cleaning Condenser

Sturdy, clean stainless steel shelving

Thermostatic expansion valve

Top mount compressor
Other Features Of Turbo AirPRO-26R-GSH-N
Standard door locks

Self-contained system

Solid and sturdy grille design

Anti-corrosion coated evaporator

Easy replaceable one-piece magnetic door gaskets

Standard 4″ dia. swivel casters that have locks on the front set
---
What Is Commercial Refrigerator Leasing?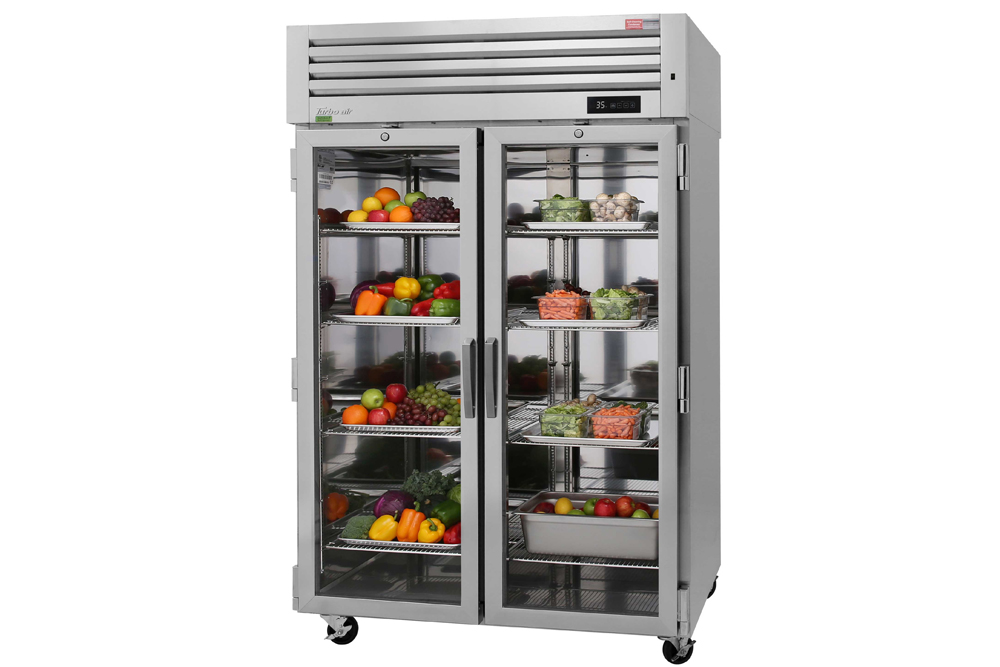 Commercial refrigerator leasing is a vital tool for all businesses in the food service industry- not just restaurants- looking to grow and finance restaurant refrigerators, especially when the current normal adjustment is so fragile. It allows you to agree to a fixed-term agreement with you to lease brand new or used equipment without a big outlay in capital expenditure, instead of paying for your item with tax-deductible operational expenditure.
Equipment leasing agreements are generally marked by securing the contract against the machinery alone and with regular fixed-amount payments that do not impact other business credit lines and banking relationships. Repayments are tailored to be taken over the useful life of the machinery. Leasing is ideal for equipment that primarily reduces costs or increases revenue, indicating an immediate return on investment.
Why Should I Choose Commercial Refrigerator Leasing?
There are many reasons why equipment leasing is a much better alternative than paying cash for a new refrigerator. Below are some of the reasons why: Instead of utilizing your hard-earned and precious cash, pay for your machinery over the term of its useful life. This makes repayments much easier to budget. Leasing contracts usually have minimal or no deposits. You will start to use your new Turbo AirPRO-26R-GSH-N, rather than when you can afford to buy it. By utilizing operational expenditure, you can write off your leasing contract's total amount against corporation tax.
Top Financial Resources has compiled this useful guide to Turbo AirPRO-26R-GSH-N leasing to help end-users reach an informed decision on how they might consider investing in a new commercial refrigerator for their business. Top Financial Resources also offers you with a number of extra benefits that you may not receive with other restaurant equipment leasing companies:
Leasing contracts are very simple to arrange, and you usually get an answer within 24 hours

Choose the terms of repayment to suit your own business

Clarity regarding the end of lease from the beginning

Select between flexible options at the end of the agreement, upgdare, keep using the refrigerator, or simply return it

We presently operate with a 92-percent acceptance rate

New start foodservice businesses and restaurants given real consideration
What Kind Of Refrigerator Can I Lease?
Whether you are looking to lease a single or multiple refrigerators, we promise to react faster and help you acquire the machinery you need as soon as possible. It does not matter to us if you are an established restaurant or a startup; we will do our very best to offer you the same great level of service. Top Financial Resources provide leasing for you to access finance for:
Turbo AirPRO-50R-GSH-N Reach-In Refrigerator

Turbo AirPRO-50R-N Reach-In Refrigerator

Turbo AirM3R24-1-N Reach-In Refrigerator

Turbo AirM3R47-4-N Reach-In Refrigerator
What Is The Process Of Acquiring Commercial Refrigerator Leasing?
The leasing process is simple, with a fast approval process. You are able to access a large selection of leasing programs to find one that is suitable for your restaurant. From there, just go through the lease application process, go over the terms with a loan specialist, sign the contract, and when you are finished. After you have been accepted, your refrigerator will make its way to you through a fast shipping process. You will have the leased AirPRO-26R-GSH-N for a fraction of the price when compared to purchasing new equipment.
Now you may be wondering what documents do I need? In many cases, finance is approved on your company's registration numbers or name, so no extra information is required. However, for your reference, here is some additional information we might request. This can sometimes help manage expectations when, for instance, we request personal bank statements if the restaurant is new. Do not panic if you do not have all of this information available; it is only to guide what we might ask you.
Cash flow forecasts

Details of premise location

Permission to a credit search

Bank statements (recent three months)
Should you have been in business for three years or more, finance is often approved on your company's name or registration numbers. You might have to provide us with your three months of recent business bank statements and a copy of recent management accounts.
Commercial Refrigerator Leasing Application Process
With Top Financial Resources, the process is very simple. Generally, leasing contracts run like this:
Step One: You make an application through our website. The application is simple and straightforward.
Step Two: Top Financial Resources provide an immediate reply to you with what if any information is required to secure the credit.
Step Three: We tailor a program that is suitable for your business
Step Four: You are provided with leasing proposals, which you are supposed to review, and after that, select and sign the lease arrangement paperwork.
Step Five: We co-ordinate with the seller or manufacturer to arrange delivery and installation of the Turbo AirPRO-26R-GSH-N (if selected).
Step Six: The contract then starts between Top Financial Resources and the customer. Payment of the first invoice will be made upon authorization of satisfactory delivery of the item.
What Are The Benefits Of Leasing Restaurant Equipment?
There is no doubt that you are much better off when it comes to tax benefits if you decide to lease. When you purchase the commercial refrigerator outright, even though you do get some tax relief, the amount compares unfavorably with the tax allowances on a lease contract; these benefits can be individual. Please call Top Financial Resources lease specialists at 1-(800)-260-5126 for more details of the tax benefits particular to your inquiry.
How Much Can I Borrow?
Whether you are replacing a single refrigerator or have huge set-up costs for a new start venture, we can help you get finance. We generally deal with businesses looking for finance anywhere between $ 1,000 to $250,000; however, we can just as quickly help you get $500,000 or more.
The Benefits Of Turbo AirPRO-26R-GSH-N Leasing Vs. Purchasing
You might be wondering whether or not it is cheaper to go through the process of leasing AirPRO-26R-GSH-N instead of buying, and if or not it will benefit you more.As discussed earlier, you can claim your leased commercial refrigerator on your taxes, which you would not be able to do if you bought it. For the standard lease solution, you are only required to make one payment in advance, and the fee for documentation before your lease agreement can start. This lets you begin profiting off of your leased commercial equipment immediately.
You will also get a credit decision for leasing a commercial refrigerator for the total maximum amount that we can finance almost instantly. This also indicates that no tax returns or financial reports are needed for leased business equipment, which would not be possible should you purchase new equipment instead. The final decision is yours; however, it is crystal clear as to why leasing Turbo AirPRO-26R-GSH-N is a better option, mainly when it comes to the income and stability for your restaurant.