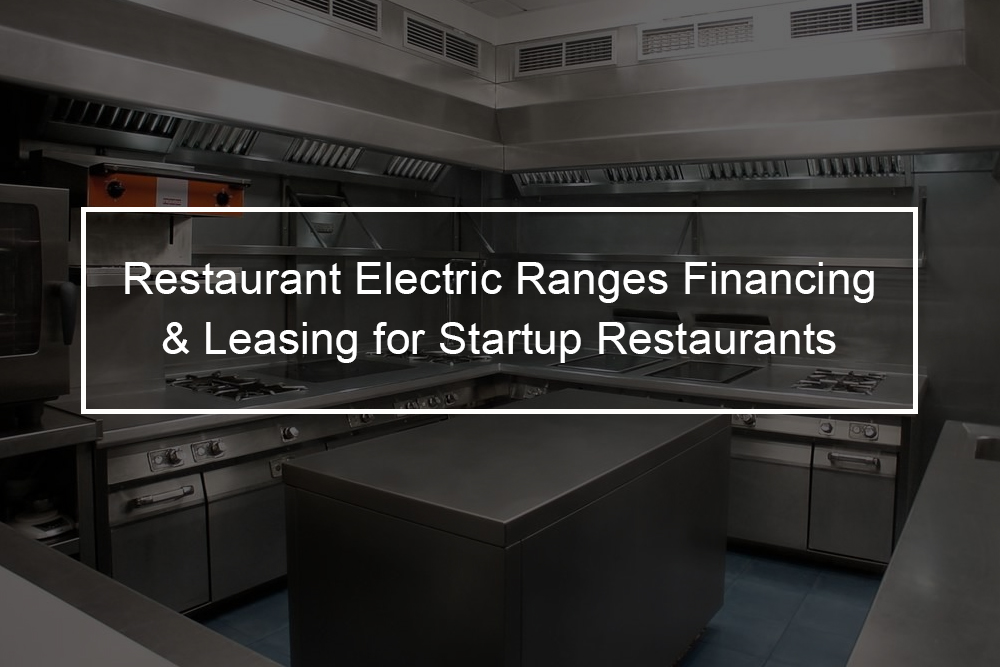 Whether you are looking to finance or lease Lang Manufacturing R30C-APC Restaurant Range, here is an ultimate quick guide to help you with the process.  As a business owner, you understand the significance of having the latest and greatest tools available to you. Having the equipment you need for your restaurant activities is the difference between success and failure as an entrepreneur.
Sadly, however, you also understand that the cost of obtaining restaurant equipment can be costly. Regardless of whether you are an emerging, a startup, or an established restaurant, buying equipment to meet your restaurant needs takes away required working capital. If you are looking to buy a restaurant electric range or upgrade an existing one, why not consider the advantages of restaurant equipment financing as a way to meet your electric range purchase needs?
---
Lang Manufacturing R30C-APC restaurant range description
Lang R30C-APC is an electric range with 30''W, (2) Hot Plates, convection oven base with five rack positions, and racks. It also features a 150-450°F solid-state oven thermostat with a one-hour timer and two-speed fans with pulse capability. The range comes with two vented stainless steel stub back, 430 stainless steel exterior and interior, NSF, 4″ casters,19.8 kW, and cULus.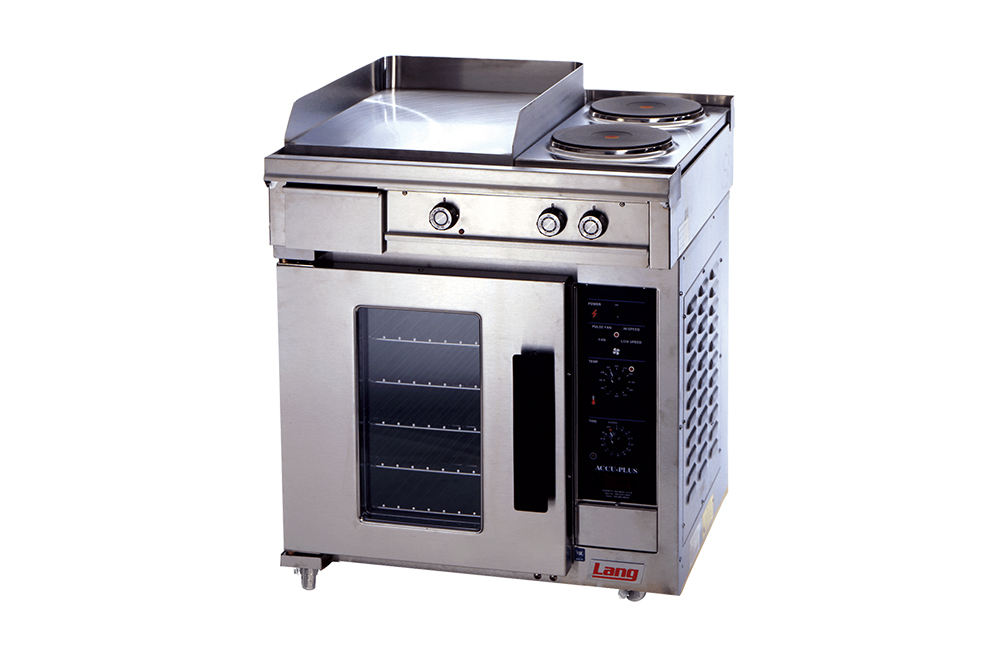 Construction features of the Lang Manufacturing R30C-APC
 1″ high range–top backstop

2″ insulation on six sides of the cooking compartment

2-3/4″ wide full-width front grease trough

4″ swivel casters standard

Cooking compartment is 430 Series stainless steel

Five chrome-plated oven racks provided

Grease drain in a trough with full width & depth spillage drawers

Griddle configurations include a one-piece splash guard, back & sides

Heavy-duty compartment door, with large double-pane tempered glass window

Nine position oven rack slide supports

One-piece heavy-duty 430 Series stainless steel exterior, with attractive No. 4 finish

Powerful blower centered on the side of the compartment
Performance features of the Lang Manufacturing R30C-APC
 Oven operating temperature range of 150 to 450 F

A Compact 30″ wide range which incorporates half-size convection oven with five 13 X 18″ pan capacity

Door interlock switch cuts power to fan

Full front grease trough, grease drain, and spillage drawers speed cleanup

Separate, independent controls enable simultaneous multi-function cooking 

A solid-state oven temperature control accurate to 4 F

Two-speed fan with fan pulse capability
---
How to finance restaurant electric ranges?
Restaurant equipment financing is a kind of business financing used to provide companies to buy the necessary restaurant equipment. The process offers you the funds you need to secure the purchase of required capital equipment for your restaurant. The electric range serves as collateral or security for the loan, indicating that you have continued use and access to the equipment as long as the loan is repaid on time. If a default should happen for any reason, the range will be used to secure the balance of the unpaid loan amounts and extra costs.
Restaurant equipment financing is different from leasing, wherein you pay the owner of the electric range periodic rent for the use of the equipment over an agreed-upon period. At the end of the leasing term, the appliance is returned to the owner unless you agree with the owner on buyout or renewal terms. Typically, the requirements for leasing are less stringent than for financing. Nonetheless, if the electric range is necessary for your restaurant, the endless payments on leased equipment without the prospect of future outright ownership might prove a more expensive option.
Qualifying for a restaurant electric range loan
Lenders will vary in their qualifications to acquire a restaurant equipment loan. The following are general requirements a lender will look at when making a credit decision; but, underwriting standards vary and should be assessed before choosing a lender to make sure you meet their minimum qualifications. Your personal credit rating will be a significant factor in obtaining an equipment loan. If you are not certain of your current credit score, you can find your credit score online. The higher your credit ranking, the higher your chances of getting approved, and the better loan terms you can expect.
Apart from credit rating, lenders might require your business plan that outlines your restaurant and a detailed proposal for your future growth. The basic aim is to provide prospective lenders with a comprehensive summary of your restaurant. The number of years you have been operating the restaurant and your business's annual revenue are essential factors to include within your business plan. Some lenders might have thresholds qualifications in this regard, like a minimum of two years in business with annual revenues not less than $250,000.
Beyond a statement of revenues within your business plan and a loss and profit statement, lenders' applications might require a cash flow statement and a balance sheet. These should identify the revenue coming into the restaurant and the expenses going out. These statements assist lenders in assessing the financial strength of your restaurant. Because lenders are also interested in a small business owner's personal finances, you should also prepare personal financial statements. Preparation of all pertinent application documentation is essential to help expedite the procedure. Hiring a qualified account in anticipation of applying for a restaurant electric range loan is advisable to ensure your finances are in order.
Restaurant electric range loan rates and terms
A restaurant equipment loan usually involves less time to apply and usually will get a quicker answer from the bank than a small business loan- usually within a few days of submitting a loan application. Alternative lenders also provide equipment loans. These lenders will also give you feedback on your loan request within a few days, offering a good option if you require the electric range fast. You might pay a higher interest rate when compared to a credit union or traditional bank loan but are likely to have a shorter repayment period- usually between six months to two years. Whereas terms from different lenders vary, most lenders will ask for a down payment, possibly twenty-percent for the loan. An SBA 504 loan for restaurant equipment will require a ten-percent down payment. As with most loans, the interest on the equipment loan is tax-deductible.
---
How Lang R30C-APC electric range financing benefits your restaurant?
Choosing to finance your electric range through an equipment financing arrangement makes sense for any restaurant, regardless of its size. Through this kind of arrangement, you have access to working capital required to meet certain ongoing expenses, like rent, payroll, and other recurring costs. Debt financing of your restaurant equipment, especially for equipment that becomes obsolete like an electric range in a short period, enables you to have the present use necessary to grow your restaurant and upgrade faster to newer technology to maintain your competitive advantage. The terms of your financing contract can be flexible enough to allow you to meet your restaurant's equipment needs continuously. However, if you opt for leasing, you should know that leasing can end up costing more than a loan in some cases. For instance, if you choose, you no longer need the electric range after a year, and your lease is two years, or even longer, you will need to continue making payments.
---
Working with an established financing intermediary
Top Financial Resources is a provider of opportunities to match restaurants, both large and small, with the financing required to run their business. We specialize in various loans and other financial arrangements to help you obtain equipment without disrupting your cash flow. Our solutions are crafted to get you the capital you require with as little drama as possible so you can go on with the important work of your restaurant. We provide equipment financing for credits all the way down to 500 credit score. All you do is provide an application and bank statements. We also provide short-term working capital loans for credit situations as low as 500. Do you have questions about restaurant equipment financing? Call us today at 1-(800)-260-5126 or visit us online.
How to apply for restaurant electric ranges financing?
Applying for restaurant equipment from Top Financial Resources is easy and should only take you about five to ten minutes. Just fill out our online loan application for the restaurant equipment loan, upload your vendor invoice at the end of the loan application and you are all set. After your package has been submitted, a Top Financial Resources equipment finance specialist will be in touch with feedback or, when necessary, to learn more about your restaurant. Your finance specialist will work with you to come up with a payment plan that works best for your business upon approval. You can also take advantage of our App-Only program for financing under $150,000. If your restaurant equipment cost and expense are below $150,000, the only paperwork needed is the completed loan application and the invoice from your equipment vendor. That is it- no extra paperwork will be required to qualify.