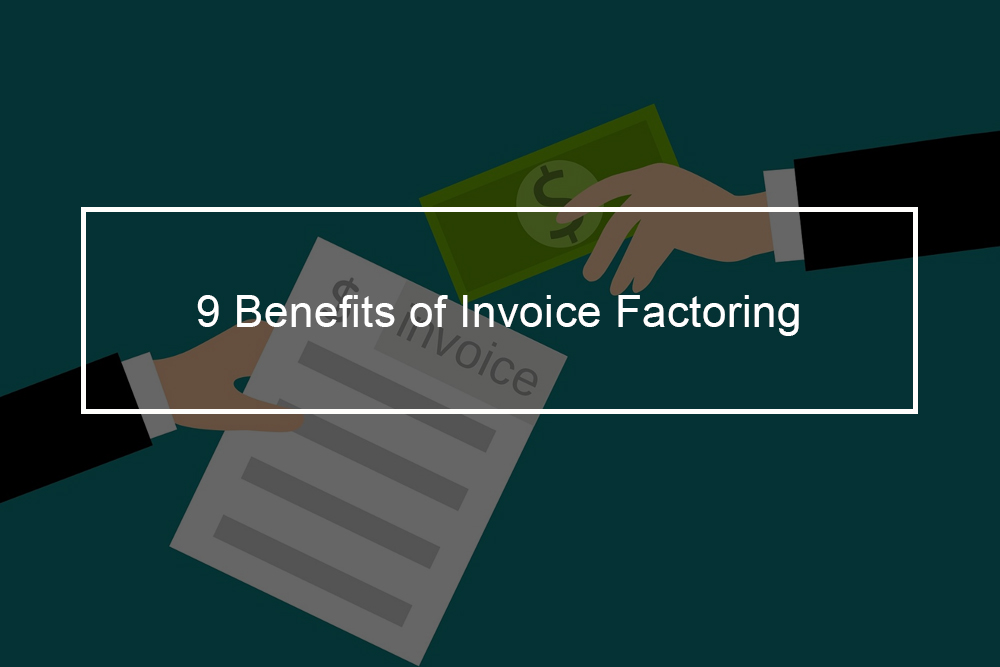 Invoice factoring is aimed at creating an increase in cash using the money that your customers already owe the business. The basic process of invoice factoring is simple. What you do is you sell your outstanding invoices to an invoice factoring company, which in return pays you around 80 to 90 percent of the invoice total. This lump sum of money will then be quickly sent to your bank account and immediately accessed and used as working capital.  The key point is that you will not have to wait up to 90 days for some customers to pay up. An invoice factoring company can give you the money in a matter of days. This is particularly helpful if you cannot afford to wait for cash for that long. 
A point to note is that the factoring company will keep anywhere between 10 to 20 percent of the invoice total as a charge for their service. In return, they give you the money, and it is up to them to collect the outstanding invoices from your customers.  Working with an invoice factoring firm can have a lot of benefits to a small business, but it also comes with some disadvantages. The heft factoring fee, for example, is it worth it? If you wait, you could have the entire invoice total. You need to weigh both sides to make a decision.
---
The advantages of applying for invoice factoring
Why your business may it factoring and where to get the best factoring deals
Factoring offers fast and easy access to money
There is a need for a business to maintain proper cash flow so as to finance its daily or weekly activities. This includes buying stock, paying employees and suppliers, as well as paying other business overheads such as utilities and rent. 
Cash flow problems are very common in businesses that offer their customers credit facilities. Things may get worse if the business allows for a relatively long time for the credit to be paid, or if the customers fail to pay on time. This is where the help of a factoring company may be needed. The business that needs a fast injection of cash can sell these invoices and get the money in a matter of days, whereas a business loan would require much more time and processes. 
Factoring helps businesses to grow
Steady cash flow is necessary if a business needs to flourish and grow. Invoice factoring has a huge impact on growing a small business. For starters, the business owner will not spend any time chasing after debtors and defaulters. Instead, they will focus on acquiring new customers hence growing the business.  Secondly, factoring gives room for the business to reward its loyal customers by providing credit facilities and extending credit lines. This is important if you are to keep customers who need credit.  Thirdly, factoring grows the business by providing finances that can be used to pay suppliers, thereby avoiding supply chain constraints.  And finally, as competitors are straggling with funding problems and fending off creditors, you can focus on marketing your business and growing it. 
Factoring is the solution to bad debts and late payments
Bad credits and late payments by customers can cripple even then bigger organizations. There is always the option of taking legal action against the customers and debtors who fail to pay their debts on time or the ones who are defaulting. However, this legal approach is costly for the business, as you will have to hire and retain a lawyer. And may also be a lengthy process.  An invoice factoring firm provides an easy solution in such scenarios. They have the right resources and professional personnel who are experienced in dealing with difficult customers or ones that are trying to avoid payment. 
You have a better chance of getting approved in invoice factoring
Invoice factoring is not like your typical business loan. Factors like loan history, credit score, and collateral do not come in play. What factoring companies usually focus on is the customers' payment history. Knowing how well the customer deals with debt gives the factoring company a good idea of the level of risk they are likely to face.  Therefore, if you have a low credit score or negative financial history that may keep you our of a bank loan, then invoice factoring offers a better alternative. 
You get better financial terms
Once again, traditional lenders like the banks have very rigid financial terms that can be very challenging, especially for small businesses. Most financial institutions prefer to work with established brands and companies when it comes to business financing.  Luckily, invoice financing is accessible even to small businesses that may face hurdles when dealing with mainstream financial institutions. The factoring firms do not look at the net worth of the business, but rather they look at the ability of the customer to pay outstanding invoices. 
Outsourcing debt collection and follow up
Keeping track of unpaid invoices and following up customers to pay their debts is hard work. It is frustrating and time-consuming. However, if you outsource this task to the professionals for a small fee, it will lift a lot of pressure. The focus will shift to the company and relevant responsibilities while the factoring firm does all the hard work. 
Cheaper factoring fees
The main reason invoice factoring was feared was the hefty fees the companies charged for their services. This cost, however, has drastically reduced over the years. The factoring fees vary from one firm to another, but in general, they ask for less than 5% of business turnover. The factoring firm also puts other factors into consideration, such as the time it takes customers to pay, the volume of the invoice, and the creditworthiness of the customers. 
No collateral required in invoice factoring
All other mainstream financial institutions always ask for collateral. Here, you don't have to worry about providing your car, equipment, real estate, or other expensive forms of collateral. 
Invoice factoring improves customer relationships
Debt collection can be uncomfortable, difficult, and frustrating. It may even lead to some conflict between the creditor and the debtor. When your business hands over this responsibility, then you avoid potential conflict with your customers. The customers will not see you are the bad guy. This can help maintain and grow a strong and positive relationship with your clients. 
---
What are the best factoring companies?
Who offers the best factoring services?
The following are the top-rated invoice factoring services in the industry:
altLine The Southern Banking Company: the overall best factoring service.

American Receivable: the best small business factoring service.

BlueVine: the best fast invoices factoring service.

Fundbox: the best startups factoring service.
If you want to know if a factoring service is the best or good for you, then they should not charge startup or terminations fees. Moreover, they should charge a very low percentage for their factoring services. You should also consider a factoring service that does not have an invoice minimum. The best factoring companies do not require a long term commitment; there are others that require up to 24 months of commitment. These factors go into determining the best factoring service for your business. 
altLine The Southern Banking Company: the overall best factoring service
altLine is an established lender that has been in the industry since 1936. They are a lending arm from The Southern Bank Company. Due to the fact that altLine is backed by a strong bank, it has unmatched authority in the factoring industries. It also offers the most competitive fees for their services. What makes altLine the overall best factoring service? Its the funding options available, the minimum qualifications, and the unparalleled reputation it enjoys. 
American Receivable: the best small business factoring service
American Receivable is up there with the best factoring companies. It offers excellent factoring services, no monthly minimums, and fast turnarounds. American Receivables was founded in 1979 and, therefore, can brag about its long and reputable history in the industry. Moreover, it has solid eligibility requirements and stellar features. It is the best small business factoring service because of its excellent customer support and the fact that it has no commitment minimums.
BlueVine: the best fast invoices factoring service
If you need cash in hand very fast, then you should probably consider the BlueVine factoring service. The fast cash, however, comes with steeper minimum qualifications in comparison to the competition in this list. This might limit small or new businesses from picking them. That said, if you meet their minimum requirements, then you can get your cash as soon as 24 hours later. That is how fast BlueVine is. 
Fundbox: the best startups factoring service
Fundbox is considered as the best invoice factoring firm for startups because it advances 100 percent of the invoice value and has few minimum requirements. The minimum requirements to access factoring services from Fundbox are very simple. Plus, they do not look at the age of your business or your personal credit history. This makes it the undisputed option for new business owners. 
---
Conclusion on the advantages of invoice factoring
As discussed, invoice factoring has many benefits. It helps your business grow and offers much needed financial relief. However, there are also disadvantages that should be looked at before signing up for invoice factoring. Your specific business might not need it, to begin with. Invoice factoring is very advantageous for business owners that need money very fast, have trusted clients that pay their debts and invoices without problems, and can afford to surrender a percentage of their invoice to the factoring company.