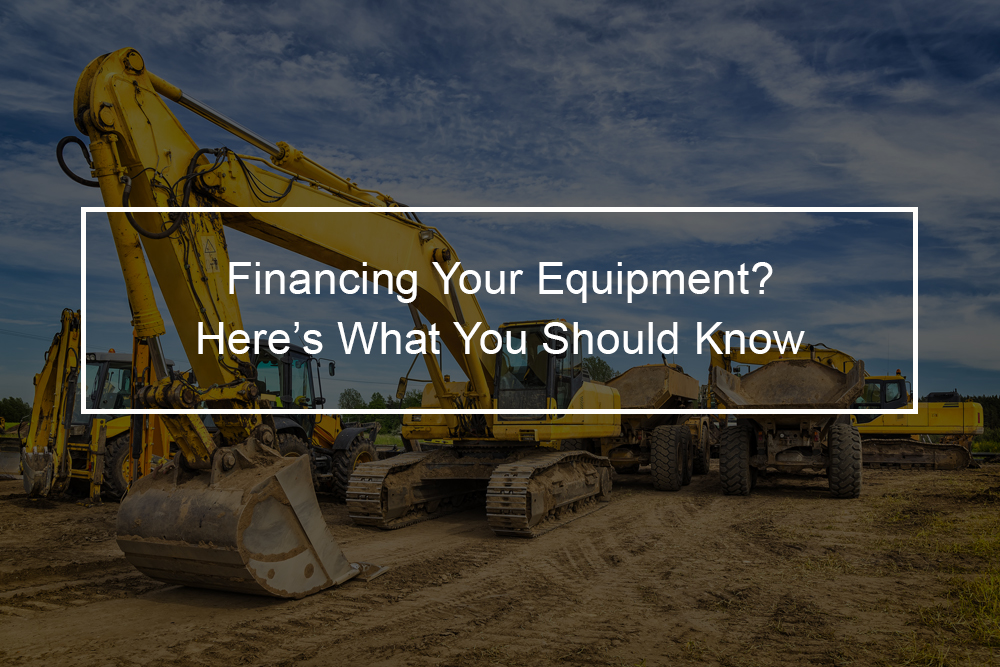 Be it desks for an expanding business office, latest dental X-ray machines, or ovens for a growing restaurant; most small businesses will face the need for new equipment. However, the often high expense of buying this equipment can create a fast need for cash, and an open question of how to fill that need. Even though your business has the funds to cover the capital expense, you may prefer to invest that money in other business sectors. As such, equipment financing loans can be a highly useful tool. Here is a rundown of what to expect when borrowing money for equipment financing.
---
What is equipment financing?
Equipment financing loan is one of the more unsung kinds of small business financing available. With equipment financing, a small business owner or entrepreneur works with a lender to finance a piece—or many pieces—of business equipment that you require for your company. This could be either used or new equipment—it doesn't matter.  Generally, there are several reasons why you would use equipment financing: first, if approved, you will be able to spread out the cost of paying for costly business equipment across a few years; next, it will allow you access to capital to make large gear purchases that you might not have been able to otherwise afford. You can also acquire an equipment loan using other small business financing types, like a term loan. 
What are the benefits and drawbacks of equipment financing?
There are many benefits to equipment loans. First, you do not need to have perfect credit and business financial history to get one. That is generally because the equipment itself acts as collateral for your loan, allowing lenders to provide funds to slightly higher-risk customers. Next, it is great on your cash flow because big equipment purchases usually take a substantial bite out of your cash flow, which can put your company in a crunch. Besides, these loans have less paperwork (unlike, for instance, SBA loans), which cuts down on the headache and allows you to move the process along faster. Lastly, most equipment loans are also made at fixed rates, so you do not have to be worried about not expecting the payments coming your way.
But of course, there are shortcomings, too. The first is that your equipment loan term will last as far as the equipment itself does. That indicates it probably is not a quick pay off, not unless you prepay your loan. Moreover, lenders will not want to extend a term past when the machinery is expected to be valuable, just in the event you default, and they have to liquidate your equipment. And, based on the structure of your equipment loan, some (not all) lenders might also need a UCC blanket lien in addition to the equipment that acts as collateral for the loan. 
---

An overview of equipment financing
Can be applied to used or new equipment

Allows you to finance up to 100-percent of gear or equipment you need for your business

Loan term lasts the expected life of the equipment (typically up to 10 years)

A borrower usually access financing quickly

Often "self-secured," or the equipment acts as the loan's collateral
Who qualifies for equipment financing?
So many business owners and entrepreneurs find equipment loans a great option for their business for many reasons (many of which we listed above).  But among them is also that the qualifications for an equipment loan are not out of this world—they are attainable for many small business owners, including ones without an outstanding credit history, or companies that have not been going for very long. As you will see, when you apply, different lenders have different qualifications for equipment financing. However, most ask for a good personal credit score and a fairly good history of revenue generation. You will also show them your bank statements when you apply for the loan(more on that in a bit), so they can assess your cash flow.
Minimum qualifications for equipment financing
Generally, here are what most lenders ask, including banks and alternative lenders for as minimum qualifications for equipment financing:
$100,000 or more of annual revenue

At least a year in business

550-600 minimum credit score
The biggest difference is with Small Business Administration loans, which typically only approve borrowers with great credit score, at least five years in business, and positive cash flow.
How long can you finance equipment?
Typically, an equipment loan lasts the life of the equipment you are financing. That is generally no shorter than three years, and no longer than ten (the term usually lands somewhere in the middle). The reason for the duration lasting the period that it does is for lender security—they want to ensure that the equipment they are financing still holds a value from a collateral standpoint. This period is meant to help in taking off some of the stress off of your cash flow. Buying a large piece of equipment (or multiple) can really reduce your operating margin, so being able to make incremental or monthly payments as opposed to spending a lump sum is a more favorable option for some business owners (even with interest figured in).
What are the equipment financing loans used for?
Equipment loans can be utilized to replace existing equipment or to purchase new equipment as your small business grows. In general, equipment financing loans are utilized to make large purchases of equipment that will retain their value, like big vehicles, such as semi-trucks, or even smaller purchases, like office furniture and computers. Here are some examples of common uses for equipment financing loans include:
Farm vehicles and equipment

Restaurant gear

Manufacturing equipment

Heavy equipment

Construction equipment
---
Equipment leasing vs. equipment financing 
An important distinction to understand about equipment financing is equipment loans versus equipment leasing. With equipment loans, you own the equipment outright, while with the latter, you are essentially renting the equipment.  In this sense, it is sort of like a car purchase vs. a car lease—with one, you have the auto generally long after you pay for it, even though it becomes very old, it is still yours. While with an equipment lease, you can typically choose to upgrade to a new model, usually if it is important for you to have a new vehicle, even though you do not have equity.
Whether you want to lease the machinery or buy it outright is based on your business situation. However, there are certainly pros to buying your equipment outright over leasing. First, there is equity: the equipment is yours once you stop paying for it. That is great since you do not have to worry about returning it; you can even use the machinery you are purchasing as collateral for other business financing down the road if you would like. Another big advantage is a tax deduction: you can write off the equipment depreciation for business taxes in many situations.
There are some shortcomings to buying equipment over leasing, too. First, it can be somewhat more stressful financially at first, since equipment leases have lower monthly loan payments and usually do not require down payments, either. With that said, if you want to buy the equipment at the end of the lease, you might end up having to pay a large sum, unlike equipment financing. It is worth noting that this is not always the case; based on your loan, it might actually be inexpensive over time to purchase the piece outright than to pay the monthly rental payments. Moreover, if your equipment gets obsolete, you cannot easily swap it for newer gear since you own it outright.
---

How do you apply for equipment financing?
Based on the type of equipment loan you apply for, you will need varying documentation. But what you must present is also dependent on lender qualifications.
Documents you need in applying for equipment financing
Typically, a lender for an equipment loan will ask you to provide:
Equipment quote

Credit score

About three months of business financial statements

Time-in-business history and revenue

Business tax return

Personal identification
The exception here is if you opt to finance your equipment with an SBA CDC/504 loan. As we had mentioned, these are much more paperwork intensive and require certain forms, a business plan, many more personal documents, and more.
How much does an equipment financing loan cost?
Interest rates: Equipment financing interest rates will vary by the loan structure that you choose to fund your equipment.
Equipment financing: 8 to 30 percent

SBA 504/CDC loan: 5 to 6 percent

Term loan: 7 to 30 (percent), or 1.15 to 1.5 factor fee

Business credit card: On average of 18 to 20 percent

Business line of credit: 7 to 35 percent

Down payment: Across most loans that call for a down payment, you can expect to need to offer 5 to 20 percent.

Collateral: Self-secured loans might not require any extra collateral. Some other loans might require a UCC lien or a personal guarantee. For SBA loans less than $250,000, no collateral is needed.

Repayment period: Across most equipment loans, you can anticipate repayment terms of three to ten years. With SBA CDC/504 loans, you might be able to get a term from ten to 25 years.
Find and compare the best equipment, financing loan options
Banks and alternative lenders
You can go to a bank to find an equipment loan. Banks provide competitive rates, but typically only lend to highly qualified candidates with substantial time or revenue in business. Alternately, most online lenders provide different kinds of equipment financing or provide services to match you with an equipment lender. Even though their rates might be higher than those at banks, you might find that an alternative lender is suitable for you because they often provide dashboards, small business tools, and personalized service.
Top Financial Resources
Top Financial Resources offers various types of equipment loans, including equipment financing, term loans, and credit business lines. You can use the finance provided by Top Financial Sources to secure the equipment you need and also have access to a fast-approval source of working capital.