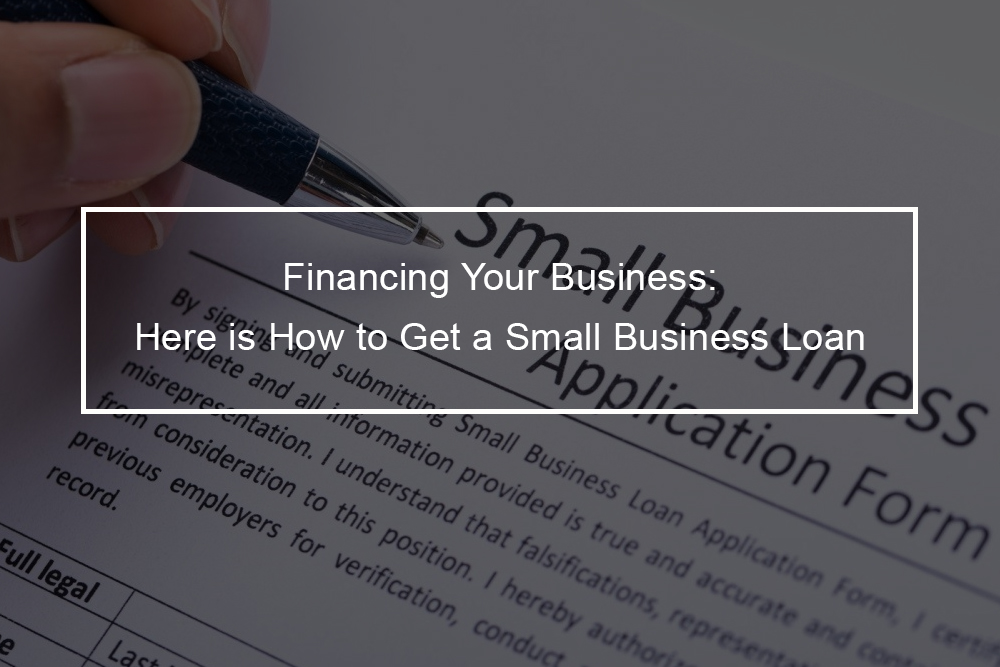 Despite what stage of growth your small business is in, there is going to come a time when a little extra cash can come in handy. This might be especially true right now since many businesses crawl out of the COVID-19 crisis. Many businesses, both small and large, use borrowed capital to boost growth and fund other business initiatives. Whatever the purpose, a small business loan is one of the most sought-after methods of funding.
---
How to get a small business loan?
Figure out how much money you need
When a lender asks you the amount of money you need to borrow, the correct answer is not, as much as you are willing to give me! Lenders want to see that you have carefully thought through your business goals, know how much you need to attain them, and have a specific plan to use the money wisely. Whether you aim to open a second location, or purchase new machinery, run the numbers to see how much it will cost. Also, calculate how loan repayments will influence your business budget going forward.
Decide which kind of loan is right for you
Your reasons for requiring the loan will dictate the type of small-business loan you get. If you are beginning a business, it is virtually impossible to get a plan in your company's first year. Lenders need cash flow to support the loan repayment, so startups are generally immediately disqualified from financing. Instead, you will have to depend on business credit cards, borrowing from family and friends, personal loans, crowdfunding, or a microloan from nonprofit lenders. For businesses with a year of history and revenue, you have more financing options, including business lines of credit, SBA loans, invoice factoring, and term loans.
Determine the best type of small-business lender
You can get small-business loans from various places, including online lenders, nonprofit microlenders, and banks. These lenders provide products, including lines of credit, term loans, and accounts receivable financing.
You should tackle small-business-loan shopping just as you would shopping for a car. After you determine which types of lending and financing vehicles are ideal for you, compare at least two or three similar options depending on the annual percentage rate (total borrowing cost) and terms. Of the loans you qualify for, opt for the one with the lowest APR, as far as you can manage the loan's regular payments.
When to use banks:
You do not need fast cash

You have good credit

You can provide collateral
Traditional bank options incorporate commercial mortgages to buy properties or refinance, commercial mortgages, lines of credit, and term loans. Through banks, the United States Small Business Administration offers general small-business loans with its 7(a) program, disaster loans, and short-term microloans. SBA loans range from $5,000 to $5 million, with a standard loan size of $371,000.
Small businesses have a difficult time getting approved because of factors such as lower sales volume and cash reserves; add to that no collateral (such as real estate to secure a loan) and poor personal credit, and most small-business owners come up empty-handed. Getting financed takes longer than other options- generally two to six months; however, banks are usually your lowest-APR option.
When to use microlenders:
You cannot get a traditional loan because your company is too small
Microlenders are nonprofits that generally lend short-term loans of less than $35,000. The APR on these loans is normally higher than that of bank loans. The application might need a financial statement and a detailed business plan, as well as an illustration of what the loan will be used for, making it a lengthy process. Moreover, the size of the loans is, by definition, micro. However, these loans might work well for smaller organizations or startups that do not qualify for traditional bank loans as a result of a limited operating history, lack of collateral, or poor personal credit.
Popular microlenders include the Opportunity Fund, Accion Kiva, and the Busines Center for New Americans.
When to use online lenders:
You need funding quickly

You lack time in business

You lack collateral
Online lenders offer small-business loans and lines of credit ranging from $500 to $500,000. The average APR on these loans varies from seven-percent to 108-percent based on the lender, the type and size of the loan, the borrower's credit history, the length of the repayment term, and if the collateral is needed. These lenders can hardly compete with traditional banks in terms of APR. However, approval rates are higher, and funding is faster than with traditional banks- as fast as twenty-four hours.
Find out if you qualify
Under this check, the following:
Check your credit scores
There are two kinds of credit scores: personal and business. A business that is just starting will not have much credit history. If it is a sole proprietorship, lenders may focus on your personal credit score when considering your loan application. Once you have been in business for a while, your personal credit score will not matter as much; however, it is still an element in the loan decision. Before you begin the loan process, get a business credit report and a free personal credit report, and address your trouble spots. Getting your credit scores in tip-top shape, applying for a business loan will help you boost your chances of success. Even if you have poor credit, do not despair.
How long have you been in business?
Apart from your credit score, lenders will also consider the period your business has been in operation. You need to have operated for at least one year to be eligible for most online small-business loans and a minimum of two years to be eligible for most bank loans.
Do you make sufficient money?
Most online lenders need a minimum annual revenue, which ranges from $50,000 – $150,000. Know yours and figure out the minimum a given lender needs before you apply.
Collateral
Traditional lenders, SBA, credit unions, and banks will likely require collateral for most small business loans. Whether you accept to allow your business assets to be liquidated in the event you are unable to pay the loan back or put your personal property to cover a loan, you will get further in the application process if you can guarantee your loan actual, tangible property. In the most real sense, an unsecured loan does not really exist anymore; however, most online lenders secure your loan with a general personal guarantee and UCC lien. 
Since the loan is not secured with any particular asset or collateral; however, rather than a general lien, these loans are usually referred to as unsecured loans. In actuality, though, truly unsecured loans are scarce and only offered to a lender's most creditworthy customers.
Loyalty
Provided you already bank with a major lender, you might be more likely to have a loan application approved. This was observed to be true during the first round of the Paycheck Protection Program. Many banks approved the PPP COVID-19 loan to their current customers before they considered a small business they are not familiar with.
Can you make the payments?
Look carefully at your business's financials- particularly cash flow- and assess how much you can reasonably apply for loan repayments per month. Some online lenders require daily or twice per month repayments, so factor that into the equation if that is the case.
To comfortably repay your loan per month, your total income should be at least 1.25 times your total expenses, inclusive of your new repayment amount. For instance, if your business's income is $10,000 per month and you have $7,000 worth of expenses, including inventory, payroll, rent, etc., the most you can comfortably afford is $1,000 per month in loan repayments.
Gather your documents
After you have compared your options, it is time to apply for the loans that fit your financing needs that you qualify for. You can apply for various small-business loans within a short duration (about two weeks) without a negative impact on your personal credit score. Based on the lender, you will need to submit a combination of the following documents with your application:
Business financial statements

Business and personal bank statements

Business and personal tax returns

Business legal documents (such as commercial lease, articles of incorporation and franchise agreement)
Apply for a business loan
Based on the lender, it can take weeks or even months to get approved for a business loan, so do not wait till the last minute to complete your application. Find out what documents the lender requires and have them ready. Incomplete or missing information can delay your loan approval, so assess your application package to ensure you have included all the necessary information.
The proceeds from a business loan can assist your business buy essential equipment, survive a slow season, or expand across the globe. Whatever your business purpose, loans should not be taken lightly. Before you apply for any business loan, do some research. Recognize your business goals and how financing can assist you to attain them. By researching the right loan choice for your business, you will improve your chances of getting the money you need.