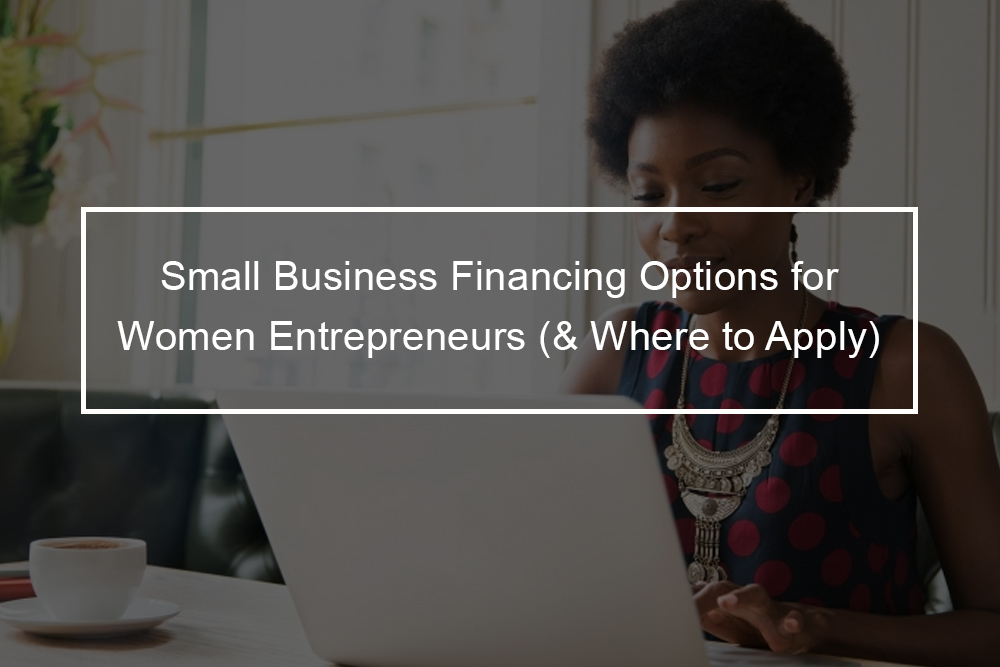 Online lenders offer small-business loans for women with bad or average personal credit and newer businesses. Typically, there are no small-business loans designed specifically for women entrepreneurs; however, online lenders and other organizations provide assistance, financing, and support for women-owned businesses.
---
Business loans for women entrepreneurs, including options for startups and bad credit borrowers.
SBA loans
Maybe the best small business loans for women (or any business owner for that matter) are SBA loans. Even though there are no SBA loans for women exclusively, SBA loans have some of the most competitive interest and payment terms on the market- plus, SBA loans can be used for almost any business purpose.
As a government entity, the SBA guarantees loans for small businesses; nonetheless, the SBA itself does not make these loans. Instead, banks and other direct lenders actually make the loans, and the SBA subsidizes a section of the loan if the borrower defaults. As a result of this, lenders are more likely to work with small businesses. Thus, SBA loans for women are great funding options for those who qualify for low long-term financing and low-interest rates.
Besides, the SBA provides multiple programs within its suite of business loans. For instance, the SBA microloan program lends small amounts of money- up to $50,000- for micro-businesses and startups. There is also the SBA 7(a) loan program, which provides general-purpose working capital for businesses already a few years old. There is also the SBA 504 loan program, which offers money specifically for the purchase of equipment or commercial real estate.
To be eligible for one of these loans, you will need to find an SBA lender- such as Celtic Bank Wells Fargo, or First Home Bank- and meet a range of requirements, generally including a decent annual revenue and good credit score. Along these lines, the procedure to apply for an SBA loan for women is also very involved- indicating significant paperwork and a longer time to get approved for a loan.
Funding circle
If you cannot qualify for any SBA loans for women, online lenders are a good place to look next. Online lenders provide up to almost every type of business financing. Some lenders offer short-term three to eighteen months loans for working capital, creative arrangements such as invoice factoring, and medium-term two to five-year loans for women who can not qualify for bank loans.
Mainly, if you are looking for a longer-term loan with larger amounts, but more flexibility than a bank loan or an SBA, you might turn to Funding Circle. Funding Circle provides small business loans for women in amounts from $25,000 to $500,000 and terms up to five years. The interest rates on a Funding Circle loan can vary from 4.99- percent to 22.99 percent, and you can get your funds within five days after applying and submitting your documents. To qualify, you will need a minimum credit score of 620 and at least two years in business. You will not, however, need to meet minimum annual revenue requirements.
Generally, Funding will provide some of the best terms and rates of any online lender, making it a great option for women-owned businesses who cannot qualify for a bank or SBA loan. Besides, Funding Circle will be a worthwhile lender for businesses that prefer a faster and simpler application process than the lengthy processes associated with SBA and bank loans.
OnDeck
Even though Funding Circle is a great online alternative to bank and SBA loans, it still needs relatively high qualifications. Thus, if you are looking for more flexible qualifications, you might consider OnDeck one of the best providers of small business loans for women. OnDeck provides both lines of credit and short-term loans, with the same qualifications for either product. To qualify for a business loan from OnDeck, you will need a minimum revenue of $100,000, a credit score of 600, and at least one year in business.
Having said that, for their short-term loan, you can receive amounts up to $500,000 with terms ranging from three to thirty-six months even though your APR can also reach as high as ninety-nine percent if you are a less qualified borrower. Typically, a short-term loan from OnDeck will be well-suited for women-owned businesses that require access to fast financing to cover larger, unexpected purchases.
With the OnDeck, line of credit, on contrarily, amounts range to $100,000 with terms of twelve months and APR ranging from 13.99 to 63- percent. An OnDeck line of credit is a mainly worthwhile option if you are looking for a business loan to stabilize cash flow or cover other working capital needs.
Lendio
Lendio is one of the best lenders for women-owned businesses. That is because it is actually a lending marketplace. You just have to submit only one brief application to Lendio, and it will match you with loans and lenders that can qualify for. Then, you just select your favorite funding option, and Lendio will assist you to finish your application and get approved.
With the great number of small-business loans and lenders available through Lendio, you can find the right funding for your business. In fact, Lendio can match you with several of the other lenders on the list. So yes, you must meet some basic qualifications, but Lendio can work for all forms of women business owners. 
Fundbox
Worried about getting funding with your poor credit? No need. Some traditional lenders need higher personal credit scores from their borrowers. But not Fundbox! It just needs a low personal credit score of at least 500. Then it looks at your business's current finances to evaluate your application. You can connect it to your accounting application or your business bank account to qualify for a credit line.
Fundbox's automated procedure and low financing qualifications have made it one of the favorite startup loans in this list; however, it also makes it one of the best women-owned business loans. After all, some studies suggest that women entrepreneurs get denied business funding because of their lower credit scores. With Fundbox, bad credit is not a problem.
Fundation
Next on our list of the best providers for business loans for women is Fundation, who provides lines of credit and business terms loans. Similar to OnDeck, Fundation is a greater option for term loans and lines of credit for those who are seeking affordable and flexible capital; however, either can not qualify or do not want to wait for banking funding or SBA funding.
Fundation provides their business term loan product in amounts up to $500,000, with terms from one to four years, and an APR that ranges from eight to thirty-percent. To qualify for a term loan from Fundation, you will need an annual revenue of $100,000, at least two years in business, and a credit score of 600.
On the other hand, with Fundation's line of credit, you will be able to access a credit line of up to $150,000, with a term of eighteen months, and the same APR range. Fundation is more flexible with time in business for this product, only requiring one year; however, their credit score requirement is higher, at 660. The annual revenue requirement is the same, at $100,000.
Despite which product you select, however, Fundation funds loans are an average of three business days. This makes the lender a great option for faster funding. Besides, Fundation is famous for its tech-friendly and simple application process, enabling you to apply for a business loan faster and easily without having to spend a significant amount of time putting together the paperwork.
Kabbage
Even though Kabbage does not offer term business loans for women, they provide a line of credit products that is great for business owners with average or bad credit. To qualify for a line of credit from Kabbage, you require $50,000 in annual revenue and at least one year in business. Kabbage does not have a minimum personal credit score requirement.
You can get a Kabbage line of credit in amounts ranging from $2,000- $250,000 with terms of size, twelve, or eighteen months. Interest rates on these credit lines vary from 1.5-percent to ten-percent monthly.
With that being said, Kabbage has a simple, automated online application and financing as fast as the same day. Nonetheless, it is essential to remember that with a fast provider with lower qualification requirements, you are more likely to see higher interest rates- and thus, the cost of borrowing will be more costly. Nonetheless, if you need a fast business loan to manage your cash flow or fund a small project, this line of credit product will be one of your best options.
BlueVine
If you are seeking funding for your women-owned business that is under one year old- or with average credit- BlueVine may be the best option for you. Like Fundation and OnDeck, BlueVine provides short-term loans and business lines of credit; nonetheless, they will work with businesses that have only been operating for six months.
With either their line of credit or term loan, BlueVine provides amounts up to $250,000, with terms of six or twelve months and interest rates ranging from 4.8-percent to fifty-one percent. To qualify for either of these products, you will need a minimum credit score of 600, annual revenue of $100,000, and at least six months in business.
BlueVine's application is fast and straightforward to complete, and they fund small business loans for women in an average of two to seven business days. With a lower time in business requirement than most alternative lenders, BlueVine is a great option for female-owned startups and any business owner who requires flexible and fast financing.Nonetheless, it is essential to remember that with BlueVine (and any other lender), the lower your credit score and the faster you need financing, the more expensive it is likely to be.
Regardless of the inequality that still exists between female and male entrepreneurs, there are more funding options for women-led businesses than ever before. Ultimately, your business's ideal funding will be based on a variety of factors- including qualifications, specific needs, and more.