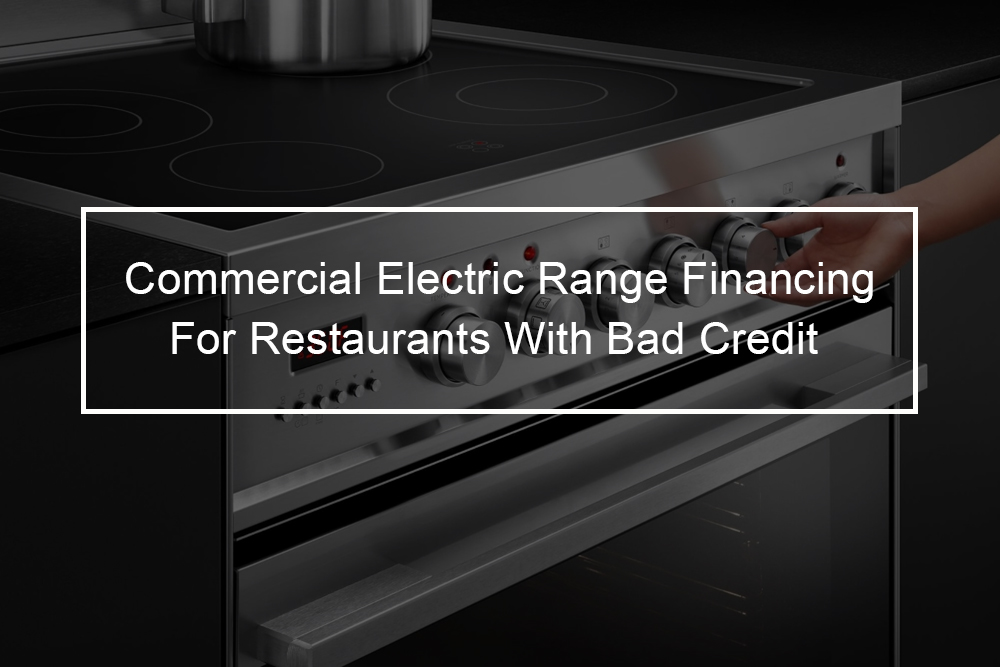 When trying to make an acquisition for Southbend SE36D-BBB commercial electric range where financing and leasing are your preferred payment, having bad credit from your past can lead to a great deal of stress. Will you be approved? Is it even worth trying? No matter the size of your restaurant, you can not operate without a restaurant range. And in reality, having the ability to finance or lease the equipment can be vital.
Don't you know where to turn? We here at Top Financial Resources have solutions for credit scores of all kinds. We have worked tirelessly providing restaurants of all sizes with customized financing solutions no matter their credit history. We pride ourselves in assisting restaurant owners in seeing their projects and ideas come to fruition with the best leasing and financing terms available. Before you submit an application, we can do a credit preview and quickly evaluate the probability of your approval, approximately what your pricing will look like, and what type of terms you will have. 
Top Financial Resources understands the challenges of acquiring restaurant equipment when credit might not be perfect. That is the reason our team of industry experts is all here to answer your call. We will guide you through the financing or leasing process and let you get to work and succeed.
---
Southbend SE36D-BBB Overview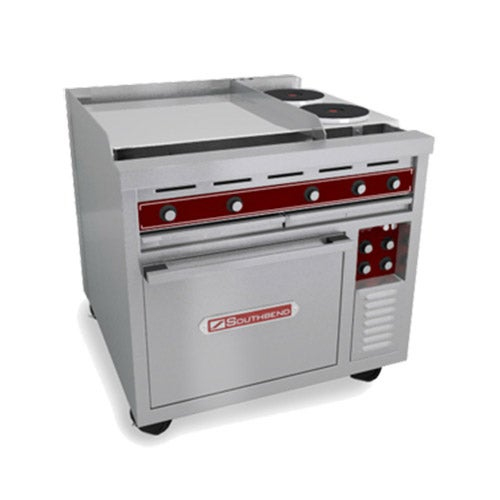 Southbend SE36D-BBB is a commercial electric range. This 36" unit features (six) 9" round hotplates, and it's ideal for heavy-duty boiling and frying. It is also ideal for making stews, braising meats, and frying chicken.
Features Of Southbend SE36D-BBB
(Six) 9″ Round hotplates

6″ Legs included

Aluminized steel frame construction

Easy to service from the front

Electrical: 208v/3-phase, 21.6Kw

Hatchable to pass through 26″ opening

NSF, ETL approved

Range top controls are in a central ventilated control panel.

Shipping weight: 650lbs

Stainless top, front, and sides

Standard oven with aluminized steel interior lining, slide-out removable rack, and insulated on all sides

Unit dimensions with legs: 36″ wide x 38.5″ deep x 38.25″ high
---
What is Commercial Electric Range Financing?
Restaurant equipment financing is a kind of funding for restaurant business owners where you are given a lump sum of money for the sole purpose of buying a piece of equipment. In the case of commercial electric range financing, you buy a restaurant electric range. The main difference between restaurant equipment financing and other kinds of funding options, such as Working Capital Advance, or Term Loan, is that it is strictly for financing a physical asset. This physical asset will act as security. If for any reason, you were to default on your financial responsibility, the lender could repossess the equipment.
Qualifications For Commercial Electric Range Financing With Bad Credit
The qualification for restaurant equipment financing will vary by lender. Here is what the Top Financial Resources qualification look like:
Time in business: Six months, but we also fund startups with a 650 (plus) credit score. When financing equipment with a bank, you need to have been in business for at least 12 months, and they rarely fund startups.
Minimum credit score: 500. We can still finance you if you have filed bankruptcies as long as your restaurant has been in operation for at a minimum of six months and your business generates sales in excess of $8 500 per month. Banks have a higher credit score eligibility.
Minimum Annual Revenue: $100,000
Outside of these requirements, a lengthy business history of making your payments on time and having a steady cash flow will help increase your chances of getting approved despite a bad credit rating.
How Does Bad Credit Affect Commercial Electric Range Financing?
Since the Southbend SE36D-BBB purchased with the commercial electric range financing will be used as collateral, it will make it slightly simpler for you to get approved. Why: This is because the equipment financing company can always repossess the machine should you fail to make a payment. Having a poor credit rating impacts you when it comes to getting commercial electric range financing with the interest rate. You will most probably have a higher APR than a borrower with stellar credit. To put that in standpoint, the APR for restaurant equipment financing could range anywhere between 6.0 percent and 30.0 percent.
---
Ways To Get Commercial Electric Range Leases And Loans If You Have Poor Credit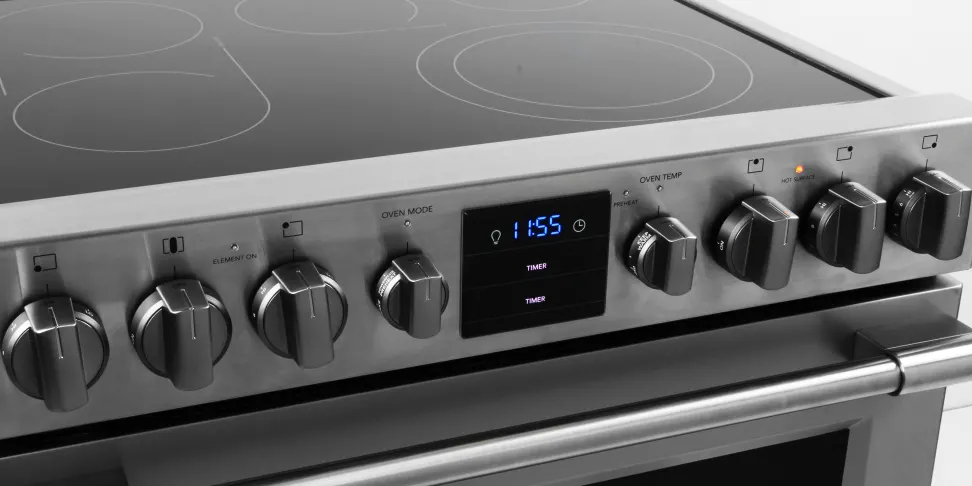 So now you have an idea of what bad credit means when acquiring restaurant equipment financing. Below are some ways you can overcome those issues:
Work on your credit
It might not surprise you to hear that the best way to avoid applying for restaurant equipment financing with bad credit is not to have bad credit. Boosting your credit score takes time, but there are a number of different ways to go about it, including:
Do not use all the available credit you have

Request for higher credit limits on your credit cards

Constantly paying your bills on time

Settling outstanding debts
Take the best offer and refinance
If you need funds immediately, you can always take a sub-par loan offer today and then refinance when you have access to better interest rates, either due to your credit score improving or you having more time to secure a better deal. Bear in mind that this might not be an option with leasing, at least not until you have fulfilled your lease obligations.
Offer To Make A Bigger Down Payment
This can be a challenge when acquiring commercial electric range financing, but it is also a solution. If your financing partner is on the fence about your loan or lease application, you can improve the deal by offering to put more money down. In the case of an equipment loan, it would be a larger down payment. In the case of leasing, you could offer the first and last month's payment in advance.
Get a co-signer 
You are more than a credit score. But most financers do not necessarily know that, but your family and friends do. Provided they trust you enough to do so, consider requesting them to co-sign your loan if your lender gives you the option. Essentially co-signing adds an additional party as a guarantor for the equipment lease or loan. Just remember you are putting your co-signer on the hook for your debt if you default. Make sure you clearly read the fine print and ensure you understand what lines are engaged and what types of assets are at risk beyond the machine you are financing. At the very least, both you and your co-signer will take a credit hit.
Prioritize equipment that holds its value
When it comes to restaurant equipment financing, the machine in question matters quite a bit. Remember, the equipment serves as collateral. If you are an equipment financing and leasing company, wouldn't it be less risky to finance a piece of equipment that retains more of its value over a longer period? That indicates you might have a simpler time getting accepted for commercial electric range than you would an item that depreciates faster such as a computer.
Prioritize more costly equipment
Are you surprised? For the most part, big-ticket machines tend to hold onto more of their value than less costly items (consider how frequently you would buy a commercial gas range versus, say, a smartphone). If you default, your financing company will prefer to gather an item that is still worth their time and effort to resell. As a result of this, you may realize that a prospective lender will be more accommodating if you have a more costly piece of commercial electric range in mind, such as Southbend SE36D-BBB.
Defer buying the commercial electric range until your situation improves
Whereas the newest machine models often come with intriguing whistles and bells, it does not always pay to be an early adopter. If the older restaurant electric or gas range you are using right now still works or just needs minor repairs, it might be enough to carry you over the gap until your finances are in order. Moreover, many times new models still have some bugs to work out.
---
Other Bad Credit Funding Options For Restaurant Equipment
If you got declined for commercial electric financing with bad credit, your best option would be to look into a Merchant Cash Advance or Working Capital Advance. Both of these options are the same. They are not a loan in the conventional sense; instead, they are an advance of cash on future receivables. Top Financial Resources cash advance could be used to buy your Southbend SE36D-BBB. The benefit of an advance is it might be easier for you to qualify, and no security is needed. The drawback compared to restaurant equipment financing is your term will be much shorter, typically payback ranges between three to twelve months, and the repayment amount will be much higher.
How To Apply For Southbend SE36D-BBB Financing?
Applying for commercial electric range financing is easy. You can apply for restaurant equipment financing with your local bank or the bank that you have a business account. Alternatively, you can apply online with an alternative lender like Top Financial Resources. With Top Financial Resources, you can complete our online equipment financing or leasing form or call one of our loan specialists at 1-(800)-260-5126 to discuss your options. We offer a wide range of lending solutions- from equipment financing, capital loans to merchant cash advance, and credit card processing. Whatever financing program you need, we are here to help you.
Similar Models Available For Financing At Top Financial Resources
We also finance or provide leasing for other Southbend SE36D heavy-duty ranges, including:
Southbend SE36D-HHB Heavy Duty Range

Southbend SE36D-TTB Heavy Duty Range

Southbend SE36D-HHH Heavy Duty Range

Southbend SE36D-TTH Heavy Duty Range

Southbend SE36D-TTT Heavy Duty Range