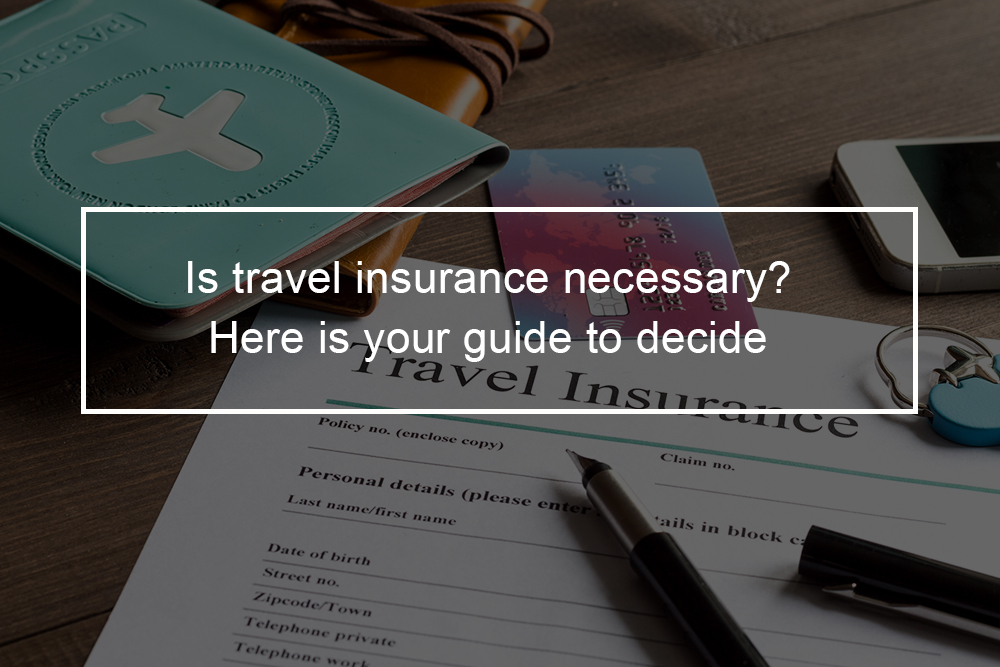 Travel insurance is a kind of personal coverage used to protect oddball travel costs. It covers things such as medical bills if you are sick or injured on a trip. Some policies will also pay back deposits you will lose on hotel accommodations or airfare if you are forced to cancel your trip.
This is all exciting, but it comes with a price. So is travel insurance worth it? Does the coverage you will include adding enough value to your next trip? That is precisely what we will help you decide in this post.
---
Is travel insurance worth it?
It is almost impossible to put a price on the peace of mind that comes with knowing you will get some or even all the money back if your travel plans go awry. However, travel insurance does come with an actual price tag and an expensive one at that.
Typically, to decide if travel insurance is worth it, it depends on your situation. First, contemplate what events you would like to insure against and how likely those events are to happen. Look at the US State Department's travel warnings when planning to travel. It will inform you which kinds of travel-related risks you may encounter in different countries.
Based on the list, you may worry about risky events such as bad weather or even terrorist threats, which can cut your trip short. Or perhaps you are just concerned about more run-of-the-mill travel problems, such as losing your luggage or getting food poisoning.
Create a list of what you are most concerned about, and then do some research. Figure out if you already have insurance that would cover those events. Below are some examples of places to look at.
---
Types of travel insurance
Before we dive into the advantages and disadvantages, let us look at the most common options that travelers can purchase individually or as part of a comprehensive package.
Emergency medical care
If you get injured or sick while traveling outside the United States, your health insurance, inclusive of Medicare, might not cover any treatment or medication you get (make sure you check with your insurance provider before you leave).
Provided you have an emergency; you can reach the local embassy to locate appropriate medical services; however, the State Department will not assist pay your medical bills. Emergency medical insurance offers a safety net to help you pay unexpected medical bills that can add up to a lot of money.
Delayed or lost luggage
Each traveler worries they will be parted from their luggage at some point during their trip. Luggage insurance will not get your back to you any faster; however, it will reimburse you the cash you spend buying replacement clothing, medication, and toiletries.
Accidental death 
It is challenging to think about something tragic happening while traveling; however, things can happen. Accidental death insurance is the same as a life insurance policy and pays out benefits to your designated beneficiary.
Trip cancellation or interruption
Interruption or trip cancellation insurance typically reimburses you the cost of your travel costs if your travel is canceled or the cost of return tickets home if your trip is interrupted. Some policies also cover circumstances that lead to trip cancellation.
Life insurance policy
A life insurance policy should cover you for formal events, like an accident or health emergency, even though you are traveling. Nonetheless, some guidelines have exceptions for abductions, natural disasters, and terrorist attacks. In this scenario, you may want to consider extra travel insurance if these are risks you may face.
---
When does it make sense to buy a travel insurance policy?
There are cases where purchasing travel insurance is definitely worth it.
If your itinerary engages a lot of flights and stopovers, every point is a potential failure point. A nonstop flight is less of an insurance risk than a month-long tour with various destinations, especially in the height of a blizzard season. 

Travel insurance is a good idea if you visit someplace, where there is civil or political unrest. So much can happen between the time you make a reservation and when you get where you are going. The event could become more volatile, your accommodation reservations may be canceled, or travel to the region can be restricted before you leave. In a worst-situation, you might need a non-medical emergency evacuation to take you to safety. If you purchase travel insurance under this case, make sure you read the fine print to ensure your policy covers explicitly civil disorder and war.

Sometimes the best reason for purchasing travel insurance is if you won't be able to relax on your trip without it. If being anxious about something going wrong will overshadow your whole trip and keep you from enjoying, spring for the coverage to ease your mind.
---
When does it make sense to skip travel insurance?
Purchasing travel insurance is not always necessary
Below are three times you do not need to.
You might be able to entirely skip travel insurance if you have a credit card that offers it as a standard benefit to consumers. Contact your credit card company to see if travel insurance is accessible to you. While on the phone with them, have them include travel alerts to your account.

All travel insurance policies are not designed equal, and some might not include the kind of coverage you need. For example, a travel insurance policy that only covers lost luggage is possibly not worth it if you only travel with carry-on bags.

It is often not worth it to purchase insurance for short, inexpensive domestic trips. One exception is traveling to a location that can be affected by unpredictable events of nature, such as hurricanes or an active volcano in the time frame you plan to visit. Just ensure your policy covers natural disasters.
---
How to find travelers insurance?
Most cruise and tour companies, travel agents, and travel booking websites provide travel insurance to their clients. Here are a few tips you decide to purchase travel insurance:
Purchasing insurance from your travel sources means you are asking the organizations to reimburse you if things do not work out, which leaves it up to them to decide if things went wrong. It is not in the financial interests of the airlines, tour operators, and cruise lines to offer you your money back; however, it is in their interest to get you to hand over more money. Skip it.

Instead of purchasing from the people selling you the trips, try comparison shopping on third-party insurance sites such as InsureMy Trip or SquareMouth. 

Travel agents get a commission for selling you insurance. If you opt for the convenience of one-stop shopping, know what kind of coverage you need before you call to make sure you are getting the coverage you require rather than the coverage they need to sell you.
---
How much does travel insurance cost?
The price of travel insurance depends. Each travel insurance policy is different. Of Course, it is essential to note that the more likely you are to require travel insurance, the more it is possibly going to cost. This is just how the insurance game works. You will probably pay a higher premium if it is more likely the insurer will need to pay out a claim. Below are the things that you will possibly need to get a travel insurance quote:
Destination

Trip length

Age of traveler

Trip cost

Home state (if you are from the United States)

Kind of travel insurance plan
Travel insurance works similarly to other types of insurance, where the provider takes a bunch of elements into consideration, and you will get a custom quote. Each insurance company takes on a certain amount of risk, and they base the policy accordingly. Note that the more coverage you require, the more you will pay. Dental and medical coverage or only accidental death coverage is much cheaper than extensive coverage.