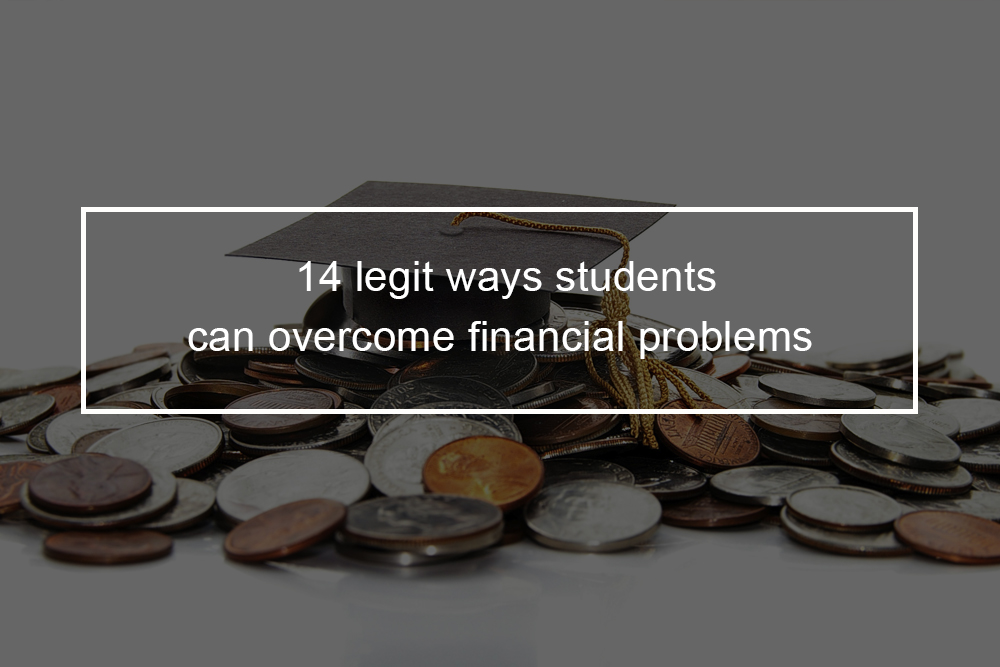 There are simple strategies students can adopt to improve their financial situation. Follow this ultimate guide to get on the road to financial independence. We have likely all struggled with money at one time or another. Typically, it can be tough to know how to begin managing and monitoring your spending as a student.
---
Things you can do today to improve your financial situation
Start tracking your spending
The top tip for students newly interested in their finances is to adopt a tracking system for all their monetary transactions. This simple act of tracking is often enough to improve your spending habits. You can manually track your spending with anything from a notebook and pen to an application like Wally or automatically with software links to your accounts like Mvelopes and Mint. 
Identify your life values
There is no single right way that everybody should use their money; your own individual best habits will be based on your life values. Your life values are the concepts that you hold most dear; examples include excellence, health, family, fun, and freedom. Recognizing what is most essential to you will bring great clarity to your financial decisions. You can decide to spend more resources fulfilling your values and dispense with activities and things that do not. 
Create a balance sheet
Typically a balance sheet is a snapshot of your whole financial life- every debt and every asset listed by balance, type, balance, and financial institution. If you have any disorganization or confusion or the tendency to bury your head in the sand, a balance sheet will help you see the whole situation at a glance. If you have debts, you can also add interest rates and minimum payments to decide which payoff to manage first quickly. Your balance sheet might disclose vestigial accounts or other duplications that you can clear up. 
Create a prioritized goal list
Considering your balance sheet and values, list the current financial goals you would like to attain. You might be able to work on some of those goals simultaneously. For the goals that should be managed sequentially, select the order in which will focus on them so that you can make fast progress. For instance, if you have multiple debts, you want to pay off, apply the debt avalanche method or debt snowball to create your prioritized list.
Right-size your transportation or housing 
Since transportation and housing eat up a considerable section of a student's income, it is essential to pay only what you can manage- in some high cost-of-living areas- as little as is feasible. If you recognize that you are overspending on your car or rent, it will take some time and doing, but you can correct it by getting a roommate, getting a roommate, switching to cycling for your commute, and other ways.
Get a side income 
There are two methods you can free up more cash per month: earn more or spend less. Students tend to center on the 'spend less' side of the equation, forgetting that earning more is sometimes also an option, based on the source of your financing and your department's culture. A judiciously selected side job can advance your career and generate income, offering you opportunities far beyond what your program can.
Generally, today, it has never been simpler to start your own home-based business, even though you are a student. With various ways to make an income online with little to no-startup capital needed, you can improve your income by discovering something that you can do for money from home. 
For instance, if you are good at noting things down on paper, you can offer a freelance writing service. Why not start your own blog for other students, where you make money from promoting useful products for sale.
Study online
If you are more interested in gaining your degree qualification than experiencing college life, an online degree could be an excellent option. With an online degree, you can study remotely from the comfort of your own home. 
This helps you make huge savings on tuition fees since most online programs are around one-third cheaper on average. And it is not just your tuition fees that you can make savings on; studying for an online degree means you do not have to worry about spending money on transport. 
Study part-time
If you want to study a college degree, but you are concerned about the number of hours you will have to commit, a part-time degree program could be the best choice for you. Part-time alternatives are often available for both online MHA degree and campus-based programs. Even though you can usually expect to graduate in around double the duration of time, this option can be suitable for students who want to be able to work and earn an income as they study, instead of depending on borrowing money. 
Avoid student credit
Even though it might be necessary to take out a student loan to finance your college degree program, avoiding other kinds of credit like personal loans, credit cards, or student overdrafts can actually assist you in improving your financial situation. Even though you might have to live on a tighter budget, after you have adjusted to this, it is much easier and far less stressful since there will be no need to be concerned about getting out of your overdraft or making sure that you can make the minimum payment to your credit card, for instance.
Look for student discounts
As a college student, you should become a master at exploring the ways your educational status can save you money. Restaurants, local venues, vendors, and services near college campuses often provide student discounts that can save you big money. What is more, by looking for discounts, you will learn the value of hunting down great deals. 
Payoff debt or regularly invest
In some situations, the best a student can do is to keep his or her head above water financially in school, but in others, a student can increase the wealth. The best way to improve your net worth is to invest, save, and pay down debt regularly and automatically. Do not only use side income to increase cash flow that is later lost to the ether but commit that cash flow to work for you through automatic monthly transfers to your savings account, loans, and investments. 
 Know your credit score 
Make sure you look over your credit report once a year to ensure there are no mistakes. Note that your credit score represents your creditworthiness and thus can affect your future financial decisions. 
You can get a report for free annually from each credit bureau, and if you get an error, take the time to dispute it. Scores are based on various factors- the most vital are-paying bills every time and on time and keeping balances low on revolving credit, like credit cards.
Avoid full-price textbooks 
The textbook is a budget breaker for most college students. While it is true that some professors change and update textbooks practically every year, the vast majority use the same textbooks year after year. That indicates you do not have to shell out hundreds to shop for books before class. 
There are diverse ways you can save money on college textbooks, like looking for posts on campus bulletins or shopping at Amazon or eBay. Or even check out websites like Chegg where most common textbooks are available for rent. Some schools also provide textbook rental programs, so ask the library and bookstore about the available options. 
It is not unless it is absolutely essential to steer away from the campus bookstore, where rates are likely to be the highest. Moreover, be aware that some professors add suggested materials to the book list, most of which might not be essential for passing the class. Get help from your parents and weed out the necessary texts from the suggested ones. 
When the school year is done, you can sell used textbooks to others who need them the following semester. Social media platforms, online book retailers, schools, and bookstores are all excellent places to promote textbooks for sale. You can regain some of the money you spent on purchasing books, making it available to add to savings for next semester, pay off credit card debt, or pay down student loans. 
Protect your personal information
When it comes to identity theft, students are some of the hardest targets to the crime. Following Javelin Strategy and Research, the eighteen to twenty-four demographic has the highest risk for identity theft. Moreover, the average individual from the demographic took 132 days to notice and report the fraud.
Do not share personal information. Simple things such as giving a password to a friend, offering social security numbers unnecessarily, or even leaving personal documents lying around, can expose you to identity theft. 
To capture identity theft before it goes too far, check your bank and credit accounts often, and report any suspicious activity immediately. While identity watch services are accessible, the monthly fees might not fit into a college student's budget. Instead, check your credit report for free yearly. However, if you suspect your identity has already been compromised, you can use an argument for an identity security service like LifeLock. Identity theft is an unfortunate drawback to college life; however, if vigilant, it does not have to color your college experience.
When you join college, you are not just ushering a new era; you are also looking to see if all the advice and financial training you have gained really pays off. Nobody always makes perfect financial decisions; however, if you have the right information, you should make it through your college life without making too many financial mistakes.